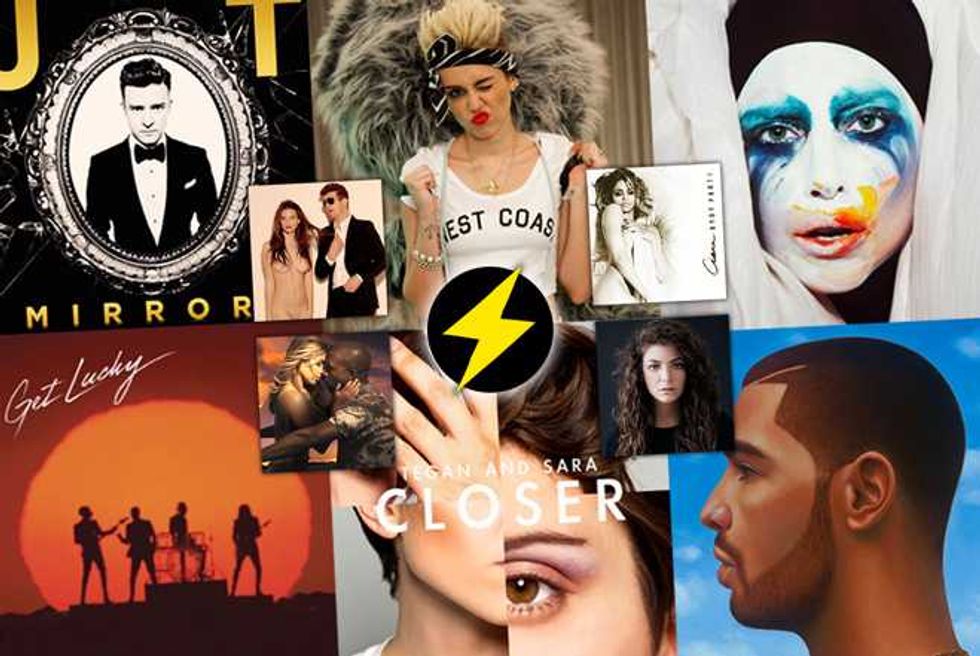 It was a year of surprises in pop music, from surprise comebacks to surprise breakout stars to surprise career shifts--looking at the top ten of our Top 100 songs this year, there might not be more than one or two songs whose presence among our favorites isn't in some way a shocker. Blame it on some of the biggest stars taking a back seat--Taylor Swift played out the Red promotional cycle but mostly stayed out of the spotlight, Nicki Minaj spent most of the year in the lab, Rihanna is actually a week away from going a whole calendar year without a new album for the first time since 2008--and some of the others (Beyonce, Kanye West, even Justin Bieber to an extent) sneak-attacking with their new albums, going the no-singles, no-promotion route. But the bottom line was: 2013 was wide open for Top 40, and just about anything could and did happen.
And you know what? That's cool by us. There's something to be said for welcoming some new blood (and welcoming back some old blood) to the pop world every now and then, and if next year turns out to be dominated by the status quo, we may soon end up pining for 2013, when an aging R&B singer who hadn't cracked the pop charts since 2009, a Brooklyn bedroom DJ that never wanted to be particularly famous in the first place, and a 17-year-old singer/songwriter from New Zealand each had as many #1 singles this year as Katy Perry, Lady Gaga, One Direction and Drake combined.
Frankly, it's refreshing to know that even in this era dominated by so many singular pop megastars, the Top 40 can still surprise us. And gotta say, we got some pretty great music out of it, didn't we? Here's our 100 favorite songs from the year, with a Spotify playlist with every available song at the end of it all. It'll make a hell of a New Year's Eve soundtrack, we promise.
#100. WALE FEAT. SAM DEW, "LOVEHATE THING"
Our favorite of Wale's recent R&B crossover attempts, and somehow the only one not to become ubiquitous on R&B radio. What, does nobody like Marvin Gaye anymore?
#99. BRUNO MARS, "TREASURE"
One look and listen through the "Treasure" video, and you can pretty easily confirm what you already suspected--Bruno Mars has way, way, way more fun at his job than you do.
#98. DESTINY'S CHILD, "NUCLEAR"
Of all the high-profile comebacks of 2013, the brief-lived Destiny's Child reunion probably came and went with the most negligible impact. At least we're still left with "Nuclear," a gorgeous and sensual dance-ballad hybrid that would have sounded like nothing else on radio, had it ever gotten on radio. Don't forget about it for the 2023 comeback tour, ladies.
#97. LADY ATEBELLUM, "GOLDEN"
Not nearly as grandstanding as most of the big Lady Antebellum ballads, but as sweet and intimate and generally heartwarming as anything we've heard from the group. Hillary Scott can't get all the leads, after all.
#96. THE NEIGHBOURHOOD, "SWEATER WEATHER"
Not a coincidence that this song just got more and more popular as the temperature outside dropped from the 70s and 60s to the 50s and 40s. We wouldn't be surprised if you saw this song spiking in popularity on the iTunes charts around the same time every year--it just sounds like November feels.
#95. FRIENDS, "THE WAY (BLOOD ORANGE REMIX)"
"The Way" was already one of the hottest slow jams of the year before super-producer Dev Hynes--also the real life boyfriend of Friends singer Samantha Urbani--decided to take things to the next level by adding his own sultry vocals twisting around Urbani's seductive coo, fully realizing the song's potential as the Purple Rain power ballad that really, really should have been.
#94. DISCLOSURE FEAT. ELIZABETH DOOLITTLE, "YOU & ME"
There was no denying the pogoing dance-pop of Disclosure in the underground this year, and "You & Me," with its "We Found Love"-goes-international music video, was perhaps the most delectable of the duo's many singles. For an equally compelling but totally inside-outed spin on the song, though, check out the Flume remix, one of the coldest beats from any genre in 2013.
#93. PAUL MCCARTNEY, "NEW"
"Familiar," "Comforting" and "Mood-Brightening" would all be more accurate titles than "New," but to hear Sir Paul still doing his thing at such a high level at age 71 is nearly as exciting as anything innovative or boundary-pushing we heard this year.
#92. AVICII FEAT. ALOE BLACC, "WAKE ME UP!"
The best EDM-folk hybrid anthem about sleeping through your youth that we've ever heard? Top five, definitely.
#91. BASTILLE, "POMPEII"
One of the more pleasantly left-field hits of late '13, a resounding, chest-thumping callback to the days when Peter Gabriel could be considered stadium rock, and a reminder that occasionally songs get popular because they're just kinda good.
For songs #90-81 on our list, click NEXT.
#90. MIGUEL FEAT. KENDRICK LAMAR, "HOW MANY DRINKS? (REMIX)"
Only Miguel could make a song this unapologetic in its sleazy pick-up intentions seem somehow sincere and actually kinda soulful. You don't even really need Kendrick's part, but saying no to a Kendrick Lamar guest verse was just not something you did in 2013.
#89. THE BAND PERRY, "DONE."
It was mostly a slow year for Taylor Swift, Carrie Underwood and Miranda Lambert, but luckily, The Band Perry were happy to pick up the slack from that trio in the infectious kiss-off break-up song department. After all, anyone can put an exclamation mark at the end of their song title, but you don't put a period there unless you really mean business.
#88. JUSTIN BIEBER, "YELLOW RAINCOAT"
Feels like a lot longer than a year ago that Bieber released Believe: Acoustic, right? Don't forget about this boy-and-his-guitar gem, though--as vulnerable and emotional as Bieber has ever sounded, and the real signpost towards the direction he was headed with the eventual Music Mondays confessionals.
#87. LORDE, "NO BETTER"
Because there weren't nearly enough super-cool pop/rock songs on her debut album from this fall, Lorde dropped the hypnotic, pulsing, maybe even a little bit sensual three-minute nugget "No Better" a couple weeks back. OK, now she's just showing off.
#86. MILEY CYRUS, "#GETITRIGHT"
Miley Cyrus, Pharrell, super-catchy disco guitar and whistle hooks, and lyrics about not wearing panties. If Miley releases this as the next single off #BANGERZ, it could easily be the pop neutron bomb of early 2014.
#85. ONE DIRECTION, "STORY OF MY LIFE"
Nobody went broke aping Mumford & Sons in 2013, certainly, and One Direction surprisingly proved more adept than many with their world-weary ballad "Story of My Life." We still would have preferred a cover of the Social Distortion alt-rock classic--hey, it's not like they didn't cover the Undertones already this year--but we'll get over it someday, maybe.
#84. PSY, "GENTLEMAN"
It was no "Gangnam Style," for sure, which means that it only got stuck in our heads for days at a time instead of entire weeks. In any event, it disqualifies Psy from what seemed like surefire one-hit wonder status, which must make the guys from Los Del Rio absolutely furious.
#83. DAFT PUNK FEAT. PANDA BEAR, "DOIN' IT RIGHT"
Not all the cross-genre collaborations on Daft Punk's guest-strewn Random Access Memories worked out so well but oddly, the highest degree-of-difficulty duet--between the DP disco robots and abstract-pop Animal Collective vocalist Panda Bear--felt the most seamless. Right recognize Right on this one, we suppose.
#82. KENDRICK LAMAR FEAT. JAY-Z, "BITCH DON'T KILL MY VIBE (REMIX)"
In 20 years, will it seem weird that this duet between the once-and-future kings of hip-hop takes the time to make a prominent, two-step Trinidad James reference? If so, James should still be honored to have such a legacy.
#81. CHRIS MALINCHAK, "SO GOOD TO ME"
In an era of LOUDER FASTER BIGGER MORE in EDM, Chris Malinchak's "So Good to Me"--which they were actually smart enough to make a smash hit overseas--is positively disarming in its low-key sweetness, courtesy of a couple delightful bubbling synth riffs and some brilliantly deployed Marvin and Tami samples. We probably don't even deserve dance music this nice, but we hope Malinchak gives us a whole lot more of it in days to come anyway.
For songs #80-71, click NEXT.
#80. MAC MILLER, "S.D.S."
One of the better developments in hip-hop this year was miscast frat-party rapper Mac Miller finding his identity as a stream-of-consciousness stoner rapper, and the wobbly, borderline-gelatinous beat for "S.D.S." was instrumental in leading Mac back on the righteous path. "Asian women love me, I look like David Duchovny." Irreleveant and inaccurate, but insidious just the same.
#79. MIKE WILL MADE IT FEAT. MILEY CYRUS, WIZ KHALIFA & JUICY J,"23"
The cool kids of the class of 2013 decided to join forces for the unstoppable-sounding "23," which seemed destined for a late-year takeover that never quite materialized. Still, it's the kind of song you'll hear a decade from now after not having thought about in ages and have an entire year's worth of memories just come flooding back, and those are usually the best kind of pop songs, aren't they?
#78. EMINEM, "SO FAR..."
I've been saying for years that the break in Joe Walsh's classic rock staple "Life's Been Good" had been crying out for a hip-hop sample--turns out we just needed to wait until Rick Rubin could convince that going old-school was the best way to bed his rants about hating technology and distrusting food that takes more than five minutes to prepare. Now if anyone could just take on ZZ Top's "Cheap Sunglasses"...
#77. CALVIN HARRIS FEAT. AYAH MARAR, "THINKING ABOUT YOU"
It only took about 15 singles off Calvin Harris' 18 Months for him to finally get to the irresistible, ping-ponging "Thinking About You," but a single this intoxicating--like a lower-key "Call Me Maybe," even--is always worth the wait. Here's hoping the public isn't too sick of ol' Calvin at this point to disagree.
#76. LIL WAYNE FEAT. 2 CHAINZ, "RICH AS FUCK"
They both offered a lot more, but you only really needed three total lines this year from Lil Wayne or 2 Chainz: "Look at you." (Pause.) "Now look at us." (Double pause.) "ALL MY N---S LOOK RICH AS FUUUUUUCK!!" Enough said.
#75. BRITNEY SPEARS, "PERFUME"
To the surprise of few, Britney Jean turned out to fall short of its "most personal Britney yet" pre-release hype, but we did get a couple moments that felt real enough to carry the whiff of insight--most notably "Perfume," the lovely, aching ballad that sees Brit animalistically marking her relationship territory, possibly with her signature "Curious" line. For a woman who seems to actively be trying to turn into a robot--how else could you explain the extended will.i.am partnership?--it's a disarmingly human sentiment.
#74. ALISON GOLD, "CHINESE FOOD"
Now that Rebecca Black is a little too old (read: self-aware) to make a "Friday" sequel that stays true in spirit to the original, we now need poor little Alison Gold singing about chow mei-mei-mei-mein to get our 2013 fix of Ark Music Factory pop surrealness. As long as Patrice Wilson is still there to pop out of his panda suit, though, we're betting the Ark pipeline remains a rich one into the decade's second half.
#73. ACE HOOD FEAT. FUTURE & RICK ROSS, "BUGATTI"
We've said it before, we'll say it again: Ace Hood might be the name on the left side of the "f/" symbol in this one, but from his first "TURN UP!" exhortation, it's no doubt who this song belongs to. Don't take it personal, Ace--Future has stolen songs from a lot better rappers than you, and with hooks a lot less insta-classic than this one.
#72. BETTY WHO, "YOU'RE IN LOVE"
If there's one name to keep in mind for a big breakout in 2014, it's probably Australian singer/songwriter Jessica Anne Newham, better known as Betty Who. Her entire Movement EP was dynamite, but "You're In Love" was the song without peer, the kind of singing-along-by-the-end-of-the-first-listen dance-pop confection that makes absolutely everything all right for three minutes and 55 seconds. Expect a lot more of these to come.
#71. A$AP FERG FEAT. A$AP ROCKY, "SHABBA"
Between namechecks on the 2 Chainz and Kanye West albums and this unexpected tribute from A$AP Mob's two highest-ranking capos, it's pretty safe to say this has been the biggest year for dancehall legend Shabba Ranks in American popular music in some years. Buju Banton and Chaka Demus are probably seething with envy that Ranks got a shoutout this memory-sticking and straight-up badass as this one, though--you'll never listen to "Housecall" again without muttering "Sha...shabbaaaaaRRRRAANKS!!" to yourself.
For songs #70-61 on our list, click NEXT.
#70. JAY Z FEAT. JUSTIN TIMBERLAKE, "HOLY GRAIL"
It wasn't the best song either artist was involved with this year, but it might have been the biggest-sounding, the one most worthy of having both of their names on the marquee. Nirvana quotes, Tyson comparisons, Timbaland and The-Dream production--it was always go big or go home for the default lead single for one of the year's most-anticipated albums (that we didn't even know we were anticipating), and it certainly did not fall short. #MichaelJacksonThriller.
#69. LANA DEL REY VS. CEDRIC GERVAIS, "SUMMERTIME SADNESS"
Turns out all Lana Del Rey needed was a relatively by-the-numbers EDM beat to turn her frown upside down--or at least, to make her endlessly dolorous crooning seem distinctly palatable, maybe even compelling. "Summertime" wins out over "sadness" yet again, hooray.
#68. SNOOP LION FEAT. MILEY CYRUS, "ASHTRAYS AND HEARTBREAKS"
There was about a two-week period in April when people--me, anyway--thought, "wow, when people hear Miley on this new Snoop reggae song, it's gonna really get them talking about her again!" Turns out she, uh, didn't really need the help. Still a super-good song though.
#67. SKY FERREIRA, "YOU'RE NOT THE ONE"
In which pop's most malleable don't-say-princess adds Billy Idol-via-Simple Minds '80s swoon-rock to her resume. It's not gonna break her through to the mainstream, but we're guessing that stopped being a primary concern of Sky's about four label heartbreaks ago.
#66. JUSTIN BIEBER, "ROLLER COASTER"
Not much room for disco-funk in the Bieb's recent set of musical diary entries, but even a song as ostensibly upbeat as "Roller Coaster" is so wracked with dread and ache and set to such a narcotic-slow BPM that it would only ever get play at the lonely end of the dance floor. We're way more excited for Journals than we'd ever expect to be on paper.
#65. KATY PERRY, "WALKING ON AIR"
We haven't given up on this one being an official single yet, have we? It's not too often we get a dance-pop song as ecstatic--in more ways than one, obviously--as this, it'd be a shame to have it lost as a promotional footnote to history. Here's hoping "Unconditionally" finishes its run sooner rather than later to make room for this far less treacly hands-and-feet-in-the-air jam.
#64. DEMI LOVATOR, "SOMETHING THAT WE'RE NOT"
And speaking of songs not pulled as singles, few crimes against pop were as severe this year as Demi going three deep on her Demi album and still not releasing the buoyant "Something That We're Not," as gleeful a friend-zoning anthem as you're likely to hear in all of popular music. When I heard an announcement of "the new Demi Lovato single" on the radio the other day and it ended up being the mediocre "Neon Lights," I cursed the heavens and flipped to whatever channel happened to be playing "Get Lucky" at that point in time.
#63. HAIM, "THE WIRE"
Amazingly, Eminem's previously listed "So Far..." keeps "The Wire" from earning "Best swipe of an Eagles-related classic rock hook of 2013" honors, for its brilliantly subtle lift of the Birds' "Heartache Tonight" intro beat. Luckily, there's also one swingin' tune attached to that intro here, with a lyric about miscommunication problems in relationships that has exactly as much effect on the song's general bubbliness as you choose to let it. There were really only two types of pop fans in 2013--those who fell under the HAIM sisters' charm, and those who wonder why Corey Haim waited until he was dead to release his first solo album.
#62. YLVIS, "THE FOX (WHAT DOES THE FOX SAY?)"
We've given up trying to figure out just how Ylvis managed to break the YouTube glass ceiling on this fall to become the biggest the biggest viral Top 40 crossover sensation since "Gangnam Style." Clearly, when you get hundreds of millions of people singing along from an opening couplet like "Dog goes woof / Cat goes meow...," you're doing something right. Enjoy it at karaoke while you can--it won't be tolerable for long.
#61. KELLY ROWLAND, "FREAK"
Really, we could've picked just about any of the 12 excellent tracks that make up Kelly's super-underappreciated Talk a Good Game, but let's go with opening salvo "Freak," for its impressive incorporation of Drive-style synths into a stomping R&B number, and perhaps the equal-sexual-opportunity chorus of the year, "Everybody's somebody's freak...Who's to you?"
For songs #60-51, click NEXT.
#60. DRAKE FEAT. SAMPHA, "TOO MUCH"
The devastating NWTS emotional climax, in which Drake puts his actual immediate family on quasi-blast, proving that there truly are lengths to which Drizzy will not go to always give you him, the real him. Good news for us, though we imagine it's gonna make for some awkward conversations at the Graham household this Christmas. Don't think about it too much, Mr. and Mrs. Drake.
#59. LADY GAGA, "FASHION!"
Did it really take Gaga this long to come up with a song called "Fashion!" Better late than never, we suppose, as the rubbery disco number is maybe the most purely enjoyable song on ARTPOP, and does more for the phrase "catwalk" than any song since Right Said Fred. David Bowie--undoubtedly one of Gaga's primary artistic muses--would likely approve, even with the will.i.am-featuring outro.
#58. CHANCE THE RAPPER, "CHAIN SMOKER"
If there was a Drake/Kendrick-style revelation to be had in hip-hop this year, it undoubtedly came courteous of Chicago-based Chance the Rapper's Acid Rap mixtape, of which "Chain Smoker" was probably the purest statement-of-intent and most immediately grabbing would-be-single. (Just go download the whole thing now, though. Here, we'll even link you.) It might not be too long before he's playing on something close to Drizzy and K Dot's level, either--he's even got the Bieber feature to send him on his way.
#57. BRUNO MARS, "WHEN I WAS YOUR MAN"
Every year needs one song that you can play if you happen to be drinking and miserable at a bar after hours, and happen to come by a piano that the bartenders have been silly enough to leave a baby grand unattended. Well, maybe not, but we're glad Bruno gave us this torch song for such purposes, anyway. Just in case.
#56. AVRIL LAVIGNE, "HERE'S TO NEVER GROWING UP"
Pop's Wendy and her Lost Boys attempt to ignore some increasingly unignorable warning signs of aging--fifth albums, impending 30th birthdays, second marriages with a bottle of whatever and a considerably loud singalong session to OK Computer. We'd act like we're too mature and self-aware to join in, but...yeah. (Does that make Chad Kroeger Peter Pan, though? Yikes.)
#55. SEVYN STREETER, "IT WON'T STOP"
We appreciate the efforts of Chris Brown for helping to break this song by his long-time singer/songwriter to radio, since it's maybe the sexiest song released by anybody this year and seems to herald the arrival of one of the next great R&B stars on the market. But ick, do try to avoid the remix with him on it and go straight to the all-Sevyn version. The song's a lot sweeter when you're not picturing it as Young Breezy making Street feel Some Type Of Way.
#54. LITTLE MIX, "MOVE"
We didn't think Little Mix would be able to top "Wings" anytime soon in terms of face-slapping bombast and remorseless catchiness, but then along came the snapping, bubbling, everything-ing "Move" to make the UK girl group's breakout single sound like John Mayer's "Daughters" by comparison. We await with breathless excitement and incredible anxiety to hear what it sounds like when they go next-level from here.
#53. BEYONCE, "BLOW"
Hands up if you ever thought Beyonce was going to be able to make an oral-sex jam this explicit and shame-free (with a backing track courtesy of '79 MJ and Quincy) without it coming off as cheap or exploitative? OK, OK, everybody, put your hands down, you're right, we all know that there's nothing Beyonce can't do. Let's try not to take that too much for granted, though.
#52. FUTURE FEAT. LIL WAYNE, "KARATE CHOP" (REMIX)
The song that launched a million mumble-mouthed "DUBBA...GUDDA...WUBBA...HUGGA...JUMMA!!" raps, and while we may or may not be grateful for every single one of those, getting to sing along with this one easily made them all worth it. There's going to be a time when we look back and wonder why we allowed this drunk, auto-tuned moon creature to be one of the primary trendsetters in popular music, but luckily that time is not 2013.
#51. ZEDD FEAT. FOXES, "CLARITY"
It felt like just about every EDM song that captured Top 40 radio's attention after this one--Krewella's "Alive," Nikki Williams' "Glowing," even Zedd's own Hayley Williams-featuring "Stay the Night"--was just a lesser copy of "Clarity," one of the highest and deepest-reaching EDM anthems of the decade, and a song whose pale imitators we should try not to hold against it. Keep an eye out for that Foxes, by the way, girl's going places.
For songs #50-41, click NEXT.
#50. DRAKE, "WU-TANG FOREVER"
Just because Drake doesn't exactly bomb atomically on the track doesn't mean it's not something the Wu Crew could appreciate. At the very least, the minimal, disquieting 40 beat is as ice-cold (while still keeping a sense of warmth to it) as any classic RZA production, and the use of the "It's Yourz" sample is about as inspired a vocal trigger as could be found in hip-hop this year. Plus, who's to say the Clan didn't have moments of relationship introspection like this? Wu have feelings too.
#49. LORDE, "A WORLD ALONE"
The epic closer to Lorde's debut effort builds for five minutes until it reaches a kind of massive, unifying swell that ironically--but perhaps not unintentionally--makes you feel anything but alone, like the best U2 or (more recently) LCD Soundsystem songs. It's scary just how much this young person is already capable of.
#48. MACKLEMORE & RYAN LEWIS FEAT. RAY DALTON, "CAN'T HOLD US"
Gotta cop to mixed (and in fact mostly negative) feelings about most of the Year of the Mack, especially as concerned the irritating "Thrift Shop" and the treacly "Same Love." But even a hater would have trouble denying "Can't Hold Us," an emphatic statement of purpose that succeeds as one of the most rabble-rousing singles of 2013, with a piano hook that feels like classic house without seeming awkward or trend-hoppy. It's one of the few times that Macklemore sounds less self-righteous than actually...well, just sorta righteous.
#47. JUSTIN TIMBERLAKE, "BLUE OCEAN FLOOR"
There's really no comparison this year for how stunning it was to hear "Blue Ocean Floor" after nine tracks and 62 minutes of Timberlake's first 20/20 Experience. Abstract where the rest of the album was either overly punny or weirdly literal, slow and serene where the rest of the album was hyped up and impossibly busy, vulnerable-sounding where the rest of the album was at times unbearably smarmy. It's a direction we never thought JT would go with his music, and which he probably won't expand upon too much from here, but we're thankful we got the one song out of it.
#46. THE JUAN MACLEAN, "FEEL LIKE MOVIN'"
"Feel Like Movin" may or may not be the best dance song of 2013, but it is unquestionably the best dance song about dancing, with every note and every lyric designed to make you feel grateful for the form of self-expression. "Music's gonna shake you / Music's gonna make you / Good times gonna take you to heaven." Stated matter-of-factly by unlikely disco siren Nancy Whang over appropriately blissful piano and synth-bass, it doesn't sound boastful or exaggerated, it just sounds like the truest goddamn thing you've ever heard.
#45. MIGOS FEAT. DRAKE, "VERSACE (REMIX)"
Anybody who wasn't busy copping Future's "Karate Chop" flow in 2013 was probably trying their hand at Migos' rapid-fire triplets instead. Even Drake, oft the trend-setter himself, couldn't resist hopping on the Atlanta trio's signature song, sounding very much at home without interrupting the group's singular brand of lingo-heavy swag. Drake might not have sold a million of Nothing Was the Same in its first week as he predicted here, but we doubt that really killed Drizzy's vibe this year.
#44. SELENA GOMEZ, "COME & GET IT"
"Come & Get It" wasn't Selena Gomez's best single, but it was her biggest, and it's not hard to see why--there's a grown-up sort of confidence to it that simply wasn't there on her earlier songs, a belief that she's as capable as anyone of performing songs originally offered to the likes of Rihanna, and the chops to back it all up. The fact that the song was pretty good didn't hurt either, a zooming StarGate production with a simple-but-memorable hook and enough Eastern inflections that Selena could perform it wearing a Bindi at award shows and only seem mostly ridiculous for it.
#43. PARAMORE, "STILL INTO YOU"
The little pop-punk single that could in 2013, "Still Into You" bowled over a decade's worth of anti-guitar trending on Top 40 with its Whoville-like indomitable spirit. You just don't get a lot of songs a year this sheerly likeable--incredibly sweet and really quite romantic, but without the slightest trace of saccharine or insincerity. There aren't a lot of true rock stars left in this country, but if you're still not convinced that Hayley Williams fits the bill after this year, the problem lies with you, my friend.
#42. KACEY MUSGRAVES, "FOLLOW YOUR ARROW"
Kacey does the lord's work in trying to drag country music, kicking and screaming, into the 21st century, with what must be the first-ever song openly endorsing same-sex relations and marijuana usage to ever be performed at the CMAs--even if they still had to censor the "roll up a joint" lyric. It's a damn fine song social progress aside, even, catchy and life-affirming and mold-breaking without seeming self-righteous. Kacey didn't have the mainstream breakthrough many of us hoped for her at the beginning of the year, but she's still someone you're going to be hearing about for a long, long time.
#41. KANYE WEST FEAT. GOD, "I AM A GOD"
We're just lucky to live in a world where something like "I Am a God" is permitted to exist, balancing outright blasphemy, juttering industrial sound effects and horrific shrieking noises with boasts about counting millions and uncomprimising demands for hastily delivered French breakfast goods. God might not literally have been a featured artist on the song as Kanye claims, but we'd like to think he or she would mostly be cool with the shoutout.
For songs #40-31, click NEXT.
#40. ONE DIRECTION, "LITTLE BLACK DRESS"
Was one of the best old-school, guitar-powered power pop songs of the year--maybe even the decade--really performed by the world's most popular boy band? Shame on you, shaggy-looking young dudes and dudettes in suburban garages worldwide, for letting the 1Ders get the drop on you like this. Next thing you know they'll be spearheading the fourth-wave ska revival, too.
#39. EMINEM, "RAP GOD"
It took a weirdly long time for Marshall Mathers to start to feel like a Rap God, but whatever it took to get him to care enough to release a blast of raw, back-to-basics urgency like this song after such a long time of seeming to not really give a damn, we're cool with it. Shame that getting back in touch with his roots for Em also means getting in touch with his most unapologetically homophobic lyrical impulses, otherwise "Rap God" might've had a claim for our list's top 20.
#38. BIG SEAN FEAT. KENDRICK LAMAR & JAY ELECTRONCIA, "CONTROL"
Kendrick didn't need to release his own song--hell, didn't even need to be on anybody else's officially released song--to absolutely dominate the conversation in hip-hop in 2013. All he needed was an off-the-records guest spot from Big Sean and a laundry list of names of peers whom he felt would be wise to prepare themselves for his reckoning, and the entire scene had to stand up and take notice. Even Drake, the year's best-selling rapper (and a dude with about a half-dozen songs on this list) clearly felt uncomfortable from the breath he felt on his collar courtesy of The Kendick Verse, one of 2013's most indelible Where-Were-You-When-You-Heard musical moments.
#37. ANNA KENDRICK, "CUPS (MOVIE VERSION)"
Anna Kendrick's Pitch Perfect audition cut "Cups" made the unfortunate transformation from one of the year's most unique, sweet, and pleasantly unexpected organic successes to one of its most overbearing, unnecessary radio hits via the "When I'm Gone" remix, which added another minute and some cartoonishly shameless Mumford banjoing to its runtime and ruined what made the song so great in the process. We try not to hold it against the original, a super-fun and virtually unhateable bubblegum novelty, and we hope you haven't come to either.
#36. ARIANA GRANDE, "BABY I"
Ariana Grande's second single wasn't quite as big a crossover as her first single (still to come on this list) was, but it was every bit as much of a pop rush, and every bit as much of an acid flashback for us children of the '90s who haven't heard pop-n-B performed with such exuberance and verve since the heyday of Mariah Carey--or Ashanti, at the very least. Esteemed company, and we expect the incredibly talented Ariana to continue to merit the comparisons for some years to come.
#35. MARTIN GARRIX, "ANIMALS"
We may never know what the animal kingdom did to the 17-year-old (!!) Dutch DJ that incensed him enough to inspire what will surely go down as his signature club track, but man, it musta been some f'ed up shit. Nonetheless, the song is so ridiculously banging that they're probably getting down to it at the Netherlands Zoo as we speak, despite themselves.
#34. PINK FEAT. NATE RUESS, "JUST GIVE ME A REASON"
One of the few things missing from Pink's Hall-of-Fame caliber pop star career was a classic-sounding duet with a male pop peer, one that turns anyone singing along while listening on the radio into the star of their own personal musical autobiography. Given that this song became her fourth #1 hit, and was YouTube's #1 karaoke song of all 2013, we'd see she can check off that box pretty safely now.
#33. RICH HOMIE QUAN, "TYPE OF WAY"
Rich Homie Quan did things the super-DIY way, not only becoming one of the most impressive underground success stories in 2013 hip-hop on his own grind, but also serving as his own hypeman during the process, resulting in all of the classic backing ad-libs on the chorus to breakout single "Type of Way"--"I KNOW YOU DO!," "DON'T LOOK LIKE THAT!," etc.--which help make the song so inexplicably infectious. The title catchphrase didn't hurt, either, nor the always-appropriate Sade "Smooth Operator" reference.
#32. EMPIRE OF THE SUN, "ALIVE"
In some utopian universe--probably one not totally unlike the one Empire of the Sun themselves inhabit in their performances--the blissed-out "Alive" was the club crossover smash of the year, a song whose opening notes instantly levitated everyone in the building ten feet above the dancefloor. Those kids in Australia really don't know just how good they have it with all this dance-pop euphoria to choose from.
#31. JAY Z, "TOM FORD"
Triumpeting designer clothing brands over non-designer drugs might've seemed a little corny at first, but as with most things Jiggaman, it quickly revealed itself to just be a little ahead of the curve--by the end of the year, even Miley Cyrus was probably muttering the chorus to herself. A return-to-form Timbaland beat might have been the not-so-secret weapon, a percolating monster that somehow maintained a kind of tiptoeing grace, making us appreciate just how much potential great music we were robbed of in the half-decade or so that Jay and Timbo were on the outs.
For songs #30-21, click NEXT.
#30. GIRLS' GENERATION, "I GOT A BOY"
We didn't even know "The K-Pop Bohemian Rhapsody" was a thing we wanted to hear, or that anybody else wanted to create for us. However, if the storming, spellbinding "I Got a Boy"--a song that almost a full year after release, still needs to be heard to believe--is any indication of the power of the Korea-Queen hybrid, we really can't wait to hear what Girls' Generation's version of "Another One Bites the Dust" could possibly sound like.
#29. LADY GAGA FEAT. R. KELLY, "DO WHAT U WANT"
As much as everyone seems chomping at the bit to declare ARTPOP a disaster and Lady Gaga's career in shambles, don't count out the slow-burning appeal of the chugging dance-pop juggernaut "Do What U Want," maybe the one Lady Gaga song of this decade that isn't totally overwhelmed by her larger-than-life personality. (Letting the Pied Piper of R&B in on the fun probably helped with that part.) If the song gets massive enough in the next few months that people are still putting it on their year-end lists for 2014, we wouldn't be surprised.
#28. MARIAH CAREY FEAT. MIGUEL, "#BEAUTIFUL"
An as-titularly-described duet between two all-word vocalists and sex symbols that really gets you with its restraint--both still hit some serious high notes, but sound so awed in reverence to one another (and to the song itself) that they actually have to hold a little bit back. It catches you so off-guard and touches you so unexpectedly that it ends up being far more powerful than if both singers went all glass-shattering, reality-audition on us.
#27. A$AP ROCKY FEAT. DRAKE, 2 CHAINZ AND KENDRICK LAMAR, "FUCKIN' PROBLEMS"
Seems like it'd been a long time since we've gotten a quality "You take your turn talking about how you're the fucking greatest, then I'll take mine" collab between three of the hottest MCs in the game, especially over a beat as blazing as the one that Noah "40" Shebib, presumably on loan from Drizzy for the weekend, does here. And as with so many of 2013's finest moments, 2 Chainz shows up to provide the connecting tissue--the ultimate glue guy on a hip-hop Dream Team.
#26. BRITNEY SPEARS, "WORK BITCH!"
Britney's days as a leading light of the Top 40 might be winding down, but her days as a cult figure of massive subculture worship are likely just beginning. "Work Bitch!" was brilliant for that reason--it managed to further the image of HBIC Britney that she's been cultivating since the first time she memorably used the "B" word back in "Gimme More," while also pushing her sound in new and interesting (but not totally alienating or unfamiliar) directions. And yeah, the thing fucking pounds, just as the song's spiritual godmother RuPaul would have intended.
#25. PUSHA T, "NUMBERS ON THE BOARDS"
Forever the younger sibling, on the same day that Jay Z dropped the scorching "Open Letter" on all his critics, Kanye unleashed "Numbers on the Boards," the collaboration between West and spiritual brother of recent years Pusha T, and one of the few songs of 2013 that could have possibly managed to upstage Big Bro. Kanye provides the song's most obvious sizzle, layering the track with enough buzzing, clanking hooks to fill a sports arena, but King Push brings the steak, killing every lyric from his opening "I'm so bossy, bitch get off me"--one of many callbacks to the Jiggaman, natch--to his closing "36 years of doing dirt like it's Earth Day." GAWD, indeed.
#24. CHARLI XCX, "SUPERLOVE"
She had already put out one of the year's best under-the-radar (unless you're a music blogger, anyway) pop albums of the year with True Romance, but just in case you weren't impressed yet, she dropped "SuperLove" a few months back--a borderline-unhealthy sugar-rush of a pop song with Charli's signature edge and glamor that was somehow more addictive than any of the all-killer-no-filler on Romance. IF you don't know, now you know--the girl is daaaangerous.
#23. KANYE WEST, "BLACK SKINHEAD"
Guttural growls, martial drums, piercing shrieks, incendiary lyrics--yup, this is definitely the single. Not hard to be the most accessible track on an album like Yeezus, but the crazy thing about "Black Skinhead" is not just that it managed to not totally alienate the music-listening public, but that as wild and difficult as it was, it still managed to be the go-to new jock jam for this year's NBA season, its thundering intro and doomsday shuffle beat somehow leading it to translate as the modern day "Rock n Roll, Pt. 2." Sing it with us now: NANANANANANANANA...'YE!
#22. KATY PERRY, "ROAR"
If you didn't know "Roar" was a smash within the first ten seconds, then man, you musta forgot about Katy and Luke. Anthemic like "Part of Me," universal like "Firework," and undeniably massive like "California Gurls," "Roar" was as scientifically empirical a pop song as we've had since "We Are Never Ever Getting Back Together." Throw in a VMAs-closing performance that smartly played up the Rocky element of the lyrics (and fit the song far better than the weird-ass official video), and you had a song that was bound to maintain the pop status quo in 2013 in at least one reliable way: Katy Perry back on top of the pop charts.
#21. JUSTIN BIEBER, "HEARTBREAKER"
Justin Bieber as a PG-rated (aspiring to PG-13) The Weeknd? It should have been a disaster, and frankly, we're still not sure how it wasn't. But the first and arguably best of the Bieb's Music Mondays releases showed that he's got the chops to pull off emotionally despairing, sonically minimal R&B like people with far more life experience (and far more genre cred) than he seems to have. Even the Boyz II Men-like spoken word breakdown section--which does everything but literally cry out SELEEEEENAAAA C'MMMMOOOOOONNNNN--manages to avoid total schmaltz, the song's sedated groove and Bieber's anguished delivery leaving you hanging on his every word, no matter whose side you were on in the breakup.
For songs #20-11, click NEXT.
#20. CAPITAL CITIES, "SAFE AND SOUND"
Not exactly a pop song for the thinking man--lyrics like "Even in a hurricane of frowns / I know that we'll be safe and sound" will give you migraines if you give them more than a second's thought. But Capital Cities still had one of the great one-off hits of this year with "Safe and Sound," thanks to its simple and endlessly repeating earworm of a hook, its sparkling production, and the best horn hook this side of Haggerty & Lewis to be found on pop radio this year. We'd be shocked if they had another hit, but this was really all we needed from Capital Cities, and we're thankful for it.
#19. J. COLE FEAT. MIGUEL, "POWER TRIP"
"Power Trip" stayed in heavy rotation pretty much all year long on R&B radio, and though that might not seem surprising given how popular J. Cole is at the moment, you have to consider the song he did it with--a molasses-slow heartbreak ballad that in which Cole's insomnia could be felt in every belabored syllable on the distinctly barebones hook. (Hell, blink and you'll even miss any mention of the phrase "Power Trip" in the verses.) But the song's palpable ache carried the day, thanks to a big assist off the bench from Miguel, and through Cole's sheer commitment to the song's 4:00-AM feel--a rawness you can't help but wish you heard from him more often.
#18. JUSTIN TIMBERLAKE FEAT. JAY Z, "SUIT & TIE"
Hey, at this point, either you dig it or you don't. Just wait till you hear it at a wedding or Bar Mitzvah before making your final judgement, is all we ask.
#17. MILEY CYRUS, "WRECKING BALL"
Yeah, Miley came in like some sort of blunt, destructive force in 2013, and a wrecking ball--especially one being ridden by her, clothesless--is as good a metaphor as any. "Ball" was far more impressive as a song than it had to be for a single whose controversy came so pre-packaged, though--a song whose construction cleverly mirrored its main imagery, the chorus coming out of nowhere to level tall buildings, the emotion real enough to feel like such visual stakes were merited. It's a legitimate signature ballad, and one that not even a meme-inspiring Terry Richardson video could totally distract from.
#16. ONE DIRECTION, "BEST SONG EVER"
A little "Baba O Riley," a little "Teenage Dream," a little...Wallpaper, maybe? Regardless the exact formula, One Direction kept their winning streak going with This Is Us promo single "Best Song Ever," a perfect stopgap between their second and third albums, and one of the surest signs that they saw '80s arena rock as the way of the future for their brand of maturing teen-pop. It goes oh-oh-oh and yeah-yeah-yeah like all the best songs of that bygone era, but stays rooted enough in modern pop sounds--as well as recent lyrical obsessions with embracing the night and general infinitives--to stay in the hearts of kids whose parents were even barely old enough to remember Def Leppard's Pyromania.
#15. BEYONCE, "FLAWLESS"
We'd long been on Beyonce's "Bow Down" since it leaked as an unofficial release at the beginning of the year, with its sizzurpy The-Dream production, Queenly proclomations and teasingly short runtime. But "Flawless," from Bey's self-titled album, took the song to the next level by cutting out the fun-but-slight "I Been On" section and replacing it with a speech from Nigerian feminist writer Chimamanda Ngozi Adichie and Bey's own sort of call-to-arms for all her ladies, single or otherwise, to embrace their inner and outer perfection. It feels like a career-defining song, but Mrs. Carter's already had so many of those we're not sure how much more definition her career can handle.
#14. PARAMORE, "AIN'T IT FUN"
We're not sure when Hayley Williams--who we still feel is only 16 years old, even though we never actually knew her at 16-year-old--became pop's cool, mature older sister, but that's indeed the role she assumed on Paramore's incredible self-titled album this year, giving all sorts of tough-love lessons to her peers--especially those in the pop-punk community, and possibly even her own band at one-time--who have refused to grow up with her. "Ain't It Fun" is by far the best and most fun of these heart-to-hearts, a song that turns embracing real-world responsibility into something worth beating your chest about, which turns "Don't go crying to your mama" into a chant worth hiring a gospel choir to express. Hey, nobody can stay in the Misery Business forever.
#13. DEMI LOVATO, "HEART ATTACK"
The best thing about "Heart Attack"? It drops you in mid-Demi shriek--"PUTTING MY DEFENSES UUUUPPPP!! 'COZ I DON'T WANNA FALL IN LOOOOOVE!!!"--like woah, what? That's the level of urgency with which Demi is expressing her dread of getting into another potentially painful relationship--she's not gonna waste time easing you in with a nice string intro or be coy leading up to the point with a decoy verse, she wants you to know right now, loud and clear: Dude, it is NOT HAPPENING. The rest of the song is basically like that, too--perhaps the best, and definitely the most purposeful anti-love song released in the 21st century, which oddly ends up coming off highly romantic, that the object of Demi's non-affections could inspire such core-shaking dread.
#12. DRAKE, "STARTED FROM THE BOTTOM"
It feels like years ago that we first heard "Started From the Bottom," possibly because it only took a couple days of exposure to the hip-hop-listening public for it to become part of the culture and lexicon, like it had always been there and always would be. The latter part is probably true--"Started" feels a little bit like Drake's "My Way," the song that crystallizes his core ethos and sums up his self-perpetuated narrative, and ends up becoming quickly universal in its personalness. It's not his catchiest or most innovative song, but it's maybe his most undeniable--the song that best states why he's there and why you're listening to him, and dares you to try to deny his right to be there. You'd be smart not to try at this point.
#11. ARIANA GRANDE FEAT. MAC MILLER, "THE WAY"
Not a lot of people would've predicted the mainstream debut of Ariana Grande, the latest name in the Nickelodeon-actress-turned-songstress pipeline, to feature the likes of Mac Miller, quote the likes of Big Punisher, or evoke the likes of Mariah Carey. More importantly, not a lot of people would it have expected it to be this good, this refreshing, this natural. "The Way" didn't just call back to hip-pop hybrids of decades past, it made a very convincing argument that there was no damn reason why they shouldn't be just as popular in 2013, and it put Grande on the radar for pop listeners who never could have told Victorious from iCarly. What's with Mac Miller offering Bruce Almighty or American Beauty as his two date-night flick choices, though? Get a Netflix subscription, dude.
For our top ten songs, click NEXT.
#10. CIARA, "BODY PARTY"
A Ciara song called "Body Party" did not seem super exciting in the year 2013--Ciara's lead singles have generally been an endless stream of come-hither ballads of decreasing interest and increasing obviousness, and "Body Party" would only seem to be continuing both negative trends. Not so, however--a little help from new squeeze and 2013 pop music's Best Supporting Actor Future, as well as a big assist from the Ghost Town DJs' 1996 Miami bass classic "My Boo," and Ciara had her biggest and best hit in a half-decade, a party slow jam that was sensual and intimate while still maintaining a sense of sweetness and girlish naivete to it, sounding less like a striptease than a compulsively scribbled diary entry. It made Ciara fun again, and proved conclusively that Future could do whatever the hell he wanted this year.
#9. LADY GAGA, "APPLAUSE"
That Lady Gaga lives for the applause-plause is certainly no surprise to anyone who's followed her career, but what was somewhat unexpected "Applause" was that her narcissistic declarations in ARTPOP's singles were actually couched in her least self-indulgent single of recent years. Sure, there were the Koons references, the A-R-T-P-O-P outro, the goofy costumes at the VMA performance, but when you boiled it down, "Applause" was Gaga's catchiest, simplest, least frilly pop song maybe since "Poker Face"--though unlike its follow-up "Do What U Want," it also maintained enough of Gaga's singular character that it never felt like a concession or a sell-out. Over-promotion and self-aggrandization aside, Gaga still puts out some great pop music, and it was key for "Applause" to remind us of that.
#8. TEGAN & SARA, "CLOSER"
After flirting with it pretty heavily over their last few albums, Tegan & Sara's latest Heatthrob finally saw them jumping into the dance-pop waters head first, and the reaction was basically universal: What took you guys so long? "Closer," the first and probably best track on the album, announced that the twin duo might be new to the game, but they new what they were doing: The song's expertly deployed quiet-loud dynamics, immediately grabbing chorus and immaculately layered production are all textbook, and allow the song's typically evocative lyrics--attention-grabbing nuggets like "The night sky is changing over" and "I won't treat you like you're oh so typical" to really explode on impact. The song simmered just below the mainstream for almost the whole year without ever truly crossing over, but that's fine--the sisters play better as underdogs, and those who know won't forget anytime soon.
#7. KANYE WEST, "BOUND 2"
Before Kimye crawled on their green-screened motorcycle made the song an internet punchline, "Bound 2" endured as the most slippery, inscrutable song on Yeezus, a song that felt sort of like classic Yeezy productions from less troubled times, but carried a hint of total disembodiment to it: The lack of any actual beat under the brilliant Ponderosa Twins sample, perhaps, or the way Charlie Wilson's bridge vocal seemed to interrupt Kanye's ranting like a concerned neighbor, or the way the song title itself was barely even a fragment of a thought. Consequently, the song was arguably more disturbing (and probably more challenging) than most of the album's more "difficult" fare, but that also made it the LP's most rewarding cut, one worth studying endlessly to unpack its many mysteries. And besides, don't act like you haven't been going "Uh huh, honey" to total strangers on the street ever since the song came out. You're not the only one.
#6. DAFT PUNK FEAT. PHARRELL & ROBIN THICKE, "GET LUCKY"
The 2013 pop song with the approval rating so unaninmous that the artist behind it never even bothered to release a music video for it. After all, what was Daft Punk going to do with a video for "Get Lucky"? Make people like a song that they already loved and had absolutely no problems with more? Expose a song that already got regular airplay on pop, rock, hip-hop and dance stations to more people? Get nominated for a Video Music Award when MTV already basically invented an entirely new category ("Best Song of the Summer," seriously?) just to have an excuse to give the song a nod? "Get Lucky" didn't need a music video because the last time songs were so simultaneously dominant over and beloved by the mass culture, music videos didn't even exist yet. No biggie. Michel Gondry was probably busy anyway.
#5. JUSTIN TIMBERLAKE, "MIRRORS"
If Justin Timberlake's surprise-at-first, totally-unavoidable-after pop comeback this year burned out its welcome quicker than expected, and left listeners with a much different taste in their mouth at its end than its beginning, the enduring artifact from the period that makes it all unquestionably worthwhile is still "Mirrors." An ode to JT's new bride, "Mirrors" not only earns its eight-minute runtime, it makes other love songs seem shallow for only bothering to spend three or four minutes paying tribute to their beloved, while Timberlake is willing to stick around for a couple extra climactic choruses and a whole three-minute coda. It feels genuine, it feels inspired, and it even feels kind of important, like Justin saying "hey don't forget, this is what this music thing is really all about." You don't get that out of "Strawberry Bubblegum," certainly.
#4. LORDE, "ROYALS"
"Royals" first really clicked for me when I heard it on my local hip-hop station. It seemed like a curious choice of song for rotation on the station, given both its performer--a 17-year-old singer-songwriter from New Zealand, a culture with close to zero connection to American mainstream hip-hop--and its subject matter, a sort of denouncement of the extravagance and ostentatiousness of the lifestyle openly promoted by many of the channel's core artists. But sonically, it actually kind of made sense--the minimal, snapping intro is only about a degree removed from the Ying Yang Twins, and Lorde herself has a low, smoky quality to her voice that could certainly pass for R&B in some quarters. And that's sort of what made the song so brilliant--it satirized the culture while secretly slipping in its back door, mocked it while actually kind of celebrating it, with a song that ended up appealing to outsiders and insiders in about equal measure. What becomes or Lorde now that she's a part of popular culture herself will undoubtedly be one of 2014's most compelling musical subplots.
3. DRAKE, "HOLD ON, WE'RE GOING HOME"
As massive as Drake has remained the past three or four years, it hadn't really been since "Best I Ever Had" that he had a hit that was as unavoidable on pop stations as it was on hip-hop ones. In a different context (or by a different artist), a dance-n-B crowd-pleaser "Hold On, We're Going Home" might have seemed like a cheap cash-in, but the song was so damn good and Drake has done such a good job of not setting any boundaries for himself in his career that it just felt like a natural part of his evolution for him to be doing this kind of futuristic wedding music. The title sentiment itself was so simple, and seemed to say so much without actually saying anything specific, that it quickly felt like a song we've lived with forever, and the little synth hook--you know the one--just seals the deal. Maybe you prefer "Worst Behavior" Drake or "Tuscan Leather" Drake, but if you can't get down to "Hold On, We're Going Home" on some level, all of the Drakes probably feel a little bit sorry for you.
2. MILEY CYRUS, "WE CAN'T STOP"
As much as Miley Cyrus straight-up owned pop discussion and debate in 2013 for all sorts of reasons of varying degrees of seriousness, at the end of the day, all of it comes back to "We Can't Stop." Before Miley and Mike WiLL Made It's warped, borderline-vampiric sort of party rock anthem hit the charts, people (including Mike WiLL himself!) wondered if Miley was even still making music, after it hit, it was clear that not only was she still around, but that she was going to have to be taken seriously as a pop artist on a level we'd never really had to contemplate before. The song just felt so vital--young, exciting, a little edgy--but had a dark undertow to it, underlined by the song's enjoyably disturbing music video, that made it endlessly compelling in a way that Pitbull and the Black Eyed Peas would never be with their pro-party rhetoric. It was the work of a familiar artist who was virtually uncreognizable as her former self, but had arrived fully formed in her new persona and with her new sound. And it was clear that we she was gonna stay dominating the pop conversation for a long time to come.
#1. ROBIN THICKE FEAT. PHARRELL & T.I., "BLURRED LINES"
There are songs that are growers, songs that make sense once you hear them in a certain context, songs that you need to listen to in a certain way. And then there are songs like "Blurred Lines," whose greatness is about as obvious as its double-endtendres, and which sounds like a megahit the first time you hear it, the tenth time you hear it, and the 300th time you hear it. There was no mystery or secret to "Blurred Lines"--it was awesome because it was awesome, because it hooked you instantly and held you throughout, because it never sounded unwelcome, because it was always more fun to listen to than whatever else was on the radio at the time. You might not objected to certain implications of the lyrics and the music video, but the song itself was on a level virtually above criticism , the kind of level of a "Don't Stop Till You Get Enough" or "Kiss," where finding fault with it feels like finding fault with pop music in general. That it all came courtesy of three guys in their 30s who seemed like they'd be about as relevant to the year in Top 40 as Ja Rule should tell you about all you need to know about 2013 pop.
Thanks for reading! Be sure to let us know your thoughts on our list (or about any year-end lists of your own) in the comment section or on Twitter, and check out the Spotify playlist of all available Popdust Top 100 songs below!