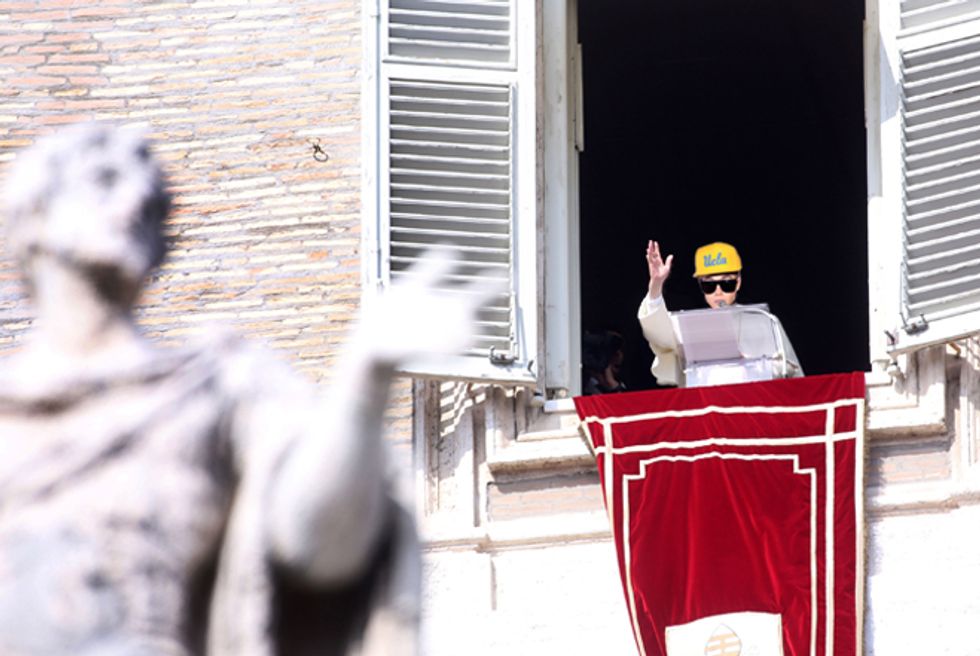 For the first time in hundreds of years, the papal conclave will assemble to select a new pope while a former pope is still alive. Could this bizarre set of circumstances lead to the College of Cardinals going with a wildcard choice ... like, say, a pop star? Probably not, but it's technically possible. (The best kind of possible.) After all, there aren't many requirements to be pope. Practically anyone can do it, if they play their cards right. Why should pop stars be excluded? They're charismatic, they have tons of public speaking experience and—most importantly for the modern Pontiff—they bring to the table millions of Twitter followers.
Which pop stars would we endorse to be the next Bishop of Rome? Find out below! For the purposes of this exercise, though, we're going to be a little bit loose with those Church's specifications; any pop star who has been a Catholic at any point in their life is eligible. For a job this big, you've got to cast the widest net possible.
(All pop-star religious information provided by the remarkably dogged reporters of HollowVerse.com.)
Justin Bieber
Why He'd Make a Good Pope: As arguably the most popular pop star in the Western world, Pope Justin I might single-handedly stem the tide of secularization in the US and Europe. Plus, he has a Christmas album. Can you imagine what the Latin version of "Drummer Boy" would sound like?
Why He Wouldn't: The Vatican thinks the old pope was better at Twitter.
Pitbull
Why He'd Make a Good Pope: Rumors say this papal conclave is looking for a pope who will appeal to the increasingly influential Latin American community. Who better for that purpose than Mr. Worldwide? (Also he may be a virgin.)
Why He Wouldn't: His controversial 2011 address "Give Me Everything (Tonight)" directly contradicts Catholic dogma.
MADONNA
Why She'd Make a Good Pope: Among pop stars, her knowledge of Catholic iconography is second to none. And, if chosen, she'd already have an awesome pope name.
Why She Wouldn't: See Prayer, Like A.
AUSTIN MAHONE
Why He'd Make a Good Pope: After the elderly Benedict XVI's term was cut short by illness, choosing a 16-year-old YouTube star as his replacement would certainly be a step in the opposite direction.
Why He Wouldn't: Mahone's business arrangement with controversial rapper Lil Wayne may make him too scandalous a choice for bishops looking for a safe choice in the wake of Benedict's surprise resignation.
Stefano Carofei-Pool/Getty Images
SELENA GOMEZ
Why She'd Make a Good Pope: Selena checks off a lot of boxes: young, Latin, uncontroversial.
Why She Wouldn't: Except she's a woman. That much change may be too much for the more conservative bishops to handle.
Stefano Carofei-Pool/Getty Images
KEITH URBAN
Why He'd Make a Good Pope: He's no stranger to religious devotion: He goes to Mass more than anyone else on this list, and even recorded a song called "But For the Grace of God."
Why He Wouldn't: He's married with kids. Sure, popes have fathered children before, but never with anyone as high-profile as Nicole Kidman.
NIALL HORAN
Why He'd Make a Good Pope: As a Catholic who sings alongside Anglicans and a Muslim, he certainly knows something about religious harmony. (Get it???)
Why He Wouldn't: While skilled observers of the Catholic Church report that the College of Cardinals is not averse to choosing a member of One Direction to be the next pope, sources say that if they did, it would not be "the silly one."
Christina Aguilera
Why She'd Make a Good Pope: Xtina's got the pipes to take on all of the pope's liturgical duties—in song! Plus, she has a lot of experience sitting on extravagant chairs.
Why She Wouldn't: Besides the whole "woman" thing, her Mormon heritage may prove too controversial.
MICHAEL BUBLE
Why He'd Make a Good Pope: Buble has been open about his devout Catholic upbringing, which is generally a plus if you want to be pope. Plus, his relaxed adult contemporary music would appeal to the bishops in the way that, say, Skrillex wouldn't.
Why He Wouldn't: If you ignore his wife and kid, there is no reason Michael Buble would not make a good pope. He's our choice!