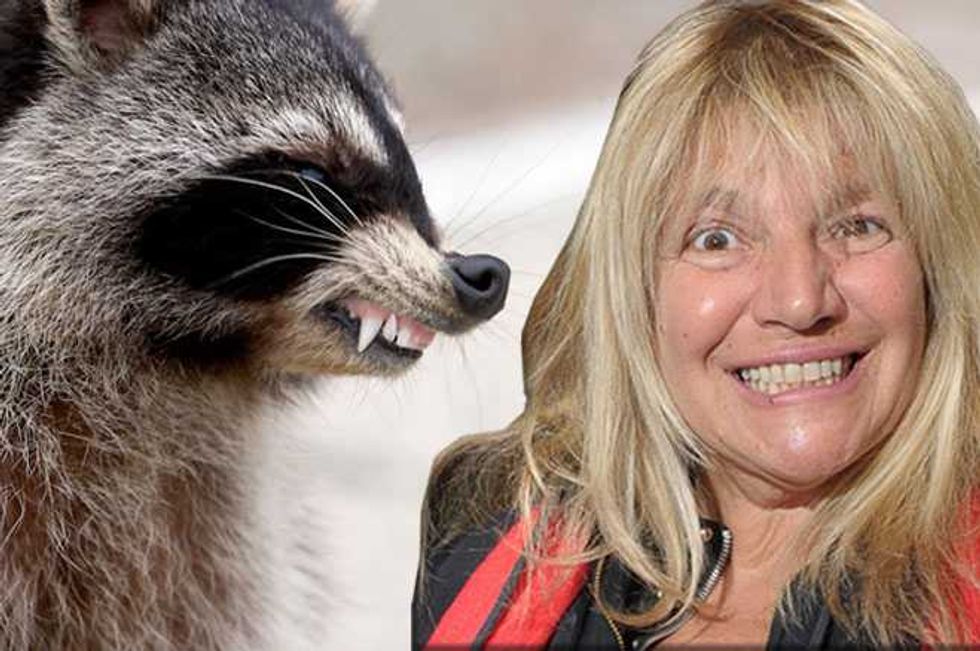 Maybe this raccoon didn't much care for Debbie Does Dallas.  Maybe he's a hyper conservative.  Or maybe he was just hungry.
Whatever the case this masked beast didn't missed his chance to sink his choppers into Mrs Hardwick aka Robin Byrd's hand over Columbus Day weekend.
Big, Burly, Badass Biker Saves Badly Burned Little Kitten
The legendary New York public-access TV host and former porn star was at her home on Fire Island when she heard her dog, Om, barking. "I stomped on the deck and I heard a growling, like, 'Grrr,'" Byrd, 58, recalled. "I thought it was a cat."
The 'Grrrr' seemed to becoming from behind a planter, so Robin gave it a reach around and was horrified to draw back a bloodied hand.
"I'm in Central Park all the time  where there are raccoons," Byrd explained. "I don't go and touch them or anything. I guess I disturbed this raccoon and he didn't like it and he let me know."
Who Knew?!! 90s' Sex Symbols Barbi Twins Are Awesome Animal Rights Activists!
Byrd was rushed to hospital for treatment and is now fretting that they raccoon may be lying in wait to feast on her again.
"I'm thinking, 'Oh my God, it may not be in the planter, but its somewhere out there,'" she said, adding that the experience has been "very traumatic, and that she's "very afraid."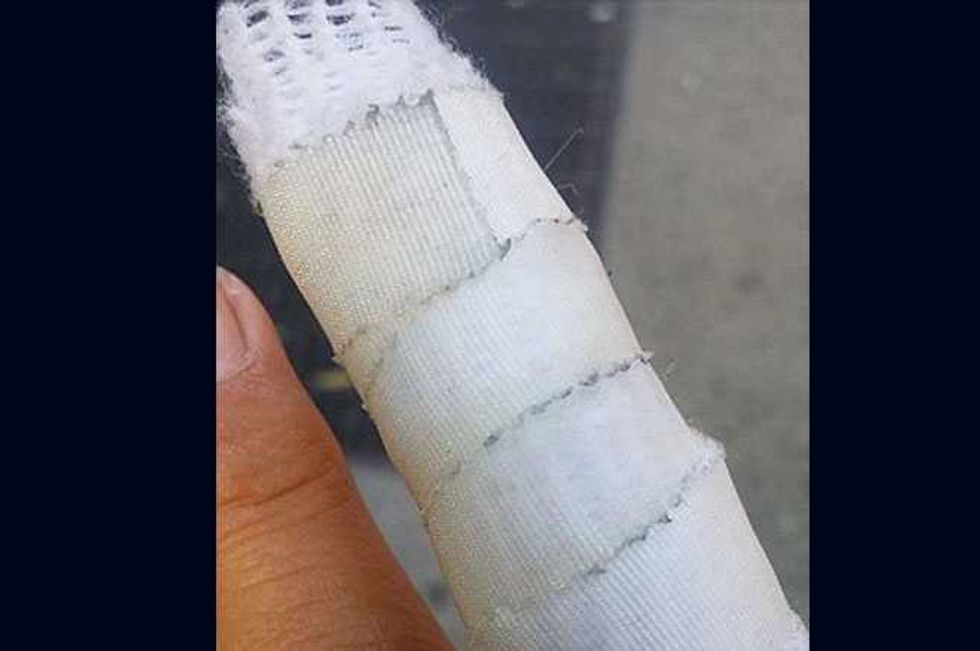 After the attack, local police told her; "It's their land, leave them alone." (Finally, good cops!) The critter remains at large.
Ever on the case, Popdust managed to track the culprit down though, and from an undisclosed location, the raccoon said, "At the risk of sounding hypochondriacal, I'm curious to know if there's ever been a case of chlamydia or some other unsavory communicable disease being contracted from biting a hand?"
Porn Star Has Insane and Violent Meltdown Aboard Delta Flight
Byrd is now undergoing treatment for rabies, which can cause paralysis, hallucinations and even death.
"There's five shots," said Byrd—who also appeared in the 1970's films Hot Honey, Bad Penny of the rabies treatment.  "I had my second one yesterday. The shots were more painful than the bite.  I'm bearing with it...I refuse to believe that I'm going to let a raccoon take me down."