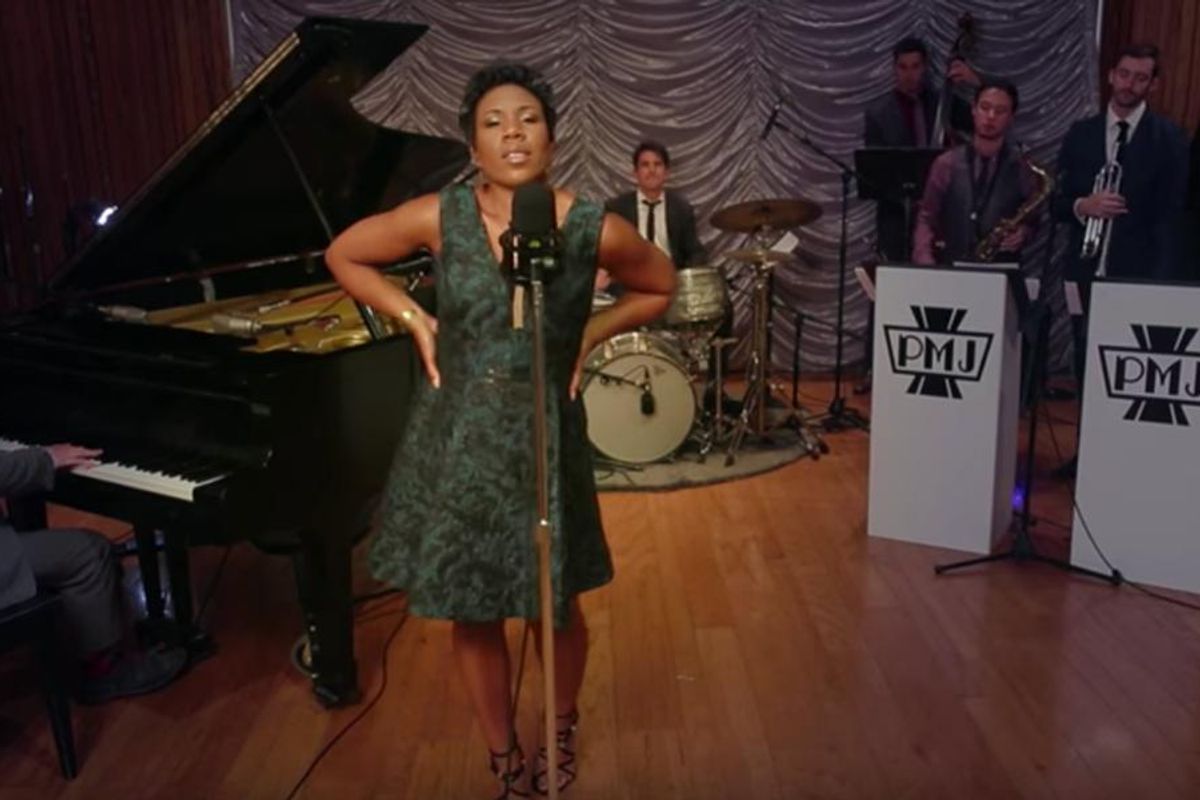 A performance like this should come with a warning. In typical Postmodern Jukebox fashion, a defining contemporary track is airlifted into yesteryear with a luscious, intoxicating jazz arrangement. Britney Spears's Toxic -- a career moment from 2003's In the Zone LP -- is flipped and reenergized by American Idol season six standout Melinda Doolittle, with a serious lead vocal. PMJ band members back her up with vibrant musicianship; tinkling piano, tender percussion and a rowdy brass section give the pop blastoff a more sophisticated look.
Don't know about you, but Miss Spears would be hella proud (and she'd probably throw her shoe at the screen, too).
PMJ's version of Toxic is featured on the group's brand new album Squad Goals (now on iTunes). The full-length also features vocal contributions from Popdust favorite Haley Reinhart, Von Smith and Brielle Von Hugel. Reinventions include Aerosmith's Dream On, Jon Bon Jovi's You Give Love a Bad Name, Celine Dion's My Heart Will Go On, Hanson's '90s classic MMMbop and Justin Timberlake's current pop smash Can't Stop This Feeling.
"I remember hearing Melinda sing 'My Funny Valentine' during Season 6 of American Idol years ago, and being awestruck at power, nuance, and polish of her voice; indeed, she was later regarded as one of the best Idol contestants of all time," band leader Scott Bradlee shares. "In arranging a song for her, I wanted to be sure to showcase all this and more — and, indeed, she raised the bar for PMJ vocals in this video."
PMJ will be bringing their charm and music all over the world this year. Check out their official website for dates and ticket info.
Watch Toxic below:
---
READ MORE ABOUT MUSIC...
Popdust's 20 Best Albums of 2016 (so far)
Selena Gomez—Another New Instagram Record

Hear Troye Sivan's Revamped 'Wild' Featuring Alessia Cara

---