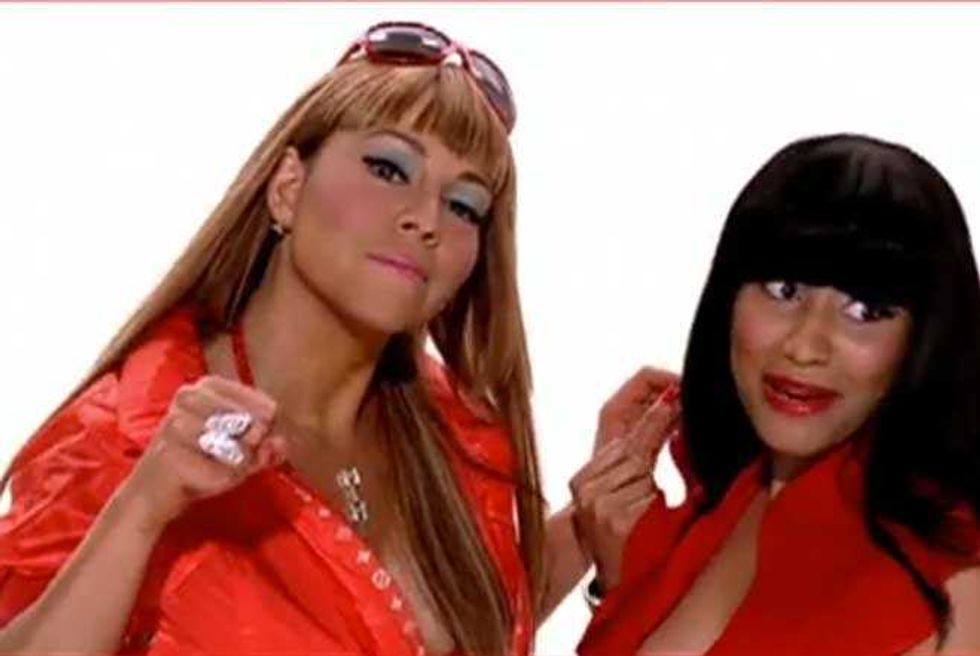 Sheesh. We couldn't even remember for sure whether or not Nicki Minaj had been double-super-confirmed in her judging role on American Idol yet, but looks like she's in the fold, and already in the midst of her first diva-off with fellow pop megastar Mariah Carey. Reports that Mariah was never thrilled with the seletion of Minaj now seem validated, as TMZ has caught video of the two ladies going at it, with Nicki in particular going off for largely unknown reasons.
The audio is kind of hard to discern in the clip, so we'll bow to the transcript posted on ThatGrapejuice of the spat's apex:
Nicki: "And if you've got a ****ing problem, handle it. I told them I'm not ****ing putting up with your ****ing highness over there."

Mariah "Oh Why, why, why do I have a three year old sitting around me?"

Nicki: "I'm not sitting here for 20 million having her look down here, reprimanding everyday. No."

Mariah: "I can't see my kids because you decided to act like a little crazy bitch and go all around the stage."

Nicki: "Go see them now, go. You're boring as ****."
Yikes. If this is how the two are getting on during filming, live TV should be a real adventure. Meanwhile, looks like poor Keith is gonna have a number of opportunities to sit silently with the "Anybody wanna switch seats?" expression on his face.