Top Stories
TV | One of the best shows on television returns for a second season and it promises even more action and absurdity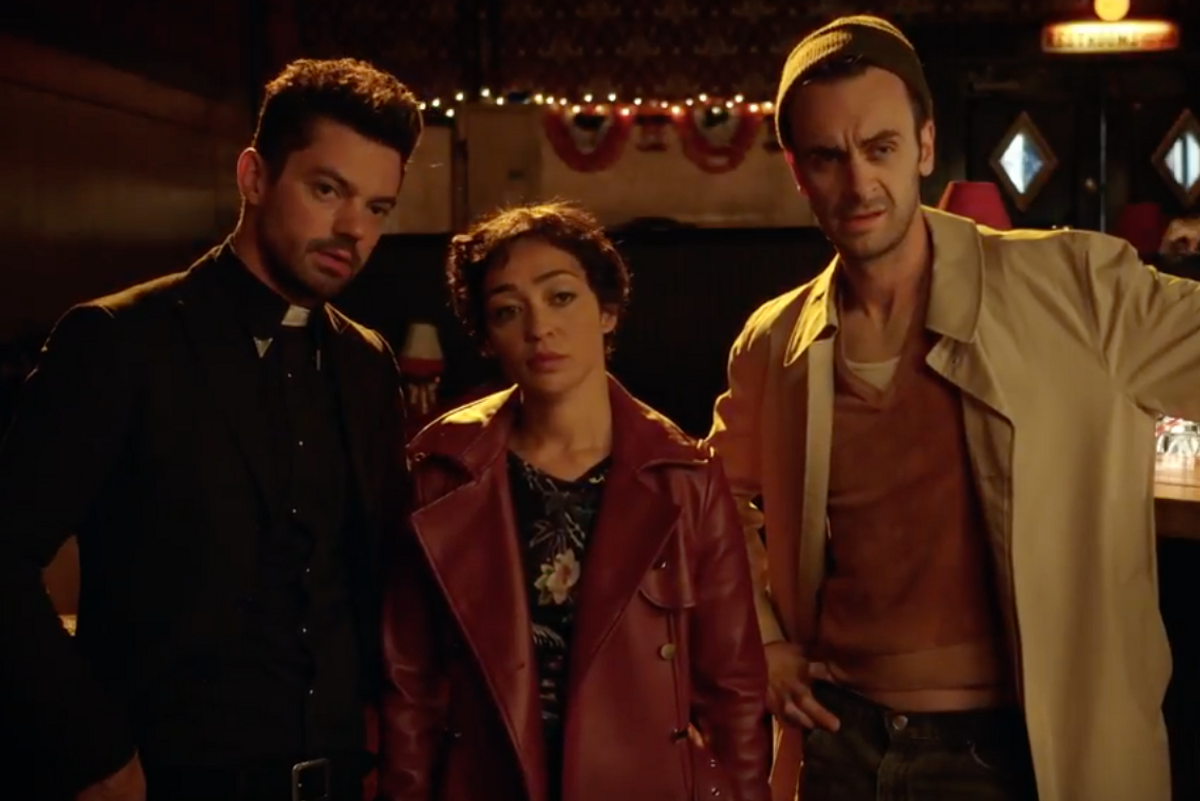 Last year's Preacher premiere was one of the best pilots of this decade. Season 2 promises more incredible television.
Preacher is incredible in all of the word's definitions: extraordinary, unbelievable, absurd, excellent. Its second season opened on AMC with a two-night premiere on Sunday and Monday that marked the return of only six characters from last season, by my count. This is for reasons that past viewers know and that I won't spoil for anyone new to the show. (If you haven't seen Season 1, start a Hulu free trial and use the next 30 days to watch it. You'll love it.)
(Spoilers below.)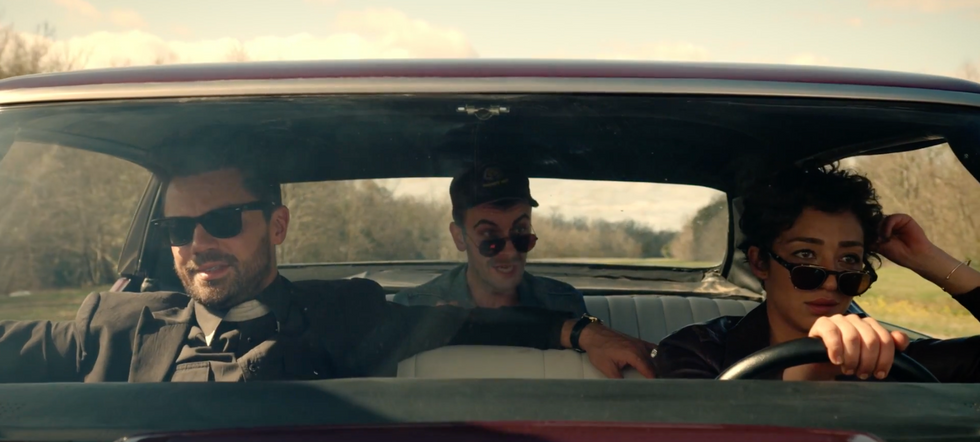 Jesse, Cassidy and Tulip. (YouTube)
"God didn't come for the girls, you idiot," says the She She's manager to Jesse Custer, "He came for the jazz." Jesse and Tulip sit in the office of Tammy, the proprietor of She She's strip club, because she has seen God. He was a customer, she tells them, not of the girls but of the music. Unfortunately she, like so many others in the first two episodes of Season 2, dies before they can learn where God has gone.
That is the premise of Season 2: God is missing. Following the climactic revelation in Jessie's church and the subsequent destruction of everything and everyone (except six) we'd met in Season 1, Jessie, Tulip and Cassidy set off to solve the mystery of God's disappearance and find out where he's gone.
The three travelers meet our fourth familiar face quickly, in the form of the terrifying Saint of Killers.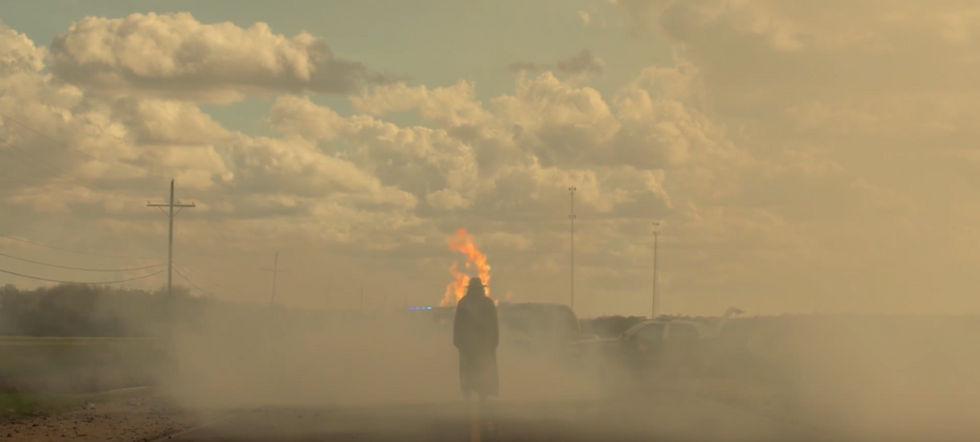 The Saint of Killers. (YouTube)
Their search for God already transforms into a flight from danger when the Saint's cannon-pistols follow them from a Texas traffic stop to Jesse's uncle's house to a Gun Aficionados convention. The second episode brings the fifth returning character, Fiore the angel, performing hilariously gory magic as "Ganesh" at a Vegas casino. His self-mutilating/respawning act is a throwback to one of the best scenes of the first season: the ridiculously long and bloody seraphim fight that leaves the motel room stacked with corpses. It's Fiore who reminds Jesse (and us) that Jesse sent Eugene to Hell and still hasn't brought him back. So Hell saved Eugene from the explosion and—who knows—maybe we'll find out that it shot him back up to the surface.
In an unusually melancholy part of Ep. 2, Jesse finds his love for Tulip returning and as the two almost get married, Cassidy makes himself Fiore's replacement best friend. Cassidy's goodbye to Fiore is especially sad because we know the Saint of Killers is on his way. Yet Fiore surprises everyone and, even though he's just betrayed our heroes, his death might be the most upsetting of any character's so far.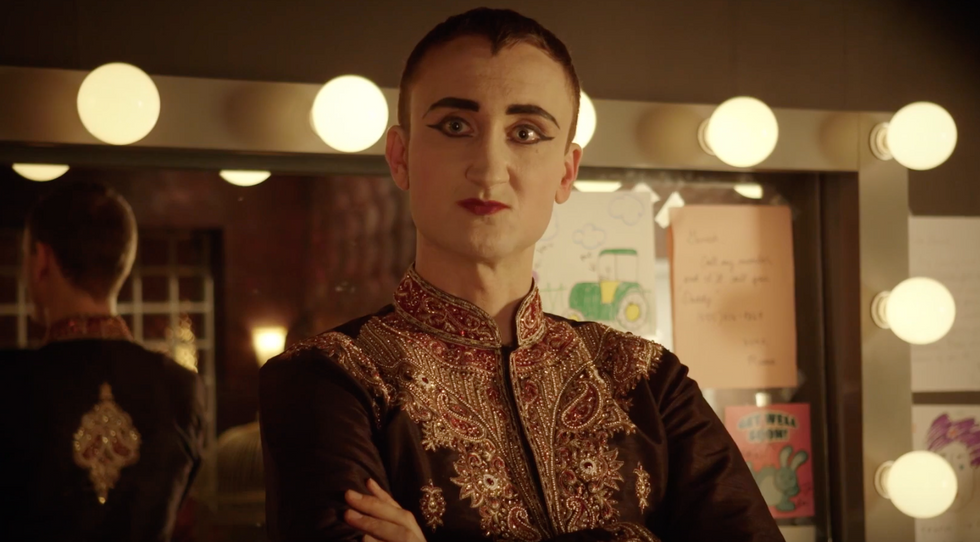 Fiore as Ganesh. (YouTube)
Seth Rogen produces and co-directs the series that's based on the comics by Garth Ennis and Steve Dillon. Season 1 was entirely new material—a kind of prequel to the comics, which only pick up after God's gone missing and Jesse, Tulip and Cassidy are on the road. Like Star Wars: Rogue One, it makes sense that almost everyone and everything from the prequel material has been destroyed to line up with the beginning of the main story (A New Hope or, in this case, the comics).
Preacher is one of the best shows on television because it is unflinching in its absurdity. A sometimes-incomprehensible Irish vampire plummets from a plane full of extremist-Catholics and becomes Jesse's partner. Two buffoonish angels accidentally release the "Genesis" power and it chooses Jesse to be its vehicle. A hellish cowboy-Saint-mercenary tracks Genesis to kill it and finally see his family. A preacher accidentally sends a boy to Hell and his town disappears in a mega-sewer explosion. The best part is that the show and its characters treat all of these things as the serious events that they are, despite the incredible circumstances. And that makes for a series as hilarious as it is exciting.
Watch 'Preacher' on AMC on Mondays at 9pm. Season 2 trailer below:

READ MORE ABOUT FILM/TV:
---