"For me that lyric means to lose yourself completely," says Stolar.
For someone as incredibly busy as Stolar, listening to his new single "Feel Good" - a song which centers so largely around escaping - came as a surprise. The Brooklyn based artist - although just recently beginning to release his own music - is no stranger to the music world. A quick look at his biography page on his publicity company Reybee's website details just how busy he's been - he's written for artists such as Caroline Pennell and Alice Tan Ridley, penned the anthem for the most recent Brooklyn Nets playoff, and has collaborated alongside the likes of Grammy award winning mastering engineer Chris Gehringer.

The song revolves around the need he feels to feel good (as the title suggests), and the various methods he employs to go about doing so - whether that be vices like smoking or drinking, meditation, or the distraction of going out with friends. The lyrics of the track reflect Stolar's penchant for specific and thoughtful songwriting. With lyrics like "Woke up can't remember where I went, Skeletons of things I might've said", or "Meditate to try to keep hold of this high, Medicate to give a little help from the outside" - Stolar's ability to communicate these deep seated inner conflicts is in full effect. "Feel Good" - which was released just this April, has already raked in one hundred thousand plays on Spotify.
Stolar gave us the privilege of premiering his new music video for "Feel Good", which releases today on Vevo. The video is a collaboration between Stolar and director Josh Sondock, and pays homage to films like Eternal Sunshine of the Spotless Mind and Beginners.
Alongside premiering the new video, we were given the opportunity to exclusively announce Solar's debut EP Raw Emotions, which will release on June 16th, 2017. I sat down with Stolar to find out more about the single, the video, and his songwriting process.
INTERVIEW WITH STOLAR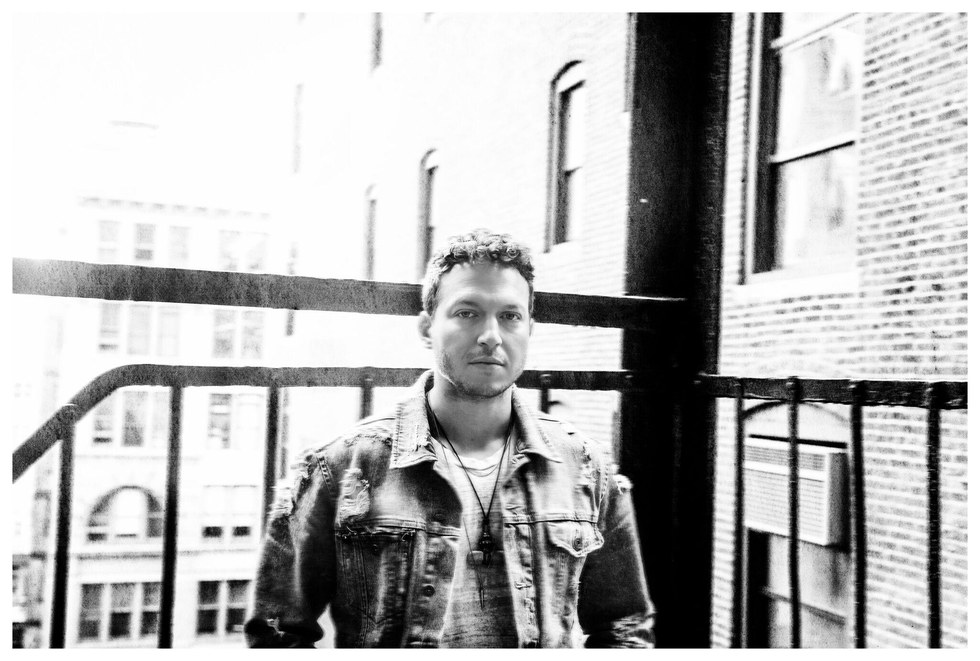 CONOR (POPDUST): First of all I just want to say thank you so much for sitting down with us to do this interview, and for letting us premier the new music video. I love the track "Feel Good" and how honest and gritty the lyrics are - how do you go about the songwriting process, and is it ever tricky deciding what to share and what to keep private?

STOLAR: Thank you man. My writing always starts with an exploration into a subconscious place. Whether it's through a conversation, a musical improvisation, a lyrical exploration or just sitting down on one of the good days where it all comes out at once, my process revolves around exploring for something inspired and then carving it out. Feel Good was one of those days where I sat down at a piano and the verses came really quick, then a couple badass writer friends got to the studio for the session, we wrote the rest of the song and made sure every note and word supported the overall concept. I don't ever divulge who a song is about in terms of names and addresses and shit haha, but other than that I hold nothing back.
The song focuses on the various ways you try to feel good - through meditation, medication, smoking — what is it that you're trying to "unlock?"
For me that lyric means to lose yourself completely. In that moment it's about drinking, laughing, dancing, getting high, playing music, hanging with friends... doing whatever I needed to to escape the overwhelming emotions I was experiencing at that moment.
CONOR: What is the relationship between meditation and getting high?
STOLAR: I love this question haha. They are opposites in some ways. Lets accept that in this context getting high is a negative thing, you are doing it to NOT feel something. So meditating is going deep within yourself to just be, feel what you are feeling, and sit with the emotions. Getting high is trying to stop yourself from feeling the emotions.
CONOR: How did you come up with the concept for the video?
STOLAR: I met the director Josh Sondock and the team Rubberband in Soho while we were recording the EP. We vibed really well, talked for a couple hours about what the song meant, and then I let them sit with it. Josh came back the next week with this idea of a day in the life of the invisible man. From that point we worked together to flesh out the concept and developed the narrative arc of the video. We both were really inspired by the movie Eternal Sunshine of The Spotless Mind as a reference for the video.
The memories of your ex-girlfriend are so homey - brushing teeth, playing Guess Who together, and sitting on a park bench and laughing. But when you meet the new girl at the club, it's exciting and new - does the song speak to the ways that a comfortable, long-time relationship and an exciting new one are different?
Not necessarily. The song speaks to the balance of healthy feeling good and unhealthy feeling good. Now the truth is it's never that black and white, right? It's always gonna be a balance. The flashbacks are of beautiful human experiences, but, there was too much reliance on the relationship and not enough independence and genuine self confidence. For me, the metaphor of meeting the new girl at the end is not about the new relationship, it's about taking steps into realizing everything isn't so black and white. It's not only me turning invisible and feeling intense things. EVERYONE is feeling these things, we all disappear and fade and repeat. I really want to challenge myself to take that message from this video and remember it in the moments where my mind decides to go invisible on me.

CONOR: The song also touches on feeling the need to get out of your head - is music a way for you to do this?
In some ways for sure. Playing and writing music on a very raw simple level just makes me feel good, connected and fulfilled. I don't just love it, I really need to do it. So on a terrible day where I'm spinning in my thoughts, a good new song can really help take me out of that place.
CONOR: I also loved the new music video for "Feel Good" which released today - the video contains home-movie style videos of you and an ex girlfriend, and as the video progresses she begins to disappear from the footage. What went behind this decision?
STOLAR: This decision was made based on the need to really express that the video isn't about the girlfriend, or the new girl in the club. The video is about a story of me learning to become whole with myself. Josh came up with the idea after a long night of debates on how to deepen the experience of what's happening in my mind throughout the video. We also looked at Eternal Sunshine and saw how powerful it was to put the viewer in a place where they could feel and be INSIDE of the character's head.
CONOR: The video also shows you beginning to disappear after smoking and getting high - how is the process of breaking up similar to getting high?
STOLAR: Wow… That's a deep one. I don't get high too often to be totally honest, but sometimes I do. I'm not sure I can make the most accurate metaphor here. But if I take a stab at it… I'd say in both experiences you have the choice to feel what you are feeling in a truthful way and see what the journey brings. OR you can use all of your energy to resist and stop the natural flow of what you are feeling. I'll leave it up to you guys to decide what path to take.
CONOR: What were some of the biggest influences to the creation of the music video?
STOLAR: Definitely Eternal Sunshine of the Spotless Mind as I mentioned, New York City and a movie called Beginners.
CONOR: Can we expect more filmmaking or music videos from you down the road?
STOLAR: 100%, I'm already working on a couple new video concepts, one of which I'll be directing myself.
CONOR: If the music video was in any way autobiographical, was the process of creating this music video a cathartic experience?
STOLAR: I find creating anything that feels real to be cathartic. I haven't acted in while, and this experience, of getting to express this greater metaphor of "Feeling Good" through a really powerful story with a great creative team, that was extremely cathartic. Also seeing the song balanced out with the perfect visual representation has brought the whole experience of writing it to a new level.