MUSIC
INTERVIEW | We talked to the frontman about his namesake band, California rock, and success at a young age
Edward Saenz
Every so often, music news will be flooded with cries and articles debating whether or not rock is dead.
Tell that to Matt Jaffe. The 22-year old frontman and founder of Matt Jaffe & The Distractions was picked up by legendary keyboardist and guitarist Jerry Harrison of Talking Heads fame. He's since taken to the ground running, unleashing a slew of new songs that would become his stunning March debut California 's Burning. But Jaffe is so much more than a Harrison protegé; listen to the fast-paced vigor of "Folsom Prison Blues" and you'll begin to get a hang of his varied influences.
Popdust is exclusively premiering the video for "Fire on the Freeway," one of the slickest cuts off his first record. The powerful track, with it's rockabilly rockabilly energy and a hard guitar that borders on 70s glam rock, one would imagine an ostentatious live show: the video, a compilation of his live performances, proves otherwise. From performing on the streets of California to being onstage doused in spotlight, Jaffe proves himself in various different performances spaces, more than silencing anyone who would dare say rock is dead. With musicians like Jaffe on the rise, that couldn't be further from the truth.
We caught up with Jaffe to talk about finding success so young, his varied range of influences, and the effect the California rock scene has on his sound.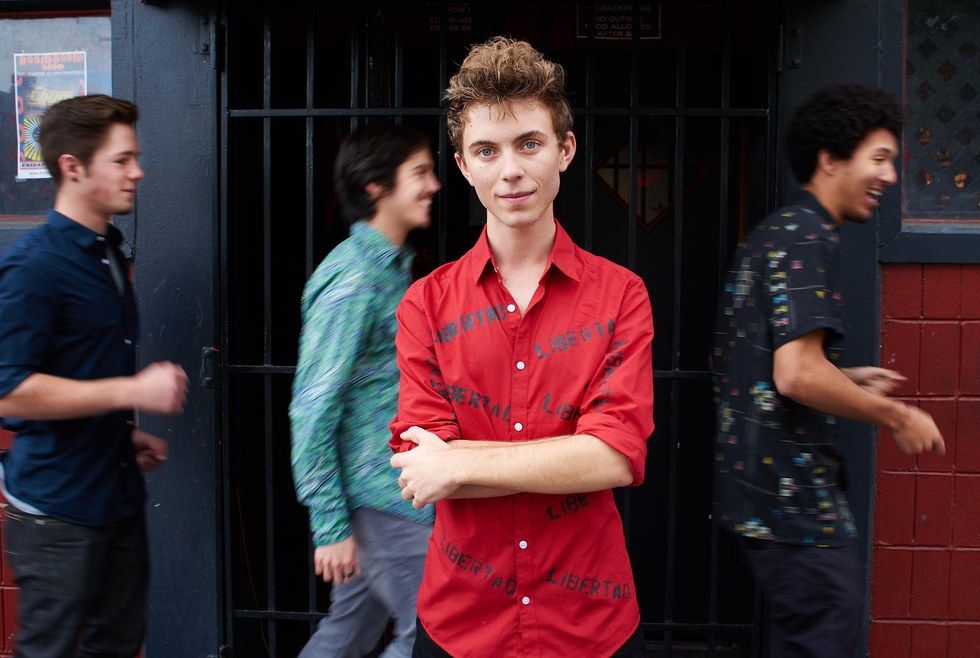 ---
I remember seeing you live at Soho House a few months ago; it was just you and a guitar, but I haven't seen someone shred with such passion in a while. How long have you been playing?
I started playing guitar when I was about 10 years old. I took lessons on violin starting when I was 5, but never took lessons on guitar. I think my lack of technique has allowed me to keep passion at the forefront. What you lack in ability, you can make up for in emotion, or something like that.
How does it feel to have the success you've had at such a young age?
It's gratifying to have any kind of success, but to me, age doesn't have much to do with it. Rock and Roll is supposed to sound young, but some of my favorite writers, like Alejandro Escovedo and John Doe, are putting out some of their hardest-hitting material in their 60's. If you write a great song and perform it with conviction, it doesn't matter if you're 15 or 75. Rock music is a democratic form. Even if the industry has gatekeepers, the music doesn't, so there are no rules for who can do it best.
You're inspired by a wide variety of influences, from Elvis Costello to The Clash and rockabilly. How would you describe your sound?
Guitar driven. Manic. Minimalistic. I would say we write songs that communicate like a radio to your bloodstream. The lyrics can be abstract, but the music is always meant to be muscular and direct. Rockabilly and punk and country all find a way to say big things in small ways. So I glean inspiration from all those genres, and they all find a way into our sound.
You haven't officially released anything new since "Folsom Prison Blues." Are you working on any new projects?
Right now, we're doing pre production for our second full length album, which we're going to start recording with James DePrato as producer later in June. But we also release a new acoustic video every week, which is a way to get new music out there in a cost-effective, intimate way, since there are always way more songs I want to share than we can record.
Your band is distinctly Californian; would you say the rock scene over there has affected your sound?
I would say the rock genealogy here has definitely affected me. A lot of bands from California have taken inspiration from roots music and infused it into modern and immediate settings. X, The Blasters, The Nuns, Eggs Over Easy, Los Lobos, just to name a few. There are plenty of non-Californian bands that do this well too, but I think our home state is a unique boiling point for this melting pot of the folk, country and blues roots that travel West along the Southern edge of the country, and the explicit, taut urgency that lives in coastal cities.
Where do you want to take this project in the next few years?
I don't want to sound curmudgeonly, but I can't stand the word "project." I'm just the songwriter in a rock and roll band, and there's nothing fancy or precious about it. It's really simple: write, record, perform, repeat. If the songs keep on feeling honest, that is success. In 5 years, I see myself still waking up every morning and being really excited to work on the latest tune, and I couldn't put a price on that.
What impact do you want to leave your listeners with?
I want them to feel adrenalized. When I play guitar onstage, I feel like I can do anything, and when I listen to my favorite rock bands speeding down CA-101, I feel like I can reach for anything. I want our songs to tear the ceiling off the sky for our listeners.pic
---
Follow Matt Jaffe & The Distractions on Facebook, Twitter, and Instagram. Watch the video for " Fire on the Freeway" below.
---
E.R. Pulgar is a music writer, poet, image-maker, and once cried reading Virginia Woolf. Follow him on Twitter.
---
READ MORE ABOUT MUSIC...

REVIEW | Slow Dancer's love letters and serenades
REVIEW | Nick Hakim's "Green Twins" is a soulful trip through the future
REVIEW | Phoenix release "Ti Amo" after four years of work
---