Happy 4/20! Popdust is proud to present Alexis Babini's newest track, "Let's Get Stoned," a celebration song for your holidaze.
The track is absolute fire. With a video shot on the High Line in NYC (get it? High Line), the video fades in from green and features Babini exploring one of NYC's most popular parks while interacting with a diverse cast of characters, including a boy who may or may not be a younger version of himself (it has to be, right? Look at their badass matching leather jackets). alexis babini let's get stoned
The song itself isn't about taking tokes, it's about freedom and celebration. Though the lyrics say things like "let's get high," and "let's get stoned," Babini isn't much for bong rips. The track is an anthem about reclaiming your youth and doing the things you love. "The mission is to leave you moved and inspired," shares Babini. "Take a trip to Babiniworld and the world is ours." alexis babini let's get stoned
We had the pleasure of sitting down with Mr. Babini, and boy does he have some pipes. When asked if the new track was about his love for 4/20 and the plants related to it, Alexis pled the 5th (he was a big fan of The People Vs OJ Simpson). alexis babini let's get stoned
Babini - a resident of Manhattan - has music in his roots; his grandfather, Italo Babini, was first cello for the Detroit Symphony.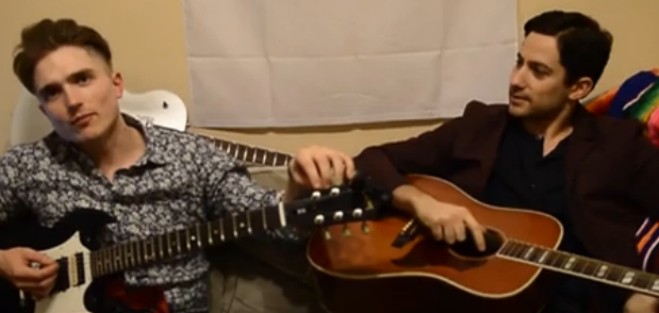 Popdust's own Brent Butler (left) jamming with Alexis Babini!
Alexis' other projects include Disney cover band The Little Mermen, who gained fame on Buzzfeed for performing "Kiss The Girl" in Washington Square Park in 2015. alexis babini let's get stoned
Alexis has two upcoming performances in NYC: May 21st at The Hall at MP (with The Little Mermen) and June 25th at Rockwood Music Hall (to promote his awesome new EP, titled Eh?, which is being released this summer). A track on the upcoming EP is already a semi-finalist for an International Songwriting Competition. alexis babini let's get stoned
Alexis Babini Official Press Release:
With delicate arrangements and beautiful orchestration, Alexis Babini showcases his honesty in the way that only the most captivating artists can. It's no wonder that Performer Magazine has described his songwriting as having "powerful, gripping melodies and simple, yet evocative lyrics."
Babini has a unique ability to combine expressive vocals with a lighthearted charm, resulting in hook-filled songs that prompt wide smiles, ceaseless foot tapping, and stirring sing-alongs. His latest LP The Pioneer Spirit cracked the iTunes top 100, capturing the hearts of his ever-growing fan-base.
Recently, he can be seen as the banjo player in the current season of TV Land's 'Younger'. Babini is also a supporter of Musicians on Call, a charity where musicians sing at local hospitals to sick children.
Throughout his career, Babini has toured the U.S., sharing the stage with artists like Blues Traveler, Sheppard (known for their 2015 top 40 song 'Geronimo'), Howie Day, Boz Scaggs, The Verve Pipe, Cody Simpson, Sister Hazel, and The Click Five.
With an ever-growing catalog of ready-for-radio songs, Babini has garnered a tremendous amount of well-deserved acclaim. His songs have appeared on shows like 'Teen Mom' and 'The Real World'.
During his 2013 tour, Babini created an animated music video for his song, "Jackie" using just an iPhone. The clever video was featured shortly after on American Songwriter.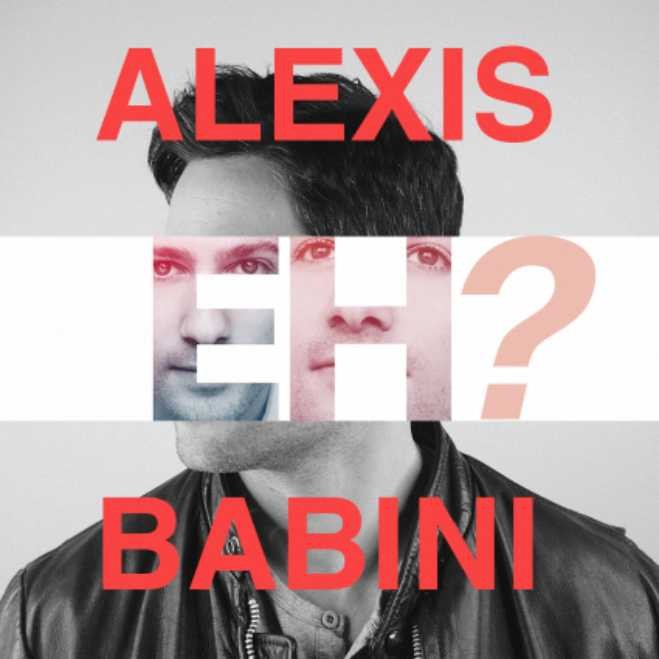 the cover of Babini's upcoming EP, Eh?