Premiere⎯Big Little Lions Unpack Emotional Track 'Sweep It Away'
Big Little Lions have a way of crafting a lyric with the right amount of emotional oomph to leave you weeping and rocking in the fetal position on the floor. Their debut studio album, the profoundly titled A Little Frayed, A Little Torn (released last spring), set the bar so high, they couldn't possibly break it, right? Wrong. Their forthcoming sophomore effort, called Just Keep Moving, witnesses the folk-pop duo, otherwise known as the award-winning Helen Austin and human-instrument Paul Otten, conjuring up deeper, richer and more timeless stories. One of the standout tracks is the heart-pulsating Sweep It Away, which Popdust exclusively premieres below.
"Lyrically, I saw a saying on Facebook (and I apologize for that). It was something along the lines of 'it's not about the amount of baggage you've got, it's about who will unpack it with you.' I thought it was a really nice sentiment, and I had certainly experienced that with my husband," shares Austin of the song, which is a compelling lynchpin to the entire record (out May 6). "I started that song when we were in Los Angeles, and I sent Paul a guitar riff that I had done. Then, he totally changed it."
Otten chimes in, "That song took some crazy turns. I remember working on that one around Thanksgiving of 2014. I worked on it the way she had it in the demo. It was more jolly and had a quirky beat. I was running with that. It was cool, but then I came back to it. It became more laid back. It is still beat-driven but I fleshed it out into something else."
Notably, the song is one of Austin's absolute new favorites to perform live. "[The song] was a bit more hurried. Now, it's more laid back. That's pretty much our personalities summed up in one sentence," she says, with a chuckle.
Listen below:
The charm of Big Little Lions not only seeps out of their music, but the endearing give and take together is lighthearted, thoughtful and enchanting. Austin and Otten also discussed their brand new record (at length), how their chemistry has changed, songwriting and how Otten plays the bass and guitar at the same time in their live shows. Read on:
How does it feel to have a second one coming out so soon after the last [A Little Frayed, A Little Torn dropped April 7, 2015]?
Austin: It feels familiar, I think. It's that kind of hurry-up-and-wait thing. We finished the album ages ago.
How long as the album been finished?
Otten: Like our other album, it was a work in progress over long periods of time. But it's probably been completed for a couple months now.
Austin: We finished it at the end of last year. It's not that long. I know other people wait years to put out an album and have it on hold. We have a little more control in that.
Was there a reason you wanted to release an album so soon after the last one?
Austin: We just wanted to keep the momentum going. We are relatively unknown. It's about having the output.
Otten: And it's also the fact we do come up with so much material. We had so much collected since the last one. We figured 'why not keep putting out stuff?'
Was there a certain song on 'Just Keep Moving' which propelled the album?
Otten: "Songs like 'What If' were propelling us into a musical direction that was more driving. Our sound is a little more cohesive. It's come together after us having worked together now for three years."
Austin: "We've actually spent some time together now in person. The songs have taken a serious turn." [laughs]
Otten: "Yea, maybe the songs are a little more grown up. [laughs] We finally blended our styles into a cohesive sound."
Austin: "This album is definitely less jolly than the last one. Paul's kicking the jolly out of me."
Otten: "I'm trying. [laughs] There is still jolly in there but I think it has serious overtones to it."
On your last record A Little Frayed, A Little Torn, the standout was a song called 'Stories.' How do you top that?
Otten: "We try to better ourselves. I'm constantly trying to improve on the last favorite."
Austin: "I just sit on my laurels and do nothing. I think that's the best way to go." [laughs]
Otten: "This is what I have to deal with." [both laugh]
What things in your life helped you sharpen your songwriting skills?
Otten: "Traveling a lot to be together definitely did. The experience of working with Daisy, Helen's daughter, and her going off to college probably influenced songs like 'Just Keep Moving' and 'Say Hello.'"
Austin: "Paul came up with the title of that one [the latter]. I wasn't sure whether to go with a kind of love song type of thing. It was actually my husband who said 'maybe you should do it about being in a strange city.' It thought, 'that's interesting.'"
You talk about working together in person more and more in the past year. What was the energy like in the room for those sessions? [Note: BLL first began as a collaborative venture via email, phone and FaceTime]
Austin: "It took a little while to get to know each other. There was a moment when we were onstage where he did a 'Blazing Saddles' reference. It was really subtle, and I totally got it. I thought, 'yea, I'm totally going to be able to work with him.' We have a kind of sibling thing, so there's a lot of piss taking going on."
Otten: "There's a little bit of snarkiness, too. Being able to perform together has helped us evolve. It's a whole other life form to our band. We are writing and performing from afar, but the performance is a whole other thing. It's gone into a direction we had no idea about at the start. We didn't know how we would perform together and who was going to play what. There is so much to fill up live.
It got to a point where we were going to be traveling more in our career. A lot of people [our friends who made up our band] couldn't just take off and go along for the ride. Eventually, it evolved into me playing drums and bass at the same time. I used to do that years ago. I got pretty decent at it. We can contain this since we can't rely on many people to travel with us, especially when there's not much revenue involved. We've done it a few times, and it seems to work out."
Austin: "It's quite funny to watch. It looks like his head's gonna explode because he's doing so much. My favorite bit is when he has to play a guitar riff with his drumstick, so he can make it to the cymbal on time."
Otten: "A lot of it is one-handed drumming with my right hand and playing keyboard and bass with my left. Sometimes, I'll actually play bass and use a foot snare. Then, Helen has a pedal system with tambourines and shakers and some kind of clapping gadget. We are a self-contained duo/trio."
Austin: We are like two one-man bands put together.
In our last interview, you were talking about how you couldn't write a song with Paul in the room. Has that changed?
Austin: "We've gotten further on that now. We kind of wrote lyrics at his place. I still had to go away into another room and write lyrics, just so I could empty my head. He's always making stupid faces, so there's no way I could write lyrics. [laughs] Even when I FaceTime with him, he's always showing me the ceiling or just up his nose or something."
When creating this album, did you find melodies coming to you which you had already written?
Otten: "You just know when you've stumbled upon something you haven't done. We tend to stick around the same key to a lot of the songs, which a lot of artists do because it fits within their vocal range."
Austin: "Our key happens to be C sharp, which is really annoying for other musicians." [laughs]
Otten: "We just gravitate toward that key. It's amazing how many different ways you can present a song in that same realm. I'm not saying every song of ours is in that key, though, but it happens a lot."
What are your favorite melodies on the album?
Austin: "'Sweep it Away,' definitely."
Otten: "'Sweep It Away' and 'Just Keep Moving,' which was an instrumental we had completed for our publisher. We did a whole round of instrumentals for a different project. He said they were good and could be turned into songs. That was one of them. Everything was there. That's a writing approach I've been taking a lot lately, having the music and then writing the lyrics over it."
Austin: "'Fills Me Up' was was one of those, as well. 'In the Quieter Times' is one of my favorites. I like them all for different reasons I think."
Otten: "The melody of 'Our Space Our Time' is pretty strong. 'Until I Looked Around' is a favorite of mine. Although, that one has been tough to pull off live. I don't know if we are going to be able to do that one. It's pretty simple musically on the recording. We tried it live but there's something about it that's not jiving."
'Soon' and 'Say Hello' were other standouts on the record.
Austin: "'Soon' was the one I was least sure about, but both Paul and Daisy always liked performing that one."
Otten: "That is another older song. We were performing that one together last year. And 'Say Hello' was the newest one that we did at the end of last year. I knew it had to be on the record and I didn't care if the album ended up being 13 songs."
Did you have many songs you hated to have to cut from the album?
Austin: "There were a couple. There was one that was really jolly, 'Better Than This.'"
Otten: "It was overload on the jolly." [laughs]
But don't fret. There is plenty of jolly to be found on Just Keep Moving, out everywhere May 6. In the meantime, check out their first record A Little Frayed, A Little Torn now on iTunes.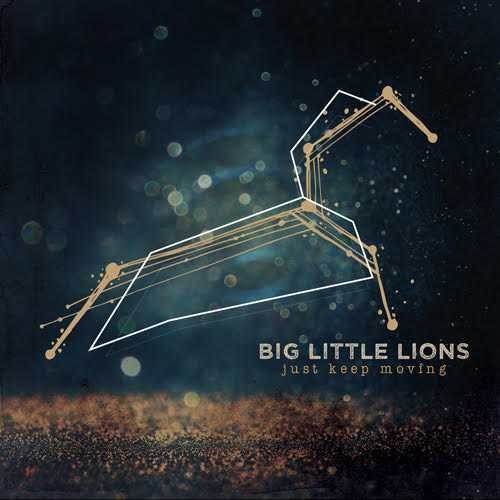 Stay tuned for Big Little Lions updates. Be sure to follow @Popdust and @JasonTheScott on Twitter!