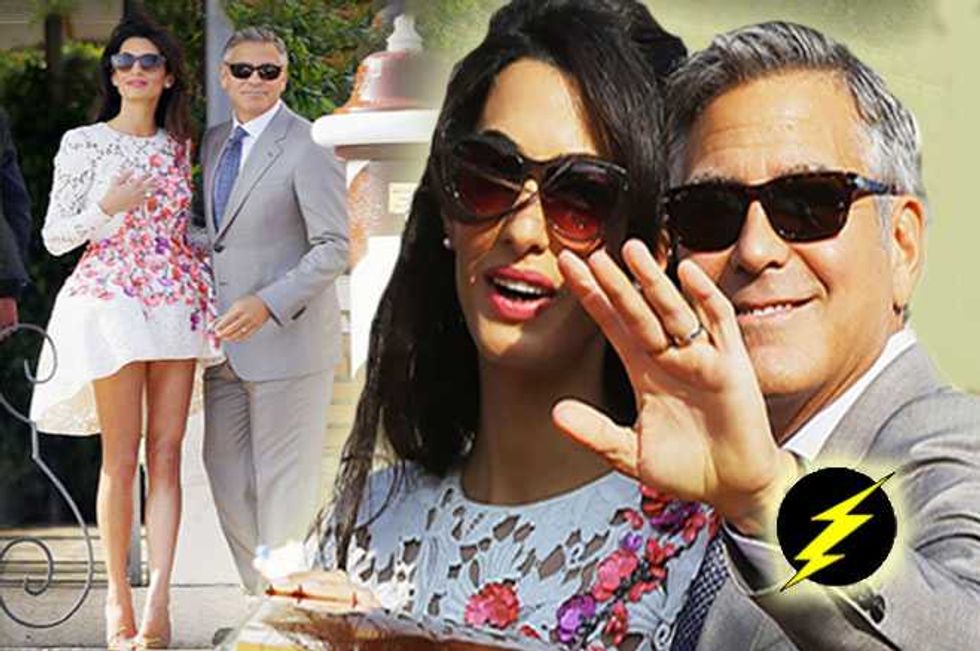 Proving you can never say never, confirmed bachelor George Clooney stepped out with his new wife, Amal Alamuddin, in Venice, Italy on Sunday.
The couple was all smiles, graciously treating the adoring crowd to a rare A-lister photo shoot opportunity, complete with regal waves—Popdust has video and photos.
Clooney shocked and stunned fans—not to mention his stable of ex-girlfriends—when news broke that in April the 53-year-old had proposed to Alamuddin, whom he had met in Italy the previous fall.
After years of vowing he would never walk down the aisle again—following a disastrous, four year, first marriage to actress Talia Balsam, which ended in divorce back in 1993—Clooney's complete 180 sent the rumor mill into overdrive.
There's been much speculation that the actor's change of heart could have been motivated by a desire to one day enter into the world of politics—and, there's no doubt that Alamuddin, a respected 36-year-old British-Lebanese human rights lawyer, would add more than a little gravitas to any campaign trail.
However, there's also the glaringly obvious fact that the 36-year-old is gorgeous, smart, independent and, very, very successful in her own right—standing in contrast to many of the serial monogamist's slew of past romantic interests which include a variety of actresses, waitresses and even a wrestler.
Whatever the reason, Clooney and his new bride certainly appear to be besotted—gazing lovingly at each other and proudly showing off their wedding bands, as they traversed the Venice waters this afternoon, in a speedboat that had "amore" emblazoned down the side.
Clooney and Alamuddin's Saturday sunset wedding was held at the super swanky Aman Canal Grande Hotel, and conducted by the former Mayor of Rome, Walter Veltroni. The actor's close friend, Rande Gerber, acted as best man.
Following the ceremony, the 90 guests—which included celeb pals, Bono, Matt Damon, Bill Murray, Cindy Crawford, John Krasinski and Emily Blunt—carried on the celebrations at a reception party, also held at the seven star 450-year-old waterside hotel.
Vogue Editor, Anna Wintour, was also spotted amongst the guests—adding fuel to the reports fire that the magazine has secured rights to the wedding photos in return for a donation to a charity of the newlyweds' choice.