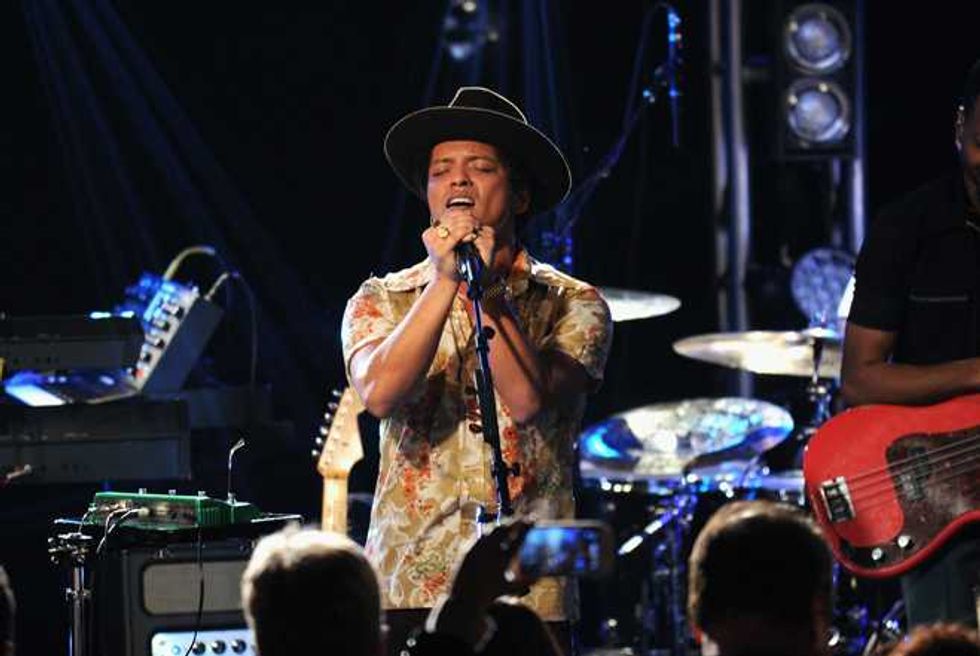 It's hard to think of an artist who had a better 2013 than Bruno Mars. And 2014 hasn't started too badly either, with Mars performing at the Super Bowl (the first artist under 30 ever to do so) in the most-watched halftime show in Super Bowl history. Not bad for a kid born as Peter Gene Hernandez in the Waikiki neighborhood of Honolulu, where he began performing with his family band The Love Notes at age four. As one of six children in a family of musicians, Mars would later become known around the island as "Little Elvis" for his Elvis impersonations as a child.
After moving to L.A. following high school, Mars began his music career producing music for other artists as a founding member of The Sweezingtons. He was discovered after lending his backing vocals to songs by B.o.B. and Travie McCoy, for which he also co-wrote the hooks. His debut album, 2010's Doo-Wops & Hooligans, spawned the monster hits "Just the Way You Are" and "Grenade," which went on to become two of the highest-selling singles of all time. His 2012 follow-up Unorthodox Jukebox topped charts worldwide and earned Mars his second Grammy. To date, the 28-year-old pop star has sold over 10 million albums and 68 million singles — including five number one singles in just four years, achieving this milestone faster than any artist since Elvis himself.
Currently in the midst of his massive 153-date Moonshine Jungle Tour, FrontRowTickets.com breaks down a series of key upcoming dates on the current Bruno Mars tour.
On April 18, 19 and 21, Mars makes his triumphant hometown return for three dates at Honolulu's Neal S. Blaisdell Center-Arena. Bruno Mars tickets average $376.40 with a get-in rate of $67. While this is 30.53% above the average ticket price of $288.36 on this tour, prices have come down a slight 5% in the past week, according to FrontRowTickets.com.
On May 31 and June 1, Mars and Pharrell Williams make a highly anticipated stop for two shows at the famed Hollywood Bowl in Los Angeles. Bruno Mars Los Angeles tickets have a relatively high average price of $426.52, with a get-in rate of $150. Ticket prices are 47.91% higher than the tour average, and are also up 2% over the past week.
On June 6, Mars stops by the FedEx Forum in Memphis with Aloe Blacc. Bruno Mars Memphis tickets are amongst the cheapest on the tour, with an average price of $215 and a get-in rate of just $59. These prices are 25.44% below the tour average, down 2% over the past week.
On June 7, Bruno Mars and Aloe Blacc stop by the Smoothie King Center in New Orleans for one of the most in-demand tickets on the tour. Bruno Mars New Orleans tickets average a whopping $448.47, with a get-in rate of $118. At 55.52% above the tour average, the trend continues to see ticket prices increase steadily, up 7% over the past week.
And on July 14-15, Mars and Pharrell Williams hit up New York's Madison Square Garden for two of the biggest shows on the tour. Bruno Mars New York tickets average $384.89, with a get-in rate of $124. At 33.48% above the average tour price, ticket prices are up 3% over the past week.
By Jay Gentile