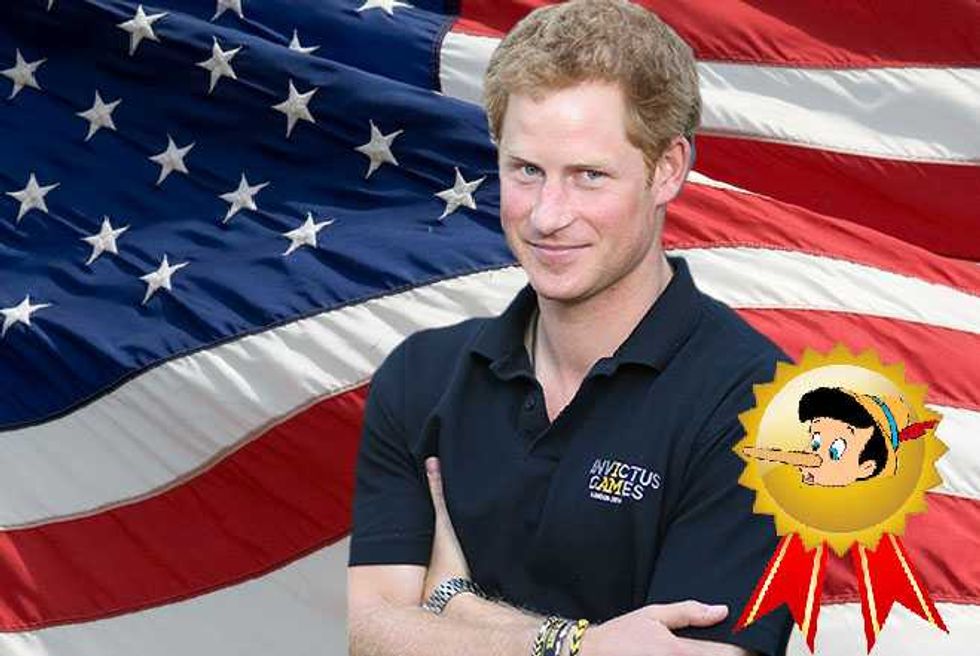 prince harry moving america wife
Good news fair ladies of the U.S....Prince Harry is moving to America to find his princess!
Hahaha.... as if!
Well done Life & Style, you are the hands down winner of this week's Best Fake Story Award.
I mean, how could you beat that?!!
Jolly good job Life & Style! Jolly good job!
I Wanna Marry Harry
prince harry moving america wife
Likely inspired by watching the sadly now-cancelled ridiculousness-masquerading-as-reality-TV, that was I Wanna To Marry Harry, the real life Harry is allegedly eager to bag himself a U.S. bride.
Well, at least if he achieves his aim, he won't be forced to abdicate from the British throne like his great grand-uncle before him.
Spill it Fergie
prince harry moving america wife
Drawing on their impeccable sources within the British royal family—probably Sarah Ferguson, she gets mighty loosed lipped after a bottle or two—the tabloid spins a wondrous fairy tale that rivals even Cinderella.
Fergie Life & Style's "palace insider" waxes lyrical:
Prince Harry has a thing for blond American women.

Harry told close friends that he's bored of partying and dating in London and is determined to find a wife by the end of the year so he can start a family.

He's desperate to settle down. He doesn't want to be the last one to walk down the aisle.
Yeah, we are really buying this. Poor "desperate" Prince Harry…. somebody fix him up with Kate Hudson….STAT!
Fox petition
prince harry moving america wife
No, even better, let's petition Fox TV to bring back I Wanna To Marry Harry!
But with the real ginger minx this time.
It would be perfect—Hazza would get his pick of hot blonde Americans, and even better, he wouldn't even have to leave home!
For more entertainment, music and pop culture updates and news, follow Max Page on Twitter