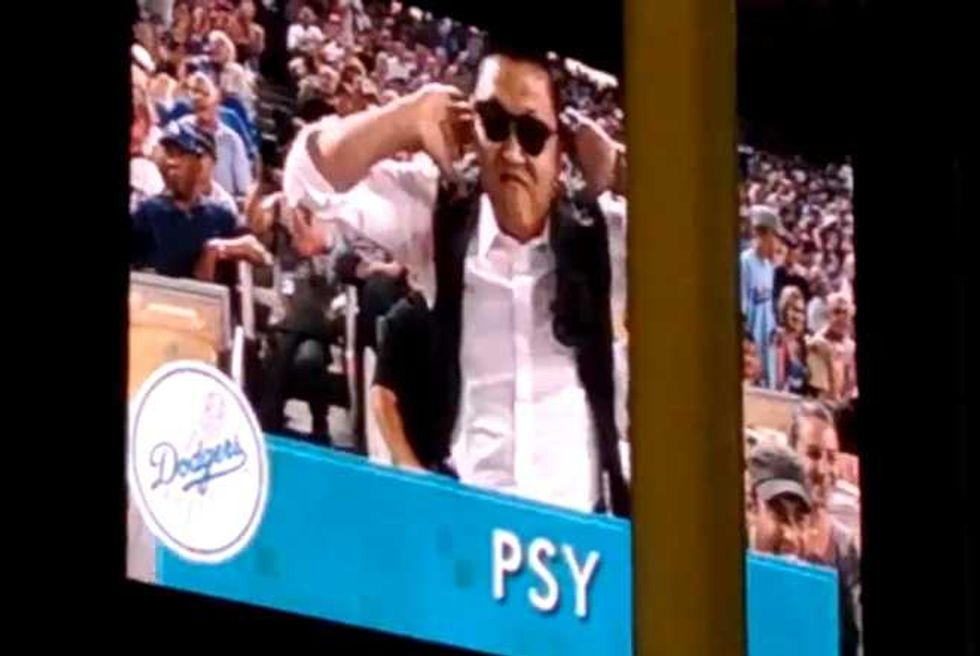 Audio engineers for professional sports teams have the great responsibility of staying on the pulse of what's current, expected to select fun, inspiring, and above all, danceable, music to get the crowd going even when its home team has no shot at victory. Monday night's baseball game between the Los Angeles Dodgers and San Francisco Giants in L.A. took a moment away from the diamond to blast the K-pop hit "Gangnam Style" in between innings. For those who haven't heard, the song is the product of PSY, the 35-year-old, slightly mysterious South Korean hip-hop act who's risen to superstar status across the Internet and beyond, thanks to his goofy, LMFAO-esque video about Seoul's posh neighborhood.
After a few seconds of playing to the 43,000 fans, the stadium's "dance cam" operator did his best to find the man responsible, who just so happened to be in the house. What followed was a live rendition of his track that's amassed 43 million views on YouTube to date, horse-riding dance and all, and provides further reinforcement that we're all powerless in the presence of silly choruses that defend our stylistic choices. Next stop: Getting Dodgers' star Matt Kemp to join in with PSY during tonight's seventh-inning stretch. Collegiate baseball players can't be the only ones who have a sense of rhythm.
The Dodgers ended up losing 2-1 to their division rival, but it's safe to say getting PSY on the Jumbotron was a win for all involved. Released in July, "Gangnam Style" has quickly become a favorite among K-pop fans and casual observers alike, including Nelly Furtado, who covered the song during her concert in Manila last week:
And with all those costumes and goofy dances moves, you better believe Katy Perry approves:
Help, I'm in a gangnam style k hole:bit.ly/PVPJ4p

— Katy Perry (@katyperry) August 21, 2012
But the love between female pop stars and the PSY seems to be mutual; he's previously "transformed" himself during live shows, channeling both Lady Gaga and Beyoncé in concert last year. Real men wear red leather.
If you still can't get enough of PSY, or fear your nearest ballpark has yet to catch on to his greatness, feel free to devote that extra energy into voting for "Gangnam Style" in this week's Pop-Off.