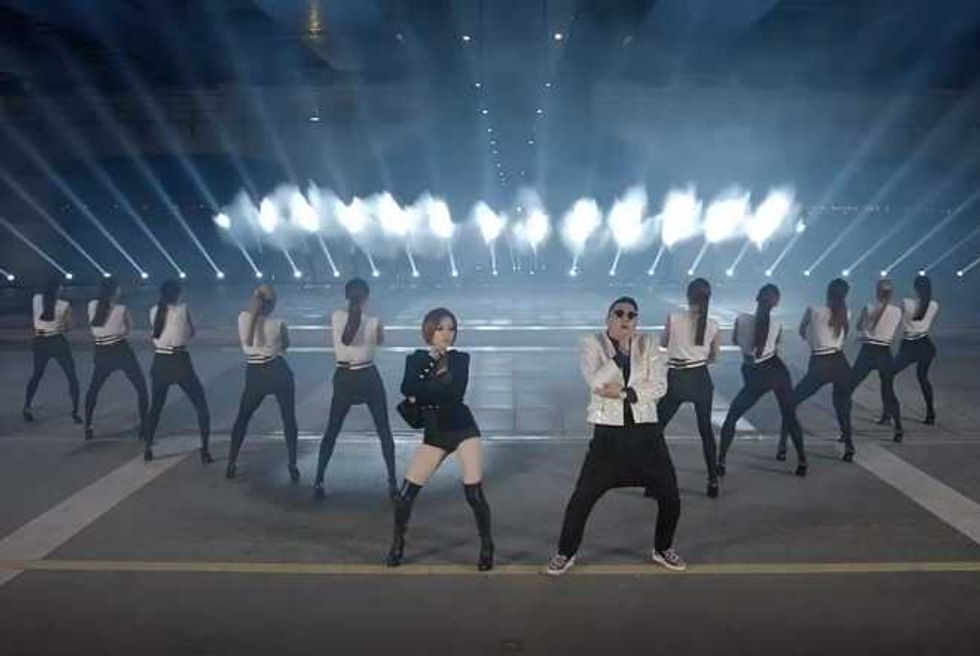 PSY's "Gentleman" music video arrived online this weekend, and as expected, it's fifty shades of amazing. Dare we say, it's even better than "Gangnam Style." PSY works his comedic chops harder than ever before, playing a misogynistic prankster who terrorizes incredibly hot women until finally meeting his unlikely soul mate in Brown Eyed Girls' songstress, Ga-In. "Gentleman" contains everything you could want from PSY's big follow-up -- including dirty toilet humor for the males aged 13-17 who gave "Gangnam Style" the bulk of its views.
Lyrics explainer: Just what is a "mother-father gentleman"?
As great as the song and video are, the main thing that we were really waiting to see from PSY was his new signature choreography. For "Gentleman," the portly pop star's ditched the horseplay and come up with what he's officially calling the "arrogant dance," but longtime K-poppers will likely know it as the "hip dance," made famous by Brown Eyed Girls back in 2009. PSY's taken the legendary choreography and put his own ridiculous twist on it, which explains why Ga-In stars as the female lead in the music video.
Brown Eyed Girls' hip dance, lifted from their 2009 single, "Abracadabra," became a nationwide craze upon its debut, and is now considered to be one of the most iconic dance moves in the history of K-pop. It transformed Brown Eyed Girls into one of the biggest --and sexiest-- girl groups in South Korea, and K-pop fans still frequently rank the song as one of the greatest K-pop tunes of all time.
Since the release of "Abracadabra," Ga-In has gone on to a huge solo career outside of the group, topping the charts multiple times with her own hits like "Irreversible" and the orgasmic "Bloom," starring in TV shows and movies, and cementing her status as a style icon and sex symbol. Her hilarious appearance in "Gentleman" has already been met with a positive reaction from Korean netizens, but whether or not international audiences will love her as much as "Gangnam Style"'s HyunA remains to be seen.
The hip dance doesn't work quite as well in "Gentleman" as it did in "Abracadabra," but overall the video is sharper, funnier, and flashier than "Gangnam Style," while the song itself is basically just a really great clone of the aforementioned hit. But, will it be big enough for PSY to shake off his one-hit-wonder tag? And will it bring a level of global exposure to Brown Eyed Girls that they never had before, or at the very least, dramatically increase their Youtube views?
Check out "Gentleman" and "Abracadabra" below and let us know what you think.