Frontpage Popular News
They are just as shocked by the President's lack of a reaction as the rest of us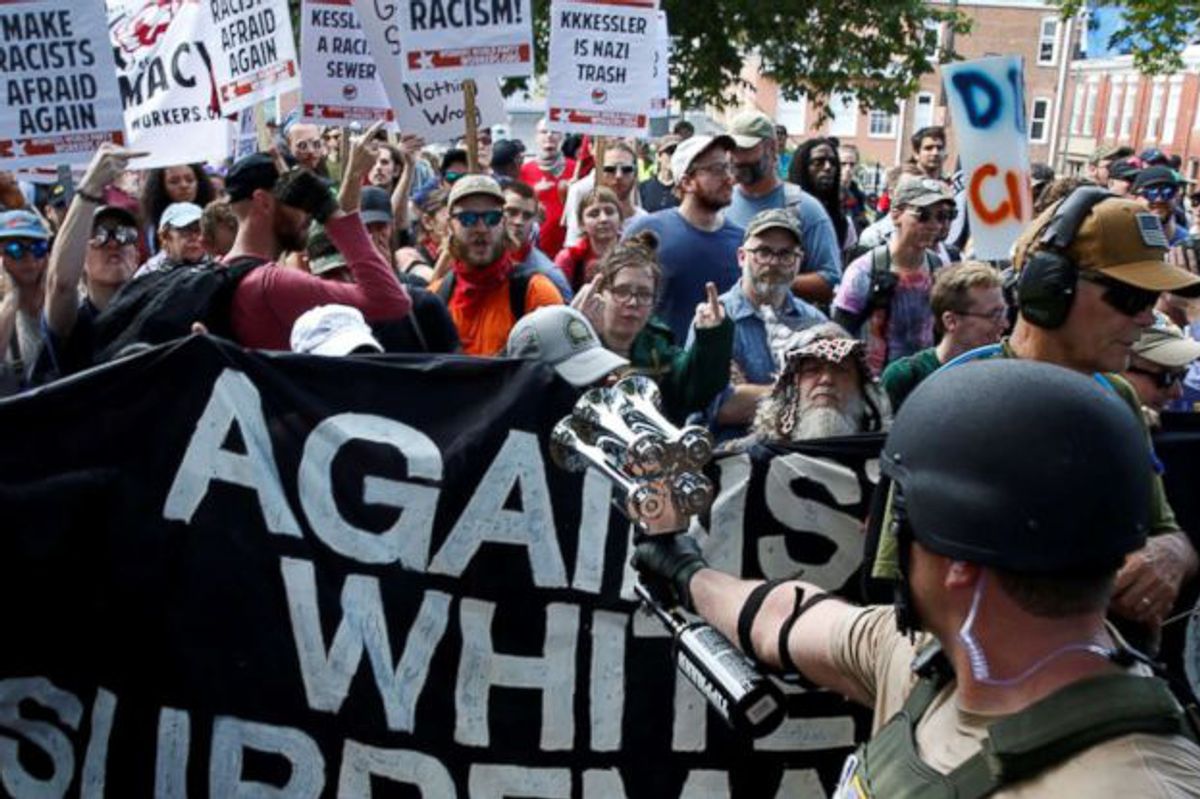 In the wake of the tragic events in Charlottesville, the nation is in shock and even more so since Trump's speech blaming "many sides" for the violence and failing to call the violent protestors out for what they are: Nazis. Celebrities are just as shook as us, and they are speaking out:
Jennifer Lawrence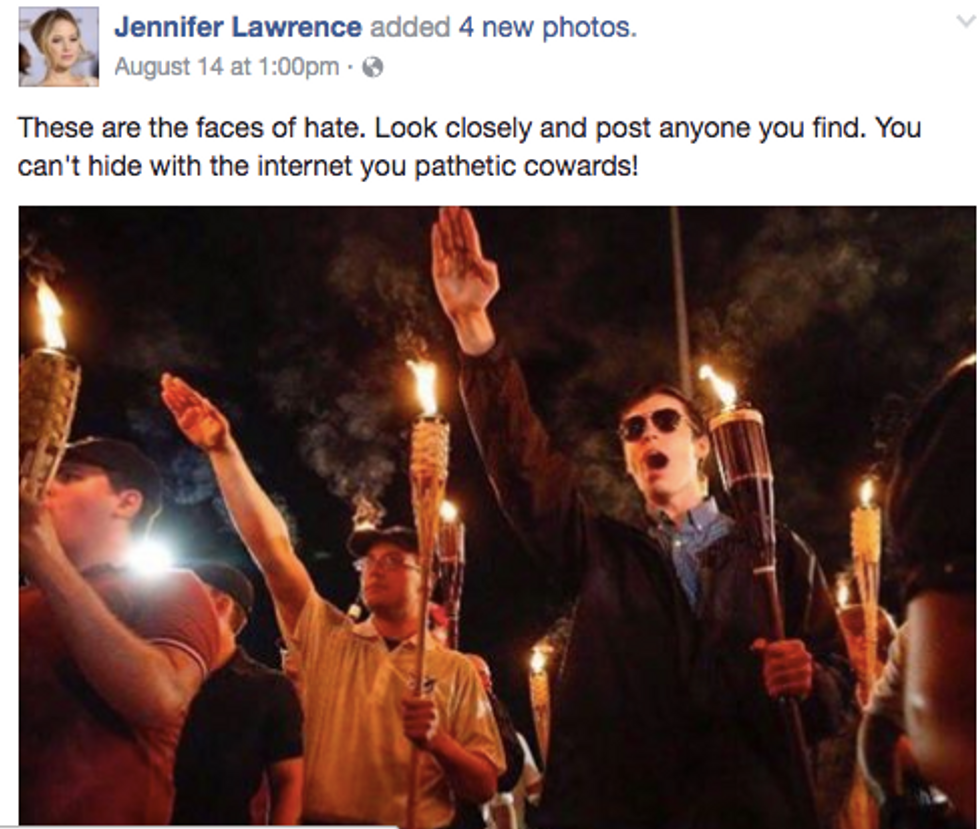 Oscar winning actress Jennifer Lawrence joined other internet sleuths in sharing photos of the rally attendees on her fan page and encouraging fans to identify them.
Tina Fey
Comedian, writer, and actress Tina Fey made a special appearance on SNL as a UVA alum and urged America to partake in "sheetcaking" instead of protesting to keep them safe from violence but still take a stance against racists. Watch the full video here.
Barack Obama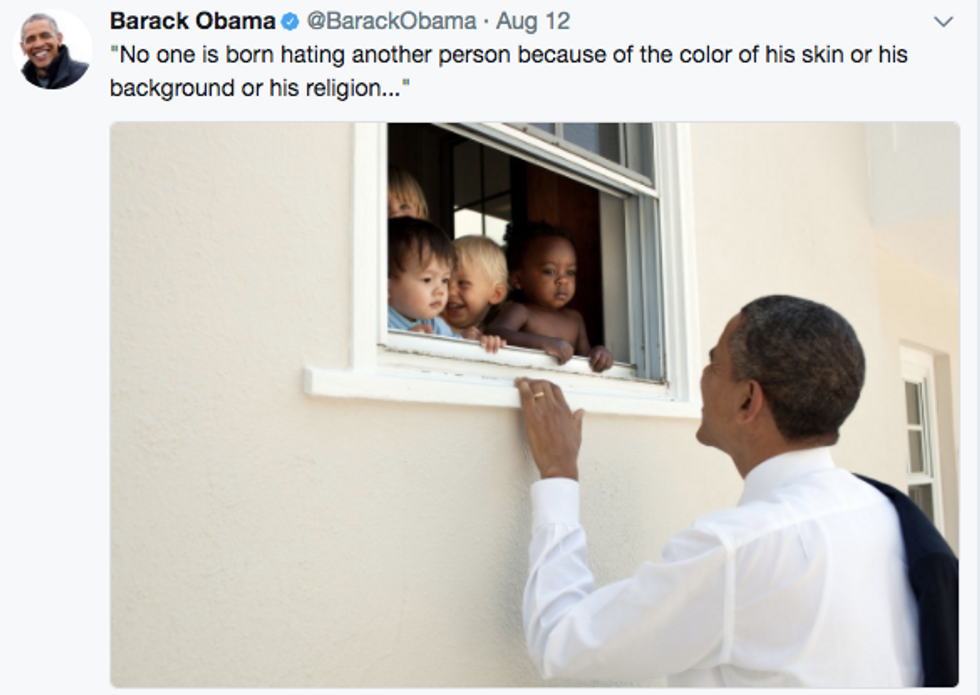 Former President Barack Obama took to Twitter with a Nelson Mandela quote that is now being wide spread in the wake of the event. He has not made a comment on Trump's speech.
Sarah Silverman

Stand up comedian, actress, and writer Sarah Silverman admonished the President for being selfish and lacking empathy in light of his lack of opposition against the Nazis and white supremacists.
Kevin Hart

Comedian Kevin Hart urged his fans to start by teaching tolerance.
Jimmy Fallon
Jimmy Fallon makes a heartfelt speech on his show and talks about how he doesn't know how to explain this tragic event to his daughters who don't know what hate is. Watch the full video here.
Seth Meyers
Seth Meyers joked that finally after two days the President admits that Nazis are bad and continues by giving us the real facts about the event and the White House's action following.Watch the full video above.
Lorde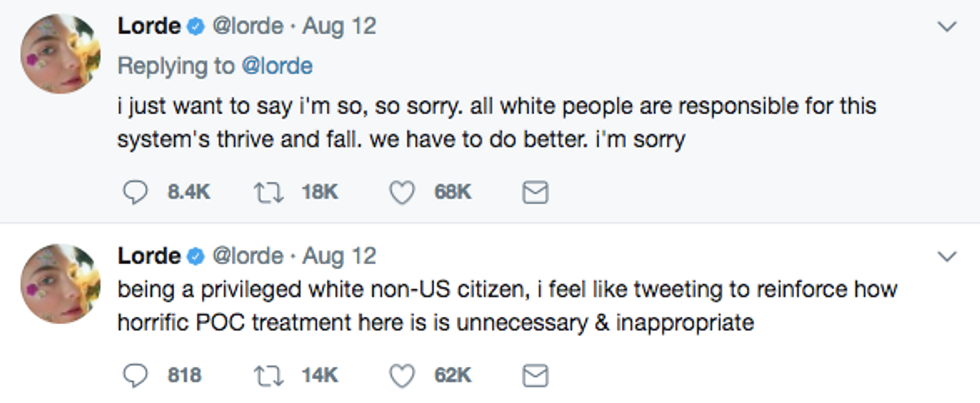 Pop artist Lorde apologizes on behalf of the white community. "We have to do better," she said in light of the recent events.
John Mayer

John Mayer remains hopeful that we can rise from this and learn from the President's lacking empathy.
Lady Gaga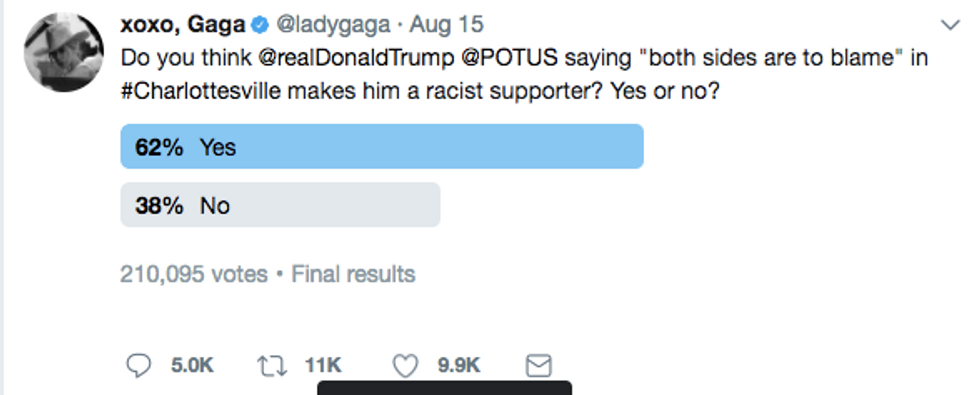 Lady Gaga polled fans about Trump's speech. In another tweet adjacent, Gaga asks the black community how their white allies can help.
Michael Moore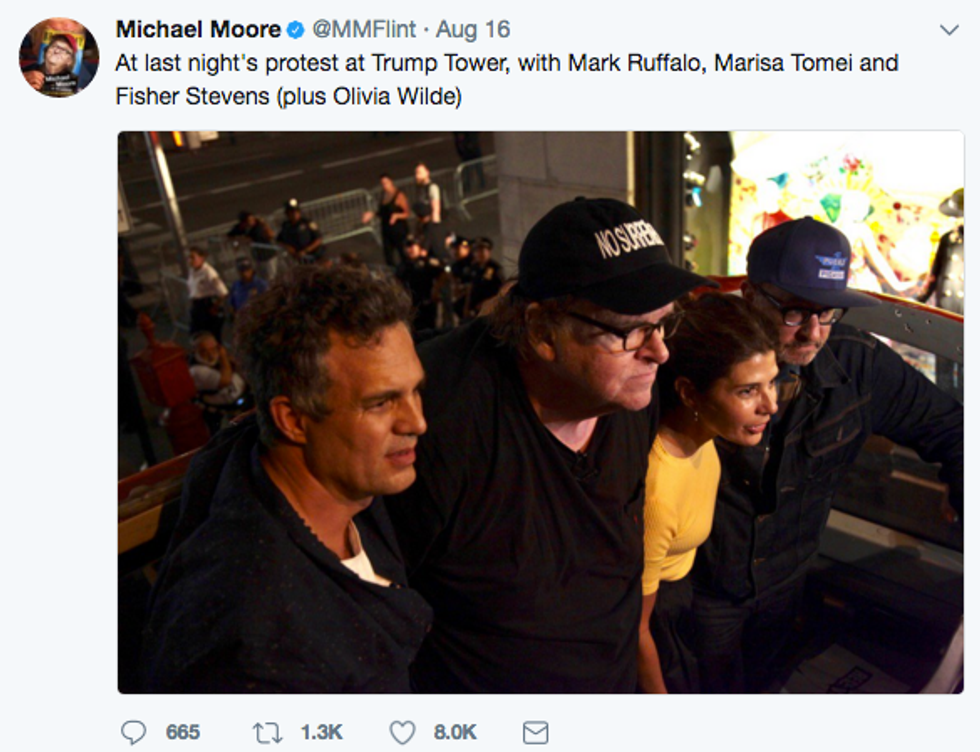 Michael Moore once again speaks out and takes to protesting in NYC with other celebrities and citizens alike.
Josh Groban

Groban mocks Trump's general response to the tragedy comparing it to World War II.
Clay Aiken

Clay Aiken joked that he once supported Trump though he's been known to speak out against him. This tweet was misinterpreted widely by people on Twitter myself included; however, it's satirical if you look at his other tweets surrounding. Seems like he was trying to let Trump supporters know that it's ok to denounce their faith in him in light of the recent events.
Jack Antonoff

Music producer Jack Antonoff urges Twitter followers to come together regardless of political beliefs against racists.

Lena Dunham

Writer, producer, actress, and Girls star Lena Dunham is surprised that we still need to be having this conversation but notes that's because she's privileged and alludes that minorities deal with this kind of hate consistently and are not shocked by the tragedy in Charlottesville.
Though we are all reacting in different ways celebrities included, I think our message is united, it's important that we speak out, educate, and stand up to racism in America.
---
Anie Delgado is a contributor to Popdust and is an actress and musician based in NYC. Follow her on Instagram and Twitter @anie_delgado and on Facebook and check out her music on Spotify.
---
From Your Site Articles
Related Articles Around the Web