Frontpage Popular News
Securing the rights to distribute movies shortly after their film premieres... in your home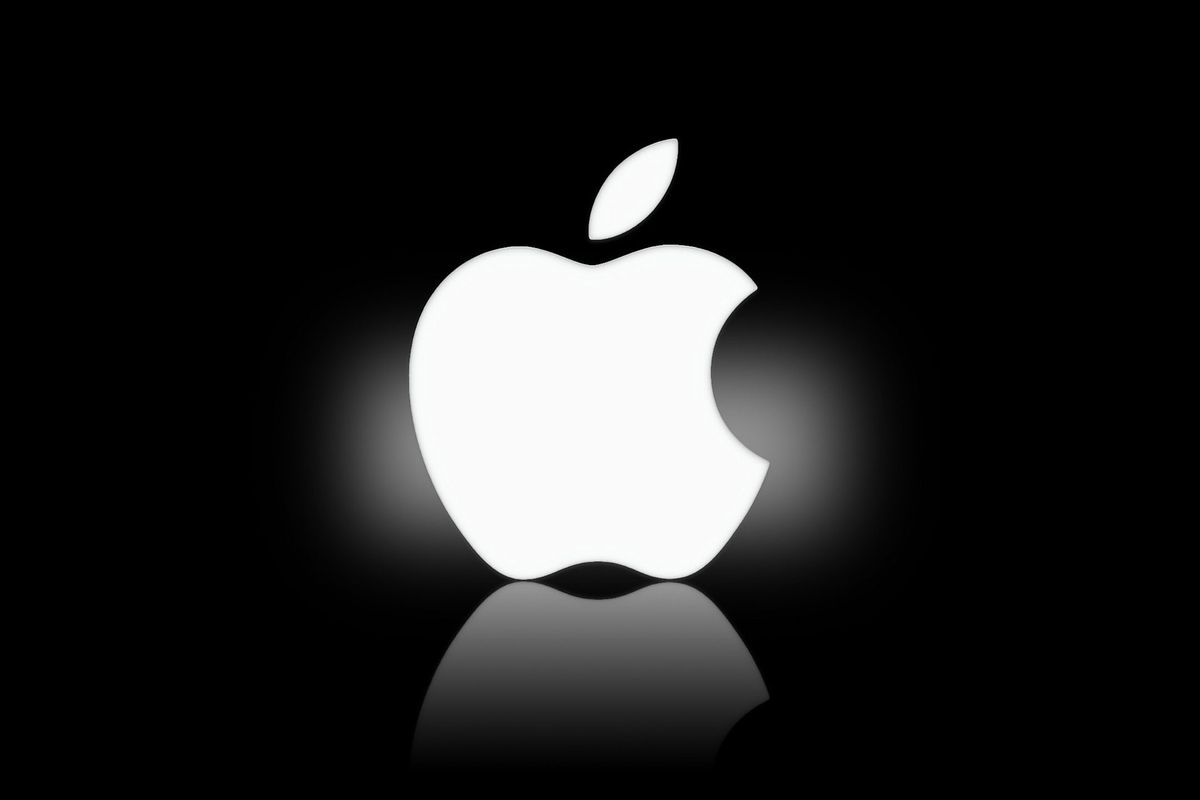 Introverts rejoice! You may not have to leave the comfort of your couch to see the newest flicks.
It happened to me the other night. I got home from work, exhausted. I had plans to see a movie downtown a few hours later. When six o'clock rolled around and it was time to make the commute to the movie theater, the idea of being anywhere but pantless in my apartment sounded unappealing. To make it more unappealing, movie theater outings are only getting more expensive. I remember going to movies in high school and paying $8-10 and maybe a couple bucks for popcorn. In New York City now, you can get a Broadway ticket on Today Tix for about the same price. The tickets in New York range from $16-20 and the popcorn and water ranges from $4-8 each. For two people, date night is easily a $60 venture for the latest flick, some popcorn, and H20. I ended up going and spending my $30 as my cinephile attributes won over my introvert attributes and had a great time; however, Apple might be changing the game for us yet again.
[rebelmouse-proxy-image https://media.rbl.ms/image?u=%2Fd2Z32wTIuPl6iHuw.gif&ho=https%3A%2F%2Fi.giphy.com&s=244&h=fd34ce39b8ccc5405822e9759b2822650214535aacab3fa31cee005763fa9cab&size=980x&c=1523854702 crop_info="%7B%22image%22%3A%20%22https%3A//media.rbl.ms/image%3Fu%3D%252Fd2Z32wTIuPl6iHuw.gif%26ho%3Dhttps%253A%252F%252Fi.giphy.com%26s%3D244%26h%3Dfd34ce39b8ccc5405822e9759b2822650214535aacab3fa31cee005763fa9cab%26size%3D980x%26c%3D1523854702%22%7D" caption="" pin_description="" image-library="0" expand=1 photo_credit=""]
Apple recently announced that they are in talks with several leading movie studios such as Warner Brothers and Universal Pictures to bring new releases to your home in just a few weeks after their release date. Sources say that these new release rentals could cost as much as $50 and the price will wane as time passes. Apparently, Apple has been in negotiations with the studios for two months, the biggest conflict between the media giants being how much the rental should cost in comparison to how far away it is from the official theatrical release date. Movie theaters aren't thrilled with this news. Already struggling to maintain numbers due to the increase in Netflix consumption, movie consumption is down by 12% this year. This is not the first threat of the movie-going experience being brought to consumer's homes. Last year Napstar co-founder Sean Parker pitched a startup called the Screening Room and recently MoviePass has become a more successful startup venture offering a movie a day at local participating theaters for as low was $9.99 a month depending on where you live.
At first, I was bummed for the movie industry. I don't want the classic experience of going on a date to the theater to be destroyed by the whiplash-like nature of the tech industry; however, I must admit, after working long hours, it would be nice to just be able to see new films from home. I think that if movie studios keep the grace period between theater release dates and Apple release dates large enough, there will still be a demand for theater outings. I also feel that our generation is very nostalgic, so while the mainstreamed form of movie consumption may be from home, I still think we will often opt for the experience of going to a theater to view new flicks on the big screen with popcorn and the whole nine yards.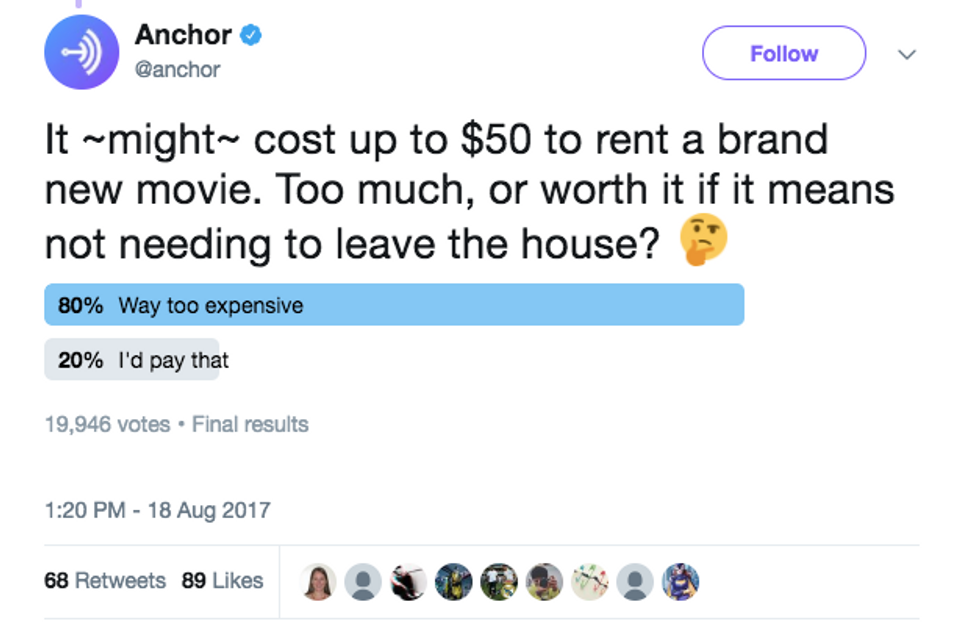 The cost may be a whole additional issue. Anchor polled their Twitter followers about the proposed cost for streaming new releases on Apple and 80% said that they think $50 is "way too expensive." Some optimistic tweeters noted that $50 is reasonable if you have a viewing party and split the cost or that it is cheaper than a movie date after paying a babysitter, for gas, and the actual movie, etc. While some are ready to invest in projectors for this new way of seeing new films others are critical of the high price in combination with the proposed 17 day period between the theater release and Apple release. Balls in your court Apple!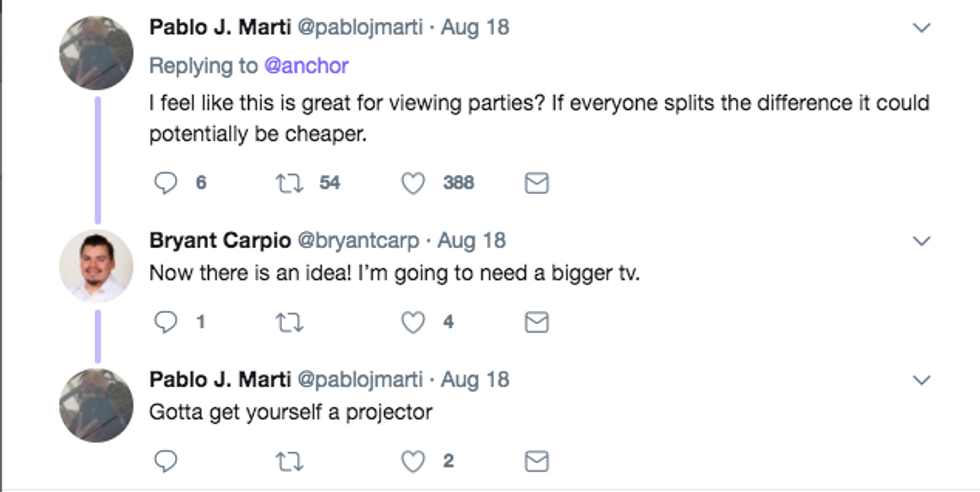 Optimistic movie consumers are down for new movies from home.

Not everyone is sold on the high price point.
Do you love or hate this idea? Let me know @anie_delgado.
---
Anie Delgado is a contributor to Popdust and is an actress and musician based in NYC. Follow her on Instagram and Twitter @anie_delgado and on Facebook and check out her music on Spotify.
---
READ MORE...

What is sheetcaking? Tina Fey's SNL appearance has become controversial
REVIEW | "Ingrid Goes West" comments on the current state of social media
REVIEW | Lion is now available on Netflix
Apple and Hollywood said to continue talks around early digital movie rentals
Apple mulls pricey early movie rentals right after theater debut
---