There's something to be said for a band that is just as excited to talk to you as you are to talk to them.
This charm is certainly present with Bad Bad Hats, a group of friends who started working together after meeting in college at Saint Paul, Minnesota. They started creating indie rock music that had enough heart and happiness to it to set it apart from every other trio on the scene. Their EP "It Hurts," followed by their album Psychic Reader, went on to do well and carve out a bold place for the group on the scene.
Now, two years after their last release, Bad Bad Hats has just gotten out of the studio, and after finishing their summer tour, they are preparing for the release of their upcoming second record. Kerry and Chris spoke with Popdust about being on the road, being in a relationship and being band mates, and what the future of their band might hold.
---
How'd you get started as a band?
Chris: Well, we were at Macalester College in Saint Paul, Minnesota, and that's where Kerry, Noah, and I met. We met Connor about a year ago playing music in Minneapolis.
Kerry: We all made music independently, and I had written a song I wanted to do a duet on. I knew Chris could sing, so I asked him to sing on it. And though that song was unsuccessful, it led a beautiful songwriting partnership.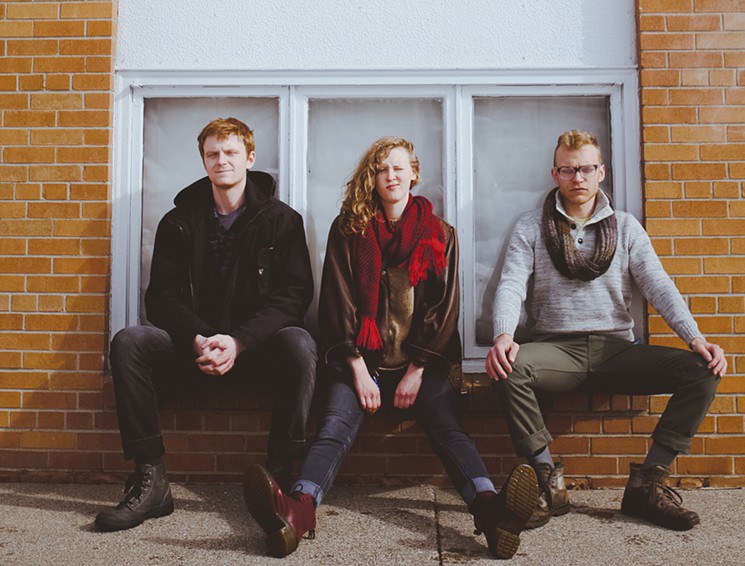 You guys have an album and an EP out. What was the writing and recording processes for those projects like?

Chris: So, the "It Hurts EP" was the first thing in 2012, and that was me and Kerry in a rented duplex recording ourselves, mostly Kerry songwriting and me playing instruments.
Kerry: We recorded those ourselves in a tiny room, mostly with acoustic instruments and Chris programmed all the drums. We were sort of limited by our space. We sent it away to be mixed and mastered at Tiny Telephone, and they did a great job. But then for our full-length album, I think we'd had enough time with just the two of us, because we're used to writing and making demos at home since Chris and I live together, so we were feeling like we needed some more perspective. So, we decided to work with Brett Bullion, who has a studio in Minneapolis, and recorded there with him for our first full-length. On that album, I wrote all the lyrics and most of the melodies, but Chris had written some of the music and Noah had written baselines, so it was nice to have others to break-up just me and my head space.
It's been a couple of years now since the album came out. Have the songs changed for you?
Chris: I think I like a few of them more than I did before we released the album. They weren't the hits, and now songs like "Cruella" are the most fun to play.
Kerry: For a lot of the songs, because we recorded it track by track, we put more instruments and sounds than are actually happening on stage, which is cool. If you have the album and you come see us live, it's a different experience. We kind of struggled at first to figure out how to play some of these songs. So, "Cruella," we decided needed something a little more excited at the end, so I play a solo that isn't on the album. A song like "Midway" was also really tricky because people really like that song and we wanted to do it justice. I think we've settled into a nice version of it. I still really like all of those songs, and I'm glad they're standing the test of time for us.
You two are getting married. What's it like working together and having that personal relationship?

Chris: It's good, it's good. You know, for as hard as it is to be together all the time sometimes, it also lends to a really close relationship and you're on the same page about a lot of stuff.
Kerry: And it's been nice to run this "business" together, to feel like business partners. It's nice to have the same goals in that way. And we're also really lucky, even if we spend too much time together, to be able to tour together, to not be apart from each other for weeks at a time, which is often what happens when band have significant others at home.
Chris: And we have two guys in the band who don't mind being third and fourth wheels.
You're all from all over the country. What's in been like to tour all over the states since you all have personal connections?
Chris: It's really nice. We get to visit a lot of people and stay in people's houses all over the country.
Kerry: It's been fun. We have spent time in all of our hometowns. We've gotten to have days off and we drag each other to our high schools and the places where we worked. Like, "This is where I worked!" "This is the mall where I saw A Walk to Remember!" As we play more together and just get closer, the band becomes more special, so it's been nice to share our histories.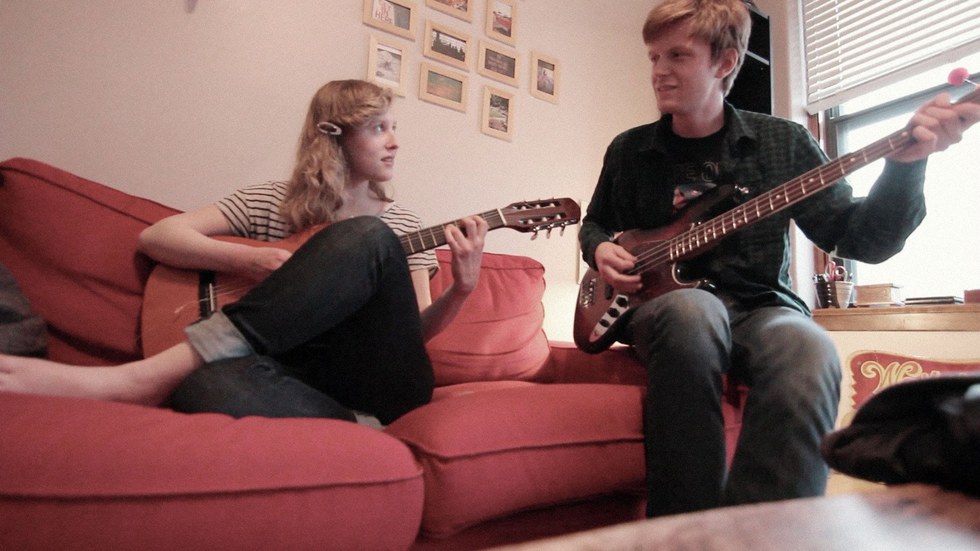 When are we getting a follow-up album?

Kerry: We don't know a date, but we finished recording out second full-length album a couple of months ago. The songs are written, recorded, and we should have some mixes back soon. We're in the process, it's coming.
Chris: The end of this year or next year.
How did the process for this album differ from the last?
Chris: I went into it thinking, "We're working with Brett again, we know exactly what we're doing, it's going to be so easy." I think Brett kind of challenged us to do it differently, which I really appreciated in the end. He made us play a few songs live, which we had never done before. He helped us not do the same album again, which is probably what we would have done.
Kerry: At the same time, I think Brett has a good sense of the kind of songs that we write, and letting my vision as the songwriter and front person come through. I think the songs are still true to the way I intended them to be heard, but along a path that we maybe wouldn't have gone down.
Chris: But we had still worked with him, so we had the same kind of language.
Kerry: If Psychic Reader is like driving to the beach with the windows down, singing along with your friends, then our next album, is like driving home from the beach with the windows down, a little contemplative, having a heart to heart with your friends.
Chris: And hopefully we'll tour the whole country a few times. Our biggest goal is to go on tour in Europe.
---
Bad Bad Hats are currently on tour through September 2, 2017:
JUL 27 - THU - Atwood's Tavern (Cambridge, MA)
with Photocomfort TICKETS RSVP
JUL 28 - FRI Milkboy (Philadelphia, PA)
with Carroll TICKETS RSVP
JUL 29 - SAT - Tralf Music Hall (Buffalo, NY)
with Blind Pilot TICKETS RSVP
JUL 30 - SUN Tralf Music Hall (Buffalo, NY)
with Blind Pilot TICKETS RSVP
SEP 1 - FRI Minnesota State Fair (St Paul, MN)
RSVP
SEP 2 - SAT Minnesota State Fair (St Paul, MN)
FREE RSVP
---
Rachel A.G. Gilman is a writer, a radio producer, and probably the girl wearing the Kinks shirt. Follow her on Twitter.