FILM & TV
NOVEMBER 17TH - 19TH | Warm up your heart and feel excitement in your chest at the movies this weekend!
Tears, overcoming fears, and excited cheers can all be found at your local cinema this weekend.
In Popdust's new column, Box Office Breakdown, we aim to inform you of the top flicks to check out every weekend depending on what you're in the mood to enjoy. Looking to laugh? What about have your pants scared off? Maybe just need a little love? Whatever the case may be, we have it.
Take a peek at our top picks for this week...
---
Netflix continues to stride into the world of big screen releases with their latest flick, which might be the best yet of those that have followed this similar trajectory. Although a war that is less broadly discussed in regards to race relations, World War II was no stranger to the issues that skin color caused when all citizens were meant to be fighting the same battle. The film examines the very different experiences for two different families (one black, one white) living in the same part of the Mississippi Delta but experiencing entirely different lifestyles. The same day it's out in select theatres it will also be available to stream from your favorite watching device, but the whole purpose of this column is to encourage to go out and experience cinema the way it was intended: from a wide screen perspective.

R | Running Time 2hr 14m | Netflix | Director: Dee Rees | Starring: Carey Mulligan, Jason Clarke, Mary J. Blige, Garrett Hedlund, Jason Mitchell, and more! | Purchase Tickets for MudboundMudbound
---
Get a look at one of the films in competition for the best foreign language film at the 2018 Academy Awards, and don't be too surprised that's it's coming from Ireland. The film explores the life of folk singer Joe Heaney in an exploration of solemn, sadness, and what it takes to make music that speaks to the soul. For a musical biopic, this film takes itself incredibly seriously, and you should, too. Don't shy away from this one because you don't know Heaney, or because of its foreign language label, or because it also happens to be in black and white. Sometimes, a little culture is a very good thing. Besides, there is a great deal of truth in the statement that music really can permeate through all barriers. The songs in this film accomplish just that. While you should definitely be prepared to endure some roaming and deep thinking, you'll also be pleasantly surprised.
NR | Running Time 1hr 38m | Oscilloscope | Director: Pat Collins | Starring: Michael O'Chonfhlaola, Macdara Ó Fátharta | Purchase Tickets for Song of GraniteSong of Granite
---
A bunch of your favorite super heroes are coming together and working to restore order to the world in the midst of Superman's death. Get ready for some twists, turns, and a whole lot of action because there is also a new, more powerful enemy threatening the safety of citizens. Bruce Wayne (Ben Affleck) is inspired by Superman and seeks out help from a new friend, Diana Prince (Gal Gadot). Yes, indeed, Wonder Woman is back on your big screens for everyone to get excited about. Joined by a team of other metahumans to take on the challenge of trying to save the planet, these guys will try to do their best without the work of Clark Kent. Expect the usual gambit from a superhero flick, but be happy we're being more inclusive all around in casting and by including a female in the bunch who does more than need to be rescued. For extra thrills, see it in 3D.
PG-13 | Running Time 2hr 1m | Warner Bros | Director: Zack Snyder | Starring: Ben Affleck, Henry Cavill, Gal Gadot, Amy Adams, Ezra Miller, Jason Momoa, Ray Fisher, Jeremy Irons, Diane Lane, Connie Nielsen, J.K. Simmons, Ciarán Hinds | Purchase Tickets for Justice League
---
A little indie romance coming out of nowhere to box offices after making the film festival circuit route in 2016 is asking the questions of how we get together and when we start thinking ourselves as having it together. Charlie (Freddie Highmore) doesn't seem to know the answers to either, being an incredibly gifted cook but working at a movie theatre, and totally awkward around the only girl he's even found an interest in. Not a heck of a lot else is available regarding the film, but it's the second indie role Israeli actress Odeya Rush is taking on after a spectacular time in Lady Bird earlier this season. Admittedly, we probably know where this plot is going to take us as we see Charlie awkwardly stumble and Amber (Rush) find it more and more endearing, but we don't all head to the cinema for art. Sometimes we just need to take our minds off the unpredictability of the world.
PG-13 | Running Time 1hr 45m | Gravitas Ventures | Director: Jake Goldberger | Starring: Freddie Highmore, Odeya Rush, Haley Joel Osment, Jake Abel, Rita Volk, Taylor John Smith, Christopher Meloni, and Marg Helgenberger | Purchase Tickets for Almost FriendsAlmost Friends
---
And our ⭐️ TOP PICK ⭐️ ...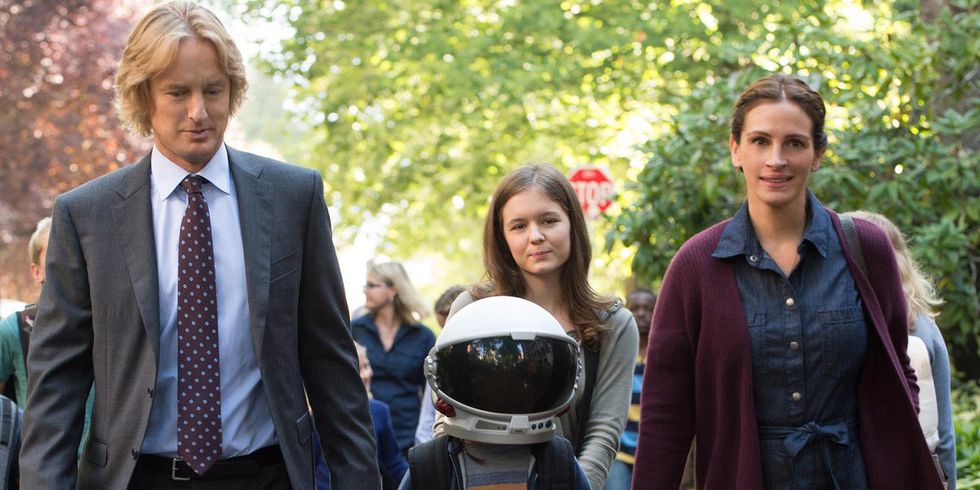 The heartwarming story we could all use right about now comes in a tale about family, love, and why it's so important to be true to who you uniquely are! Based on the bestselling novel by R.J. Palacio, the film follows August Pullman (Jacob Tremblay), a fifth grader who has never been to mainstream school due to his facial deformities. While he's at first nervous about how he will be received by the other students (and admittedly does have some bumps in the road), Auggie's strength and bravery makes him just the kind of person to bring everyone together. A shiny ensemble cast and a director who's already known to make us tear up about stories starring people who are special and different makes this a win in my book. Bring your tissues, bring your friends, and feel good about some messages that we're putting out in the world for once.

PG | Running Time 1hr 53m | Lionsgate | Director: Stephen Chbosky | Starring: Julia Roberts, Owen Wilson, Jacob Tremblay, Mandy Patinkin, Daveed Diggs, and Izabela Vidovic | Purchase Tickets for Wonder
---
Really like a film you see or know of one coming soon that we should check out? Shoot me an email and let me know!
---
Rachel A.G. Gilman is a writer, a radio producer, and probably the girl wearing the Kinks shirt. Visit her website for more.
---
POP⚡ DUST | Read More About Film...
REVIEW | In 'The Florida Project' Women Break Down and Break Free
Saturday Film School | The tragedy of 'Birdman' and the American dream
REVIEW | Justice League: All In
---