Frontpage Popular News
The new queen of rap brought her chart-slaying "Bodak Yellow" to the MTV Video Music Awards
www.youtube.com
Cardi B isn't going anywhere, if last night's performance at the 2017 Video Music Awards is anything to show for it.
The Bronx rapper has been making headlines ever since the release of her - ok, there's no other word for it - banger of a single. She makes money move, and she's moving up the charts, too - with "Bodak Yellow" hitting no. 14 on the Billboard charts, she claimed the highest-charting spot for a female rapper since Nicki Minaj. It also broke a record for most weeks spent atop the Digital Song Sales chart. With a single that has over 36K streams (and counting) on Spotify, it comes as no surprise that last night's performance was nothing short of what we'd expect from this queen.
[rebelmouse-proxy-image https://media.rbl.ms/image?u=%2Fvi%2F2UR9rkbw0cA%2Fmaxresdefault.jpg&ho=https%3A%2F%2Fi.ytimg.com&s=771&h=053bd801ae2e73964d891bab57786b01d8f1319cef83f397d7dd462e19066fd7&size=980x&c=3164507710 image-library="0" caption="\u200b" pin_description="" crop_info="%7B%22image%22%3A%20%22https%3A//media.rbl.ms/image%3Fu%3D%252Fvi%252F2UR9rkbw0cA%252Fmaxresdefault.jpg%26ho%3Dhttps%253A%252F%252Fi.ytimg.com%26s%3D771%26h%3D053bd801ae2e73964d891bab57786b01d8f1319cef83f397d7dd462e19066fd7%26size%3D980x%26c%3D3164507710%22%7D" expand=1 photo_credit=""]YouTube
The star donned a diamond-encrusted bodysuit and matching Saint Laurent boots - the very same $10,000 boots that feature over 3,000 crystals and made us cry because we'll never own them this past Paris Fashion Week. The fashion house hasn't yet come out with an announcement of the dressing, but we'd recognize them miles away. The irony is not lost on us as Cardi belts, "These expensive, these is red bottoms, these is bloody shoes; Hit the store, I can get 'em both, I don't wanna choose."

Cardi moves with the confidence of someone who's always known they were destined for this. That's what makes watching her perform, and her aforementoned glow-up, so satisfying to pay witness to. Cardi is an artist with flow, charisma, and enough self-awareness for us all. While her performance took place during the VMA's pre-show, we're more than certain she'll be returning with her own mainstream slot next year.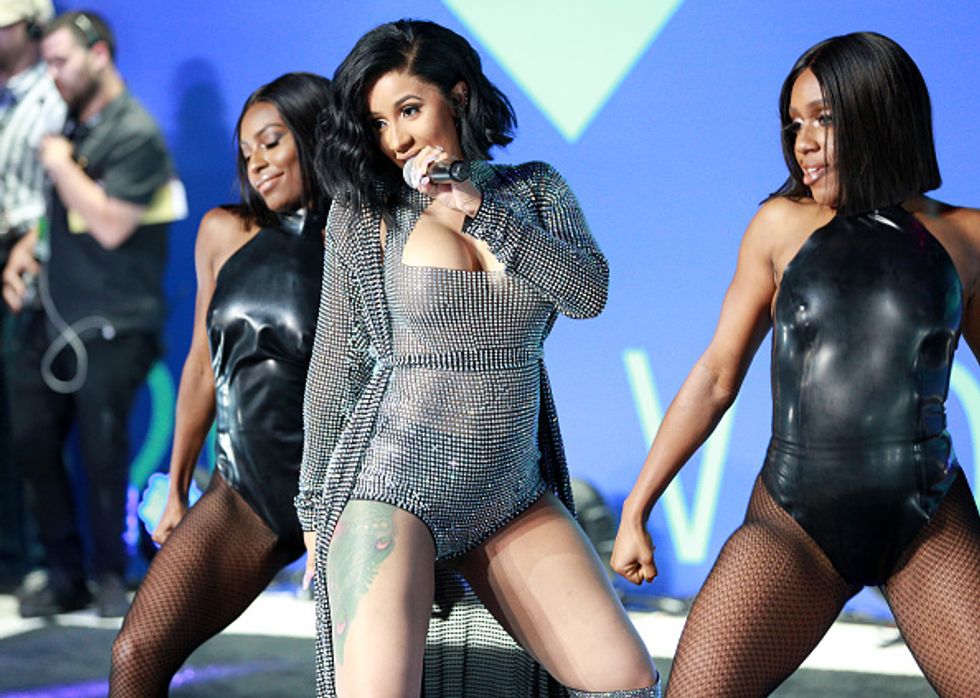 Cardi B (C) performs during the 2017 MTV Video Music Awards at The Forum on August 27, 2017 in Inglewood, California. (Photo by Rich Fury/Getty Images)
Cardi B continued to stir things up during the awards show by giving a shout-out to Colin Kaepernick, the quarterback who faced controversy in 2016 for kneeling during the National Anthem while a series of police shootings were rocking the country. While introducing Demi Lovato's performance, Cardi was quick to note, "Colin Kaepernick, as long as you kneel with us, we're gonna be standing for you, baby." It is a bold and necessary show of support, as the VMA's were particularly lacking in acknowledging the current political climate at all - host Katy Perry remained silent, while Paris Jackson took a moment to condemn white supremacy. All in all, MTV's audience expected more.
In an interview with pre-show host Charlamagne tha God, Cardi was asked if she could have envisioned performing at the VMAs. "I was thinking the beginning of the year. I kept asking like my brothers, 'You think they gonna invite me to the VMAs?'" she said. "Its like not only am I invite: I'm performing. I'm presenting. This is like, Jesus, thank you very much. My family is watching me. People in the projects is watching me. I think the whole Bronx is watching me."
[rebelmouse-proxy-image https://media.rbl.ms/image?u=%2F035c0c28f56412f178d1d116a16dc279%2Ftumblr_om97ozH6E21v6yimqo5_1280.jpg&ho=https%3A%2F%2F68.media.tumblr.com&s=828&h=25fc642e0201032d8ae34a977fd78b544fb43534c321ed47f95d1f537c28f0ce&size=980x&c=2033102442 photo_credit="" caption="forum.bodybuilding.com" pin_description="" image-library="0" crop_info="%7B%22image%22%3A%20%22https%3A//media.rbl.ms/image%3Fu%3D%252F035c0c28f56412f178d1d116a16dc279%252Ftumblr_om97ozH6E21v6yimqo5_1280.jpg%26ho%3Dhttps%253A%252F%252F68.media.tumblr.com%26s%3D828%26h%3D25fc642e0201032d8ae34a977fd78b544fb43534c321ed47f95d1f537c28f0ce%26size%3D980x%26c%3D2033102442%22%7D" expand=1]forum.bodybuilding.com
---
Vanessa is a music and culture writer. Follow her on twitter.
---
READ MORE ABOUT MUSIC...

INTERVIEW | a Q&A with Rooney's Robert Schwartzman
REVIEW | Nick Hakim's "Green Twins" is a soulful trip through the future
INTERVIEW | A conversation with Chris Baio
---