Following the recent announcement that Trump will work to undo all of the progression Obama made with military inclusiveness by instating a transgender ban on all those wishing to serve in the military, opposing parties are providing support to the transgender community, resisting the discriminatory announcement, and standing by tensely in anticipation for the idea to take form as an amendment. Trump argues that transgender soldiers are a large expense and a distraction in the armed services and should be barred from serving, while meanwhile statistics have risen that show the troops' Viagra expense far outnumbers the cost of healthcare for a transgender person serving.
In my opinion, this is just another case where Trump is trying to amend a much larger problem with a superficial solution that takes rights away from marginalized groups to provide the masses with a placebo that things are getting better under his watch. There has been mixed reactions from those who serve or have served, but yesterday's announcement from The US Coast Guard's commander Paul Zukunft was a major deal. Zukunft said the first thing the US Coast Guard did was reach out to their 13 known transgender members to make them aware that the US Coast Guard stands with them. Lt. Taylor Miller was the US Coast Guard's first openly transitioning officer and when Zukunft reached out, he said "I will not turn my back. We have made an investment in you and you have made an investment in the Coast Guard and I will not break faith." Paul Zukunft has made efforts to oppose the ban directly from the core of its origin. Zukunft reached out to new White House Chief of Staff John Kelly who in turn reached out to Defense Secretary Jim Mattis to make his opposition known.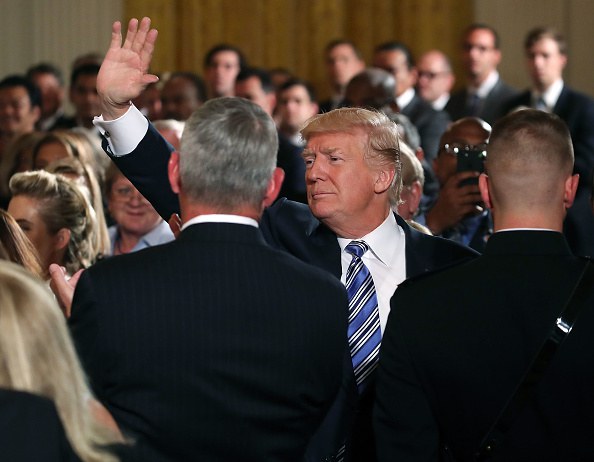 WASHINGTON, DC - AUGUST 01: U.S. President Donald Trump waves to the crowd while attending a small businesses event in the East Room at the White House on August 1, 2017 in Washington, DC. (Photo by Mark Wilson/Getty Images)
The history of the military suggests that it has always been reluctantly inclusive. During the Revolutionary War, black slaves were allowed to enlist in the North; however, it was banned in the South out of slave-owners' fear of arming their slaves. Although allowed to enlist, most black soldiers were forced into non-militant positions like mechanics, etc. It wasn't until 1776 after the British had enlisted a large sum of runaway slaves with promise of freedom after the war, that Washington allowed black individuals to enlist in the same force as white citizens due to a shortage in manpower. As far back as the Revolutionary War women served as seamstresses and cooks in the army but were not allowed to enlist in combat positions till the 1970s. That is truly when we saw the shift from inclusiveness by necessity to inclusiveness by recognizing minorities' rights to serve. The Obama administration made leaps and bounds for the LGBTQIA+ community and the right to serve, but of course there was more to be done. In the first six months of Trump's administration, he has threatened the progress we've bad in the past eight years. This exclusivity within the armed services is very contrary to other countries like Israel where citizens are required to serve.

So what does this mean for the transgender community? Fortunately, there is no officially legislation yet and we are seeing opposition from branches of the armed services itself already; however, as civilians it's vital that we contact our local representatives and make our feelings on the matter known regardless of stance on the issue so when the decision is made, we hopefully see the reflection of democracy.
---
Anie Delgado is a contributor to Popdust and is an actress and musician based in NYC. Follow her on Instagram and Twitter @anie_delgado and on Facebook and check out her music on Spotify.