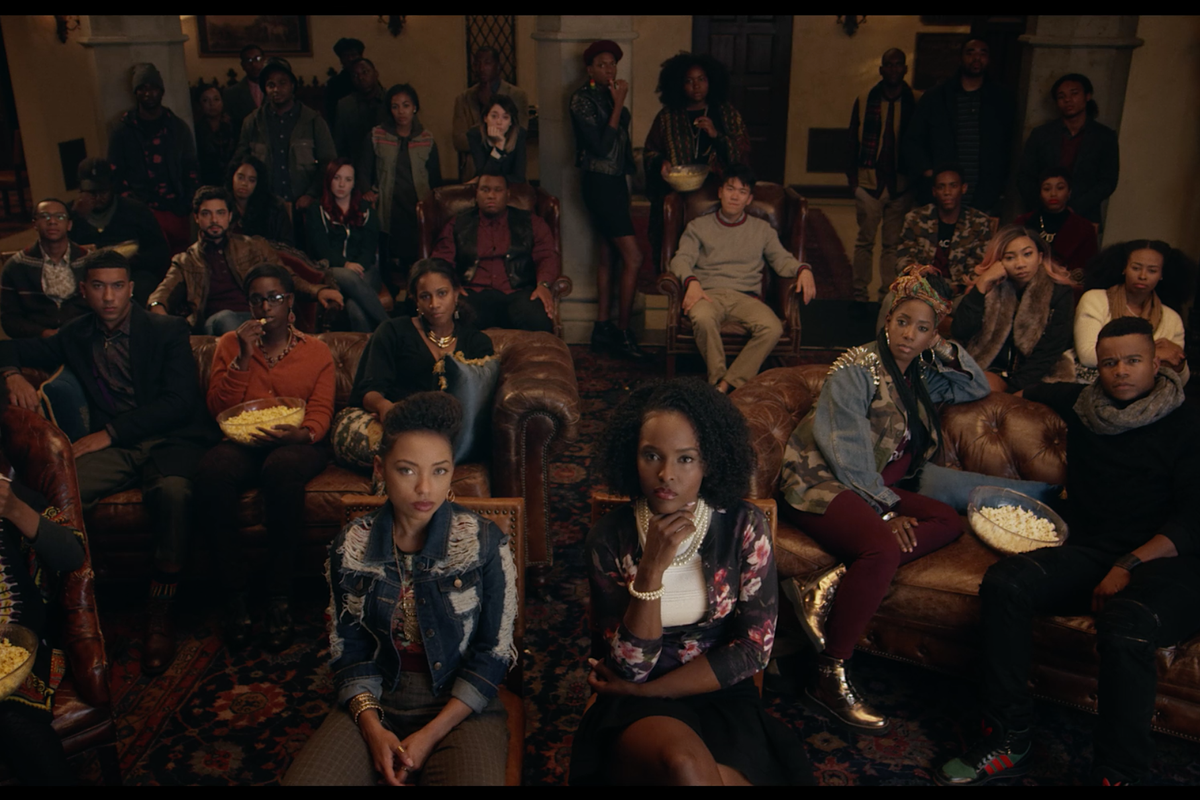 Netlifx's Dear White People
I assure you, "Dear White People" is a show for all.

I want to talk about a show that absolutely deserves its 100% on Rotten Tomatoes. A show that is so good, I've watched its ten episodes four complete times. Obsessed much? Yes, but it's one of those shows that speaks so closely to PoC narratives that I've told every one of my close friends to watch it and report back. (To those of you who haven't…GET TO IT!)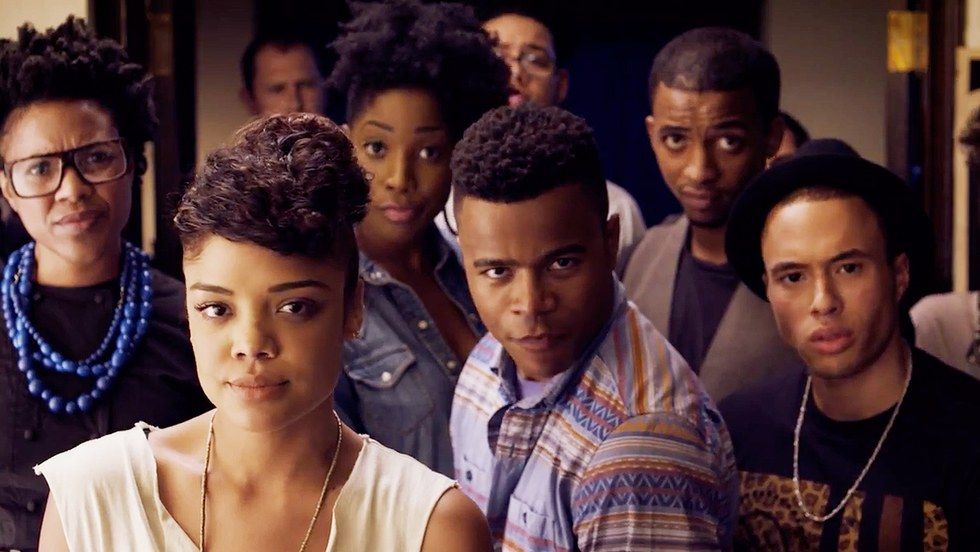 But let's not get this twisted, Netflix's Dear White People (adapted from Justin Simien's film of the same name) is not for the faint of heart, in fact, it's not for anyone uncomfortable with conflict, for people who are easily offended, aggravated, or for people in pure denial. Dear White People is a battlecry for politically and socially aware millennials, the men and women of tomorrow who understand that change and revolution doesn't arise in homogeneity and comfort; instead, by collectively standing in uncompromising diversity. So yes, I'm biased, really biased — this is MY show, but alas, I will attempt to provide a fair review of one of the most important shows released in 2017.
For those of you who aren't scared or irritated by the ironic title, Dear White People, is a PoC manifesto in the millennial age à la Malcolm X and Assata Shakur; a rewarding exploration of race relations in a fictional Ivy League college called Winchester. The show's protagonist, Samantha White (Logan Browning), is a biracial student whose radio show, "Dear White People," addresses micro aggressions and white entitlement on her campus. DWP addresses these racial issues through character pieces that delve into the psychology of each of the main characters — which is a brilliant way to depict the intersectionality of Black narratives.

Samantha White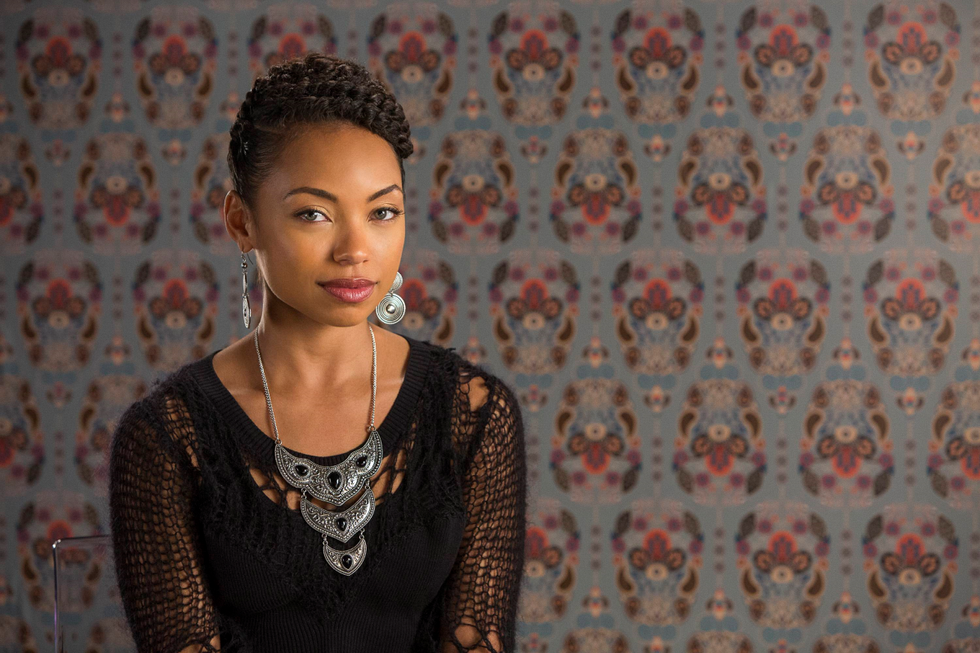 Logan Browning as Sam White (Netflix's Dear White People)
Your loyal and unapologetic radio host. Sam is a mixed-race Black woman in a very white space who is tired of people petting her hair, questioning her racial background, insinuating that she is neither Black enough or white enough, propagating white privilege through erasure, dealing with racial insensitivity and racial passivity, all while managing her genuine love affair with Gabe, a white man. (Not to mention that Sam is also recognizing what it means to have light skin privilege.) Sam is our radical leader in Dear White People, the passionate and outspoken film major whose biracial background has her at odds with the racial aggression at Winchester. Sam White's story is the familiar tale of a woman of color struggling to juggle the personal with the political. Can a political radical have a personal life? 'Tis the question.
Lionel Higgins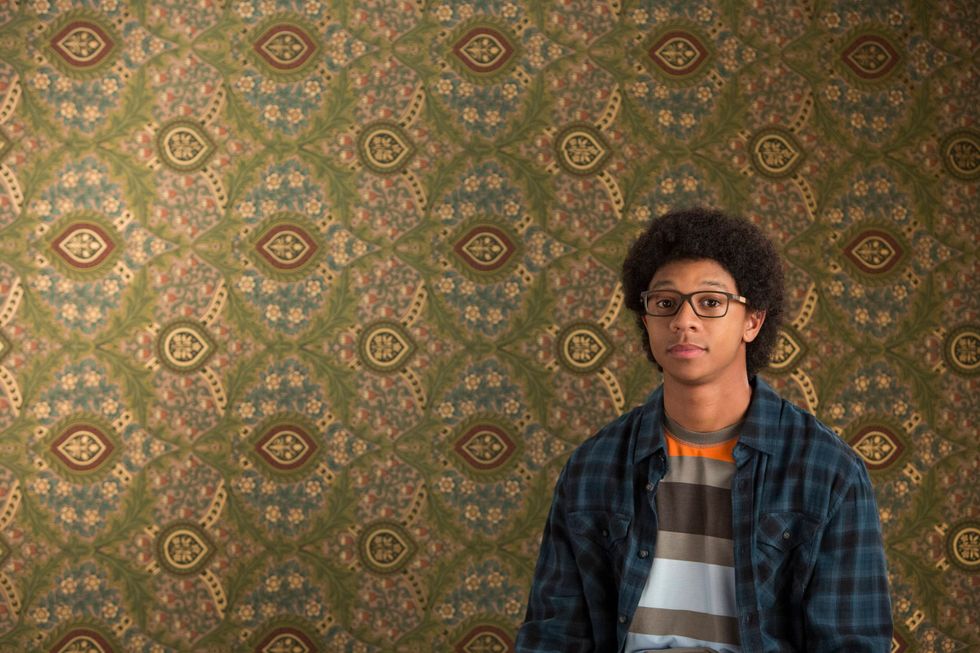 DeRon Horton as Lionel Higgins (Netflix's Dear White People)
Played by DeRon Horton, Lionel is an introvert, a writer, a gay man, and a budding journalist. He's the nerdy, sensitive freshman whose development as a young writer is also a nod to the developing dialogues in American culture on identity politics. Gay, black men are often ostracized for being the odd ones of Black culture, shunned by hypermasculinity and shunned by homophobia in Black communities. The show creator, Justien Simien, is also gay, and I find, has a lot to say about Lionel representing queer bodies in heteronormative spaces.
Coco (Collandrea) Conners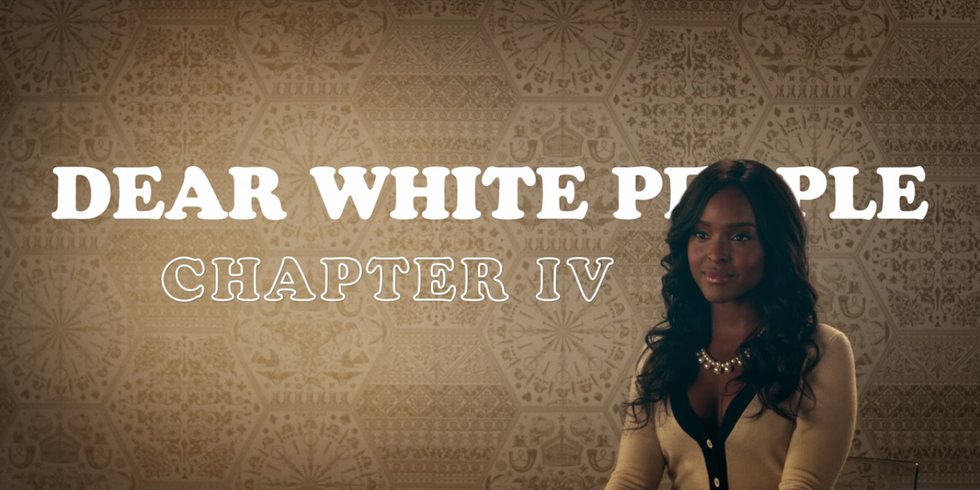 Antoinette Robertson as Coco Conners (Netflix's Dear White People)
Wow. Okay. Again, another example of how radical this show is. How many times are dark skinned, women of color represented in TV? How many times are dark skinned women successful, smart, and radical intellectuals on TV? Played by Antoinette Robertson, Coco is our reminder that the Black experience is not the same for women who are biracial, mixed, or light skin. In fact, Coco is our reminder that colorism is alive and well in the Black community, and that something as simple as skin tone and hair texture can impact how you are valued and perceived in society. Coco's answer to colorism is assimilation, but as one would guess, assimilation has a way of alienating you from your own culture. (Spoiler alert: the demise of her friendship with Sam is a literal metaphorical manifestation of the effects of colorism in the Black community.)
Reggie Green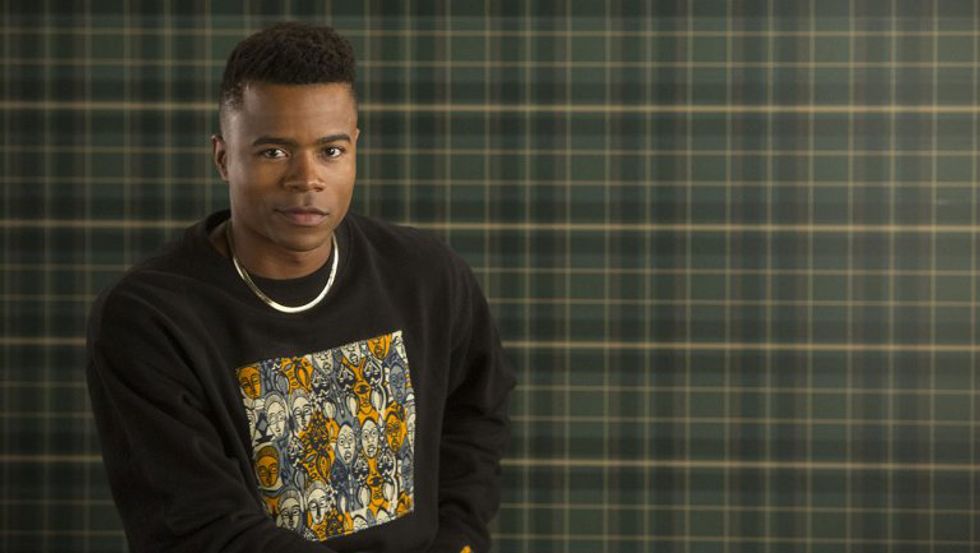 Marque Richardson as Reggie Green (Netflix's Dear White People)
Malcom X incarnate is played by Marque Richardson. Reggie is such a special character because he's so normal. Ironic right? Reggie is a man who is feared, demeaned, feared, and for some reason, feared simply because he is Black. Reggie is a jazz-loving intellectual whose main focus is fighting against narratives that suggest he inherently has a predisposition to violence. Indeed, Reggie is a force with whom to be reckoned; he's a smart, young man who is aware of his value in a culture that continually reminds him that Black boys can die like men in the blink of an eye. His achilles heel is Sam, who indirectly reinforces stereotypes in mainstream media that imply Black men aren't worth Black love.
Gabe Mitchell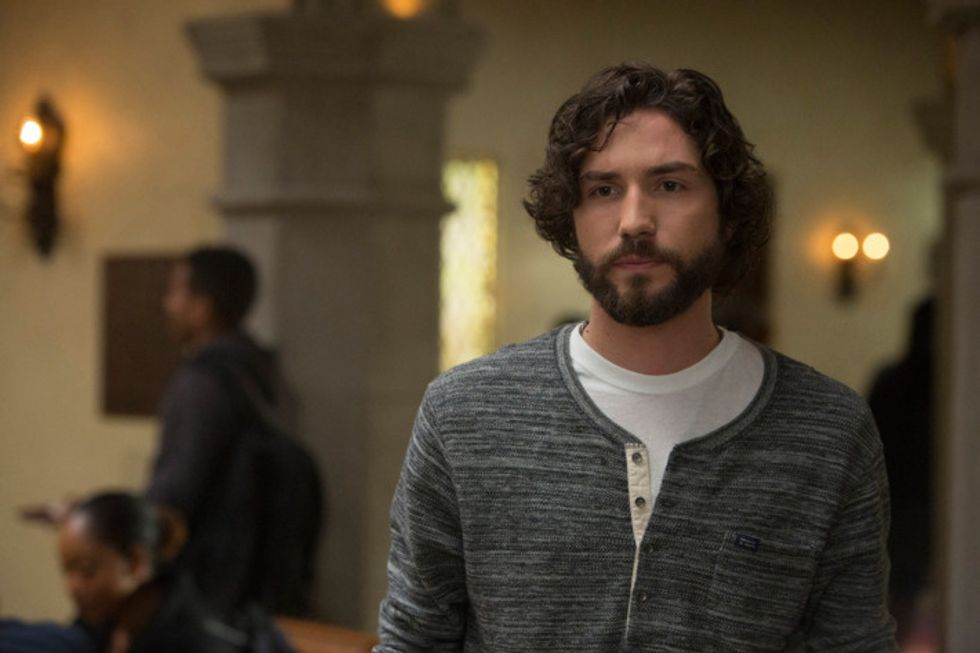 John Patrick Amedori as Gabe Mitchell (Netflix's Dear White People)
Ah Gabe. I'm so thankful for this character because a show like this could easily teeter into problematic territory without addressing the racial aggression white women and men face when attempting to speak on their role in racial tension. Like Reggie, Gabe (John Patrick Amedori) is just a man trying to get by… there's just one thing, Gabe is a white male with a friend group composed of mostly Black men and women. His white privilege isn't something he basks in, but it is certainly something he has to apologize for at every given moment. Gabe is the average, white American man who is constantly reminded of the transgressions of white men in history. Gabe doesn't choose to run away, or become racially passive to the problems at Winchester, rather, he allows his vulnerability to serve as a tool of education. His romantic partnership with Sam is the crux of the show, a reminder that love, family, and friends all exist in spaces that inhabit social and political dialogues. You can't be color blind like a bullet and Gabe, for better or for worse, undeniably understands this.
Troy Fairbanks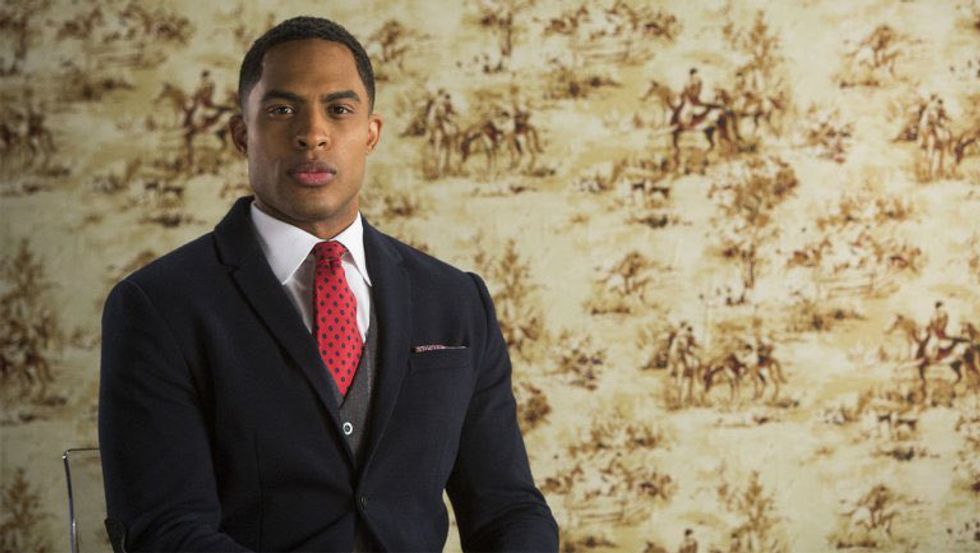 Brandon P. Bell as Troy (Netflix's Dear White People)
Troy (Brandon P. Bell) is really quite simple. He's really hot, he's relatively smart, but he's not interested in being intellectually unmatched or perfect when compared to his peers. So, who is Troy? Troy is a straight Black male who wants to learn, work, eat, live entirely for himself without society imposing superhuman standards on his life. As Lionel points out in his exposé on Troy, "A system that requires perfection in exchange of equality is unattainable and unjust."
Joelle Brooks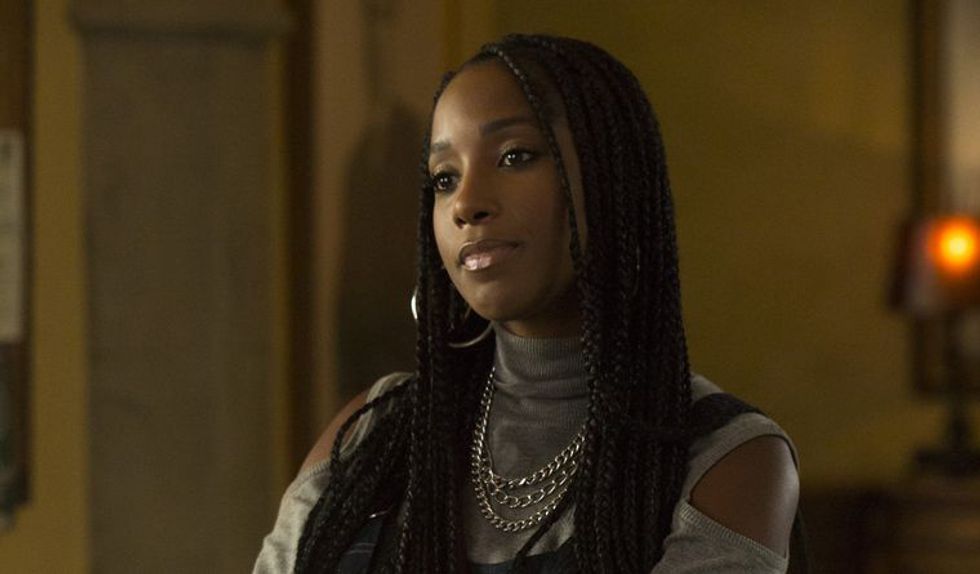 Ashley Blaine Featherson as Joelle (Netflix's Dear White People)
Can someone say comedic relief? I'm hoping in season two, Joelle (Ashley Blaine Featherson), gets more of a serious role in the show. For now, she is the woman who caters to the emotional dead ends of all of her friends, the woman who smiles despite not sharing the same adventures and romantic escapades of her fellow peers. Like Coco, Joelle is placed in a position where her Blackness is never questioned on a basis of her skin tone, and yet, her Blackness is the same crutch that allows her friends like Sam and Reggie to place their baggage on her without offering her some semblance of emotional support. She is the supporter, not the supported, and I'm hoping in season two she has a few wins for herself…she deserves it.
Dear White People, as I previously mentioned, isn't for viewers who refuse to participate in an open dialogue about race relations in the States. To those who are open to the social landmines tackled in the show, there are many rewards for facing the sensitive fabric of our national history. As a beautiful Coco Connors once said, "Who cares if you're woke or not if you're dead?" To Coco, I say, damn straight. For as many breaths as you have, stay woke America.
---
Shaun Harris is a poet, freelance writer, and editor published in avant-garde, feminist journals. Lover of warm-toned makeup palettes, psych-rock, and Hilton Als. Her work has allowed her to copyedit and curate content for various poetry organizations in the NYC area.
---
READ MORE ABOUT Film/TV...
What to expect from the 2017 Emmy Awards, hosted by Stephen Colbert
Selena Gomez shares her kidney transplant experience
FILM | 'Brad's Status' is a bit of a problem. What was Ben Stiller thinking?
FILM | Liam Neeson had a very particular set of skills...
NETFLIX | "Disjointed" is more than a stoner comedy
---