"I ain't asking for much / Keep just a little faith in me"
The lyrics to pop musician Dylan Hyde's first single, "Clearly," have him asking for far less than his talent is worth. The young musician fell in love with music from the age of three, and after being discovered on Youtube has moved from his hometown of San Diego to the big city of Los Angeles to pursue the career full-time. Hundreds of thousands have already fallen for Dylan's music and his videos, but there's more to this guy than meets the eye.
His latest project will be out soon. In the meantime, Dylan spoke with Popdust via email about the challenges he's overcome to do what he loves and what he loves about his latest single.
---
How did you originally get interested in music?
Well, my entire family is musically gifted so it only seemed right! But it really began when my mom started taking me out on the weekends to sing karaoke with her & her friends when I was about 5 or 6, & as I got older, my love for singing grew and I started performing in musical theater when I was in middle school, which gave me enough confidence to eventually post videos of my self singing on youtube.
As a child, you were clinically diagnosed as being deaf. Has that created any challenges that you might have had to overcome working in the music industry?
Growing up and trying to teach myself to play instruments and sing - it was hard to tell if i was on pitch or not because of the way I heard things. It took me years to be able to overcome & figure out my way of working around it, but now that i am older, I've become so used to it. In a sense, I don't really notice it anymore!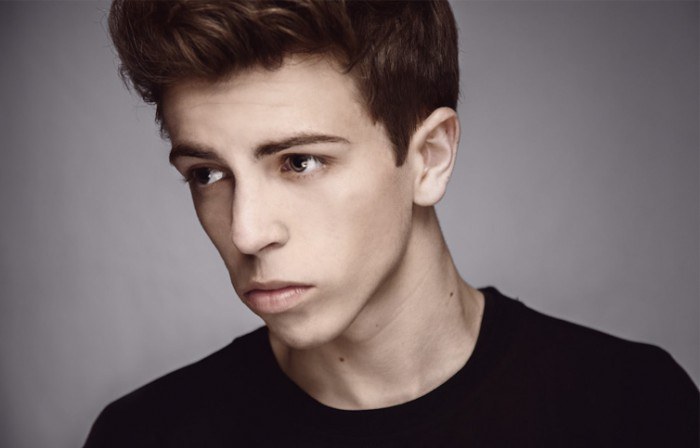 You were discovered through your Youtube covers of songs and have quite a following on the platform. Can you talk a little bit about why you started to post videos on there and how it led to you being where you are now?

I really just wanted to see what people thought of all the covers I had been working on in my room so I decided to start uploading, and within a few uploads, I started growing a fanbase! I was so excited that people even noticed me and to my surprise my videos were actually getting the attention of people who have now become my team and changed my life!

You've covered some of the top pop songs over the last few years. How have those songs inspired your own music?
After learning so many popular records over the years, I began to form a taste of what I like in a pop record and making those covers definitely helped me understand chord progressions which helped me with my production greatly! But within the making of those videos, a lot of the songs I was covering became long-time favorites that inspire my writing when I'm in the studio.
Let's talk about your latest song, "Clearly." What inspired the track?

"Clearly" was inspired by love. Love seems to be lacking in today's culture and I felt like my first record needed to feel happy. "Clearly" makes you want to sing. When I first heard the beat come on in the studio, it just had such a good vibe. I knew it was gonna end up being special.
"Clearly" is also part of a campaign for the Dance On organizations. What is that and how did you come to work with them?
That came through the labels, so I'm not quite sure about the entire process behind the scenes. They asked if they could use the song to celebrate pride month and since the central message was "Love" I was honored they chose my song to represent their collaboration with Paul Smith. The video captures the mood of the "Clearly" perfectly.
What is coming up next for you?
More music! Been working steady on my album and working on getting some new up to date covers/remixes on my youtube channel!
---
---
Rachel A.G. Gilman is a writer, a radio producer, and probably the girl wearing the Kinks shirt. Visit her website for more.
POP⚡ DUST | Read More About Music...