Events
FESTIVAL | A report from Panorama
(Doug Van Sant)
Muggy and damp with meaning. This was the scene Friday evening as the first night of the second-ever Panorama Music Festival drew to its close. Billed as Coachella -in-New-York-City, the publicity team linked to cochella.com and is being sold under the Goldenvoice banner, the live music brand founded by Gary Tovar under the California sun in the late '90s. It was also the second corporate music festival brand to hit the city, dueling with Live Nation like overlarge Godzillas, destroying whatever independent music culture existed in its wake.
But whatever. New music is for chumps. That's why, working class hero that I am, I arrived on the first say whist the sun was setting over a New York City skyline that not even our real estate mogul President can get right. Calamity struck almost as soon as I entered the pavilion. One of the three ensconced stages had collapsed to the ground and hordes of escaping commoners were littering the festival ground. There would be no DJ Shadow spinning his latest record that isn't Endtroducing..... Unfortunate. I caught MGMT instead.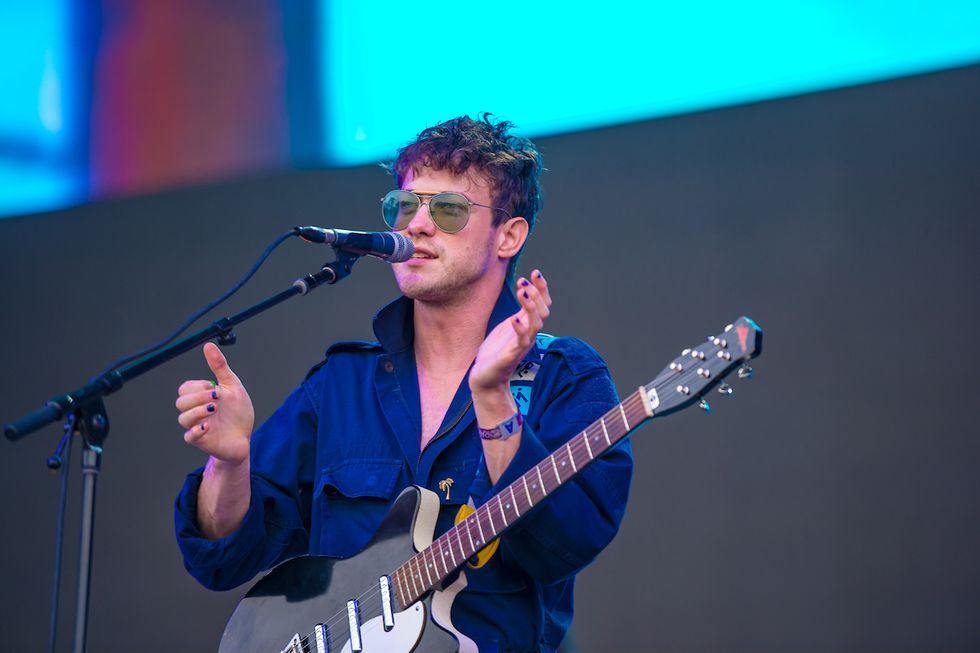 (Doug Van Sant)
MGMT
I had not come for a good time. I had come for MGMT's Infamously Bad Live Show and, suffice to say, I was satisfied. No, they didn't quite just stand around while Andrew Van Wyngarden beat a cowbell, as if disappointed anyone showed up. No, it was bad in such a curious, pedestrian way that watching it felt like a relieving palette before experiencing the pounding and very rare aura that Frank Ocean would be bring to the stage later the in the evening.
Trotting up to the stage like a low-rent Noel Gallagher, he didn't hesitate before unloading his Wonderwalls: any passive observer enjoying a pre-headline lunch would hear the thick, cloying syth riffs of "Time to Pretend" jarring through the evening sky. Besides Andrew and Ben Goldwasser, the duo was joined by shambling congregation of '70s outfits, the whole thing giving off the collective impression of a glam rock revival band, boredly shamming it on the sidewalk. Putting in even more of an effort were the video game visuals behind them, an nauseous board of Tron landscapes that were having even more fun than the Wesleyan U. pair.
Tyler, the Creator
The evening's first former Odd Future performer (seriously, savvy stuff, Coachella people), Tyler, the Creator was also one of the few festival acts selling something that didn't come out last year. In fact, Flower Boy, his fourth record, just came out a few weeks ago. It's already got some note as his most acclaimed offering, a grown-up record from the performer known for spewing rape fantasies as performance art. I had seen Tyler before: in his OF days of burning down the house with his friends who also happened to be hip hop's leading names. Minimal stages that felt like the street corners of the imagination.
With larger fanbases, come larger responsibilities. His new album's titular iconography, a bed of surreally-enlarged sunflowers hung behind him where his hype-man/DJ hid. This was like an Edenic version of LA, everything cast in a permanent sunset glow. Fortunately, it happened to be sunset. His festival slot also gave him a chance to debut some of Flower Boy's best tracks live: "November" was revealed to be as angry as it is mournful about the end of his Odd Future days, "911 / Mr. Lonely" is a call to communal arms and its chorus becomes strangely powerful when shouted en mass: "I can't even lie, I've been lonely as fuck."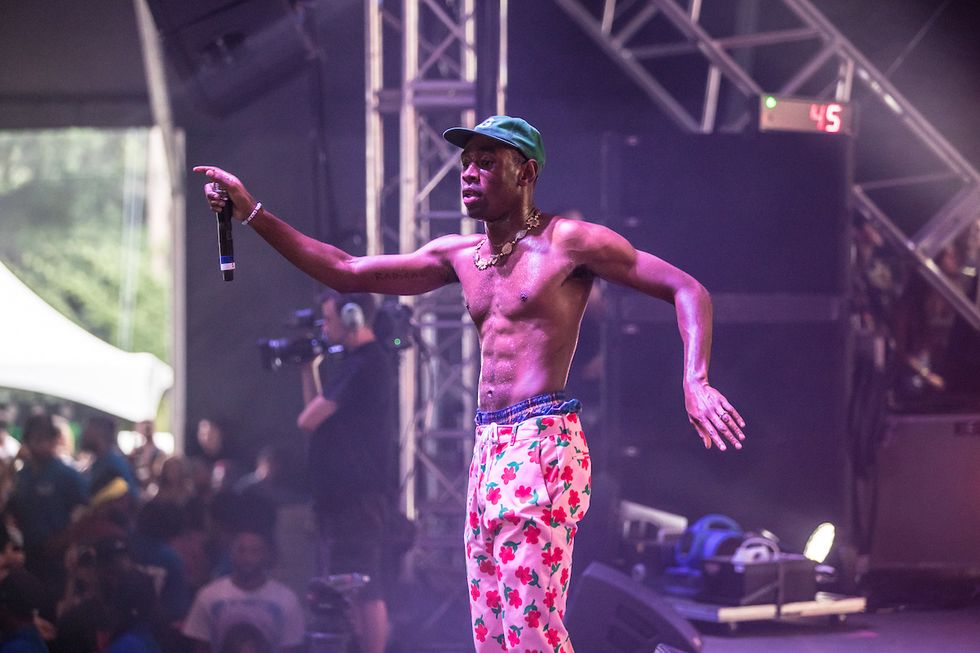 (Chris Lazzaro)
Solange
Very much has been written about Solange Knowles' afrofuturist-informed live show for A Seat at the Table, listed as last year's greatest album by any critic who felt like her sister didn't need any more acclaim. Her ability this year to transform that record, which rendered a very contemporary political dialogue into the deeply felt and very personal beat and rhythm of contemporary R&B, into a newly invigorated expression of '70s-era black liberation remains nothing less than remarkable. Throughout festival season, she has brought with her the pyramids that once graced the cover of Earth, Wind, & Fire albums and used them as a platform to reclaim an artistic space whose idiosyncrasies she wanted to make hers.
Solange sang F.U.B.U. and none of the white people could sing along--I wanted it to happen and I wasn't sure it would but IM ALIVE, FOLKS
— Ayo Edebiri (@ayoedebiri) July 29, 2017
The chorus of an anthem like ""F.U.B.U." is, by definition, possessive: it is a sound that communicates in the common language of pop music but argues for something more nuanced than peace, love and understanding. Live, with an engorged ensemble of powerfully talented musicians, it becomes a righteously defensive chant, something both a part of our time and part of an enshrined past.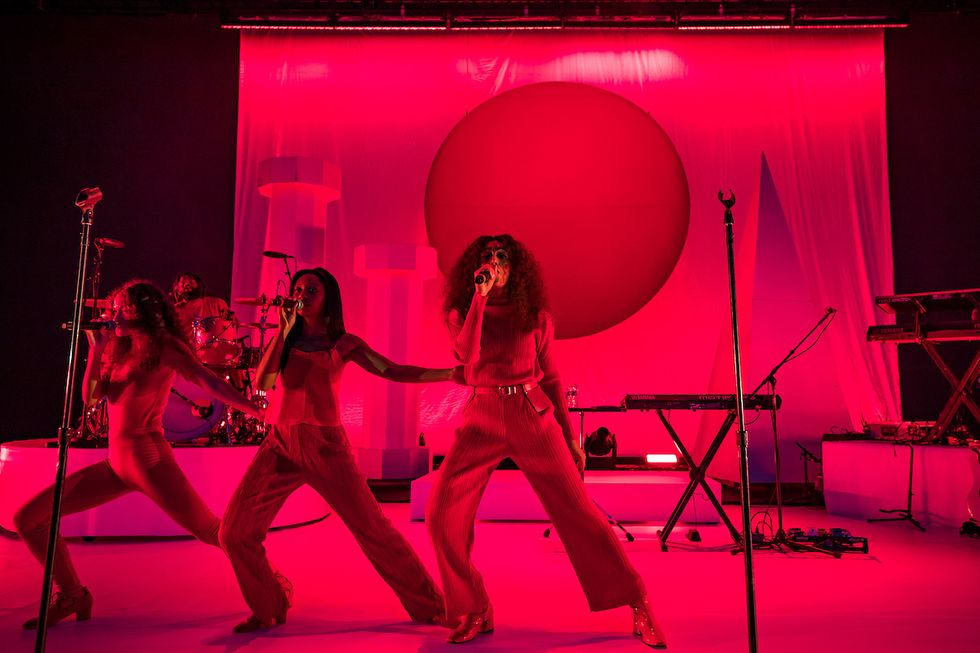 (Doug Van Sant)
Frank Ocean
Would Frank Ocean headline festivals if he had played anywhere else in the past three years? It's a vaguely meaningful question: forget about Billboard chart positions or Spotify streaming numbers. Is the real game about manufacturing scarcity?
He strolled onto stage followed by the festival's cameras, directed, this time, by Spike Jonze, who tracked his every movement, complete with an anachronistic ticker in a far corner, projected onto the big stage that Ocean eschewed. Ocean, instead, performed, on a platform that projected fifty-feet into the audience and ended on a small soundstage. In one sense, this was the bedroom half of bedroom pop, but in front of thousands of people. The frantic intimacy of "Solo" pitched low, minimal gravitas, but still, somehow, still hitting an emotional home run.
His New York show was, the ultimate test of Ocean's headlining prowess. There was no Brad Pitt to capture clicks from the night sky, nor were any notable guests loudly called upon (besides Jonze's silent involvement, indie wunderkind Alex G (Sandy) appearing later as part of Ocean's small backing band). Larger guests could have been called upon: fellow former OF-member Tyler, the Creator had performed little more than an hour earlier and their collaborative discography are enough for an entire album of emotive R&B but, maybe, having another star would make this less about Ocean's ability to turn Blonde;s compressed interiority into anthems and less about the DJ Khaled-strength of his rolodex.
Like Solange, Ocean made one of the most acclaimed albums but, also, one without any major radio hits. A flatting of the discography that, live, felt atmospheric. Every moment of Ocean's set seemed to beckon some moment of the past year of our lives, some second of extended contemplation that drove us away from the pressing news cycle tumult. For an hour, maybe, we were in Frank's world.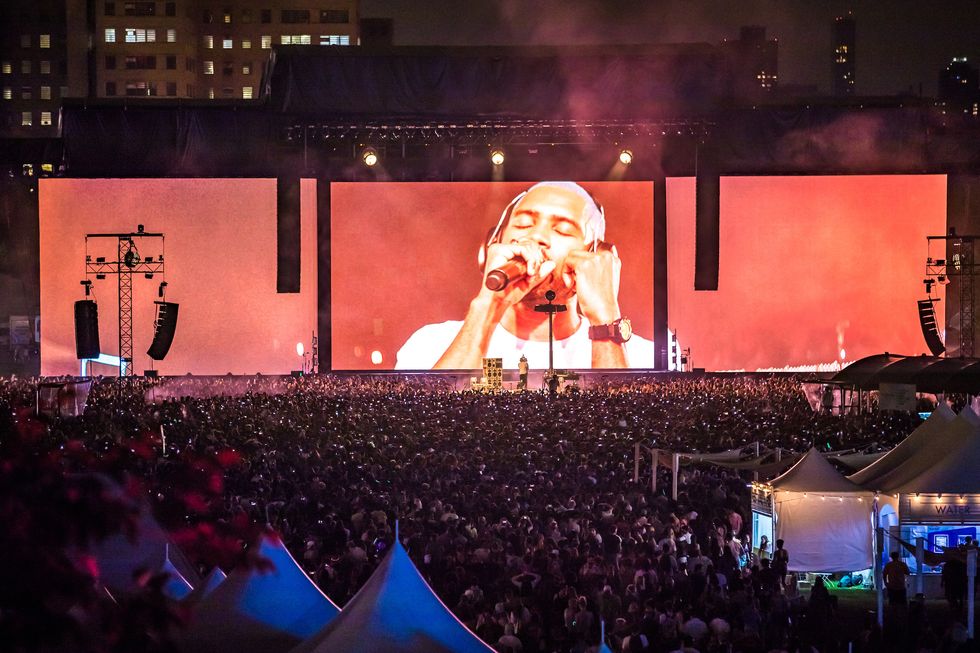 (Nikki Jahanforouz)
---
Andrew Karpan is the interviewer-in-chief of Popdust , Concert Reviews Czar and all about great guy. He is probably the guy wearing the t-shirt you threw away last week with the stain on it that looks like the cover of Slanted and Enchanted. He likes the smell. Please follow him, someone.
---
Killer Content, Bro:

LIVE | The Summer Festival Nostalgia Report
LIVE | An evening with Nas, Young M.A. and Dave East
LIVE | Pitchfork Music Festival was all about loving the femme
---