Rising Star
Mid-Western band GGOOLLD kicked off their US / Canada Tour in NYC Friday night and killed it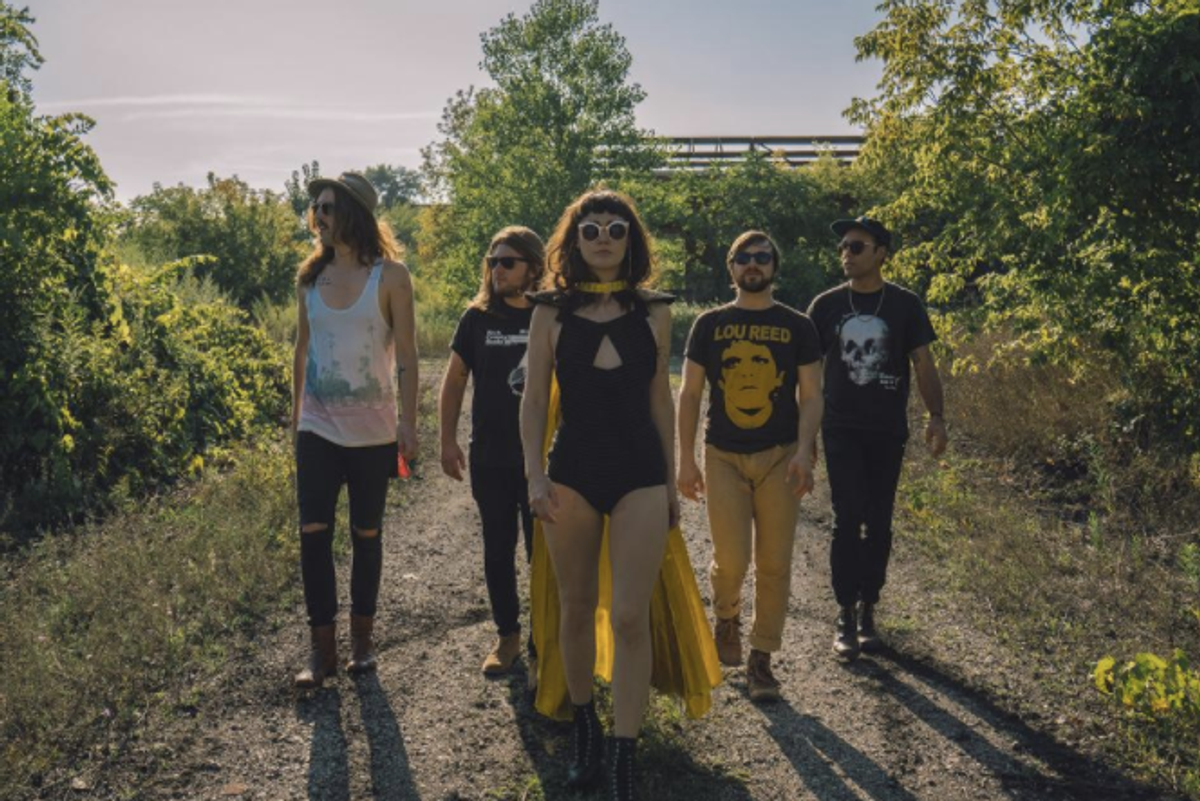 GGOOLLDD is definitely not traditional pop at all, their songs have the same ability to get stuck in your head and the same drive that make you want to dance.
GGOOLLDD fell together when front woman Margaret Butler up and left her hometown of Baton Rouge, LA and headed West to Portland, Oregon on a whim to try something new. Margaret reminisces on her formative years in Portland as the best of times and the worst of times. She remarked how she lived off of ramen noodles and pumpkins for a while, 4 people deep in small apartments. Regardless of being broke, Margaret looks at this time fondly because of the exhilarating new freedom of being in a new town with new people who are passionate and creative. Margaret and other members of GGOOLLDD wanted to throw a really cool party and in turn played their first show together and at that moment GGOOLLD was born.
From the time I heard their first song I immediately knew I had to see them live. I'm a big fan of Tennis, Tune Yardz, and St. Vincent. Margaret's vocal delivery on their new track "Teeth" reminded me of a lot of my favorite rock and indie vocalists but in a completely reinvented way. The way she uses every part of her voice and articulators to color every word and phrase brings their songs to life almost as though she is acting them. I heard all of that just to listening to tracks on Spotify, so imagine the excitement when I got to see them in person. The general vibe I got was cool Mid-Westerners. Which is totally accurate. They are from Wisconsin and they are totally cool. I love it too having just lived in Wisconsin for a few months.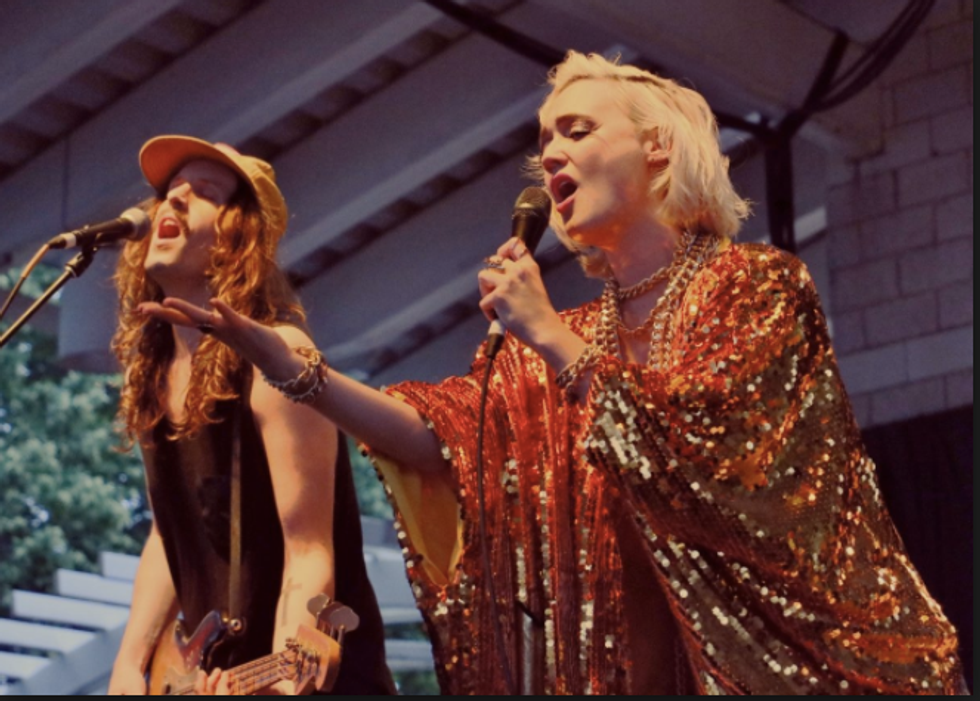 GGOOLLD performs. (Phoenix Music Magazine)
Synth player Nick Schubert had an array of toys set up around him. At times during the show, I found myself fixated on him layering in sounds and driving swells to the tunes. The guitarist, Thomas Gilbert's performance style was cool and collected. The drummer Mark Steward magnified the dynamic of the band with his intuition and the bassist Nick Ziemann expertly was the backbone to the band. Margaret Butler was absolutely stunning. Her laid back but powerful stage presence was both striking and warm. She made you want to be her best friend and your draw drop all at the same time. She was effervescent at times dancing to their tunes like her favorite song came on at the party and other times she commanded the stage and drove their powerful lyrics home. My personal favorite part was when she walked through the excited audience in her fabulous light up sneakers and serenaded an unsuspecting audience member. (1,000 points for Hufflepuff! I exclaimed in my head- though I don't know that she is a Hufflepuff at all.) I was stoked by what an amazing, interactive performer she was.
The band collectively were perfectly in sync and their dynamic along with the lighting design enhanced the show. The music was a mixture of classic rock, new age, and had the vocal stylings of retro pop like the Yeah, Yeah, Yeahs. I think that though GGOOLLDD is definitely not traditional pop at all, their songs have the same ability to get stuck in your head and the same drive that make you want to dance. I loved them listening on Spotify, but seeing them live solidified them as one of my favorite bands of all time. Run don't walk to see their tour. I can assure you in ten years, you'll be saying you saw the next big thing in their early days. Here's a complete list of their tour dates.
SEPTEMBER
15 - New York, NY @ Mercury Lounge
16 - Pittsburgh, PA @ Brillobox
17 - Dubuque, IA @ The Lift
19 - Denver, CO @ Larimer Lounge
20 - Salt Lake City, UT @ Kilby Court
22 - Reno, NV @ The Saint
23 - Los Angeles, CA @ Resident
24 - Los Angeles, CA @ Catalina Wine Mixer
27 - San Francisco, CA @ Hotel Utah
28 - Eugene, OR @ Hi-Fi Lounge
30 - Seattle, WA @ Barboza
OCTOBER
01 - Portland, OR @ Doug Fir Lounge
03 - Vancouver, BC @ Biltmore Cabaret
05 - Calgary, AB @ The Palomino
06 - Edmonton, AB @ Up + Downtown Music Festival
07 - Saskatoon, SK @ Vangelis Tavern
13 - La Crosse, WI @ The Root Note
14 - Madison, WI @ The Frequency
DECEMBER
08 - Eau Claire, WI @ UW Eau Claire Cabin
09 - Minneapolis, MN @ 7th Street Entry
16 - Chicago, IL @ Empty Bottle
JANUARY 2018
26 - Sheboygan, WI @ Stephanie H. Weill Center for the Performing Arts
---
Anie Delgado is a contributor to Popdust and is an actress and musician based in NYC. Follow her on Instagram and Twitter @anie_delgado and on Facebook and check out her music on Spotify.
---
Read More...
Fly By Midnight "...just two dudes making music"
POPDUST PRESENTS | Binx creates a buzz with her new album
PREMIERES | Bangers to make the end of summer funk fade
---