FILM & TV
FILM | The actress's directorial debut at NYFF puts her in Oscar-worthy territory
www.youtube.com
Are exhibiting love and paying attention the same thing?
This is just one of the many questions posed to the audience in Lady Bird, the directorial debut of Greta Gerwig that premiered at the New York Film Festival. Gerwig, who has previously stared in the films Maggie's Plan (2015) and Lola Versus (2012), among others (many directed by longtime boyfriend and fellow NYFF director Noah Baumbach) had been itching since 2012 to write and direct the film that is now Lady Bird.
Originally a 300-plus page screenplay, Gerwig edited it down to something functional, sharing it with Saoirse Ronan when the two connected at the 2015 Sundance Film Festival. The two read through the entire script together. Gerwig admitted within the first few pages she knew Ronan was perfect for the role. Laurie Metcalf, who stars opposite Ronan, later stepped on board after admiring how the script reflected the issues she was having with her own teenager.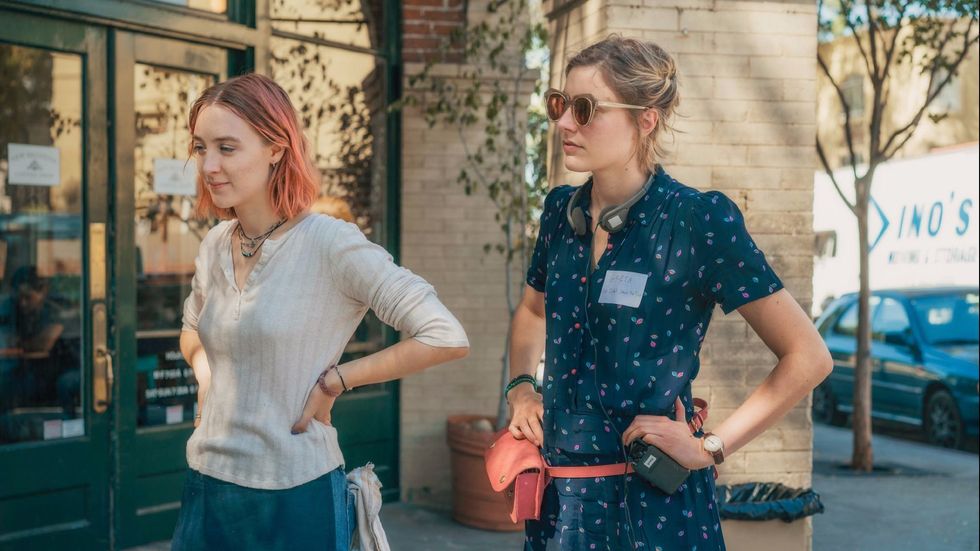 Lady Bird is Gerwig's love letter to Sacramento, rooted in her experience growing up in what has been referred to recently as the Midwest of California. It tells the story of a struggling family. Marion McPherson (Metcalf) balances double shifts at a psychiatric hospital after her husband (Tracy Letts) is laid off from work. Their son (Jordan Rodrigues) has a Berkeley degree behind his grocery bagging job at the local super market, and their daughter, Christine "Lady Bird" McPherson (Ronan) — not her given name but the name she gave herself — wants nothing more than to get out of California and go somewhere where there's culture, like New York, or at least New England. There's certainly nothing exciting to be found in her hometown, nor anyone interesting in the community of her Catholic high school.

The antics of Lady Bird carry us through the story as she marches proudly through her senior year of high school to the beat of a drum only she can hear clearly. She auditions for the drama club, applies for schools in New York against her mother's wishes, and never meets a boundary she doesn't want to push against, and somehow manages to capture our attention and affection equally as we see her and her mother struggle with their changing roles in each other's lives. Ronan and Metcalf play the roles to perfection, warming our hearts as they stubbornly resist admitting how much they truly need and appreciate the other until the emotional conclusion.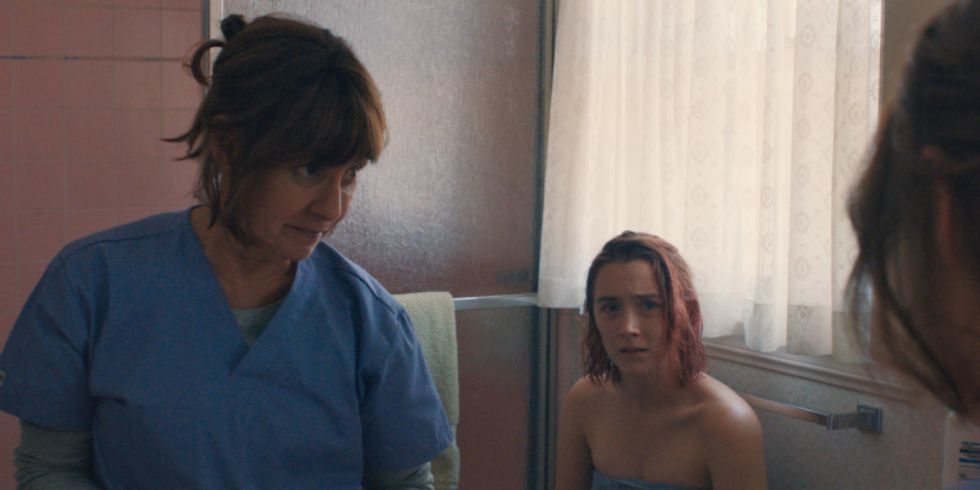 Overall, Gerwig manages to make Lady Bird hilarious, thoughtful, and touching, which is far more than one might expect going into yet another coming-of-age story. The film's 2002-2003 setting (a decision Gerwig made for she felt it was the last time you could portray teenagers without the use of cell phones becoming imperative) brings into question what it means for your own personal problems when the world is in a mess. Fifteen years later and the question remains applicable, and there's something so satisfying in Lady Bird reminding us all sadness isn't war and death. Sometimes it's realizing the boy you lost your virginity lied to you, or that your first boyfriend is actually too afraid to reveal his sexuality to his deeply religious parents. Sometimes it's seeing your child be accepted for the same job you're applying for.

The upside to the many sadnesses, Gerwig depicts in order to put our minds at ease, can often be simple. It's impossible not to smile through the emotions when you see Lady Bird and her friend Julie (a sensational Beanie Feldstein) snacking on the communion wafers during study hall, or when Marion and Lady Bird partake in their favorite Sunday activity — touring open houses for homes in neighborhoods they'll never be able to afford. These touching elements are balanced within the comedic in a way most directors (including Baumbach in his latest, also screening at NYFF, The Meyerowitz Stories) fail to tackle.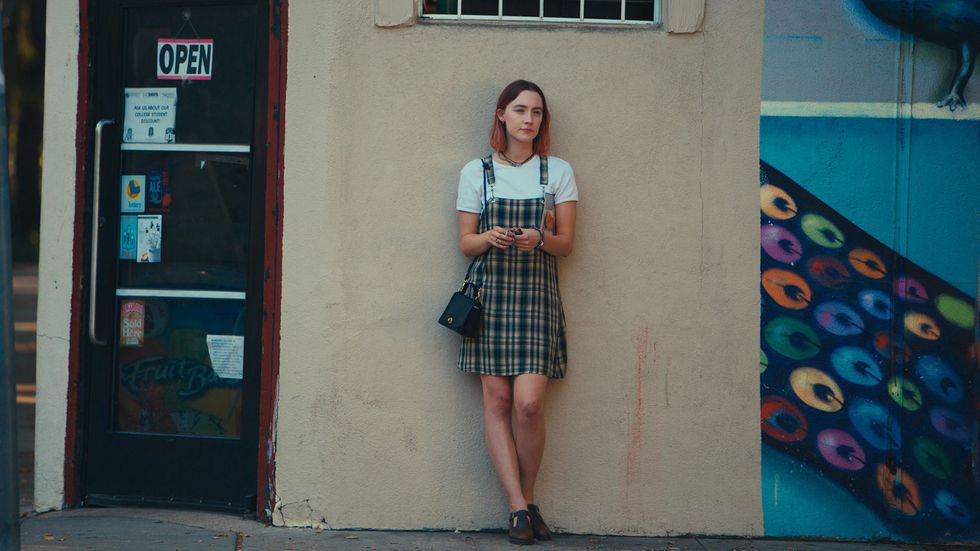 It's no surprise this film has been getting standing ovations at all of its premieres, and greatly encouraging that Oscar-related buzz has already started circulating. Lady Bird is exactly the kind of American story that people can relate to and need to see in these troubled times, for in the words of Christine's wise head mistress nun, perhaps if we start paying better attention to one another, we'll be able to find a little more love.

---
Lady Bird hits movie theaters limitedly on November 3 and nationwide on November 10.
---
Rachel A.G. Gilman is a writer, a radio producer, and probably the girl wearing the Kinks shirt. Visit her website for more.
---
POP⚡ DUST | Read More About Film...
REVIEW | "Lover for a Day" questions the value of fidelity at NYFF
FILM | 'Brad's Status' is a bit of a problem. What was Ben Stiller thinking?
FILM | Borg McEnroe... not the film you're expecting...
---

---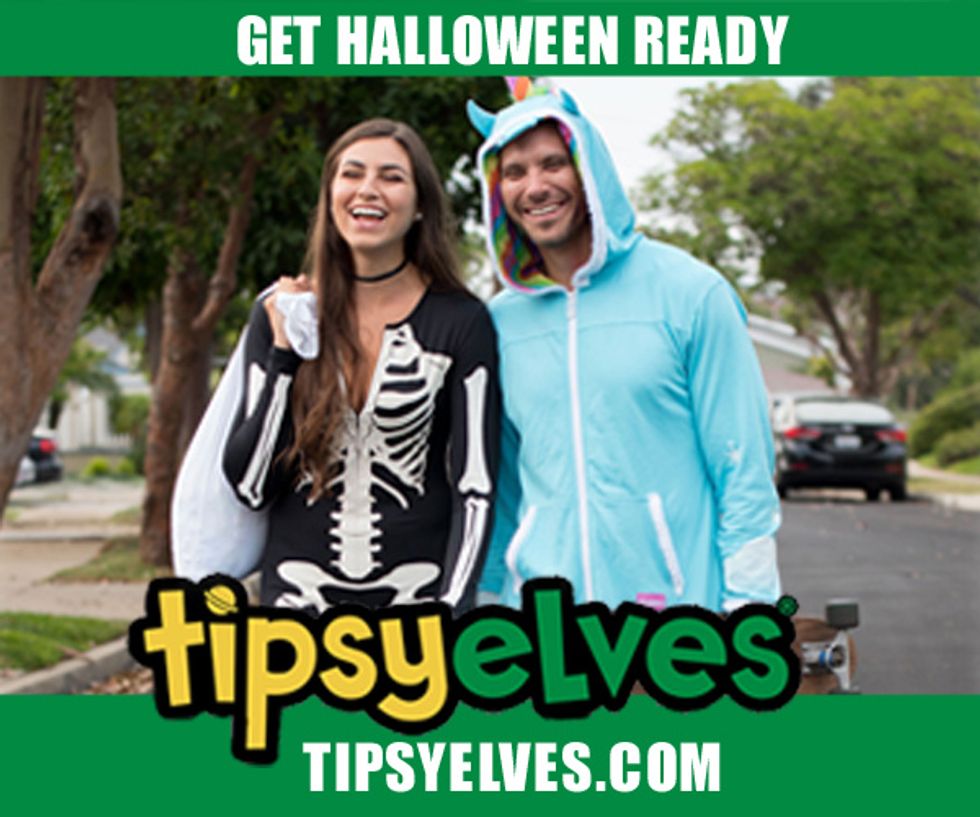 Get Ready for Halloween!! Find Your Costumes at TIPSY ELVES!