MUSIC
MUSIC | It's spooky season! The most wonderful time of the year! Time to set the mood and get the crypt a-rockin
Ten of the best scary songs you might have overlooked.
Ready for Halloween? We at a PopDust certainly are! And we have suggestions for your creepy party playlists! We promise not to include The Monster Mash. Oh, we love it, but we want to see if we can dig a little deeper than that this spook-season. With that, let's dig into some terrifying musical numbers! Also no Thriller. Cause, c'mon, that's too easy.
---
I Put A Spell On You - From the Hocus Pocus Soundtrack
Speaking of terrifying musical numbers… here's one that will send shivers down your spine. For all you nineties kids, remember Hocus Pocus? That campy Halloween movie that's kinda lame, but also kinda amazing? Well then you'll definitely remember this showstopper. The movie's witches, the Sanderson Sisters, go to the town's Halloween dance and bring down the house with it. Play it, and watch the lip-syncing begin!
---
Jack the Ripper - Screaming Lord Sutch
One of the world's first shock-rockers, Screaming Lord Sutch wowed 60s London with his, frankly ridiculous, stage persona. He was no one's idea of a perfect singer, but he could whip a crowd up in to a frenzy. Watching him is an exercise in: "What did they put in his drink? Or my drink?" This kooky hit is his greatest known piece, and is sure to get the house go-go dancing and jumping out of cupboards at people!
---
Dead Man's Party - Oingo Boingo
Before we came to know him as an esteemed movie composer, Danny Elfman was the frontman for Oingo Boingo. One of the 80s oddest, yet weirdly raddest, bands. And that's saying something. This was one of their biggest hits (along with the also excellent Weird Science) and features trippy guitar riffs, ghoulish lyrics, and a theatricality that would eventually held mold Nightmare Before Christmas into the classic it is. Unlike some of the stuff on the list, this is a great one to move to, so everyone will hit the floor when it comes on. Even skeleton's will have some body to dance with.
---
Old Mary - The Dead Weather
This isn't really a dance-number, but it will make you feel like the dead are rising. Off The Dead Weather's second album, Sea of Cowards, it starts with a borderline-satanic monologue that makes you wonder about singer/drummer Jack White's catholic upbringing. This song is something different, and may be better as a tune to get people to go home at the end of the party, but no one can deny… it's creepy as hell.
---
A one-hit wonder if there ever was one, but boy what a hit! Everything about it is over the top. From the screamed intro, to the villainous lyrics, to the screeching horn section, to the way the song builds and builds and builds and builds… this song will exhaust anyone dancing at your party. But what a dance it will be!
---
Living Dead Girl - Rob Zombie
Looking for a heavier Halloween? You can do no better than Rob Zombie. I mean, the clue is in the name. Heavy metal, with an extra dose of heavy, and a huge side helping of gothic horror. It's like being beaten about the head with a DVD copy of Night of the Living Dead. Zombie also directed re-imaginings of the Halloween films in the mid-2000s. Head-bang your way in to the afterlife with this one.
---
Anything Can Happen on Halloween - The Worst Witch
The Worst Witch is no one's idea of a great movie. It's a little bit too silly, a little bit too campy, and not brilliantly written. It's like a cheap Harry Potter knock-off… except it came out before Harry Potter. However, it contains this bizarre gem. Sung by the legendary Tim Curry, featuring out and out weirdness, and soooo many rhymes for Halloween… this song will… well… just watch. You'll get it.
---
She's Just Killing Me - ZZ Top
Vampires! Beards! Guitars! ZZ Top deliver a blood-soaked Halloween anthem that's gnarly as hell, and is frighteningly good listening. It's so perfectly horror-suited that Tarantino used it in Dusk Till Dawn. A movie filled with (duh) vampires. Play this when you want to get in to some blood-soaked dirty dancing.
---
Psycho Killer - Talking Heads
It's funky and punky and… Frenchy. Talking Heads were a brilliant kind of rock, and this eccentric number is an awesome example of what they can do. With a rhythm that'll get you nodding your head, and lyrics that start out nutty, and end up French, we defy you to not get this one stuck in your head. Play this when you need the party to have a little… je ne sais qua.
---
Teenage Frankenstein - Alice Cooper
Of course some Alice Cooper ended up on this list. When you think Halloween music, chances are Alice Cooper's name comes up fast. This song typifies his style of shock rock: a theatrical stage performance, classic horror based lyrics infused with 80s pop-youth iconography, and shredding guitars. This one's almost an opera in its different phases, but put it on, and no one will doubt how much you love Halloween!
Happy Halloween Everyone! 👻 💀
---
Thomas Burns Scully is a PopDust contributor, and also an award-winning actor, playwright, and musician. In his spare time he writes and designs escape rooms. You can follow him on Facebook, Twitter, and Instagram
---
POP⚡ DUST | Read More…

'Wonder Woman', 'Beauty and the Beast' and outrage film marketing
Eddie Izzard: transgender, hilarious, and heartbreaking
'Pop Punk High', a pop punk musical comedy? Um... yes please!
---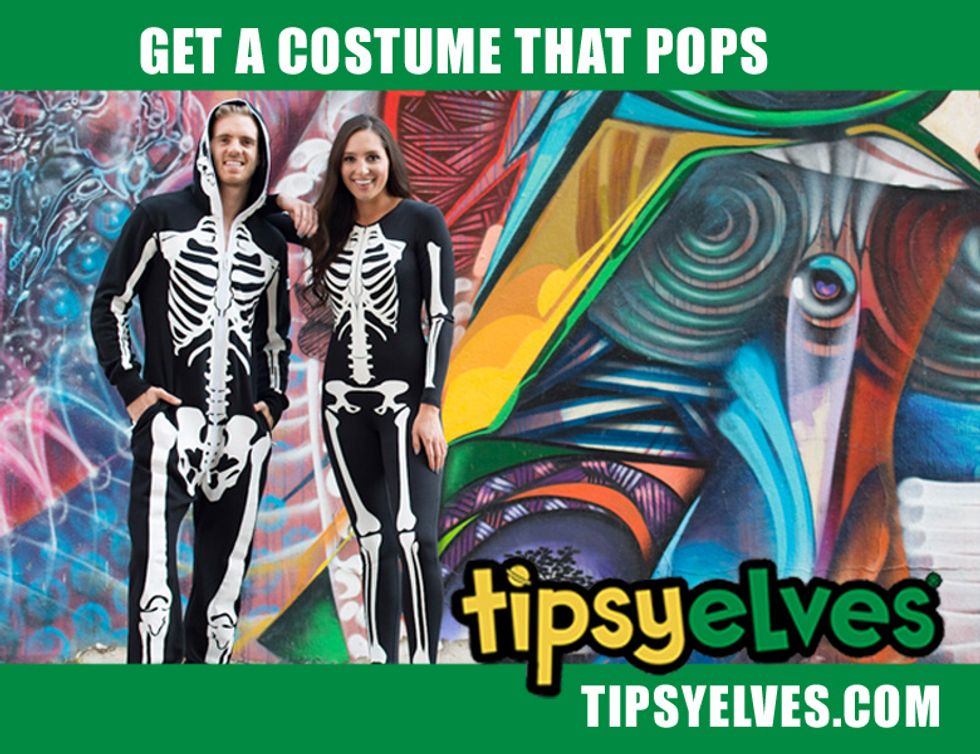 Get Ready for Halloween!! Find Your Costumes at TIPSY ELVES!
From Your Site Articles
Related Articles Around the Web