Frontpage Popular News
Halsey released her second music video for Hopeless Fountain Kingdom last week and it is visually stunning.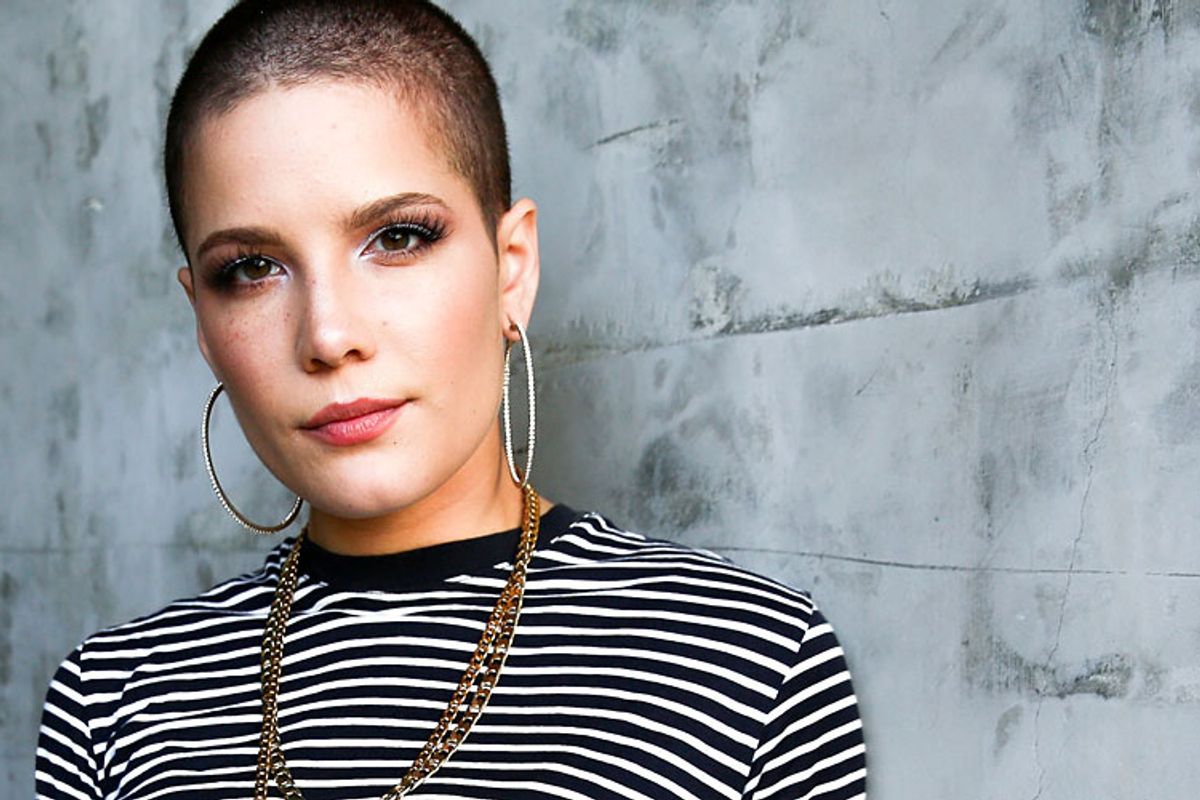 "...So I told him the music would be worth the wait. But he wants me in the kitchen with a dinner plate."
We're glad you skipped dinner for music Halsey. "Bad at Love" was definitely the most relatable song for me on Halsey's Hopeless Fountain Kingdom. I'm positive that many other women who have big career aspirations can identify with it to. It perfectly captures the essence of wanting so badly for something to work but it feeling fundamentally flawed. The music video was far from what I expected, but I loved it all the same. It was directed by Halsey and Sing J Lee who collaborated on the "Now or Never" video as well.

Instead of spelling out the already very visual lyrics to the song, Halsey opted to continue where she left off with "Now or Never." We last see her crawling out of her car in the middle of open fire. She sees her lover clearly in danger, but chooses independence, to run. The last image we see is Halsey cutting her trademark teal hair off. Halsey zooms into the "Bad at Love" music video on a motorcycle teal locks replaced with a platinum pixie. She wears her family crest in red ink on the back of a leather jacket suggesting she chose family over love after all.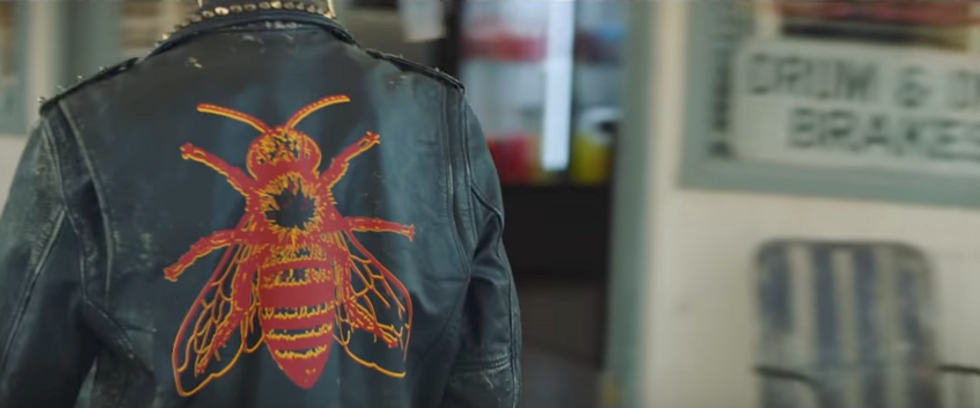 Halsey's jacket in Bad at Love (Youtube.com)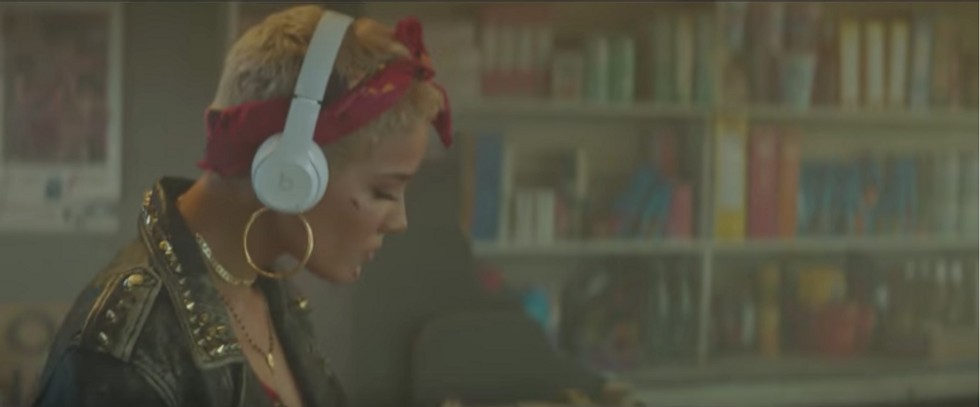 Halsey's new hair style in "Bad at Love"
As the music video progresses it becomes clear that the reason for this new look is because she is in hiding for being wanted. This makes sense if you think about "Now or Never" where she was technically associated with what seemed to be to gang violence. Though she puts on a tough, "who cares" exterior at the beginning of "Bad at Love" Halsey starts to crack when she runs into a tarot reader in a bird mask in the bathroom at a gas station, and is paranoid of the girls in the station having it out for her. These girls quickly become Halsey's girl gang when cop-like figures approach the station. They use the power of seduction to distract them while the others pull in a bright orange convertible. Halsey even ditches her leather jacket symbolizing that perhaps she's done choosing sides. Did I mention that this video is visually stunning? The girls all unique in features and personal style are dressed in colors that remind me of sorbet and jam out to the song as they coast down a dessert highway. They arrive at a camp in the middle of no where when ladies wine night commences.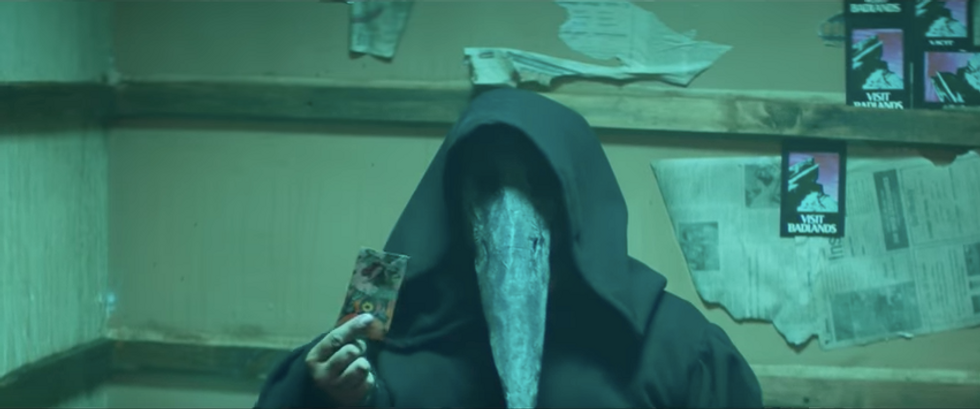 Tarot reader in "Bad at Love" (Youtube.com)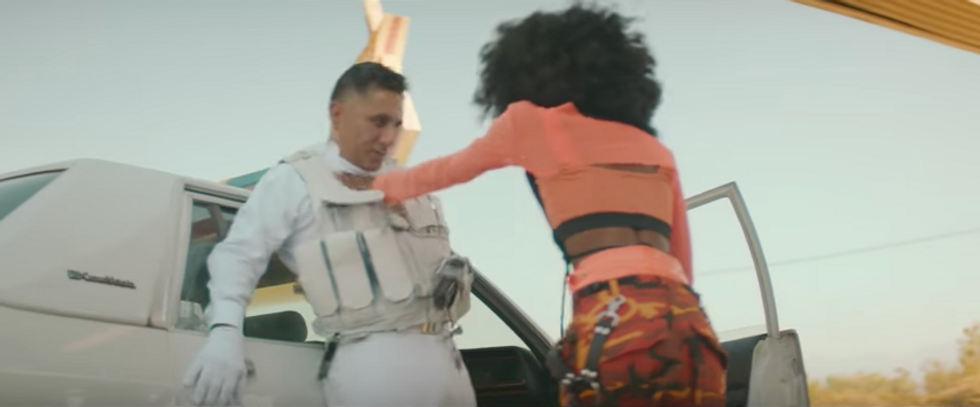 Halsey's girl squad distracts the cops. (Youtube.com)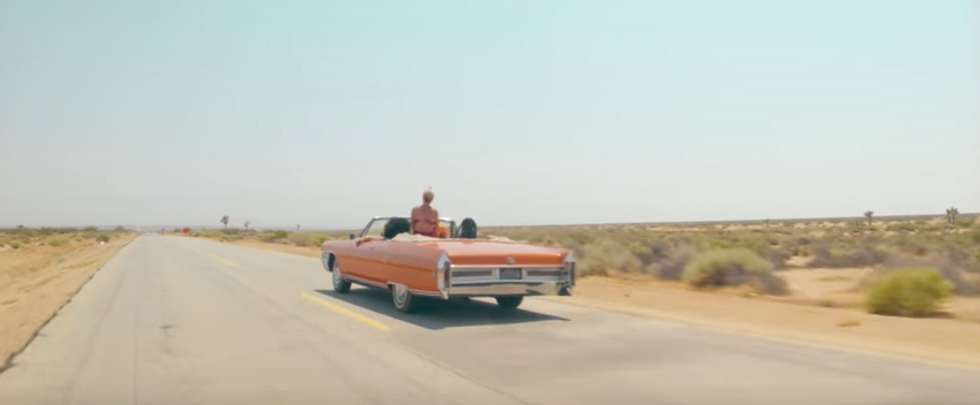 The getaway car (Youtube.com)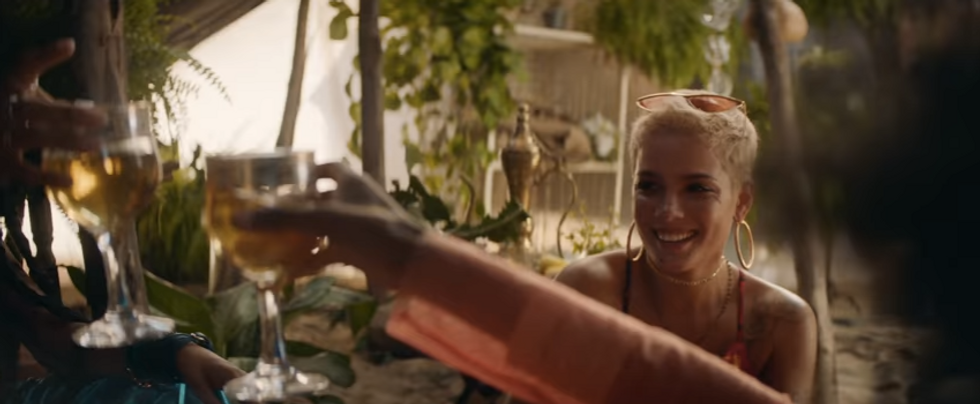 The girls toast their getaway (Youtube.com)
While girl power is a reoccurring theme in Halsey's work, I think that this video and this album goes beyond just girl power. A major theme in the album seems to be the toxicity of money and greed. It seems in the first video "Now or Never" Halsey was always conflicted with the environment of dirty wealth that she grew up in and so ultimately she chooses to run from it but stay true to her family. In "Bad at Love" we see her virtually ditch her family name to runaway with these girls maybe commenting that in some ways a simpler life is better than one tainted and made complex with conflict over riches. No doubt, we'll learn more in her "Strangers" video which is allegedly up next.
Check out the full video for "Bad at Love" here.
---
Anie Delgado is a contributor to Popdust and is an actress and musician based in NYC. Follow her on Instagram and Twitter @anie_delgado and on Facebook and check out her music on Spotify.
---
Read more...
Miley Cyrus is the queen of Twitter trolling
Taylor Swift dropped her LWYMMD music video and consider me shook

Lorde's performance at the VMAs was dynamite!
---