Rising Star
INTERVIEW | The duo joined Popdust Presents earlier this year and we reunited to do an exclusive
Fly By Midnight
Popdust interview in anticipation of Fly By Midnight new single "VIBE" out now!
Fly by Midnight describes themselves as, "two dudes making cool music," and two dudes making cool music they are indeed. The first thing I noticed about the duo other than their ample talent was how laid back they are. That's something they take pride in, they told me. In the modern age of social media, the duo has used social media as a way to reach fans in a personal and unfiltered manner. So often do musicians and idols feel far away and unattainable, but if you follow Fly By Midnight on social media, you'll feel like you know them, though their frequent engagement. The same openness went for our interview.
The planets seemed to align for the two to start making music together. Justin, one half of the duo and a Florida native, moved to Staten Island, NY three years ago. Before that, he had grown his own audience as a solo artist doing mainly covers on Youtube and Instagram. When he got to NYC, he started to record his solo music at a studio where Slavo was working when the two met. Slavo at the time was producing at that studio. Initially, they were looking for female vocalists to collaborate with but ended up collaborating together. Their first song together was cover of "I Really Like You" on Youtube, which is the first time they sang together.
Though they saw great success with covers, they decided to start songwriting together short after and bringing their own original music into the world. I personally am thankful for that. What would we do without their song "Vinyl"? Slavo and Justin told me that they love to collaborate over doing solo music because it really helps to have another mind to bounce ideas off of. Slavo and Justin quickly discovered through songwriting that they have a strong creative relationship and amazing songs organically unfolded. They told me that so often do people think that song writing is such a serious process while really the two of them are just jumping up and down shouting ideas at each other.

Their influences definitely had a major impact on their music. Slavo being from New York of course is an avid Billy Joel listener. Justin was very influenced by retro 80's pop and bands like Hall and Oates. These old school pop idols helped the duo realize their own unique sound, a mature retro pop. I asked the guys more about their songwriting process, which they told me is different every time; however, they did give me a little glimpse into their method by talking about their new single Vibe. They told me that one day, they were talking about that feeling of being at a bar and making eyes with someone across the room. They described it as, "throwing vibes around," and thus their brilliant hook was born and their personal favorite part of the song where they warn their co-flirter "better not drop that shit," not to drop their Vibes. The song itself floats so vibrantly, it's hard not to bounce to it.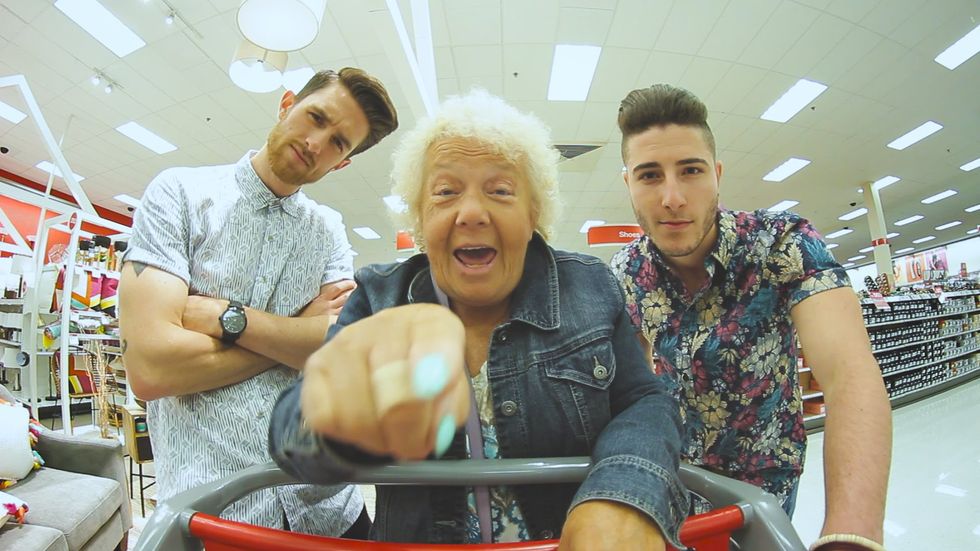 Really, it's hard not to dance to all of their songs. I can speak from first hand experience here. I had the pleasure of seeing them perform in NYC at the exclusive Soho House. The two were totally in sync with one another but also had their own unique styles that made them so fun to watch. Justin was so warm and inviting while Slavo was the definition of "too cool for school". You could tell they were having just as good as a time as the audience was as their grooved to their tracks. They definitely are one of those bands that are just as good live as they are recorded and different too. The energy they brought to the stage illustrated their songs in a different way then listening to them on Spotify did. When the time came for them to play "Vibe" it was clear that the two know a thing or two about catching and throwing a vibe. They got the engaged but timid audience to dance with them. It was a magical feeling when everyone finally decided to cut loose.

Vibe is out everywhere now. Be sure to check it out. Fly By Midnight is about to tour so be sure to keep up with their tour dates here.
Check out my favorite song VINYL here:
---
Anie Delgado is a contributor to Popdust and is an actress and musician based in NYC. Follow her on Instagram and Twitter @anie_delgado and on Facebook and check out her music on Spotify.

---
Read more...

She may be 'Bad at Love' but Halsey's great at music videos!
Why P!nk will always remain relevant
Taylor Swift dropped her LWYMMD music video and consider me shook
---
From Your Site Articles
Related Articles Around the Web