Frontpage Popular News
REVIEW | Butter is the great equalizer in this delightful film.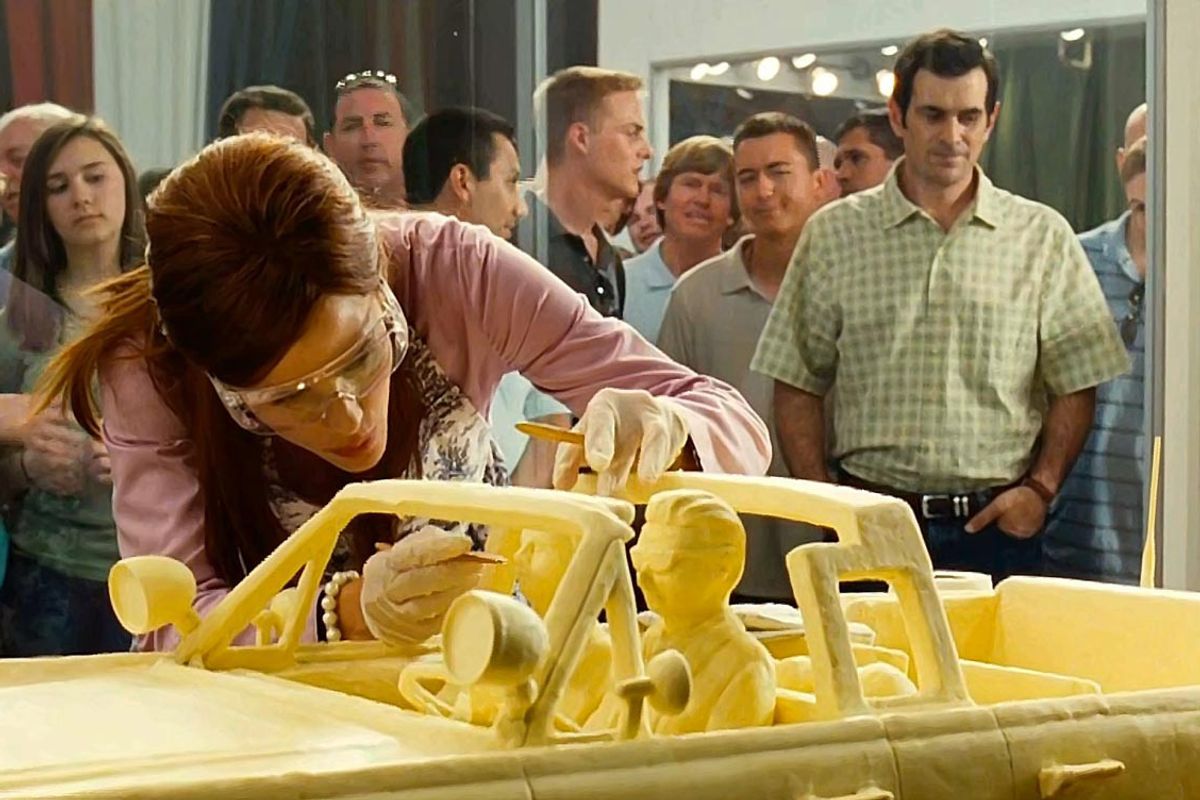 Butter makes everything better.
Butter takes place in the Mid-West where family, tradition, and butter competitions hold the highest of the townspeople's priorities. As soon as the film starts, we immediately meet a cacophony of rich characters. The film though delightful and sweet at face value, makes you think about many deeper, richer themes; much like butter, enhancing something with amazing substance and making it taste good.
We initially follow Destiny played by Yara Shahidi through her endless circuit of foster care. As we see her trials and tribulations with the absent-minded elderly foster parent, the drug-addicted foster parent, and more, we make certain discoveries about how a person of color's interaction is different with a white community all through the innocent eyes of an eleven year old. Often, we see Destiny tokenized and treated like a victim in school settings. Even the family that she ends up with seems to tip toe around race which is something many white people do with the intention of being racially sensitive but actually making the whole situation even more awkward. Luckily, her new foster parents quickly relax and Destiny, who isn't used to staying put eventually lets her guard down and gets comfortable with Jill and Ethan. Destiny's hope throughout the film is that she finds something she's really good at. After watching local butter carving prodigy Bob Pickler's success with butter carving, Destiny decides to give it a try. When she goes to sign up for the contest, both her age and her race raises skepticism and a general discomfort of her competing with Laura Pickler, Bob's ambitious-to-a-fault wife.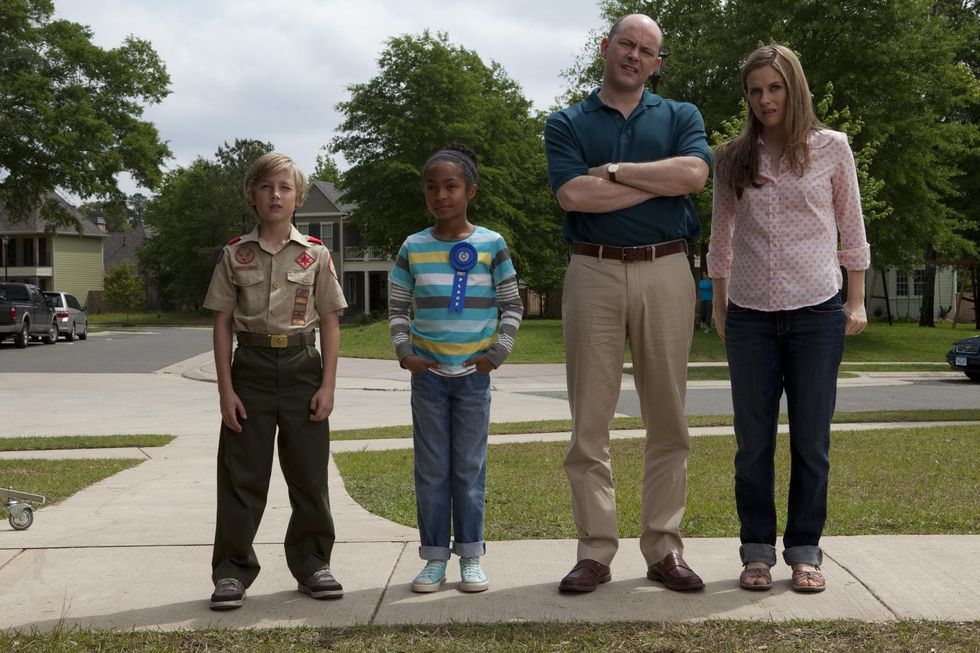 Jill, Ethan, and Destiny in Butter Kiss My Wonder Woman
Another deep rooted theme of the film is validation and that what you see isn't always what you get. Laura Pickler played brilliantly by Jennifer Garner, has lived her entire adult life for Bob, painting the picture of a perfect family for her community. She thrives on the notion that they are the ideal all-American family. They receive praise from their community, while in Laura's forced efforts to create this picture perfect image greater problems are created. When Bob decides to sit the year out and judge instead, Laura feels like he is sacrificing their family name and decides to enter the contest herself.
[rebelmouse-proxy-image https://media.rbl.ms/image?u=%2Fwp-content%2Fuploads%2F2011%2F11%2F318_B_02272-header.jpg%3Fw%3D680&ho=http%3A%2F%2Fwww.indiewire.com&s=934&h=bf956c264fd57e1ce08350cc6cbce08d410c5261a6e05dc6693db8f6b1d0ea48&size=980x&c=3226745468 image-library="0" caption="\u200b" pin_description="" crop_info="%7B%22image%22%3A%20%22https%3A//media.rbl.ms/image%3Fu%3D%252Fwp-content%252Fuploads%252F2011%252F11%252F318_B_02272-header.jpg%253Fw%253D680%26ho%3Dhttp%253A%252F%252Fwww.indiewire.com%26s%3D934%26h%3Dbf956c264fd57e1ce08350cc6cbce08d410c5261a6e05dc6693db8f6b1d0ea48%26size%3D980x%26c%3D3226745468%22%7D" expand=1 photo_credit=""]IndieWire
Her intensity over the butter competition causes a lot of tension in their relationship and Bob ends up sleeping with a stripper named Brooke hilariously portrayed by Olivia Wilde. Frustrated and hurt by Bob's actions, but undeterred, Laura prepares for the competition like a true professional sneaking in the theme that women are just as capable as men, because often, we're helping our men accomplish their own goals and learn a thing or two in the wake. Laura's major downfall is that she has validated her entire life and identity on her husband's ability to carve butter well and the All-American exterior that it comes with, but in reality her life is crumbling beneath it. When she looses the competition to a child, she just about looses it.
[rebelmouse-proxy-image https://media.rbl.ms/image?u=%2FQQGlBQ95A1TGw.gif&ho=https%3A%2F%2Fi.giphy.com&s=612&h=e8ea11e342865f11920d25db3fa3a0ad3a2cc8cf9f836267b54a66fb68290b27&size=980x&c=3762217016 photo_credit="" caption="Giphy" pin_description="" image-library="0" crop_info="%7B%22image%22%3A%20%22https%3A//media.rbl.ms/image%3Fu%3D%252FQQGlBQ95A1TGw.gif%26ho%3Dhttps%253A%252F%252Fi.giphy.com%26s%3D612%26h%3De8ea11e342865f11920d25db3fa3a0ad3a2cc8cf9f836267b54a66fb68290b27%26size%3D980x%26c%3D3762217016%22%7D" expand=1]Giphy
Another interesting relationship in the film is Brooke's relationship with Destiny. It's hard to believe a stripper and an eleven year old become friends but in a way they do. Brooke falls for Bob setting her on a mission to humiliate Laura Pickler who in blind ambition seems unfazed by her husband's infidelity. When Brooke sees that Destiny is the only contestant that has a chance at beating Laura at her highly valued butter carving competition, Brooke buys Destiny some new tools to give her the same advantage as the affluent Pickler family. Destiny ultimately just benefits from Brooke's belief in her and the new tools. Brooke and Destiny are treated like outsiders the entire film and seeing them come together at the end to shake up the norm of this very traditional community really makes this film unique and interesting.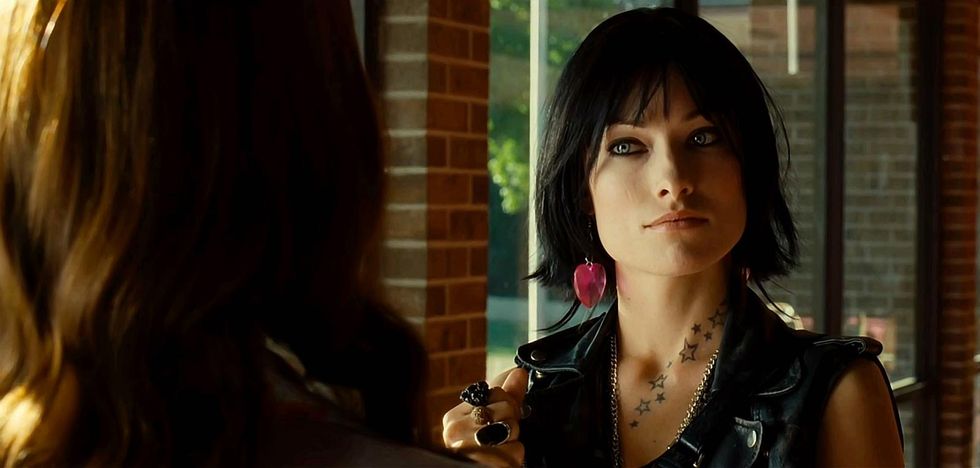 Olivia Wilde as Brooke Kiss My Wonder Woman
While I was just looking for a background noise type flick to put on while I got some work done, Butter drew me in and is definitely one of my favorite films as of lately. Stream the film on Netflix now.
Watch the trailer right here:
---
Anie Delgado is a contributor to Popdust and is an actress and musician based in NYC. Follow her on Instagram and Twitter @anie_delgado and on Facebook and check out her music on Spotify.
---
Read more...
Taylor Swift dropped her LWYMMD music video and consider me shook

She may be 'Bad at Love' but Halsey's great at music videos!
Why P!nk will always remain relevant
---