Last week, Rooney rolled through NYC on their Ultra Sonic Summer tour and brought some much needed sunshine from the West Coast.
The California-based indie rock band (the project of frontman Robert Schwartzman) has long been a favorite for anyone who remembers the days of the OC. They've undergone some changes - including a totally different lineup - but still hold the same magic they did when we first heard "When Did Your Heart Go Missing?" several years ago. The show kicked off with a fantastic slew of openers, Run River North and ROMES (the latter being my newfound favorite), who created the night's soundtrack with fun and danceable beats.
Rooney opened up the show with old favorites like "Blueside" and "All the Beautiful People", before delving into newfound territory with their most recently released single "Second Chances." The cohesion and flow of the show proved how effortless the new tunes merged with the old, providing us with a true summation of the essence of Rooney and their diverse catalog. Eventually, they even covered "West Coast", the Coconut Records song written and performed by Jason Schwartzman, actor and brother to Rooney's frontman Robert.
The show ended with a heart-stopping rendition of "When Did Your Heart Go Missing?", as the crowd immediately devoured every single note like it was 2003 all over again (in the best way). Just before we thought a good night was over, the band came back to perform hits from their iconic self-titled - "If It Were Up To Me", "I'm Shakin" and "Stay Away" were amongst the chosen hits. It felt like everything came full circle, as Schwartzman talked about writing some of the songs a couple blocks away at NYU's Third Ave dorms during his studies there. The night's magic wasn't lost on anyone, and yet just like that, it was over.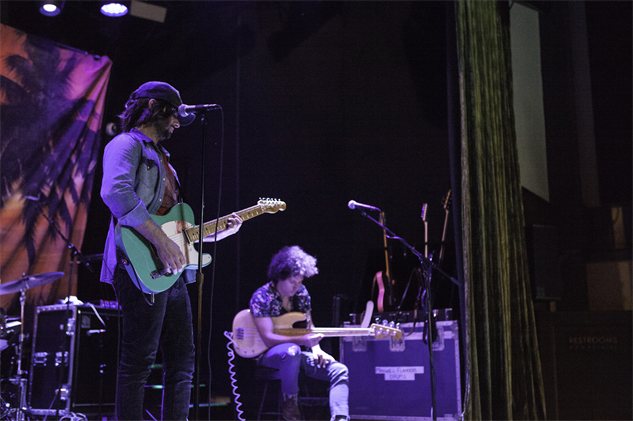 Sarah Midkiff
Last month, I got the chance to ask Schwartzman some questions about the making of El Cortez and hitting the road again. "It was a blast making these songs. I've always wanted to record outside of LA, a destination album. I also have a love for downtown Las Vegas, so it seemed fitting when we stumbled into 11th Street Records in Vegas one night before our show at Bunkhouse Saloon and found this gem of a studio. While making the EP, we all lived in downtown Las Vegas at the El Cortez hotel during basic tracking. The rest of the album was recorded back in LA at my home studio," he told Popdust. "I've been touring since I was 19 years old so it's become like home. I love playing shows and visiting all these cities, keeping the flow on the road. I'd say I'm most excited about playing new songs and feeling the crowd. That's really what it's all about, interacting with the audience, connecting with everyone. There's truly no other experience like it."

Rooney continues their Ultra Sonic Summer tour all month long, with stops in a city near you. Find the dates below and snag some tickets over at rooneymusic.com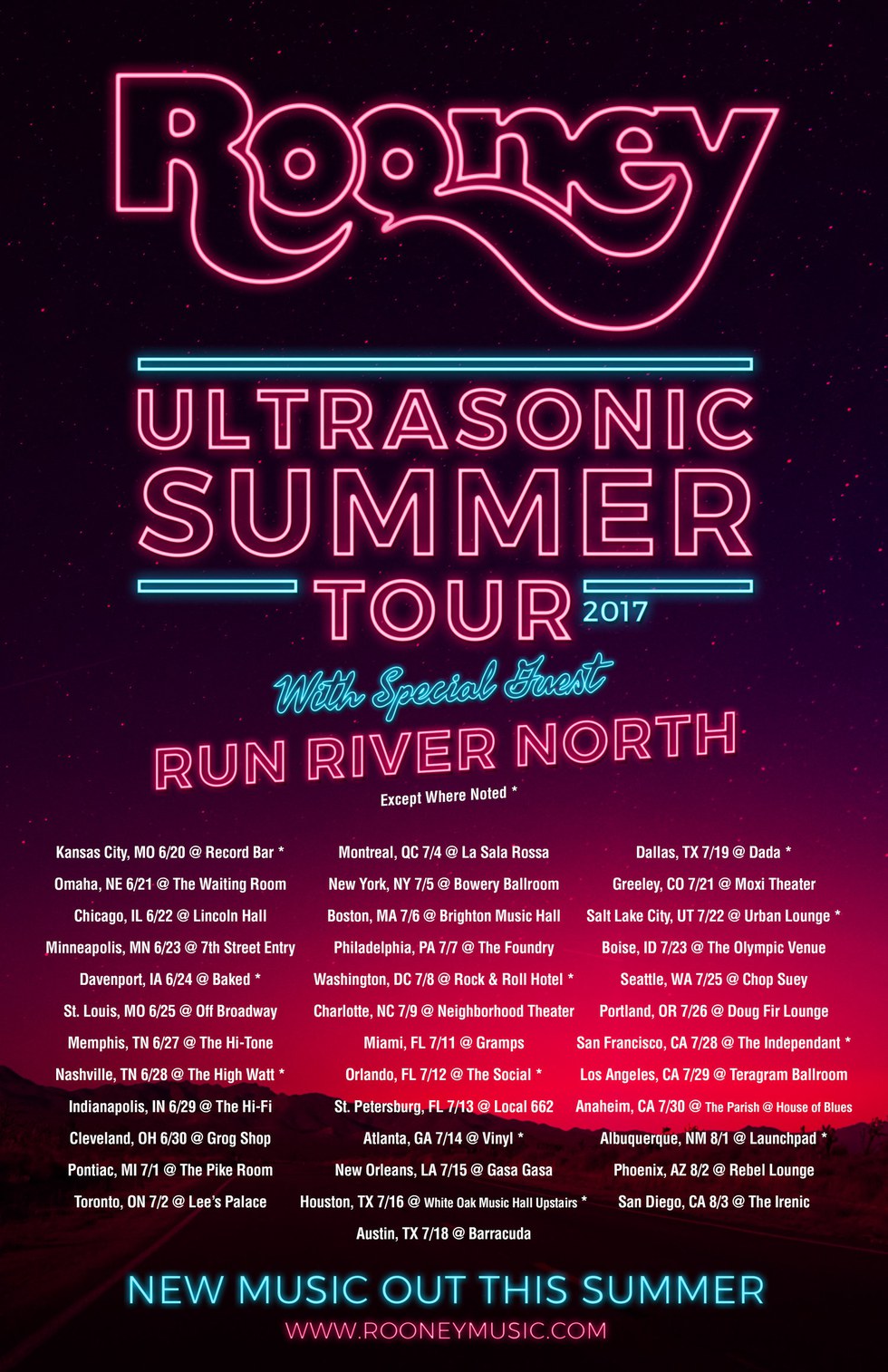 JUL 18 TUE - Barracuda - Austin, TX [tickets]
JUL 19 WED - Club Dada - Dallas, TX [tickets]
JUL 21 FRI - Moxi Theater - Greeley, CO [tickets]
JUL 22 SAT - Urban Lounge - Salt Lake City, UT [tickets]
JUL 23 SUN - The Olympic Venue - Boise, ID [tickets]
JUL 25 TUE - Chop Suey - Seattle, WA[tickets]
JUL 26 WED - Doug Fir Lounge - Portland, OR [tickets]
JUL 28 FRI - The Independent - San Francisco, CA [tickets]
JUL 29 SAT - Teragram Ballroom - Los Angeles, CA [tickets]
JUL 30 SUN - The Parish at House Of Blues - Anaheim, CA [tickets]
AUG 1 TUE - Launchpad - Albuquerque, NM [RSVP]
AUG 2 WED - Rebel Lounge - Phoenix, AZ [tickets]
AUG 3 THU - The Irenic - San Diego, CA [tickets]
El Cortez full album is available on iTunes and Amazon July 28th:
---
Vanessa is a music and culture writer. She will probably dance to "Laura Palmer's Theme" x Britney Spear's Everytime at her wedding. Follow her on twitter.
READ MORE ABOUT MUSIC...

INTERVIEW | a Q&A with Rooney's Robert Schwartzman
REVIEW | Nick Hakim's "Green Twins" is a soulful trip through the future