"I'm Aaron Mahnke and this is Lore."
If you're a fan of podcasts—in particular, podcasts that explore the spooky, the supernatural, the eerie, and the enduring stories that shape our cultures and our superstitions—then you've likely heard this intro scores of times by now. It's how every episode of the podcast Lore begins after the soft open where Aaron Mahnke expertly entwines us in a time and place where magic is real, ghosts walk among us, and the spiritual and the corporeal are common bedfellows. And now, after much anticipation, the Lore TV series has finally arrived, exclusive to Amazon Prime. Lore podcast listeners have waited with bated breath to see if the show can hold up to—or even improve upon—the chilling and engrossing stories the podcast has long pulled us into, and that day has finally arrived.
The TV series, with executive producers from both The Walking Dead and The X-Files has just dropped its first season on the fitting date in of Friday the 13th. Like the podcast, the episodes cover topics ranging from superstitions surrounding the spread of tuberculosis to the historical belief that werewolves truly walked among us.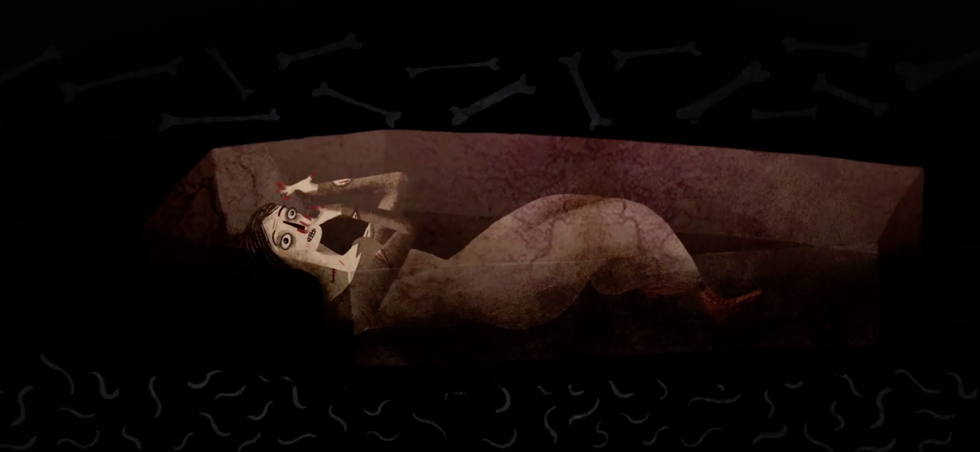 Credit: Lore, Episode 1
The first episode is called "They Made a Tonic," and it introduces the reader to the show, as every subsequent episode does, with a black screen bearing the words in white: "Everything you are about to see is based on actual people and events." Its soft open is animated in a style that feels reminiscent of Don't Starve and has a twisted, Tim Burton feel. Soon, however, the show switches from these dark, cartoonish depictions to live action, including recreations of bleeding medical patients and a young woman overcome with a painful and difficult illness. What is especially striking is the episode's brief personification of medical equipment, portraying the devices almost as beast-like and formidable as Mahnke's voiceover takes us on a tour through the different life-saving medical measures and beliefs through time and asks us all to consider, "how far are we willing to go to keep a loved one alive?"

These thought-provoking considerations are one of the things that drew me to Lore in the first place. The tales Mahnke tells are gripping in their own way, but his craft of connecting these oft-forgotten and seemingly foreign stories from long ago to modern times causes us to reexamine our current experiences, often finding that we're not as far removed from the fantastical beliefs and blind arrogance that often inspire the episodes' events as we'd like to think. It's what makes the stories told seem that much more immediate, and that much more chilling, no matter when the stories took place.

So, does the TV series measure up to the podcast? Well, I'll say that it didn't feel right watching with the lights on. The visuals add something to Mahnke's storytelling that his voice alone cannot bring. Having visuals is a give and take, though, and I found myself wondering if our imaginations could, at times, create monsters of the stories that a screen delivering to us instead might cause to fall flat. Megan Rugg, a big fan of the podcast who was very excited about the show's unveiling, said she was a little disappointed by the reenactments, feeling they "left something to be desired." On the other hand, seeing the grisly images and watching these eerie characters commit actions themselves, rather than just being discussed through narration, allows us to have yet another sense seduced into the storytelling, so that we have the opportunity to envelope ourselves perhaps even more completely into the tale. While Rugg believes a new viewer might enjoy them more, a veteran of the show like herself could easily feel like the depictions on the show don't measure up to the vivid and fantastic scenes imagined while listening to the podcast.
The show relies heavily on acting—or reenacting, as the case may be­—to tell the tales, but sometimes peppered among that, as in the second episode, "Echoes," are real shots of patients and doctors in history, along with images that feel similar to historical or medical textbook illustrations, often with a horrific overlay of decay, haunting depictions of spreading darkness, and eerie visuals of diagrams and procedures.

The episodes keep the same pace of the podcast, slow, but never stalling, and, to the dismay of some Lore podcast listeners, tell, in fact, the very same stories, though not in the same way. Rugg found this disappointing, in a "been there, done that" sort of way, but it's not all a wash. The TV series allows Mahnke to add something the podcast was missing, and he uses his newfound resources to revisit old tales and explore singular stories more deeply. This reuse of already presented material can come as a detriment if you're someone who has heard every episode at least twice, like me, for instance, but it can also have its own perks. Another avid Lore listener, Luis Reyes, says he absolutely cannot wait to see his favorite episode, "Black Stockings" portrayed on the screen. Fortunately, he need only wait until episode three.
Overall, while long-time Lore listeners may be initially disheartened that their highly anticipated show is simply an augmentation of material they've already heard, it's still worth watching. It's also easy to see how new viewers, uninitiated to Mahnke's excellent storytelling, will easily be hooked by his chilling tales, totally new to them and surely as gripping as the first time veteran listeners enjoyed them in the podcast-only days.
---
Kelsey Fox is a professor at Penn State as well as a writer and is an avid gamer and streamer on Twitch.
POP⚡ DUST | Read More…

This Gen Xer has a thing or two to say that Millennials need to hear
Tetralogy of fallot--one writer's experience with the same heart defect plaguing Jimmy Kimmel's son
Is Ghost in the Shell's Casting Really That Big of a Deal?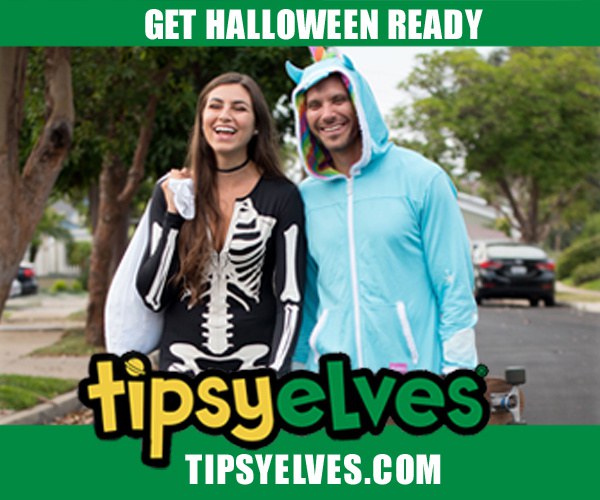 Get Ready for Halloween!! Find Your Costumes at TIPSY ELVES!