Events
Graduation, hormones, art kids, and... aliens? The original musical Alien's Coming just closed at the PIT.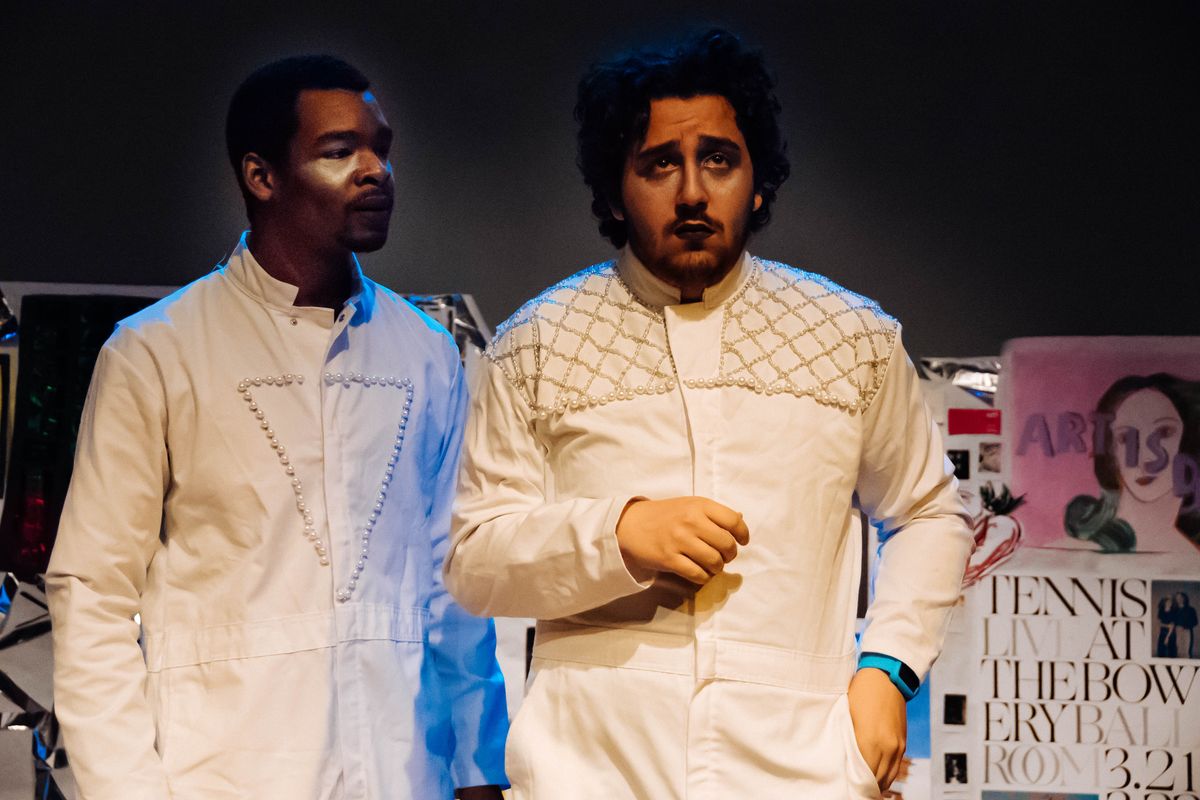 Jackie Abbott Photography
A Musical about Aliens?
The People's Improv Theatre is world-known for their killer improv school, cheap shows and beer, and of course the long list of famous people who have worked there. Monday night, I saw a new musical comedy on their Mainstage and going in, I had no idea what to expect. I know a thing or two about improv and I knew that musical improv existed, but I didn't realize the PIT produced full musicals, but alas I walked into The Striker Theatre on E 24th Street and the cast of Alien's Coming took me to a different world.
The show opened with a video of "Computer," a character who the cast would often refer to for help throughout the show. His unique makeup and facade indicated that we were about to witness a musical akin to a cult film. His interesting disposition reminded me of Rocky Horror Picture Show. The show tells the story of high school senior Clementine and her best frenemy Brandi and the growing pains they traverse expedited by a graduation party and Clementine's desire to show prettier, popular Brandi that she too could get laid. Meanwhile, aliens plot an operation to infiltrate Earth by using a teen girl to "influence" the masses into allowing them to harvest their genitals. This was the first of many cleaver references to relevant topics our society has been exposed to making the show very smart and up to date. Although, the costuming of the show suggested no particular time periods as the humans wore 1950's style dresses while wearing contemporary sneakers, the show strongly suggested that it is in reference to the millennial generation.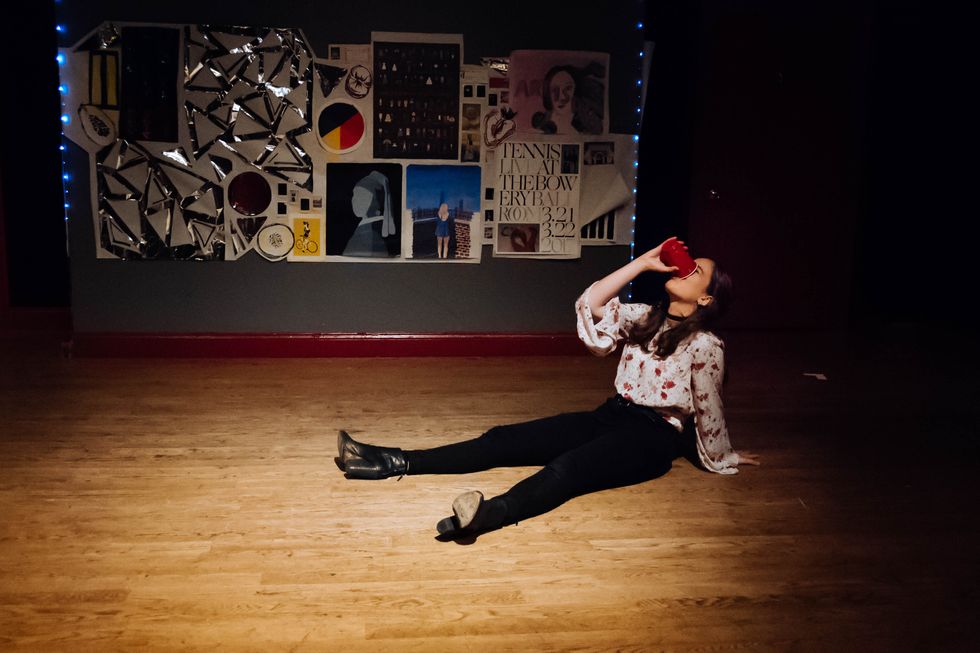 Jackie Abbott Photography
Overall the book and lyrics were smart, hilarious, and enhanced by the cast's suburb knack for timing and word play. Musically, the show was all over the place, but I didn't find that to be a negative. I feel that the show musically reflected our generations fondness for nostalgia. Everything from upbeat contemporary musical theatre power ballads, to swanky 90's R & B, and everything in between. The show was written by Joe Kelly and was under the clever direction of Griffin Osborne. The show was music directed by Jonathan Evans who was responsible for the impressively tight harmonies and strong dynamic.
The show also saw some incredible performances. Leading lady, Alice Kors who played Clementine was a brilliant actress with spot on comedic timing and a lovely voice that innocently contrasted the brassy belts of the other ladies in the cast. Her chemistry with Andrew L. Ricci who played her love interest Sqib was unique to any other stage relationship I had seen. Were they young lovers, best friends, enemies, or friends with benefits? Not even the characters themselves know. Trevor McGhie who played Zooby Dooby the ruler of the Flimps was an exceptionally strong performer contrasting his initial hauntingly still physicality and robust vocals with a breakout voice and killer dance moves.The female ensemble were great support and had wonderfully tight harmonies and Maia Scalia who played Brandi was a perfect fit for the role.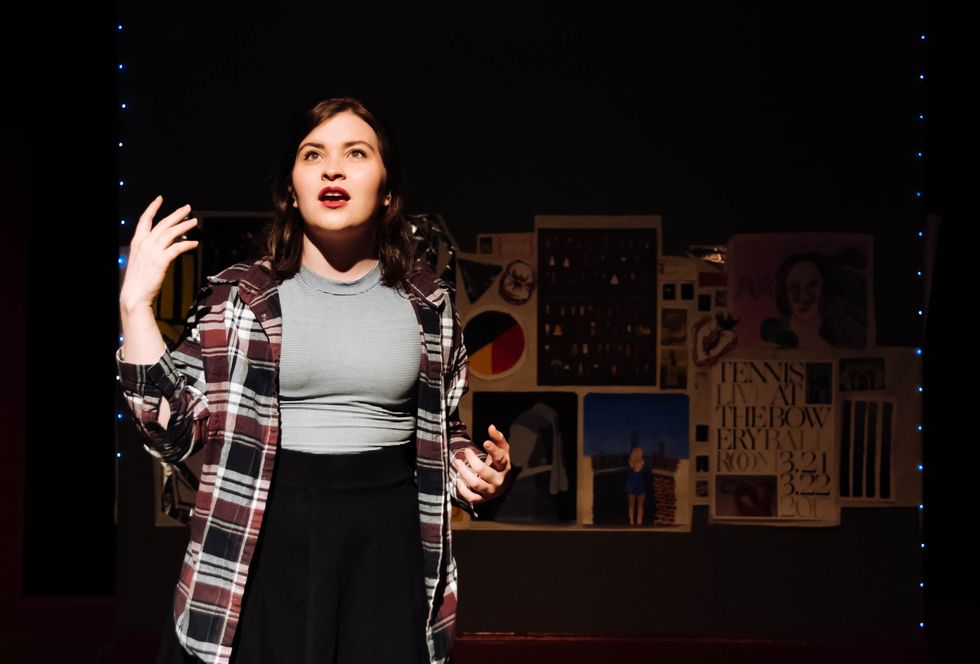 Alice Kors as Clementine (Jackie Abbott Photography)
Alien's Coming celebrated a sold out run at the PIT earlier this year and recently returned for a 10 show run to celebrate the release of their cast album on Spotify. You can stream it on Spotify here, or purchase the Aliens Coming: The Musical cast album on Amazon here
Listen to "State School" here.
---
Anie Delgado is a contributor to Popdust and is an actress and musician based in NYC. Follow her on Instagram and Twitter @anie_delgado and on Facebook and check out her music on Spotify.
---
Read More...
LIVE | GGOOLLDD played a luminous first show at The Mercury Lounge
Fly By Midnight "...just two dudes making music"
POPDUST PRESENTS | Binx creates a buzz with her new album
---