"You cut the head off of a snake and three more appear. In this case, four. And their teeth are sharper."
This is how Pedro Pascal described the antagonists of the brand spanking new season of Narcos, which ventures into the rise and fall of the Cali cartel. Whereas the previous seasons revolved around the rise and capture of drug lord Pablo Escobar, this time we're dealing with much different beasts - even more violent than you'd think.
The Bitbag
"The sad answer to that is that it's so much without Escobar. Escobar was a sole king of an empire and if anything, narco culture is even more represented by the chapter of the Cali cartel. It's so much more insidious and so much more in the pockets of more elements of society that you can only discover by getting deep in. Escobar is by no means an easy target, but he was one target. And he was definitely a visible one. Cali is different. It's expansive. These are businessmen," Pascal explained to the Hollywood Reporter. "They are the richest cocaine bosses of the world. The irony is that we lose Pablo and then you get more cocaine. It's a much more complicated enemy, as far as the DEA is concerned. And to fight it, you have to invent it and discover as you go, instead of narrowing your focus and strategy against this one target. You are constantly making lefts and right turns, or just running right smack into walls as far as the Cali cartel is concerned. It's a completely different beast."

The story revolves around the four kingpins of the Cali cartel - Pacho Herrera (with a brilliant performance by Alberto Ammann); Gilberto Rodriguez Orejuela (Damián Alcázar); Miguel Rodriguez Orejuela (Francisco Denis); Josè 'Chepe' Santacruz Londoño (Pepe Rapazote) - and the multi-billion dollar operation they single-handedly created from the ground up. At one point, they controlled over 90% of the world's revolving cocaine. At it's peak, it was dubbed "the most powerful crime syndicate in history" by the Drug Enforcement Agency (DEA).

"A guy like Escobar was going to be replaced, in some ways, by a more pervasive and more insidious organization like Cali, that had a corruptive influence that went way beyond the outlaw," showrunner Eric Newman told the Hollywood Reporter. "They bought the presidency of Colombia in 1994. They were insiders, and it's very much a response to the level of violence that the hunt for Escobar brought to Colombia. We're inheriting an administration in government and populous in Colombia that were tired of the violence and that changed the way they were going to wage the war, so it's a more complicated environment in ways. It's difficult to tell the good guys from the bad guys."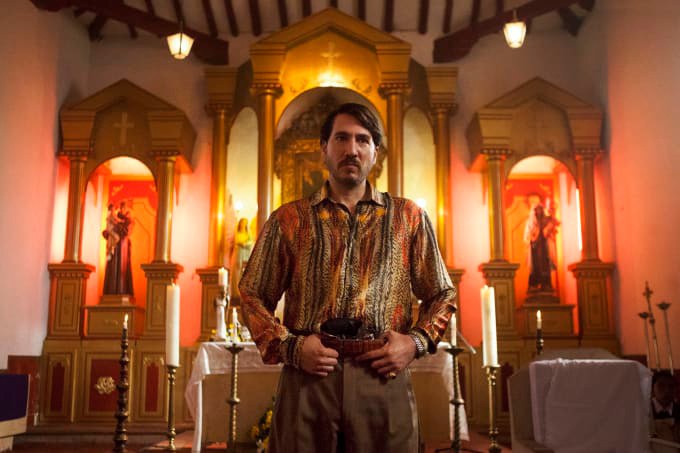 Narcos attempts to humanize it's villians from a certain perspective not previously seen before. With it bringing colorism and homophobia within the Latinx community to the forefront, it's tackling some important issues that aren't usually talked about - at least, not in the mainstream world. Ammann's performance as Pacho "reinvents what it means to be a powerful gay man", as stated by Complex. "We have a lot of problems with this stupid discrimination around the world," Ammann says. "In the narcos world, it had never happened in this way with a boss in a cartel. That made this character so interesting to me and a way to understand how far this guy could go."

---
Vanessa is a music and culture writer. Follow her on twitter.
READ MORE ABOUT MUSIC...

INTERVIEW | a Q&A with Rooney's Robert Schwartzman
REVIEW | Nick Hakim's "Green Twins" is a soulful trip through the future