Imagine if some of your favorite musicians when you were a teenager came together to form something brand new, then stop imagining and listen to Nekokat.
The joint effort of Jordan Witzigreuter from The Ready Set, Jessica Bowen from The Summer Set, and Cameron Walker from 1985 started creating music together this year and hope to continue doing so in the future. The musicians blend the sounds of their previous into this current project to create something new and yet also a little familiar in the best way possible, like moving into a brand new apartment but still having the rugs from your first, starter place. The band is excited to move out of the boxes they have often been put in during their previous projects and expand into a new territory together. Listeners should be excited, too!
Popdust is pleased to premiere their music video for their single, "Take," available below.
Popdust also had some question for Nekokat, which Jordan and the bandmates were happy to answer in celebration of their first music video.
---
How did you guys begin performing together as a group?
Cameron & I had written together in the past for various other projects and wanted to try starting something from the ground up, different than what we had done before. We knew Jess had just moved to LA, and we had all toured together in our other bands so we hit her up and managed to convince her to be in Nekokat. Hopefully she doesn't regret that decision yet.
You've all been in other bands. What's the difference working in this group together now from your previous experiences?
I think it's very laid back in comparison. We just sort of make what we feel like making without trying to pigeon hole it into being one specific sound or thing so it keeps things very open. We are also all constantly working on other projects at the same time, so this has always felt like the thing where we get to be a little more creative and personal with it. And it's nice to be able to be fully self contained- we produce everything, mix, master, art direction, etc so it's up to us to decide what's happening without much outside influence. It's very liberating.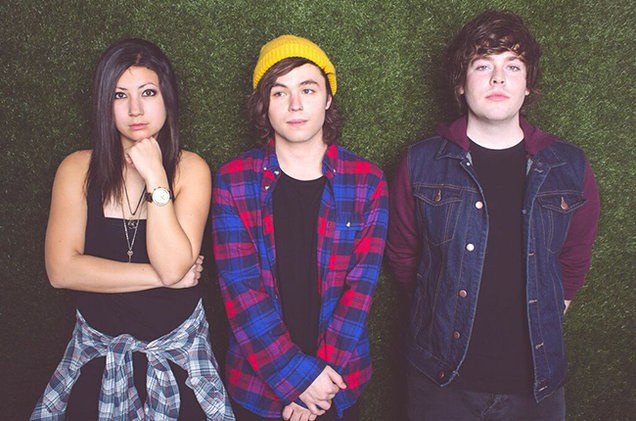 How would you describe your sound? What artists have influenced it?

It's definitely pop, but hopefully a type of pop that just sounds like us. We try not to shoot for any certain thing when we write, it's very much whatever we are feeling at the time, but we definitely try to not follow what other bands are doing too closely or chase any certain sound. I think it's easy to be part of the noise and not stand out, so the best thing we can do is just go on instinct and not overthink. Being too analytical is sort of the antithesis of this band. Our influences are all over though; we all sort of grew up on pop punk stuff like Blink 182, so there's always going to be that type of melodic vibe in our songs, but stylistically we like a lot of 80's/early 90's darker stuff. The Cure is a big influence for sure, as far as specific bands go.
Let's talk about the single for which you're releasing the video. What was the process for writing "Take" like -- why is it your first single?
We've recently just been putting out songs every few weeks. We released two prior to Take, but this one seemed the most "singley" I guess. The writing process is always relaxed. We don't overthink things. If someone has a cool idea or a weird idea we go with it and then figure out how to have it make sense later. It's basically, sit in my studio, record a bunch of stuff, and then I spend a day on the production end and if we are lucky, we get a cool song out of it.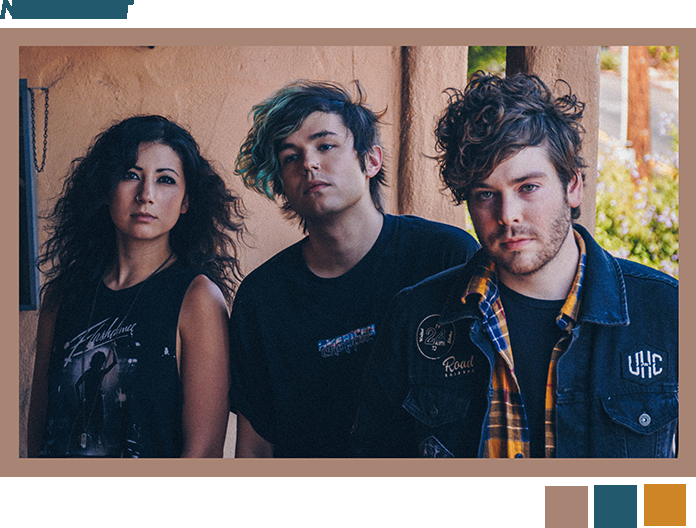 The video was filmed at a recent performance. What was that experience like?

Very very cool. We hadn't played a show in a couple years. We sort of disappeared for a little while. It was incredibly surprising seeing that many people show up and care about the band, especially since we tend to go into hiding now and again. It was inspiring, i didn't know that many people were actually aware of us. I don't think it was even really planned to make an official music video out of it, but our friend Ryan Blewett did a killer job getting all the footage and putting it together.
What's up next for you guys? Any plans for a full-length release?
Most likely we will put out a bigger body of songs rather than just singles. Maybe we will release an album, maybe an EP, who knows. I think singles have become so much more of a standard thing, especially with Spotify and Apple Music being what they are, but we don't want to focus too much on big campaigns around single songs and we don't want to make people wait months in between. We have so much music recorded, and I think our fans will spread the word when it all comes out, so whether it's an EP or a full length album, I think it's going to be awesome. We're excited to be at the beginning of something again.

---
Rachel A.G. Gilman is a writer, a radio producer, and probably the girl wearing the Kinks shirt. Visit her website for more.
POP⚡ DUST | Read More About Music...
Rock-Steady: An Interview with Jennie Vee. Her new EP 'Suffer' is out now
INTERVIEW | Circa Survive write their best songs ever on "The Amulet"
Princess Nokia's "1992" is a nostalgic account of 90's culture, adolescent angst, cartoons, and identity
---