We knew Frank Ocean, if he was going to show, would be great. Solange, Tame Impala, these are known quantities for anyone who's had their ears near a Sirius radio for the past year. And Trent Reznor, that guy's been delivering since.
Noname
A gleefully inappropriate moniker for the rising Chicago singer and MC whose debut mixtape was among last year's most enjoyable breakouts. A poignant blend of the R&B they used to play on the radio and a Kendrick-era eye for social realist setpieces, Telefone had been passed around enough to fill up a Saturday afternoon tent, with a particularly large section singing along to the words of its opening track "Yesterday," named one of the best tracks of last year by Pitchfork.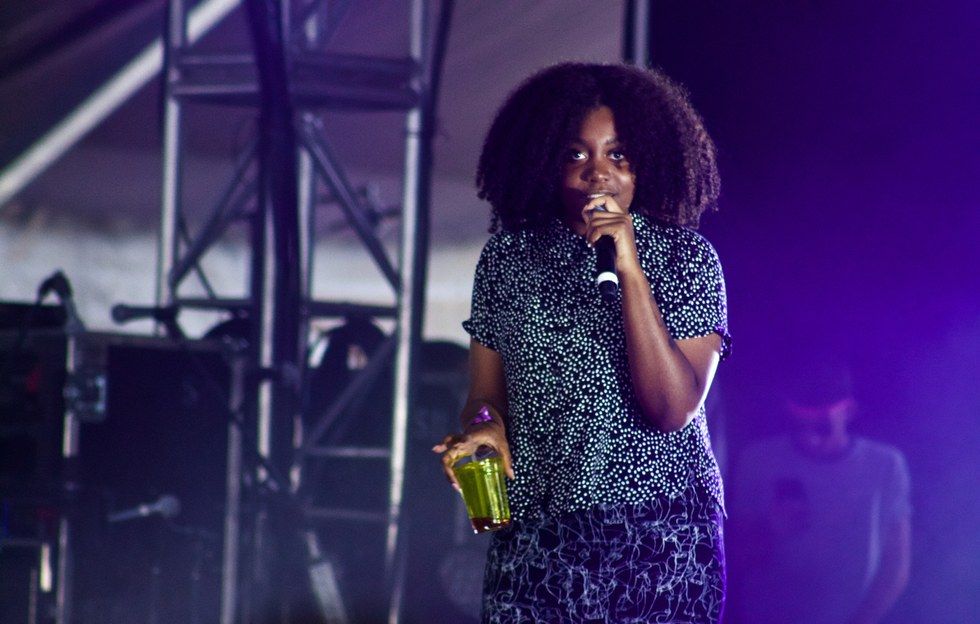 Noname, from this weekend's Panorama Music Festival (Andrew Karpan)
But Fatimah Warner was ready for the hype: arriving on stage in the kind of secretly sparking dotted dress that would get a few extra seconds of Melina Matsoukas' camera on HBO's Insecure, she moved around the stage as if she owned it and, naturally, she did. The old school vibes were completed by an analog backing band, keyboards that sounded like church organs. After confessing to have to put her career on hold in order to help an ailing aunt, the emotional centerpiece of Telefone's "Reality Check," she turned to the afternoon crowd and smiled: "They don't want to hear that sad shit, they want to get turnt."

Mitski
2017 has been a lot of things and most of them blow. One of the less bad of those things is that it has been the year of seeing Mitski, whose live show has been criss-crossing these fine United States for much of the past few month in support of her breakout record, Puberty 2. I, myself, had seen Mitski no fewer than two times already and I was unsure if I needed to see her again. I could, like, be buying ten-dollar slices of pizza or something. But nah, lemme tell you, not enough.
Her presence on stage remained as stoic as ever, holding the bass guitar like how I imagine the guards stand in those Kafka stories. Her interactions with the rest of her three-piece touring band, including a guitarist whose energetic hardcore bravida painted a stark contrast to Mitski's own unmoving stillness, a conductor waving the baton of a post-hardcore orchestra. These are Ian MacKaye's old wastelands, Mitski's yelling is more composed and better for it.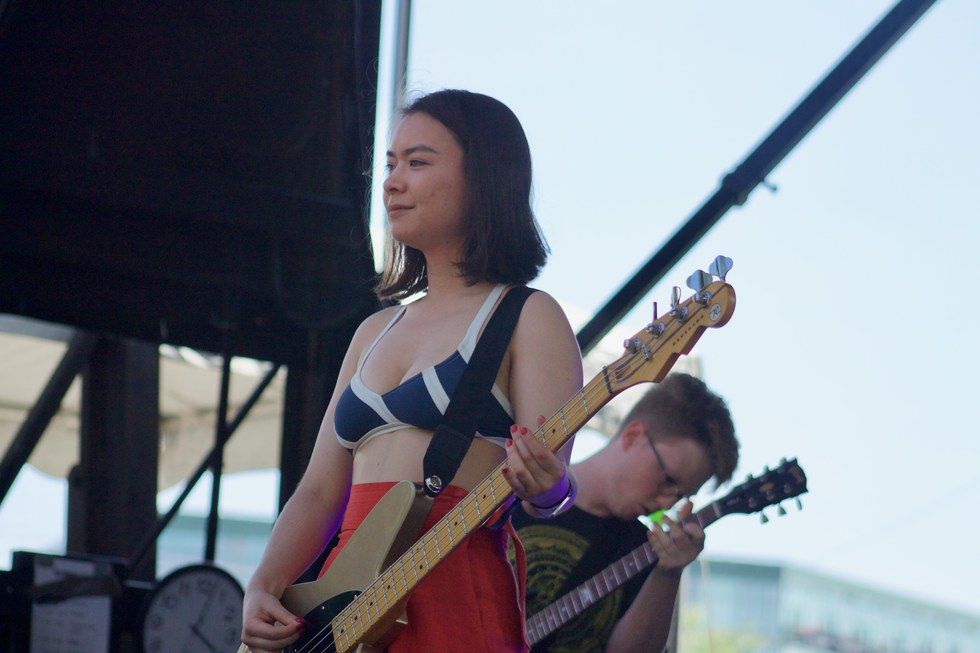 A shot of Mitski from this year's Pitchfork Music Festival (Andrew Karpan)
Vince Staples
Part of a generation of rapper more in touch with the beat-makers than the long-winded soothsayers (Danny Brown, some of the trap scene), Vince Staples gets a lot of mileage by not trying to be the next Jay-Z or Dr. Dre. With beats helmed by No I.D., James Blake and, on his latest, PC Music-founder SOPHIE, Staples' bars hit you like Fight Club punches locked in a montage. The implicit call to raise your hands feels almost like a defense.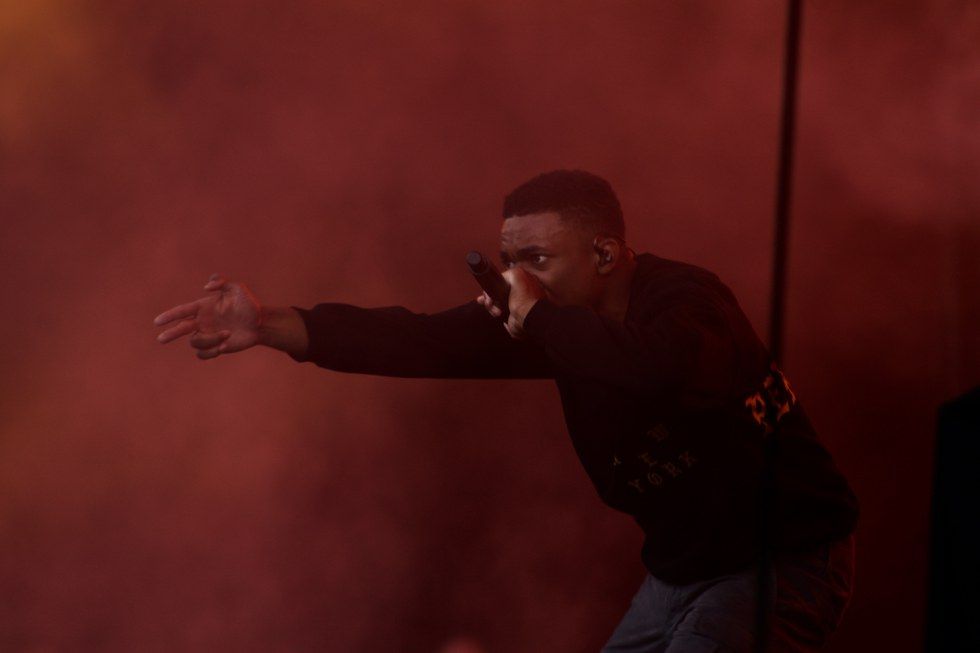 Vince Staples, in billowing clouds of smoke at the Panorama Music Festival (Andrew Karpan)
This festival season, Staples has been translating this pumping force into something brilliant: in front of a radioactive orange glow, it's just him, amid industrial levels of smoke, a music video set in hell. His body sways forward, backward, and then, for extended moments that bring hundreds to a standstill, he stands still. Contemplating? He bends down, as in suddenly taken to prayer on the dancefloor, he delivers the entirety of "Ghost," his collab with Switch. An upgrade: his verses drop like bombs.

Bishop Briggs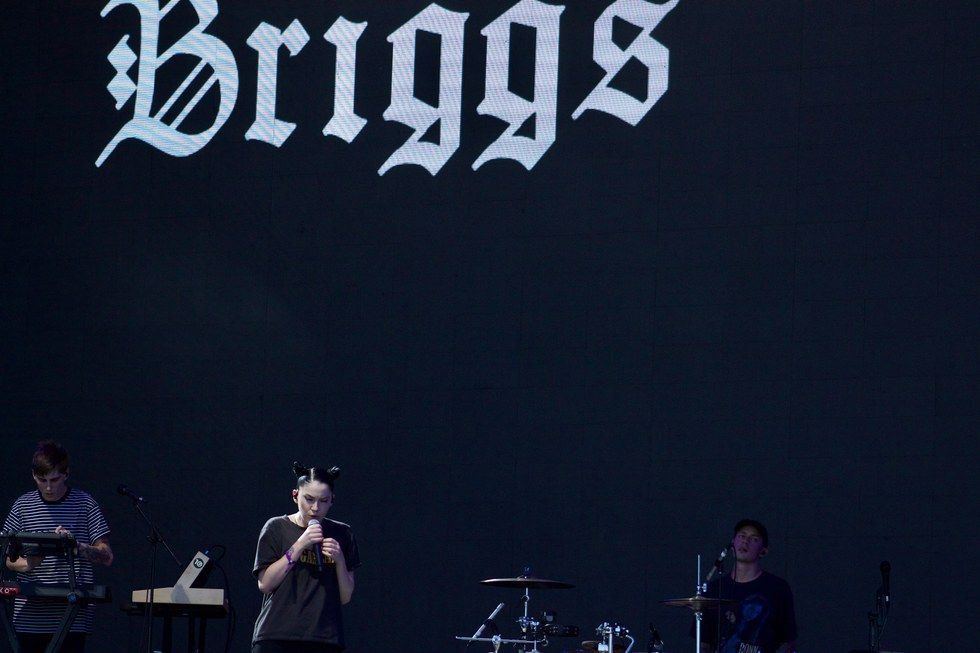 (Andrew Karpan)
A lot of people are doing the minimal dance thing: frustrated angst and sorrow over indie beats that safely ensconce you from life's bullies. But how many of them have the relentless live force of Alabama Shakes' Brittany Howard meeting the gothly soul of Toronto's Cold Specks? Sarah Grace McLaughlin, who records and performs as Bishop Briggs, is both British and from LA and boasts her own gothy emo emblem, one dangerously unsimilar to deadmau5's large ears of mediocrity. But that's paper: live, none of these things come to mind. Instead, her voice swallows you and doesn't let you go. Her live band hangs around her, giving her ever inch of real estate she need.
Belle & Sebastian
Every music festival these days seems to be packed with its share of '90s acts trying to remind the children of what it was like when Nickelodeon was cool. And that's great, hell: Tribe managed to put out one of their best records in the last year. But there's something to be said for consistency: Stuart Murdoch's band of merry Scotsmen, whose coming-of-age he mythologized in God Help the Girl, his directorial debut.
But don't let this myriad of other pursuits fool you: live, Murdoch packs a powerful punch. Every New York show will, of course, include "Piazza, New York Catcher," for which he snatched an audience members Mets cap and lay bare this '03 ode to music's biggest city. Classics ("Like Dylan in the Movies") had no problem next to some of their latest (even Girls in Peacetime Want to Dance's sythy jam "Perfect Couples" didn't feel a step out of place, performed with the same twee exuberance that their band's name has signified ever since the namedrops in 500 Days of Summer). And how about that, there's new material too.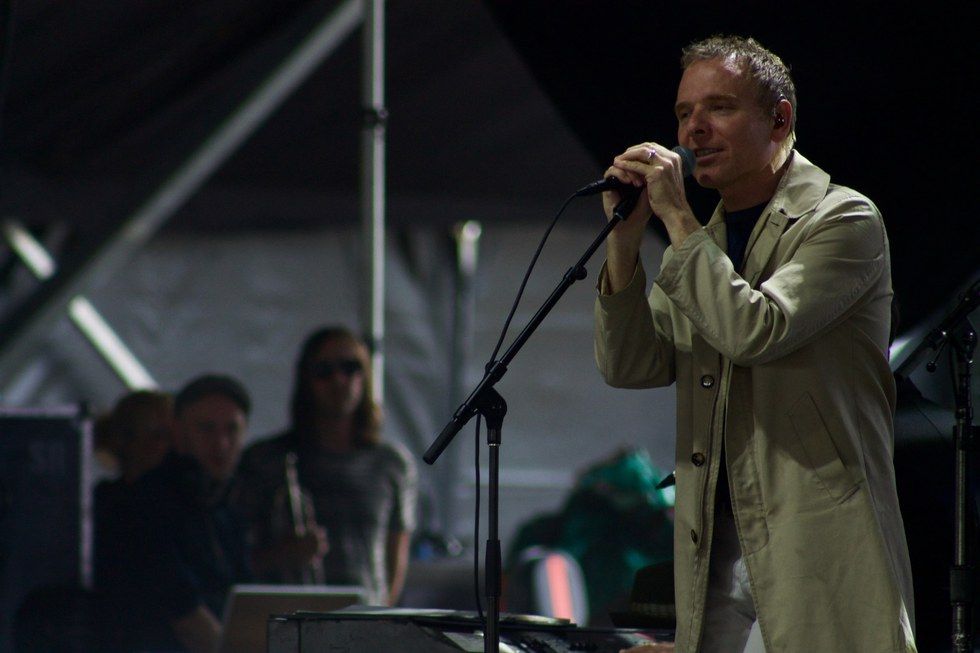 Belle & Sebastian's Stuart Murdoch at the Panorama Music Festival (Andrew Karpan)
---
Andrew Karpan goes to lots of concerts. Too many. Something quirky about him. Why don't you follow him on Twitter?