MUSIC
The singer-songwriter has been making music since the nineties and her VMA's appearance was proof that she'll be around far longer.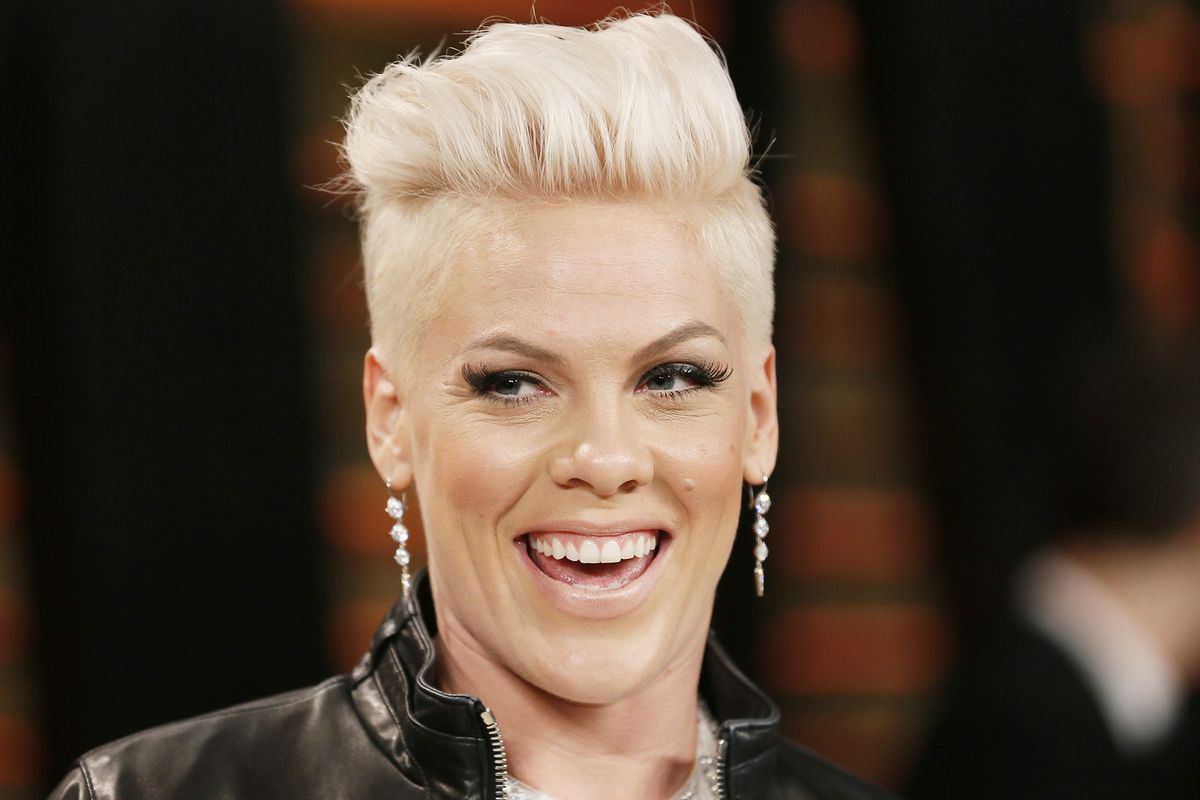 "Embrace the freak that you are." -Pink
P!nk has been relevant in the music industry since the nineties and the singer has not stopped, stalled, or slowed over the past two decades. The music industry can be exhausting and so when I see artists like P!nk stay true to who they are, constantly produce amazing music, and adapt to the changing times with such poise and endurance I can't help but be impressed. Last Sunday at the VMA's P!nk received the 2017 Vanguard Award celebrating her seventeen year long career and all of the accomplishments she's racked up in that time. Let's take a look at her career.
Early Career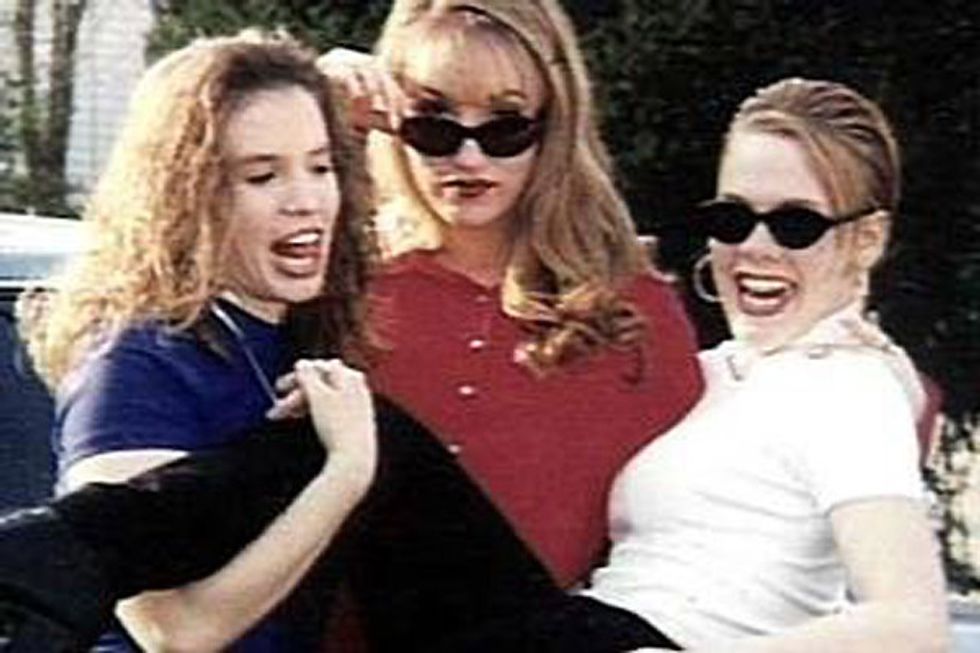 R&B group Choice (MTV.com)
P!nk became performing in the late nineties first on her own in Philly but soon later auditioned for girl group Basic Instinct that disbanded before releasing any music. She then joined R & B group Choice at age 16 who had one successful single "Key to My Heart," before P!nk was told she had to go solo if she wanted to keep doing music.
Solo Debut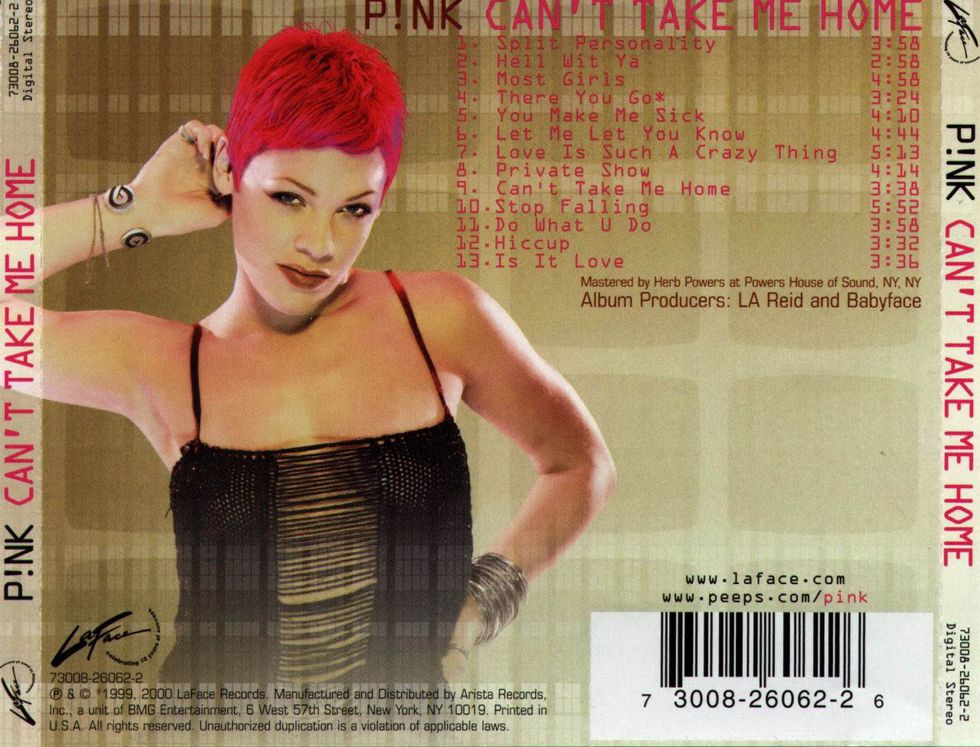 P!nk's debut solo album (3 Dollar Cd's - Storenvy)
P!nk received notable commercial success on her first solo album Can't Take Me Home and her first single "There You Go" which established her in the commercial scene right out of the gate. In 2000 she won Billboard's Female New Artist of the Year causing her to gain even more momentum.

Breaking the mold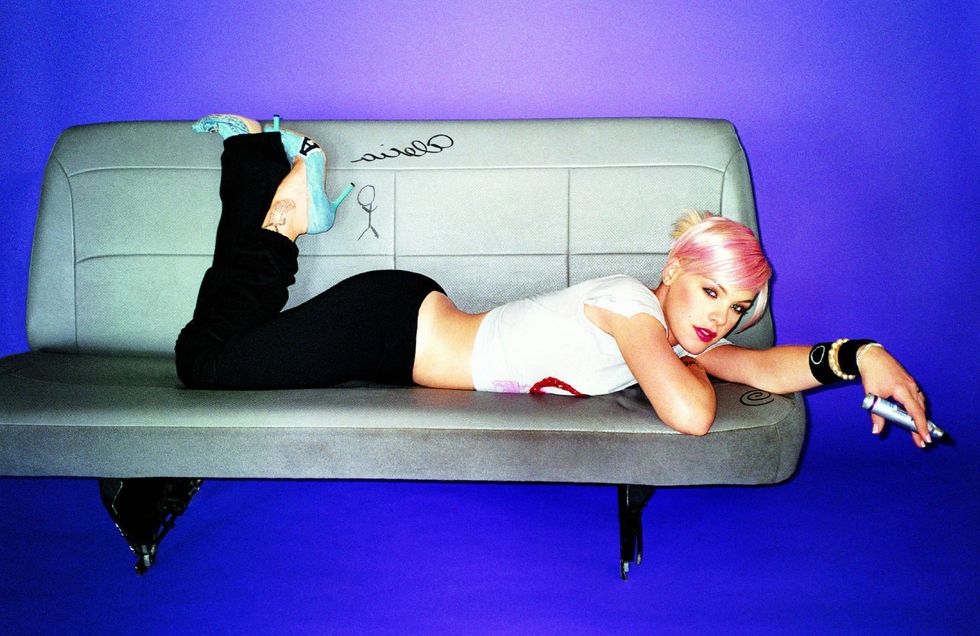 P!nk circa Missunderztood (On This Day in Pink History…)
P!nk has a long history of breaking industry norms. She started by taking creative control over her second album Missundeztood which she worked on with idol and singer Linda Perry of 4 Non Blondes. Together they created an album that racked in countless awards and had four singles that did extremely well in the charts that year. It was then that she really established herself and her personal brand in the industry.
I'm Not Dead and Stupid Girls
P!nk's next album Try This while still very successful did not top her early success with Missundeztood; however, she made a great comeback in 2005 with her fourth album I'm Not Dead and specifically the single "Stupid Girls."
Greatest Hits...So Far!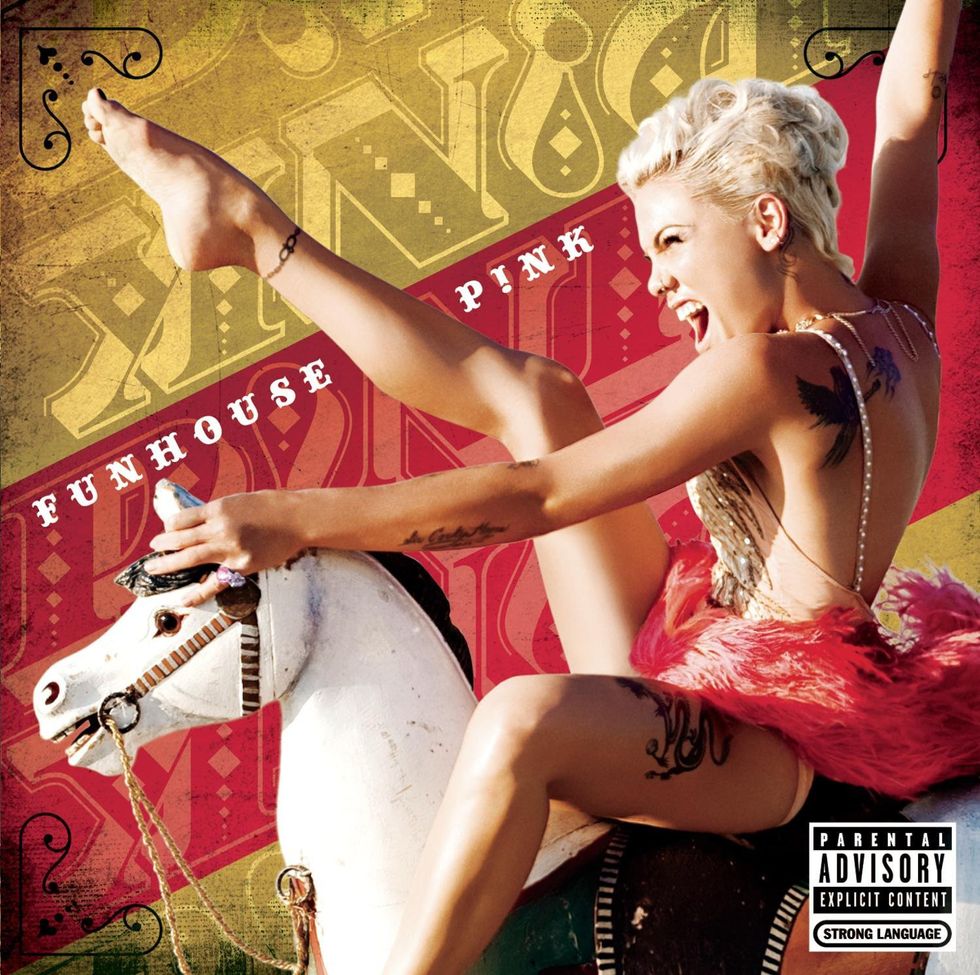 Album art for Funhouse (Amazon.com)
Following a lot of success with Funhouse, Pink released her first compilation album Greatest Hits...So Far!!! proving that not only was she a music industry vet but also would be around for a long time.
The Truth About Love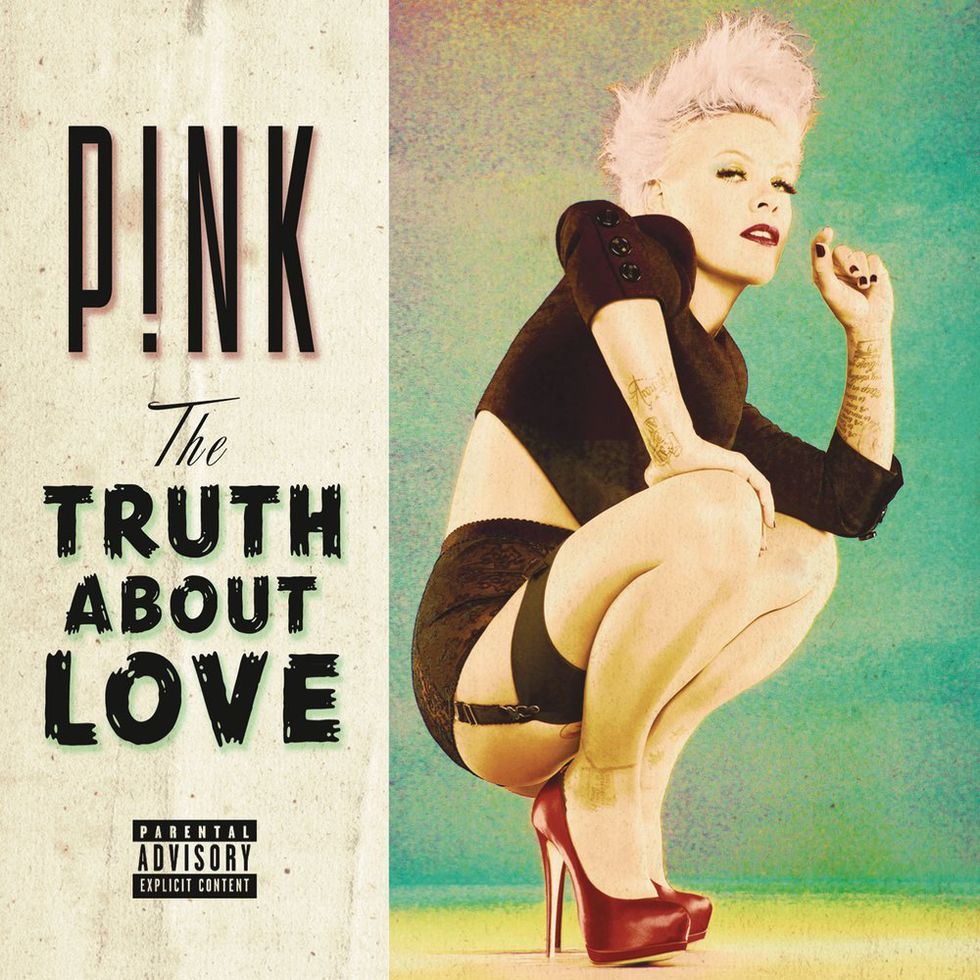 The Truth About Love cover art (Amazon.com)
P!nk's 2013 album The Truth About Love saw a new level of success winning a Grammy for Best Pop Vocal Album and the tour being the 3rd most successful in the US that year.
Beautiful Trama
P!nk releases her seventh studio album Beautiful Trama in October and the first single was released last month. She performed the leading single "What About Us" in conjunction with other hits from her career on the VMA's last weekend before receiving the Vanguard Award.
Amazing role model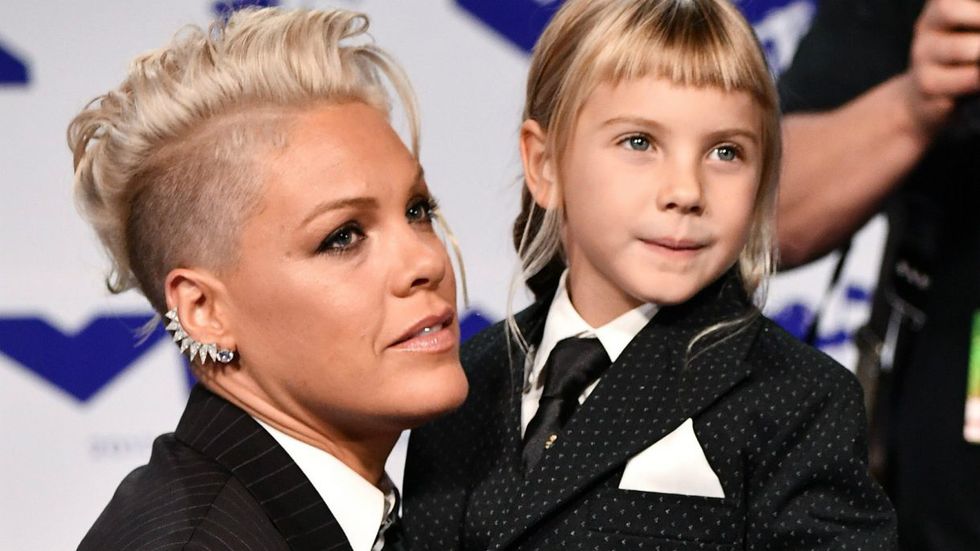 P!nk and her daughter Willow at the VMAs (Marie Claire)
P!nk has always been unafraid to rock her own personal style and be confident in her unique brand of beauty. She has had a long history in being a role model for her daughter. Recently, her daughter was bullied for her appearance and expressed concern to her mom. She spoke out about this during her acceptance speech at the VMAs relating with her daughter who was bullied for looking "like a boy." P!nk said to her daughter, "OK! So, baby girl. We don't change. We take the gravel and the shell and we make a pearl. And we help other people to change so they can see more kinds of beauty." She has for a long time been a role model to young women and men who want to express their own unique style.

P!nk is in great company in receiving the Vanguard Award. Other recipients include David Bowie, Michael Jackson, and U2. She is clearly one of the greats and her consistency releasing new music and being an amazing role model proves that she will endure a long career and continue to inspire us!
---
Anie Delgado is a contributor to Popdust and is an actress and musician based in NYC. Follow her on Instagram and Twitter @anie_delgado and on Facebook and check out her music on Spotify.
---