Imagine if HAIM carried around a large leather grimoire.
That's certainly the case for witchy sisters Monika and Karen Walker of The New Tarot. The relatively new band––helmed by the sisters, who play keys and sing alongside band members bassist Dave Kahn, guitarist Elizabeth Callen, drummer Chas Langston, and trombone player David Banker––has been honing their specific brand of "post-genre indie alternative" music since forming back in 2014. It's been a long road for the pair since that fateful decision to make music together: since growing into a full-fledged band, they've released an electrifying EP called God of Science. With a sound that veers between the angst of Alanis Morissette and the familial tenderness and chemistry of HAIM, these sisters are carving out their own path as the next sister act to take on the music world.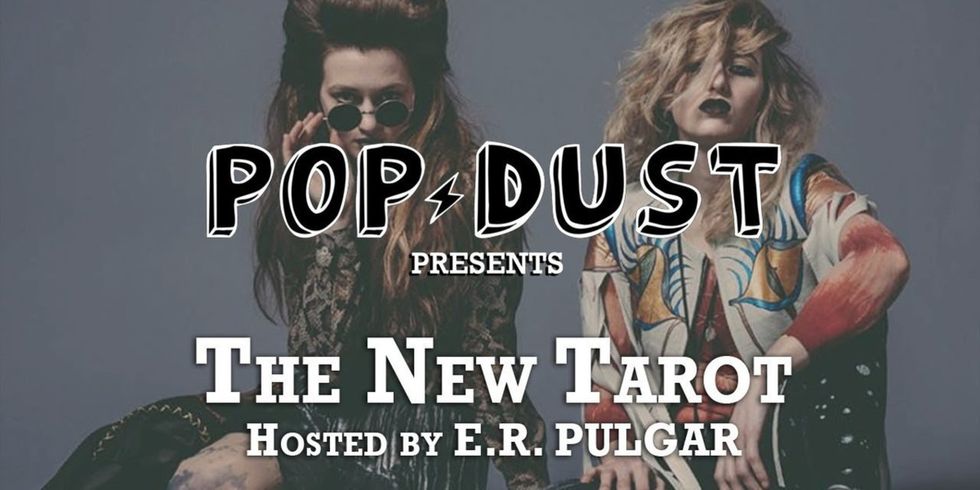 The band has never shied away from large topics or bold statements despite just starting out: the cover art for God of Science, which features the face of Jesus over Stephen Hawkins body, explores the in-betweens of scene, religion, and the current struggle. As they exalt the "god of science," they criticize those who've made money their God, and lift up those who aren't as fortunate. The emotions at the core of the EP are exactly what The New Tarot is about: a warm, mystical, affectionate kind of hope. Despite this, their critiques never lose their harshness; they've grown quite a bit since the shy, thumping introduction to the world that was their Stella! EP. Instead of growing reserved, they've continued to branch out, exploring their deepest concerns in the tumultuous world they inhabit.
As the band has continued to grow, their social critiques have only grown more elegant and pointed.Their most recent single, "America," serves as a combination of the mystic and the political, an honest and raw comfort amidst the current political climate. The sisters and their band, a veritable family, are here to provide comfort and a little bit of mysticism into a situation that would otherwise seem hopeless in the current climate. In an America where we don't know who to trust, where the president ignores any kind of diversity in religion or thought, it takes a new kind of American to charge everyone with magic and hope. With a full-length on the way, we have no doubt they'll continue to explore the mystic in the actual world through their music.
Watch The New Tarot perform "Reign' & "Alaska" below:
---
E.R. Pulgar is a music writer, poet, image-maker, and once cried reading Virginia Woolf. Follow him on Twitter.
POP⚡ DUST | Read More…

INTERVIEW | ICONA POP are still iconic
INTERVIEW | Ratboys talk latest album