Power Recap|Season 4, Episode 10: You Can't Fix This

"You dragged us back into the life."

Naturi Naughton produced anger, hurt, and sadness so well I wondered if this was filmed during her pregnancy. Tasha is sitting in the truck with her husband and son moments after identifying her daughter's body. Her innocent child was murdered and she's unsure why. Well, unsure until her husband tells her it's because he angered the Jiminez and Raina's death was street retribution. He sets off to get revenge and Tasha throws away the notion of going legit at the very time she was actually ready to change her life for the better. Now the mourning mother wants blood, and she wants Ghost to do it quickly and quietly because they have two children that need them. This is ironic not only because the youngest St. Patrick was sent to her room two seasons ago and only seen about twice since, but also because their son actually knows who killed Raina and is keeping the killer's identity a secret, even from his parents (as I predicted), sending Ghost on a murderous goose chase. Tasha knows Tariq is lying and notes that her husband doesn't see it because their son lies just like his punk ass daddy I mean Ghost.
What happened next is a little weird. They go into the house where Kesha greets them with a house full of people we assume they are close to. This is strange because Raina died hours ago and their house is full of people like it's a repast. If I had to guess, I'm thinking that this scene is to show the duality of the St. Patrick's, mourners and murders simultaneously. While each tries to cope with the loss, they are met with the well-intentioned but annoying phrases that people say to provide comfort, my favorites being "everything happens for a reason" and "I can't imagine losing a sibling, but especially not a twin". We know it is not long before Tariq turns to the lean, and for once, I'm not all that mad at him. Ghost has already gone to the place he goes before he commits every murder, his closet, and donned on his finest all black murder outfit. When Ghost pulls out the vest and gloves, somebody is dying. We just hope it is the right person. There's this moment when Ghost sees the Man of The Year program on the floor, picks it up, and crumbles it prophetically. I want to scream don't do it at my television but, it was his daughter, so...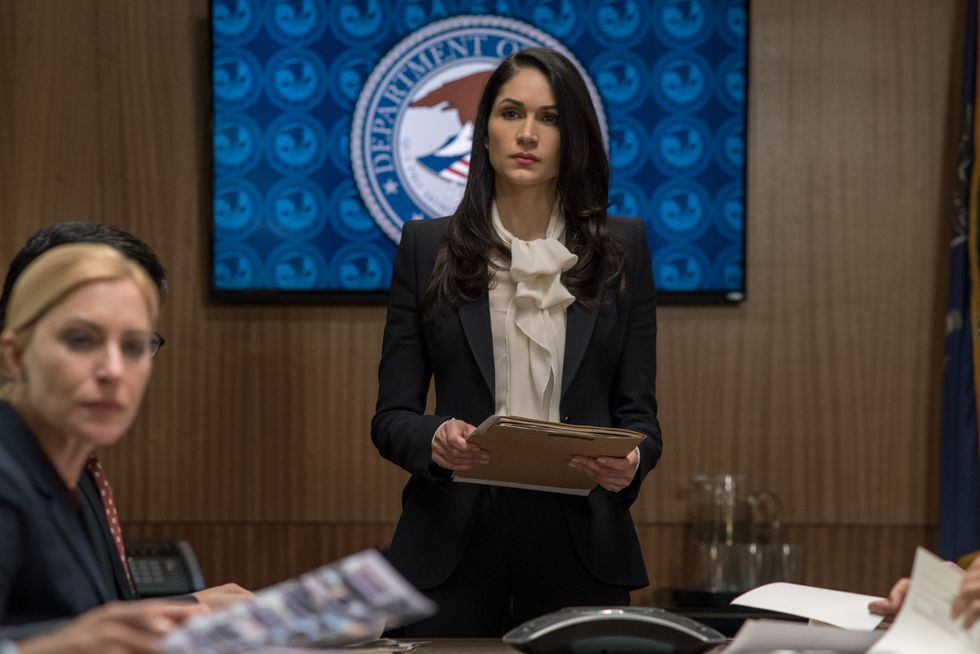 Angela(Lela Loren)'s in charge.Photo Courtesy of Starz
We see Angela in her new role, she takes John Mak's case and gives it to the entire team in one fell swoop of a power move. The case seems to have a Jimenez tie (with the gold gun), so right away we know next season she will still be entwined with Ghost and sacrificing her job and her morality. Sax comes in and smugly breaks the news that Raina was killed outside of her school. He is inappropriate and insensitive, but he's also really good at making it known he doesn't agree with the fate of the case and Angela in charge. On her break Angela goes to send condolences to Ghost, tells him to let her handle it so he doesn't die, and then goes to visit Raina's real killer, Rar Ray. She asks RayRay why he was visiting Tariq at school, and Ray Ray seamlessly slipped into Officer Friendly mode, saying he was trying to scare Tariq straight. We later find out that he also told Angela he thinks Tariq killed Raina.
In the middle of this, Ghost and Tommy shoot it out with some Jiminez guys, and two important discoveries are made, Jiminez's don't kill kids and Julio was set up with Dre's assistance. They all die though because, killers. Ghost kills him before he spills the rest of Dre's plan to Tommy's dismay, but Tommy also let's it rock because his best friend's daughter is dead.Guess that marriage counseling Kanan recommended is no longer necessary.
Silver comes to see his mourning girlfriend and says he loves her. He notices Ghost is not at the house, and immediately knows that criminal workings are underway. It's in this moment that Tasha could not care less about going legit. She wants this handled swiftly in the streets according to street rules-blood in, blood out. She then tells Silver to leave. Their fairy tale is over, there is no happily ever after.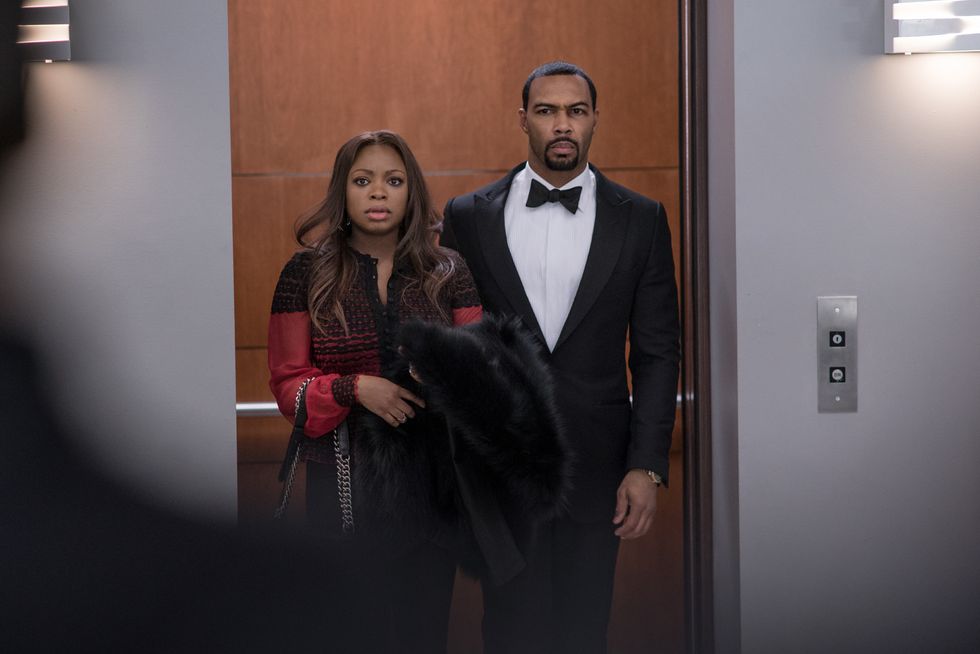 Ghost and Tasha come in to a house full of people after Raina's death.Photo Courtesy of Starz
Tommy goes to pay Dre a visit and sees him talking to an undercover cop. Unbeknownst to him, he's really seeing Dre with Raina's killer. Meanwhile Tariq is on his way to see Dre too, geeked up on lean and grief. It's here that I feel the need to talk about Kanan. Y'all know I love Kanan. Any episode he appears is a good one and here goes my murderous bae figuring out who killed Raina before anyone else, though Angela was close. While plotting on Dre, he connects the dots between her death and Tariq calling him looking for Ray Ray. He calls Tommy to let him know Ray Ray must die and to let him know that Tariq is probably looking for him. Meanwhile, Ghost is meeting up with Councilman Tate , who wants to exploit Raina's funeral to help his crooked pastor. I see I'm about to hate Larenz Tate's fine self like I hated Idris in the Wire. I also wondered how Ghost didn't punch Councilman Tate in his face when he told him that the funeral would be there, no matter what. The "Are we clear" took me out and Ghost should have taken Tate out but I guess that's for season five.
Now here comes the ascension into climax (which is also a great name for a Maxwell CD or a band, just run me my money).
---