FILM & TV
TELEVISION | Ghost is free, lines are blurred, and family is redefined.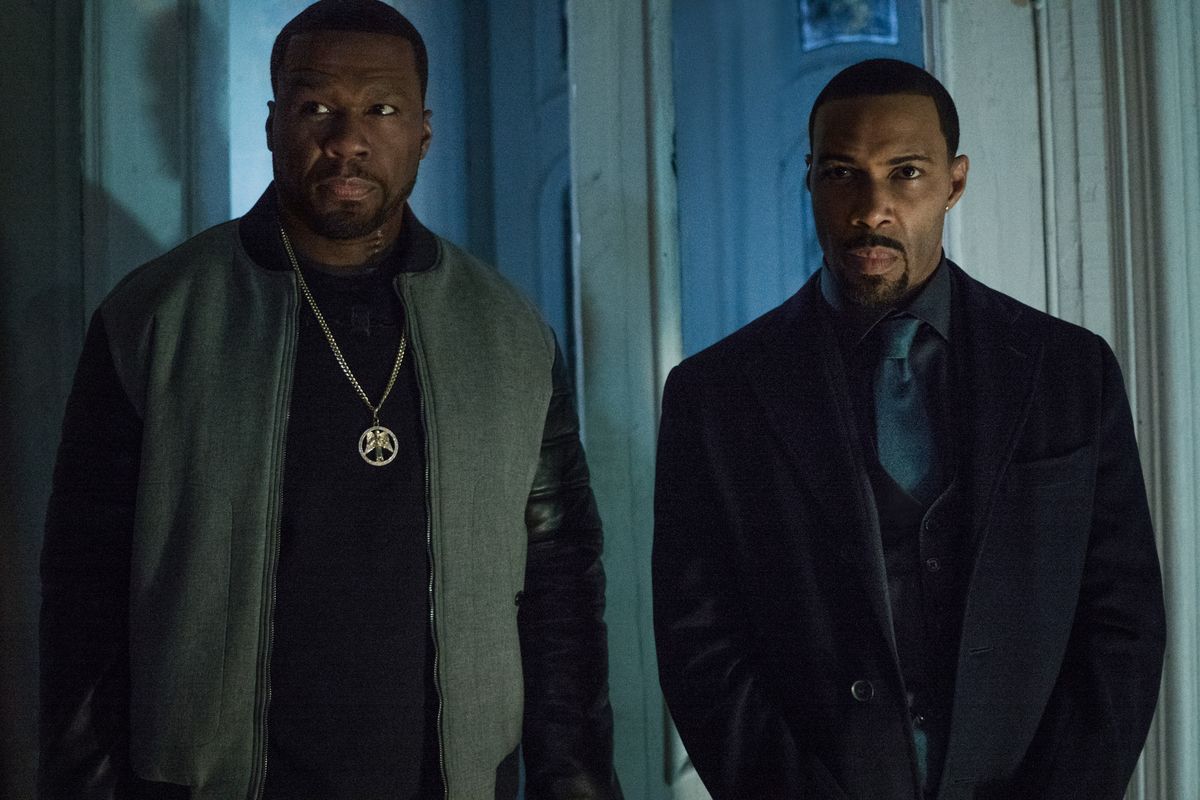 "We need a resolution. We have so much confusion"
Every climax needs a resolution, and after the climatic Episode 5 of Power, it's easy to sound like Aaliyah on her 2001 self-titled album. After cliffhangers, revealed secrets, and growing character arches, it was clear that episode 6 would have to balance carefully answering questions and propelling the story without slowing the pace. Luckily for viewers, the cable hit had writers who accomplished that, answering some questions dating back to season one.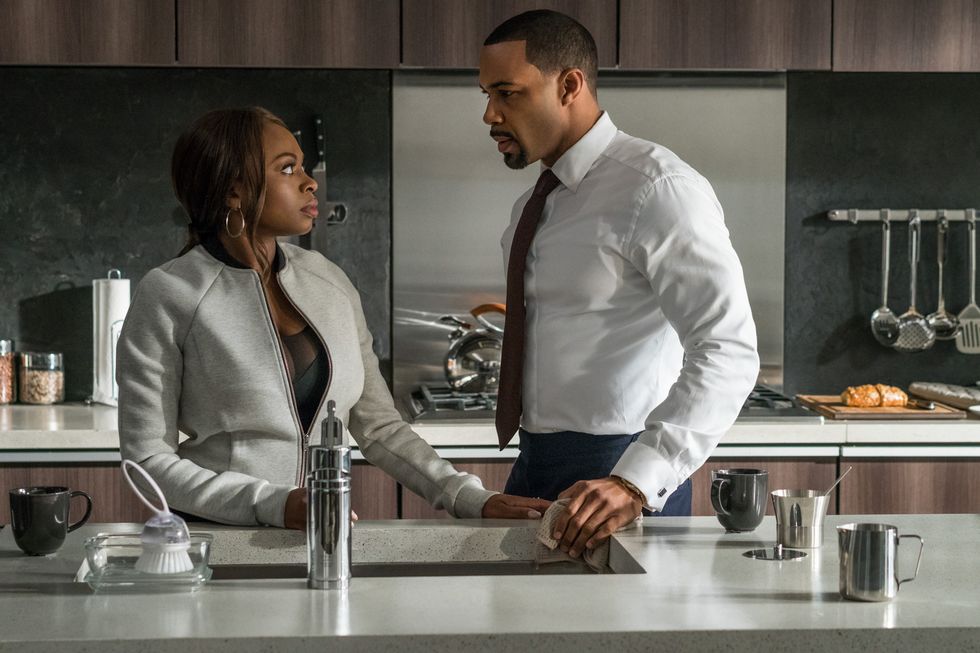 Tasha and Ghost's first conversation after his release from prisonPhoto Courtesy of Starz
Who should be hurt? Who should be blamed?
Ghost ( Omari Hardwick) is home free, sort of, after killing a man and wants his wife and life back. Though he may be the luckiest guy in New York, escaping a prison sentence, trial, and getting his club back--life and possibly his wife have different plans. Tasha (Naturi Naughton) is unsure if the affair between the her husband and his mistress-turned prosecutor-turned martyr are over. Truth, which may be the only thing Ghost valued consistently throughout the series, is open, but as he walks around smiling, grateful, confident even, he is immediately greeted by two ghosts of his own past.

First there is Stern, who reveals that Tasha loaned money from his as a floater, and tells him he will forgive the loan if Ghost plays the face of his real estate business as he plans to gentrify while getting minority business loans. Ghost is blindsided and angry that he has to deal with the devil again, but that anger has to wait, because he then gets a call from jail. It's Teresi, who we presume is Tommy's biological father, eager to speak to Tommy. He warns Ghost that if that reunion doesn't happen, then there's will, as Teresi will tell the guards who really killed the prison marshal ( Charlie Murphy).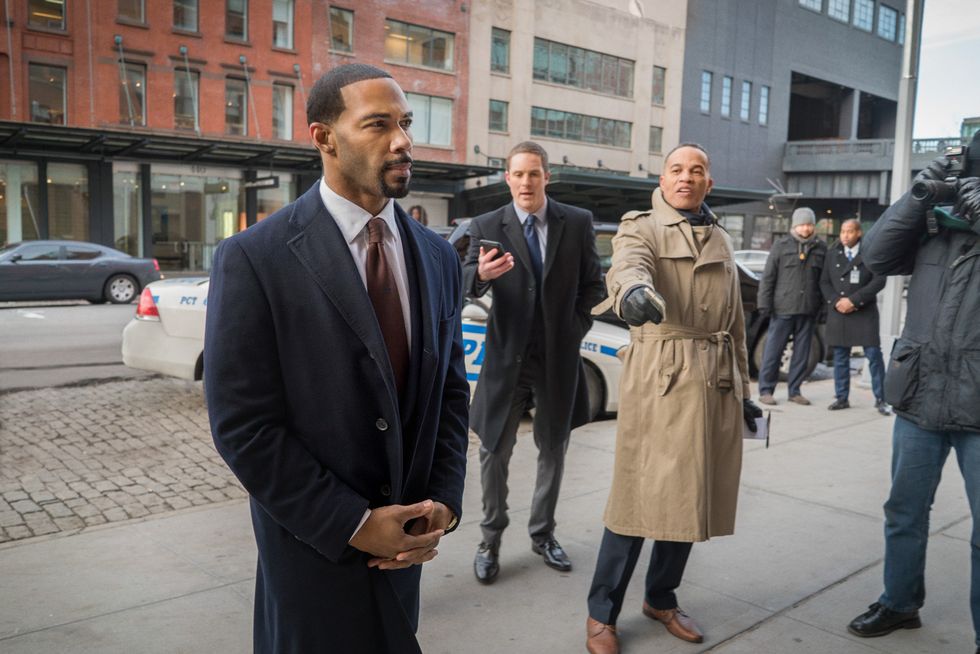 Who should be hurt? Who should be ashamed?
One thing Power does is push the boundaries on character development and relationships, especially with women. We see the soul-less Jukebox eager to put a hole in Taqriq's ( Michael Rainey Jr.) head, and the first thought is "who hurt her? Why is she so evil?" though the internet has been calling for Ghost's prodigal son's death all season and we watched Kanan (50 Cent) kill his own son and moved on without a real second thought.

Next we have Lakeisha ( Lala Anthony), whose jealousy is on the precipice of hate against her best friend Tasha. With an open shop and a missing beau in Tommy, Lakeisha now equates Tasha for ruining every good thing she had going for her over the last few months. There is a "bye" that she utters after her meeting with Tasha that sounds so final, Tasha checks in with Tommy to see why he has gone missing in action. Of course, there is no answer, as Tommy is in Chicago with the suppliers.
It seems though, that the suppliers have questions of their own they want answered. Is Tommy willing to part with Ghost, and what happened to Milan? Turns out they did not order the hit on Milan as Tommy was told, and they want Milan's killer to pay. As Tommy kneels, ready to die for a hit he didn't put out, the moment comes where life flashes before his eye. His life, it seems, is just Holly. When the truth comes out that Tommy did not order the hit, but Milan's henchman did, Tommy is set free to be the drug kingpin he wants to be, without Ghost in the picture. The first place he goes is to see the only other person who betrayed Holly as much as he had, her molester, her uncle. It's now,we hope, the Holly saga is resolved.
Who should be hurt and will we remain?
While Stern, Ghost's freedom, Tommy's status as living or deceased, and the status of the club are resolved, the fate of Julio, Dre, Kanan and Tariq is still unkown. Julio is the enemy of Dre ( Rotimi), especially after he peeped the clandestine meeting between Dre and Kanaan. Dre takes his teacher pet rivalry to the ultimate level and has Julio killed by the gang he left bypassing the "blood in, blood out" rule. We watch Julio put up the fight of his life, but ultimately meets his demise. Though Dre's secret may have died with Julio, the Kanan drama has not.
Kanan reveals that Jukebox has Tariq and will kill him unless he and Ghost come back with ransom money. They rob Tommy's safehouse, Kanan kills the money washer, and they go to reclaim their son. There's a synchronicity from the moment Ghost and Kanan meet until their departing that hints that their working relationship may not be over. There is a love for Tariq that they share that Kanan admits he didn't have for his own biological son. Kanan admits this all as Jukebox demands he confess to Tariq that their friendship was a con, ensuring that Tariq's final moments are miserable before she shoots him. This scene is a cinematic beauty. There's this perfect triangle in a blank room, where at any moment, Jukebox, Kanan, or Ghost can be the perceived head, yet Kanan and Ghost always remain parallel, on the same mission to save the boy. In the end, it is Kanan who puts the bullet in Jukebox to save Tariq, and before he runs away with the money, he looks at Tariq and tells him he will see him around. A promise he is sure to take up. But Tariq is shell shocked, and as Ghost hugs his son, Tariq's arms lie stifly at his side and he doesn't connect with his father in what may be Michael Rainey Jr.'s best and most understated pereformance on the series so far. Kanan may have saved Tariq's life, but he broke his heart.
---
Brittiany Cierra is an entertainment and travel journalist and On-Air host highlighting where culture, music, film, television, and current events intersect. When she's not writing about people, places, and things, she's dancing on them or marketing them. Follow the journey on twitter and Instagram.
---
Editor's Picks

RECAP | Power, Season 4, Episode 1: "When I Get Out"
Remembering Charlie Murphy-The big brother of comedy
EXCLUSIVE | Jessie T. Usher: The man behind the super hero
---