[Note: While I have a signature of weaving some of my favorite songs into everything I write, this recap uses Dick Gregory quotes as headers. On August 18, 2017, one of the most prolific, thought provoking, and hilarious men left this earth after 84 years of learning and teaching. Rest In Peace Dick Gregory.]
Season 4, Episode 9, "That Ain't Me"
"Love is man's natural endowment, but he doesn't know how to use it. He refuses to recognize the power of love because of his love of power."
So here we are. Tariq and Ghost basically have a second chance at life, maybe third for Tariq, and it looks like he has had enough of being a whiny, unappreciative teenager unable to grasp the concept of familial loyalty. He is finally ready to go to Connecticut and escape the thug life his parents sold all those drugs to keep him out of. With Ghost in the background teaching his son how to live a double life, Tariq passes an interview for Choate. Ghost tells him he is becoming the man he always wanted him to be, the best version of him. It's clear that Ghost had no idea how far, yet how close he was to really understanding Tariq in that one statement. In the car, Tariq uses this time with his father to get ahead of his own crime-filled life as an accomplice in a robbery turned murder. He does this "clever" teenage mind trick where he masks his situation with future co-conspirator Brains as curiosity for his Dad's situation with Kanan. He wants to know how to get a killer off his back, and his father reminds him that one can't go down without them all going down. This gives Tariq all the confidence he needs in dealing with Brains. Things are coming full circle, as Tariq is starting to be more like his father every day. It's funny, at this very moment the two have exactly what they want out of life, love of their family and a new start, yet there is this ominous feeling the peace is short lived.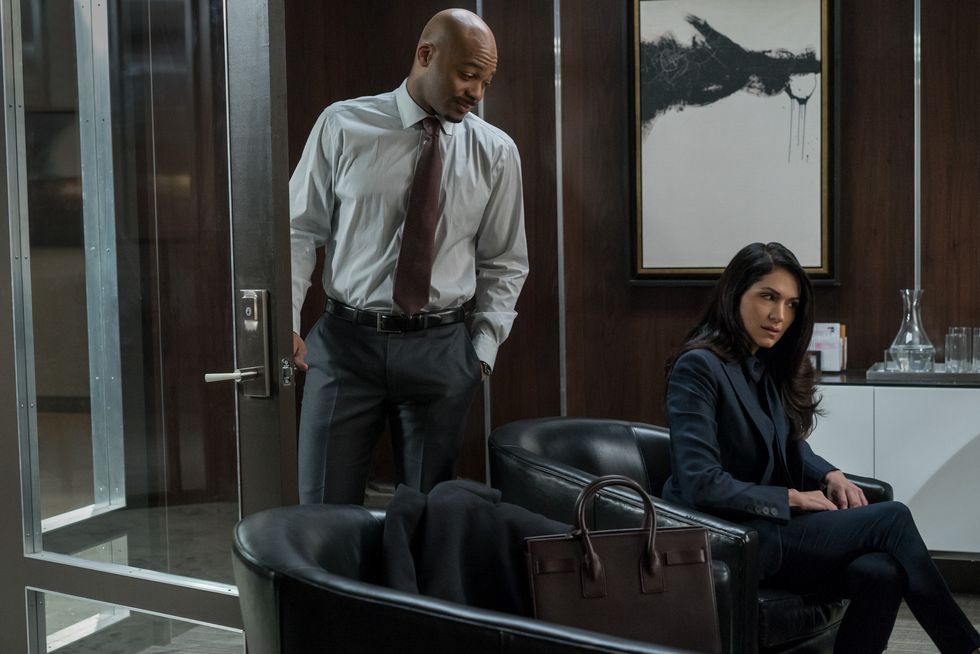 Silver and Angela have more in common than they think in this newest episode of Power.Photo Courtesy of Starz
Speaking of family, it seems Angela's sister, Paz, heart softened a little this episode. As they stand over a bloodstained couch, Paz says she's glad Mike is dead and does not care about the money anymore, she just wants Angela to live her best life. Angela pretends to admonish her sister, meanwhile, we all know that Sandoval's death was orchestrated by Angela. Still, it seems that Angela has everything she always desired, peace, her sister's support, and her job back. We know this won't be enough. We know that she wants more than her previous position, she wants a promotion as Head of Criminal. It looks like the job will go to Mak, but you never know what they are thinking in the Power writer's room.
Tommy talks to Teresi, thanking him for handling the Sandoval problem. As payment, Teresi says he wants to meet his son. Tommy points out the fact that he is a felon and can't visit him and Teresi drops the bombshell that Kate has evidence that Teresi is his biological son. Tommy can get the evidence, Teresi can get the visit. From the very first episode of the series Tommy has shown how important family is to him, so much so that he made a psuedo-family to fill the void. It will be interesting to see how the two families fare if he ever has to choose between the St. Patricks and Teresi.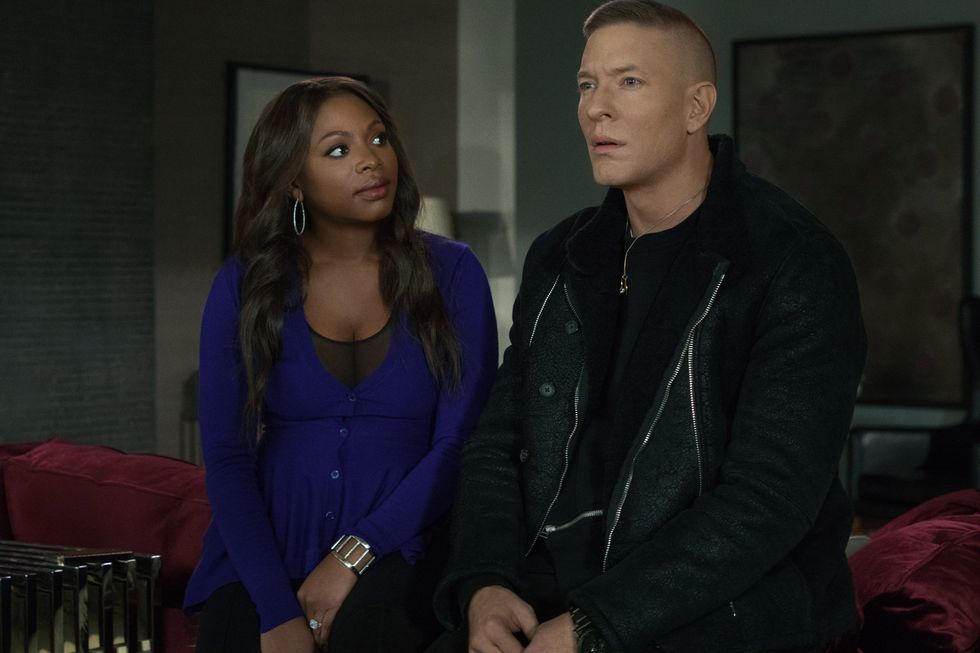 Tasha (Naturi Naughton) telling Tommy (Joseph Sikora) that she's ready to go legit in Power Episode 409Photo Courtesy of Starz
Political promises are much like marriage vows. They are made at the beginning of the relationship between candidate and voter, but are quickly forgotten."- Dick Gregory

While Ghost is running the streets of Queens trying to bring reality to the man he portrays to be on camera, we learn that Ghost also wanted to go to Choate. He felt like the lack of opportunity is what kept him in Queens, and is grateful that even though another young girl in the neighborhood was afforded the opportunity while he was not, they both ended up successful. We know right away this young girl is Angela, and the skeptic in me feels like this is code for "I miss you". Councilman Tate leaves the interview to service the community, stopping to talk to corner boys, and I can't help but think he's dirty. I know I said this in the episode 7 recap, but you can't clean the streets without getting dirty, especially in politics. There's some connection he has to the streets that I've been impatiently waiting to get revealed for weeks now. In the meantime we watch him get Ghost more stakes in Stern's company. Now, I like money, but I know it's never free. Hopefully Ghost is not so caught up in the facade of being Robin Hood that he forgets this lesson as a businessman.
Remember when Tasha was still pretty immature and didn't understand the purpose of Ghost going legit. Well, one affair, jail time, a kidnapping, and a lawyer who does karaoke later, she wants to get out of the game herself. She says her reasons are purely for her well being, but you can't help but think it's mainly because of her love for Silver, who she still keeps kissing in her house like her two kids, imaginary third, imaginary mother, and estranged husband do not live there. While Silver comes over to drop off some of Ghost's things from evidence, Tasha let's him know she is thinking of expanding the hair business. As soon as she says the words invest Silver lets out an emphatic, "Not it!" and Tasha ensures him that she plans to use Ghost's alimony check from the divorce she has yet to file. Is it just me, or is everybody counting their chickens before they hatch? Except Silver. He said he doesn't have any chickens so don't ask.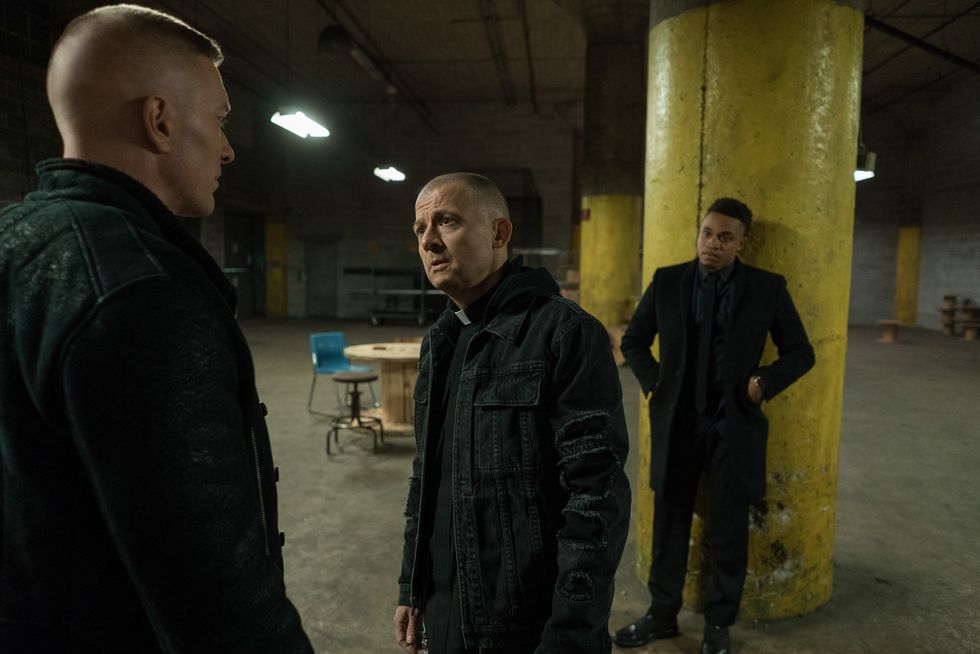 Tommy (Joseph Sikora) loses his last dealer, and later Dre (Rotimi), all according to Dre's plan.Photo Courtesy of Starz
"When you have a good mother and no father, God kind of sits in. It's not enough, but it helps."- Dick Gregory
Tommy wants his birth certificate and Kate keeps playing like he hasn't killed a redhead he loved for betraying him before. He starts breaking her dolls when she refuses to tell him w here to find the documents. Kate thinks this is her same son she will be able to give a weird mouth kiss to, ask for coke and then go on her way. Nah. Tommy let's her know he killed Holly, and she instantly shows him the document which reveals a little more than any of us were prepared for. Teresi was not only at the hospital, but Tommy is a junior, and Teresi wanted to take Tommy to live with him. All of this time Tommy has been creating family in the streets and what he really wanted he had a possibility to experience. Pissed is an understatement. Instead of killing his mom, he opts for that other white girl, cocaine, and takes his car back from his mother. The same car that has a tracking device on it. Yup. Tommy is a mess, his mother is a liar, and Dre and Cristobal set fire to a million dollars in drugs to kick mission "Everybody Leave Tommy" into gear. Coked up Tommy quells his band of drug dealers for the time being and fires Cristobal, while telling Dre that he will kill his "David Blaine looking" self. Obviously I enjoyed that line, because it's kind of true, and I need to know if that was improvised.
---
"The most difficult thing to get people to do is to accept the obvious." -Dick Gregory
Tasha tells Tommy she's going legit. Another heartbreak and betrayal for the quickly unraveling Tommy. He then asks Lakeisha for help cleaning money. I was proud of Lakeisha this episode. She told Tasha earlier she was going to stop this pattern of dating men that did not put in effort (is she moving out of New York?) and instead focus on taking responsibility in who and how she chooses men. And here comes Tommy, with a sob story about his liar mom and needing clean money and thus, needing her. Y'all, our girl Keisha finally did something right and pure for herself and told Tommy she wasn't built like that. "I ain't even built like that. It's not me." I felt it in my soul. Tommy then went on to find someone else he could convince to give him the money, Ghost.