Music. Drugs. New York City. These are just some of the few things that keep the world spinning in Lizzy Goodman's oral rock history, "Meet Me in the Bathroom: Rebirth and Rock and Roll in New York City, 2001 - 2011."
The early 2000's were an explosive time for the music scene in New York, whether or not we realized it at the time. To tell the story of how exactly it came to be, Goodman spoke to hundreds of musicians, journalists, publicists, and record executives, including elusive figures like Strokes frontman Julian Casablancas, LCD Soundsystem's James Murphy, and the White Stripes' Jack White. It's a story you come to know through the people who lived it themselves, single-handedly altering the course of rock music. "This was an important and poignant period of time in the city," Goodman said in an interview with Rolling Stone. "And I wanted to document it."
The story of rock's rebirth places a heavy emphasis on the Strokes and the aftermath of Is This It. It begins with Goodman reaching out to old friend and Strokes manager Ryan Gentles, who started way back when as a booking agent for Mercury Lounge. "I felt like I had to get him on board right away," Goodman says, "in order to begin to approach achieving what I was hoping to achieve." Once he understood the ambitious scope of the project, gradually every Strokes member got on board. For a band that avoids press, reading their conversations on the moments everything began to unravel almost feels as if you're invading their privacy. One such fascinating instance is when guitarist Albert Hammond Jr. opened up about the extent of his heroin addiction, which reached a breaking point once he grew closer to musician Ryan Adams. "Ryan would always come and wake me at two in the morning and have drugs, so I'd just do the drugs and kind of numb out," Hammond said. "I knew I would shoot up drugs from a very young age. I'd been wanting to do heroin since I was 14 years old."

The situation came to light once the group asked Adams to meet them at a bar. "I was asked to meet one single person in a bar and I got there and it was the whole band and [their manager] and I was more or less given a lecture, a hypocritical lecture, and then they told me that I was not going to be part of their scene anymore," Adams said. "It was very weird. It was easy to brand me as the problem. I would suspect that they soon learned that I was not the problem." (Adams' comments in the oral history become that much more interesting once you realize it's probably the catalyst for his latest childish twitter antics, which include (but are not limited to) when he called Hammond a "horrible songwriter" and Father John Misty "the most self-important asshole on Earth.")
Of course, it can't be unsaid that oral histories depend entirely on who's doing the talking. It's no secret that rock stars might not have the greatest memory in the world - which is why Goodman looked for outside sources (like journalist Rob Sheffield - "He's a living encyclopedia," she says, "and he's the only reason I remember anything from my past") during her research. "That is why I wanted this to be an oral history," Goodman tells Rolling Stone. "The nature of memory is imprecise even though we're sure about all sorts of things. That goes 100 times for complex and emotional drug- and booze-soaked and years-ago memories. What's rad about an oral history is that all those memories can coexist."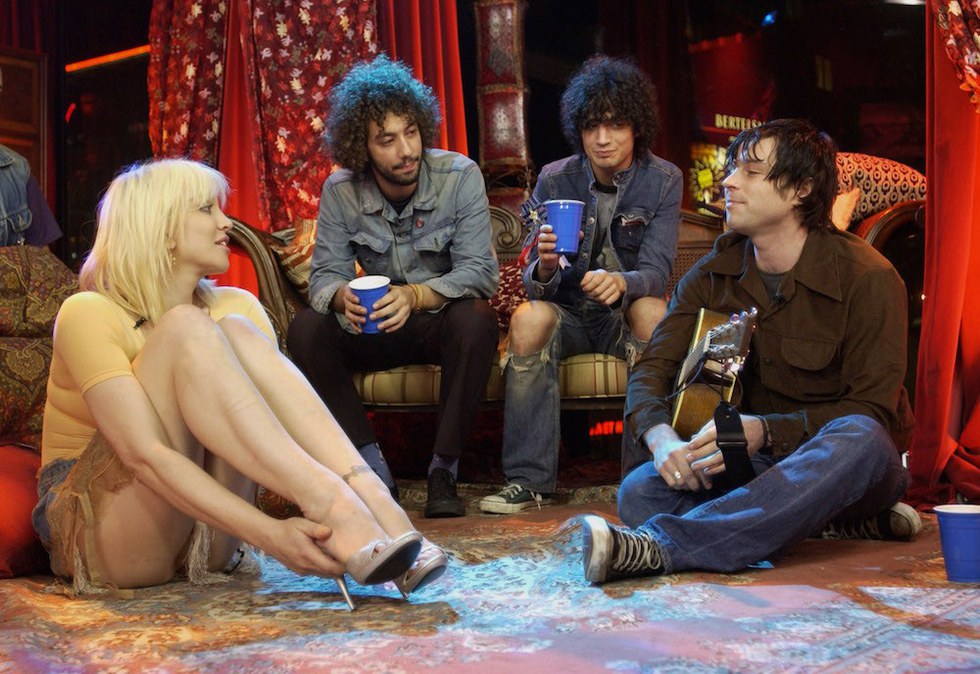 Albert Hammond Jr. and Fabrizio Moretti of the Strokes, Ryan Adams, and Courtney Love on TRL 2002
Meet Me In The Bathroom is for those who lived these electrifying, timeless years in New York, as well as those who wished they did. It's a story of music by those who were providing the soundtrack of the golden years. It's a story of how file-sharing services (like the creation of Napster) changed the music industry as we know it. "A working title of this book was The Last Real Rock Stars," says Goodman. "Interpol is really emblematic of this reality. Their first album came out in the era of rock stardom that's familiar to pop culture. It's what you see in Almost Famous or Behind the Music. By the second record, which leaked, it's like, 'Oh, so we just started this career in this old paradigm and now we're still in this thing, but we don't even know what it is.' These people are all relatively young, but they're also relics of an era that's gone."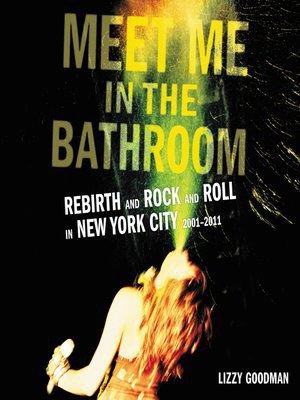 Meet Me in the Bathroom: Rebirth and Rock and Roll in New York City, 2001 - 2011 is out now and available to purchase via Amazon.
---
Vanessa is a music and culture writer. Follow her on twitter.
READ MORE ABOUT MUSIC...

INTERVIEW | a Q&A with Rooney's Robert Schwartzman
REVIEW | Nick Hakim's "Green Twins" is a soulful trip through the future