Frontpage Popular News
#Samily gather round for Sam Tsui's newest single "Cameo" to blow your mind.
www.youtube.com
"Bout time you show to stay for a while. We'll have time pretending you're mine..."
Pennsylvania native Sam Tsui has been gracing the internet with sweet covers and fun Youtube content since 2011. The early videos created in Sam and his producer Kurt Schneider's Yale dorm room. Their videos quickly rose in popularity, Tsui gaining notoriety as one of consumer's favorite Youtubers. Since his rise to Youtube fame in 2012, Sam has grown his career quickly, opening for household names like Ariana Grande, DNCE, Bon Jovi, and more. One of the most impressive things about Sam Tsui is his ability to change and growth the with the dynamic digital music age, using social media and online video platforms as tools to help his music reach fans across the world.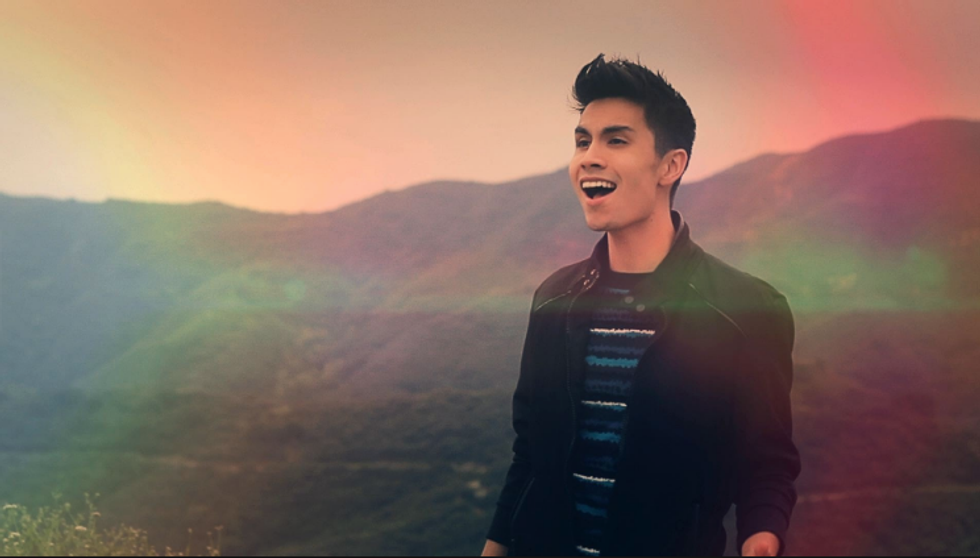 Youtube
Sam's fans passionately call themselves #samily. After hearing "Cameo" I can confirm that I'm joined the samily. Sam's crystal clear voice and effervescent persona are two of many things that make him so alluring to watch. While he started making upbeat pop videos that showcased his bubbly disposition, "Cameo" is something new entirely, yet is still very much the Sam Tsui we know and love. Tsui appears darker and more introspective in this new video taking place in somewhere that appeared to be Nowhere, America. I especially loved the usage of dance in the video. Though Sam remains pedestrian for most of the video, his love interests live in a world where they express themselves through modern dance. I think this gives the audience a unique perspective on whether or not we're in a dream or in reality. Eventually, Sam gets pulled into the world of dance, mirroring the moves of his partners suggesting that perhaps the song is about getting pulled out of reality in certain relationships. The lyrics suggest that too. Sam sings, "'Bout time you show to stay for a while. We'll have time pretending you're mine but I know your style." The song compares love interests to actors that make cameos or quick appearances in a show. At the end of time, Sam comes to terms with the gypsy nature of his lover accepting that at minimum, he wants to love his lover while they're "here." I think while this song is relative to anyone who has ever loved someone who is emotionally or geographically unavailable, it especially pertains to our generation. Studies and polls have shown that as a generation we are more non-committal than any other generation before and are settling down later in life. This has proven hard for romantics like Sam who hopes to find someone to stay.
Sam says, ""Cameo" is the first single from a new album of music that I've been SO excited to start sharing with my fans - it's a new sound, so for the video I knew I wanted to create something totally different from anything my fans have seen me make before. The song is about an experience I think many of us can relate to - realizing that someone you hoped for something more with might never be anything more than a recurring "cameo" in your life - a casual hookup or on-again-off-again kind of thing. In the video, we decided to depict that with a series of interpretive dances (was lucky enough to work with some incredibly talented dancers and a fantastic choreographer, Kayla Kalbfleisch) and set it agains the moody, retro-inspired backdrop of a motel at night. I'm so proud of the result and am beyond thrilled that the fans are loving it so far!" While pursuing original music, Sam has remained relevant in the Youtube space by continuing to cover popular songs in the unique Sam Tsui style that makes his #Samily weak in their knees. Check out this recent cover of Taylor Swift's new song, "You What You Made Me Do," where he collaborates with vocalist Madilyn Bailey.
---
Anie Delgado is a contributor to Popdust and is an actress and musician based in NYC. Follow her on Instagram and Twitter @anie_delgado and on Facebook and check out her music on Spotify.
---
POP⚡ DUST | Read More...
POPDUST PRESENTS | Boy Radio reminds us what love sounds like
LIVE | GGOOLLDD played a luminous first show at The Mercury Lounge
Rising star Caleb Hawley released his LP and it's a must-listen
---
Get Ready for Halloween!! Find Your Costumes at
TIPSY ELVES
!
---