Humor
NEWS | Though many enjoyed Tina Fey's cameo on SNL, others argue that her rhetoric was counter intuitive.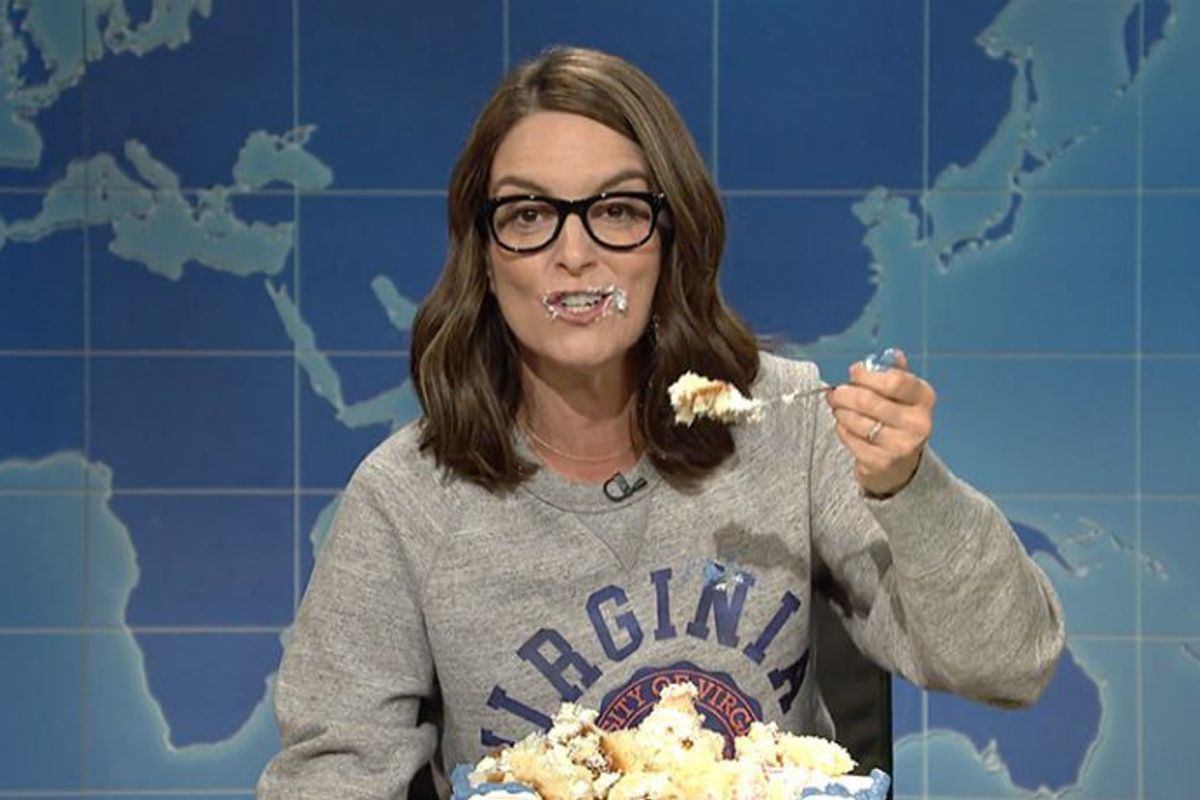 Adweek
Controversy over cake sheets?
Following the tragic events in Charlottesville, many celebrities have spoken out about it. Jimmy Fallon who is usually light hearted and comedic in nature delivered a heart felt speech about how saddened he is and what this will mean for his daughters. Seth Meyers kept his joking nature but got right down to the facts. When Tina Fey made an appearance on SNL's weekend update she expressed her anger and frustration of the event, especially because she is an alumna of UVA, but her speech quickly detoured into her typical goofy antics. For most, this was a breath of fresh air after a weekend of heavy story after heavy story about the event, but others were disappointed in her rhetoric.
[rebelmouse-proxy-image https://media.rbl.ms/image?u=%2Fwww.ifitshipitshere.com%2Fwp-content%2Fuploads%2F2017%2F08%2Fsheetcaking-hero.jpg%3Fresize%3D800%2C801&ho=https%3A%2F%2Fi1.wp.com&s=551&h=ff0b5f83b6ad1740ff99ec04a1b9038d21b77aecf421a5e5f44249dbbe9fffb4&size=980x&c=1951283063 photo_credit="" caption="If It's Hip, It's Here" pin_description="" image-library="0" crop_info="%7B%22image%22%3A%20%22https%3A//media.rbl.ms/image%3Fu%3D%252Fwww.ifitshipitshere.com%252Fwp-content%252Fuploads%252F2017%252F08%252Fsheetcaking-hero.jpg%253Fresize%253D800%252C801%26ho%3Dhttps%253A%252F%252Fi1.wp.com%26s%3D551%26h%3Dff0b5f83b6ad1740ff99ec04a1b9038d21b77aecf421a5e5f44249dbbe9fffb4%26size%3D980x%26c%3D1951283063%22%7D" expand=1]If It's Hip, It's Here
The controversy came over Fey suggesting that instead of counter-protesting, we should all take part in a new grassroots movement called "sheetcaking." She told fans to go to a bakery owned by a black family or Jewish family and buy a huge sheet cake with an American flag on it and just eat it. She even said that you can shout the truth into your sheet cake. In the process, she took down Donald Trump calling him Donny John and other members of his administration. This was celebrated widely.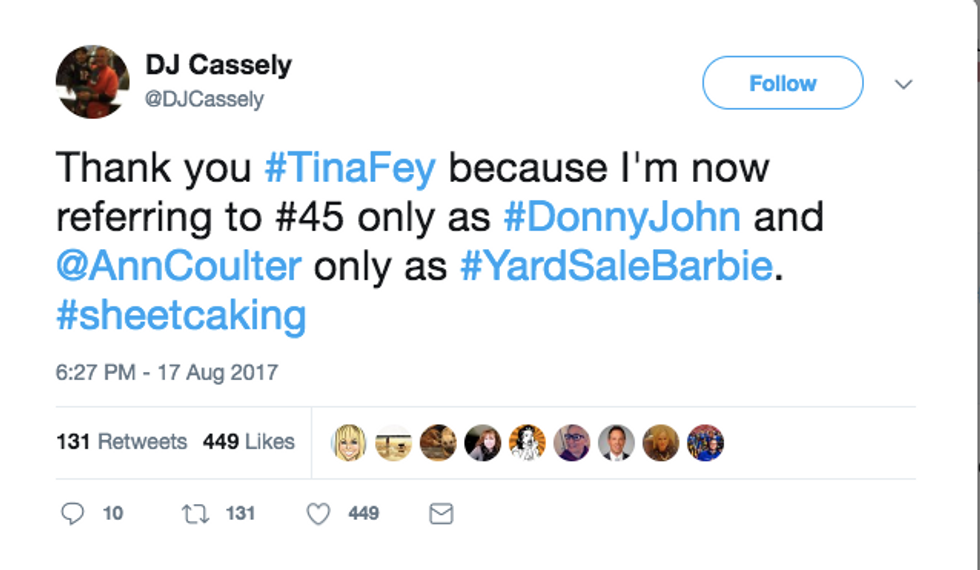 Many are outraged that Tina Fey is encouraging inaction in light of the violent racism that has prominently resurfaced. People of color have denounced her as another white liberal sugar coating and pushing aside the reality of racism and Nazi presence in the state. Journalist Ernest Owens called it "white apathy."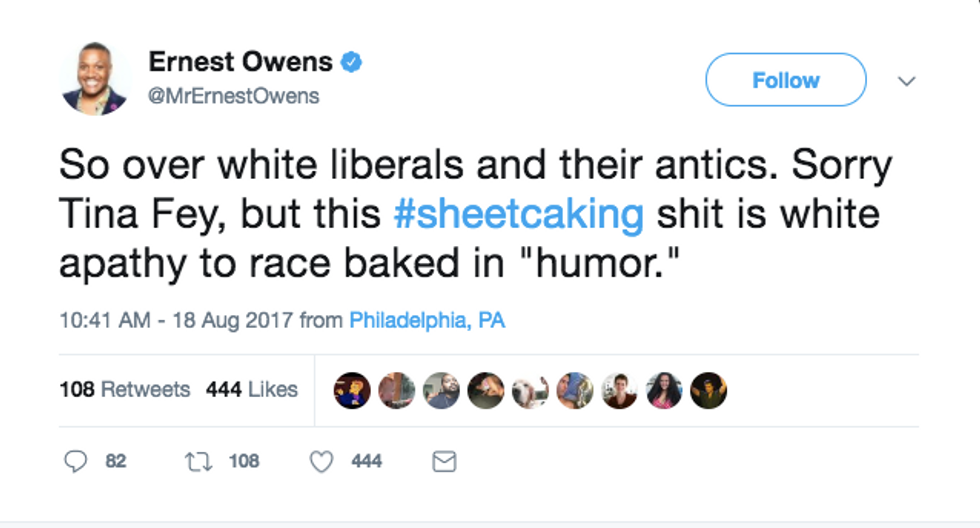 Jamilah Lemieux, the VP of news and men's programming for iOne threw major shade.

Others argued that if you're mad about sheet caking, then you didn't get the joke as it was clearly meant to be. "Fey has always been on our side," one woman on Twitter said.

I see truth to both sides. I believe Fey did mean her performance to be a joke because she's a comedian and that's what she does. There were so many great things she said, like her comment on the comparison of how local law enforcement reacted to the Dakota Pipeline peaceful protest in comparison to how they acted when white men were marching down the streets with assault rifles. At the same time, I understand where Owens and Lemieux are coming from. My first thought when I saw the video was, "Oh god now everybody is going to be posing with a sheet cake on Insta and mistaking it as activism." We have to do better than that. Fey provided some great comedic relief for a tough week in America, but going forward we cannot be apathetic toward injustice and racism. So go ahead, eat a sheet cake but don't forget to call your representatives and use your voice. Police yourselves and others and stand up for your neighbor. Watch the whole video here.
What do you think about Fey's speech? Let me know @anie_delgado.
Anie Delgado is a contributor to Popdust and is an actress and musician based in NYC. Follow her on Instagram and Twitter @anie_delgado and on Facebook and check out her music on Spotify.