Out of all the stars at this year's Panorama Festival, Solange shined the brightest.
The singer/songwriter and Knowles sister is hot on the heels of third studio effort, A Seat at the Table, that has been widely critically-acclaimed and considered the best album of 2016 by most. It's no secret that this must create a lot of pressure to live up to, but if it's getting to Solange, we're none the wiser. As she floated on the stage to thunderous cheers and applause, she carried a grace and poise that suggested she's been here before - she's done this before - and she's about to put on the show of a lifetime.
The lighting bathed you in red. The sun was setting. There was a glow around us that felt ephemeral, fuzzy. Solange was easily the most anticipated set out of Panorama's lineup and with that there was an energy that felt palpable. We all wanted our own glimpse of the pop star. We all wanted our own story to tell. It felt like an honor, almost too much so, once low horn arrangements began to play "Rise." As she approached the microphone to belt out those emotionally-charged lines, I knew I was witnessing the performance of a lifetime.
The truth is, there aren't many left like Solange - a performer who understands the true meaning of artistry.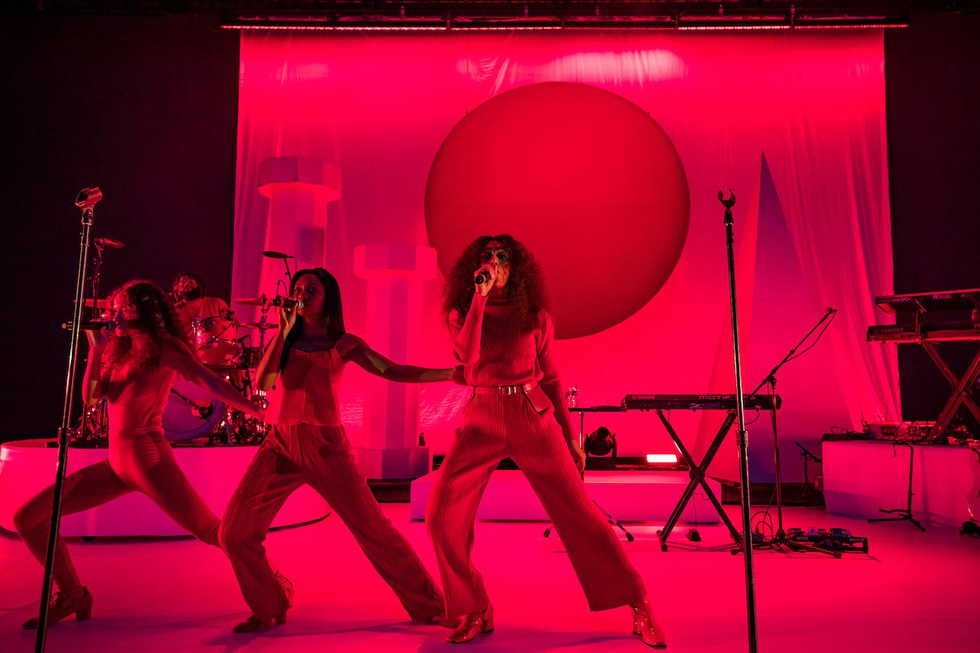 Courtesy of Panorama / Nikki Jahanforouz
The setlist was made up of a fluid congregation of A Seat at the Table hits, older favorites off True, and even a brief reprise of the Proud Family theme song ("shout out to Penny Proud," the singer remarked). "Cranes In The Sky" provided a beautiful backdrop to the swirling pink-hued sunset happening above us, and for a moment, the world did feel like Solange's stage. Other hits like "Some Things Never Seem to Fucking Work", "Bad Girls" and "Losing You" made appearances, with the pop star even coming down to serenade the front row at a certain point.
The set ended with a rendition of "Don't Touch My Hair", and before we knew it, it was over. The lights faded to black, abandoning the blood orange hue that inhabited the stage, and the outro to "Rise" was heard as we wondered if that had all really happened. We didn't have much time to wonder, as Frank Ocean took the stage shortly after, but it was a whirlwind of devotion to the power of music.
In a recent interview with her sister, Beyonce, for Interview Magazine, Solange shed light on the inspiration behind this record. "For this record specifically, it really started with wanting to unravel some truths and some untruths. There were things that had been weighing heavy on me for quite some time. And I went into this hole, trying to work through some of these things so that I could be a better me and be a better mom to Julez and be a better wife and a better friend and a better sister. Which is a huge part of why I wanted you to interview me for this piece," she stated. "Because the album really feels like storytelling for us all and our family and our lineage. And having mom and dad speak on the album, it felt right that, as a family, this closed the chapter of our stories."
The truth is: Solange is more than what you expect of her. She is more than Beyonce's sister. She is a star all on her own, and boy, is it a sight.
in.bookmyshow.com
---
Vanessa is a music and culture writer. She will probably dance to "Laura Palmer's Theme" x Britney Spear's Everytime at her wedding. Follow her on twitter.
READ MORE ABOUT MUSIC...

INTERVIEW | a Q&A with Rooney's Robert Schwartzman
REVIEW | Nick Hakim's "Green Twins" is a soulful trip through the future