This is not a drill: the eclipse is today. I repeat: a spectacle that hasn't happened in 38 years (and likely won't happen since) is happening today.
The celestial event of the year/decade/century is the first one of it's kind - not only has it been 38 years since an eclipse has happened over the country, but it's been 99 years since the path of totality (where you can see the eclipse in it's entirety) spans across the entire continental U.S. It's taking place in perfect view of North America, moving across 14 states from the furthest corners of Oregon to the shores of South Carolina. If you're outside the path of totality, you'll only see a partial eclipse - but that's still a spectacle in itself. NASA has created an interactive map that allows you to see exactly where you lie in the Eclipse's path.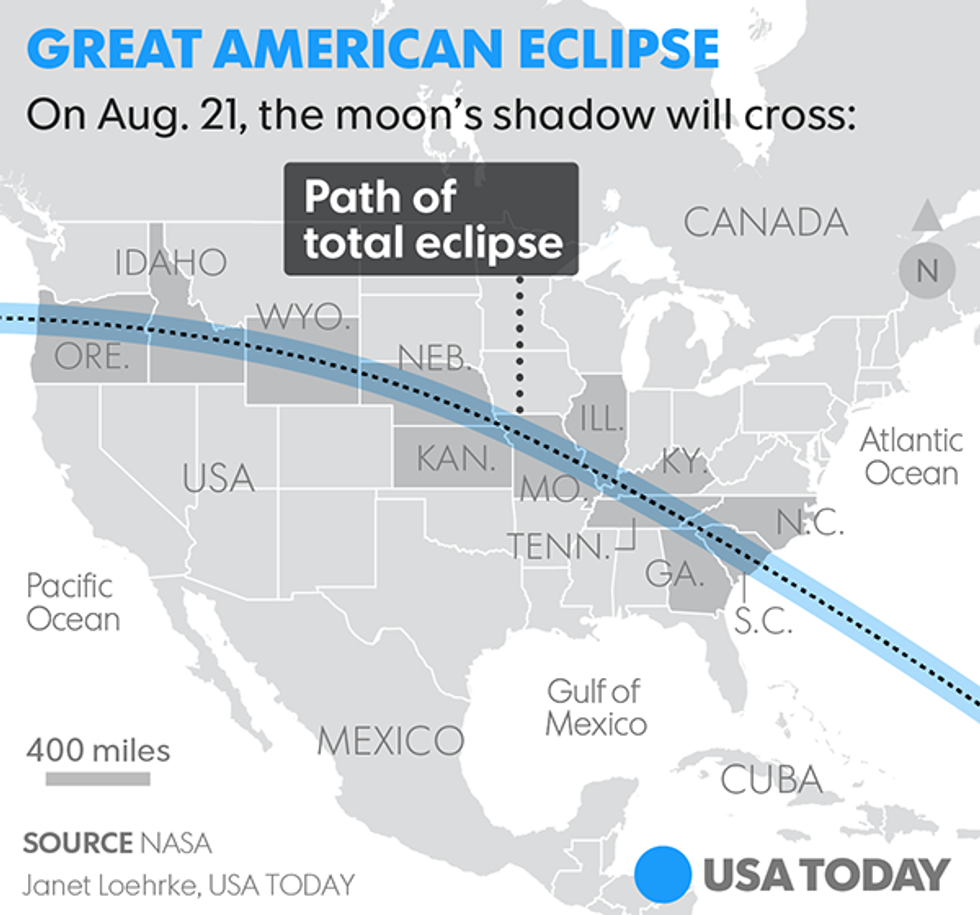 USA Today
If you're anything like me, you've put off getting a pair of those solar-viewing sunglasses people can't stop talking about. According to USA Today, "Staring at the sun can blind you — it's even called "eclipse blindness." In order to view the eclipse, you need eclipse glasses, which have a special solar filter to protect your eyes. Unfortunately, some unscrupulous characters make counterfeits, but spotting the fakes is easy. Only 12 companies make eclipse glasses that the American Astronomical Society and NASA have certified are safe. Make sure the "ISO" (International Organization for Standardization) icon is on any eclipse glasses you buy. The glasses also must have the ISO reference number 12312-2." According to the same article, stores have begun running out of these solar-viewing sunglasses as early as last week, so finding one now might seem like a rare circumstance. However, there are other ways to experience the eclipse that don't involve looking directly at the sun, like making a pinhole projector.
For a little more than four hours, a shadow will be cast over the sky. According to Pitchfork's handy Solar Eclipse guide, "The shadow of the moon will begin to cover the surface of the sun at 9:05 a.m. (PT) in Lincoln City, Ore., and an hour and 10 minutes later, the blackout will be complete for viewers there. Charleston will experience a total eclipse at 2:48 p.m. (ET), and the lunar shadow will finally exit the East Coast at 4:09 p.m." This means mostly everyone's eclipse experiences won't exceed two hours, which is why we've made a playlist that's got you covered, from the very beginning of the shadows of the moon and sun overlapping until the end.
Inspired by Pitchfork's notion to let music bring people together, we curated a selection of celestial tunes to guide us along this solar eclipse as we ponder the universe and our seemingly lonely place in it. We hope you let us guide you through your astral experience.
---
Vanessa is a music and culture writer. Follow her on twitter.
READ MORE ABOUT MUSIC...

INTERVIEW | a Q&A with Rooney's Robert Schwartzman
REVIEW | Nick Hakim's "Green Twins" is a soulful trip through the future