This past Sunday, in what can only be described as a metaphor for Philadelphia sports writ large, Carson Wentz simultaneously broke the Eagles' touchdown record and tore his ACL. There were other injuries yesterday as well –Tom Savage got hit so hard he had a mild seizure on the field– but Wentz's was by far the biggest. A frontrunner in the MVP race and the leader of the 11-2, NFC leading Eagles, Wentz is leaving some pretty big shoes to fill.
Wentz was injured as he dove into the end zone. The play was called back for holding, but instead of leaving the field, Wentz stayed in for two more plays and delivered a strike to Alshon Jeffrey, giving the Eagles the lead.
In the NFL, ACL tears are pretty common. There have been over 200 in the last four seasons. Unlike concussions however, there's no protocol or section of the rule book that can really prevent them. There are certain contributing factors. Players are slightly more likely to injure themselves on turf fields than on grass, but the discrepancy is too small for it to really matter. The unfortunate thing about ACL tears, is that they're completely unpredictable. Even before Wentz went down, this year had been particularly unforgiving. Deshaun Watson's breakout rookie season was cut short after he blew out his knee in practice. Rookie running back Dalvin Cook tore his ACL just as he was starting to get into the groove with Minnesota. High end receivers like Allen Robinson and Julien Edelman didn't even get a chance to play this year.
Still, teams move on. They rely on contingency plans and small miracles. Some players are easier to replace than others. The Vikings and Jaguars have thrived despite losing Cook and Robinson (respectively) but when it's a star quarterback who's out, the entire offense has to adjust. When the Eagles played the Rams this past Sunday, it was a battle. Wentz had four touchdowns and gave his offense the lead through the first three quarters. Immediately after Wentz left the game, Todd Gurley and the Rams came right back down the field and took the lead back. With 12 minutes left, Nick Foles stepped under center and with a little help from the defense, lead two scoring drives, and left with a win.

The Nick Foles saga is predicated on two simple, incontrovertible facts. 1. Football is chaos. 2. Nothing makes sense. Picked up as a backup by the Eagles in 2012, he started the latter half of his rookie season after Michael Vick was injured. He was, in a word, mediocre. It was Andy Reid's last season coaching the team and he was more or less phoning it in. They ended the year 4-12. Foles was 1-5 in his starts. No one blamed him. Actually, no one really even remembered who he was. Mike Kafka was supposed to be the backup that year.
Anyway, the 2013 season rolls around, and Chip Kelly is the Eagles new coach. When this season began, the Eagles legitimately thought that Matt Barkley could be a starter. Once again, Vick got injured and after a Benny Hill montage of rotating QBs, Foles got the start in week nine against the Oakland Raiders. This is where it gets interesting. Foles was up and down earlier in the year, playing well against Tampa but horribly against Dallas. There was really no telling what he would do against Oakland.
Nick Foles walked into Alameda Coliseum on November 3rd, 2013 and threw seven touchdowns. Seven. That's tied for the NFL record. He also threw for 406 yards and no interceptions. He had a perfect passer rating. This was all coming off of a game against Dallas where he threw for 80 yards total and left with a concussion in the 4th quarter. Foles would lead the Eagles to the playoffs in the 2013-14 season, eventually losing to the New Orleans Saints. After an incredible 2013, in which he threw 27 touchdowns and 2 interceptions, Foles came back to Earth in 2014. He turned the ball over a lot more frequently and ended up missing half the season with a broken collarbone. In 2015 he became a casualty of Chip Kelly's spite-trading of the entire Eagles' offense and landed a job with the Rams. He didn't thrive in St.Louis and was bounced to Kansas City, where he served as Alex Smith's backup for a year before resigning with the Eagles in 2017. Now he's back where he started, filling in for an injured Philadelphia quarterback and trying to keep the ship afloat.
It's been a strange journey for Foles. Not many quarterbacks have such an up and down career in their twenties. That being said, he did just lead a fourth quarter comeback against a Super Bowl contender, a team that traded him in favor of Case Keenum. Foles is a rare breed of player. He had the highest QBR in the league in 2013. In 2014, he was 27th. His regression is unprecedented and he hasn't done much to prove himself worthy of a starting position in the last four years. He's slow and plodding. He's not even close to Carson Wentz in terms of quarterback IQ, arm-strength, or pure athletic ability. And I mean, come on. He looks like Napoleon Dynamite: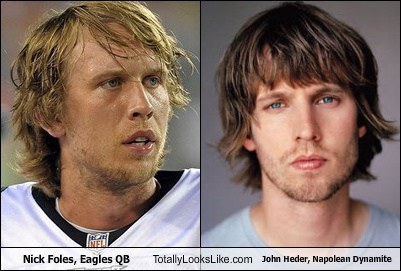 The chances of Nick 'The Franchise' Foles making the Eagles' Super Bowl dreams come true are unlikely. The Eagles have a great defense and solid offensive pieces around him, but Foles probably isn't good enough to play against top-tier defenses in January. Still, in all likelihood, Wentz did enough to get the Eagles into first place in the conference. Foles will probably have home field advantage for most, if not all, of Philadelphia's playoff games this year. The Eagles are going to have to rely on the run game a lot more and will probably stop going for it on fourth down, but maybe, just maybe, their defense is good enough to carry them through. Foles has a history of surprising the hell out of everyone and to the extent that past achievements translate to current performance, maybe Foles has a few tricks up his sleeves. According to Foles, he's " absolutely ready" to start. He has a cushy matchup with the 2-11 Giants this week. Time to see if Nicky Franchise still has it.
---
POPDUST Picks | Week 15:

Denver over Indianapolis
Detroit over Chicago
L.A. Chargers over Kansas City
Minnesota over Cinncinatti
Baltimore over Cleveland
Washington over Arizona
Carolina over Green Bay
New Orleans over N.Y. Jets
Washington over Arizona
Buffalo over Miami
Jacksonville over Houston
L.A. Chargers over Kansas City
Seattle over L.A. Rams
Dallas over Oakland
New England over Pittsburgh
Atlanta over Tampa
LOCK of the Week:
Philadelphia over N.Y. Giants
UPSET:
San Francisco over Tennessee
---
Matt Clibanoff is a writer and editor based in New York City who covers music, politics, sports and pop culture. His editorial work can be found in Inked Magazine, Pop Dust, The Liberty Project, and All Things Go. His fiction has been published in Forth Magazine. -- Find Matt at his website and on Twitter: @mattclibanoff
---
POP⚡ DUST | Read More…

THE OPTION | The Stafford Effect
THE OPTION | Catalan Independence and What It Means for Barcelona Soccer