Sports
A look at the disparity between talent and pay in today's NFL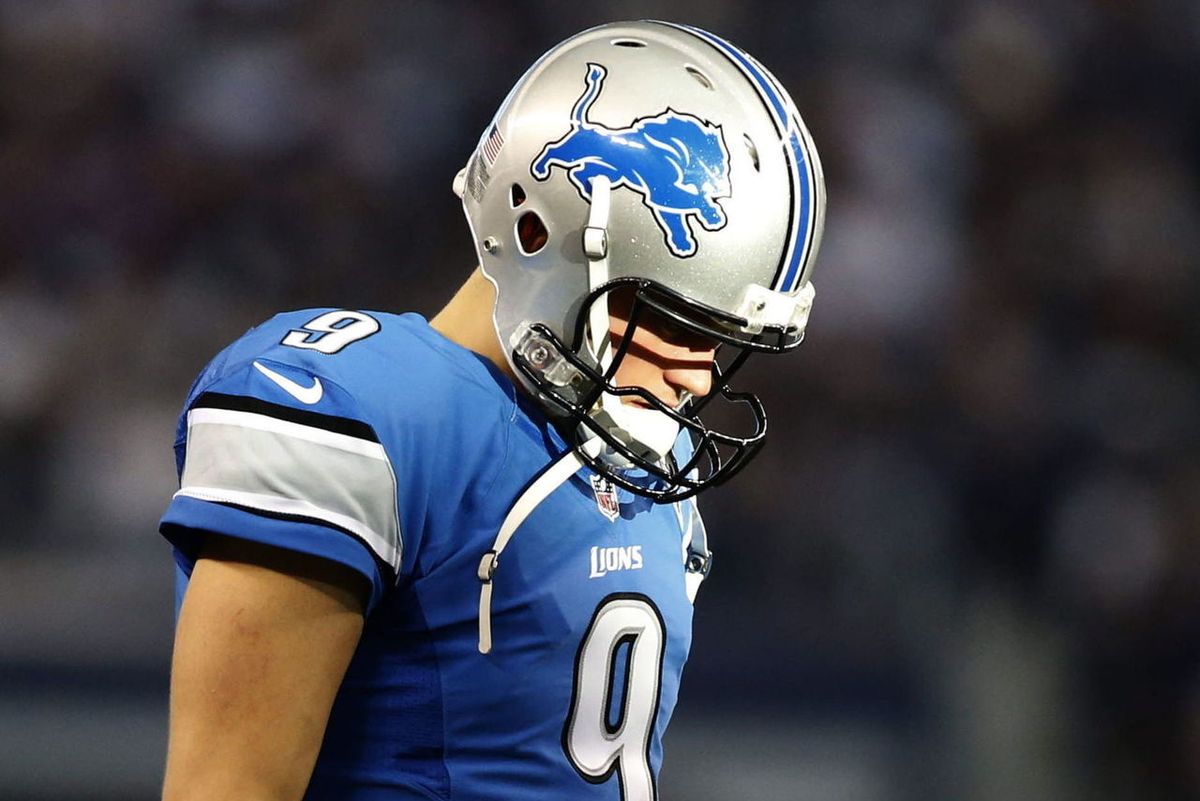 Ideally, a franchise quarterback is the face of his respective NFL team, a consummate professional with the press and a leader in the locker room. He should be able to carve up opposing defenses with ease and be a virtual lock, week in and week out, for a multiple touchdown performance.You want the ball in his hands for the two-minute drill. He's the guy. For this reason, the media scrutiny is magnified and any and all accolades come with asterisks. It's a lot of responsibility that plenty of players can't handle, but such is the life of a star athlete.

All this in mind, the real thing that separates a franchise quarterback from whoever is currently chucking the ball for the Cleveland Browns (11 different players have held that illustrious post since 2013) is a contract. Top-tier quarterbacks boast some of the highest salaries in the sport, with 18 of the top 20 highest-paid players lining up behind center. What's interesting, is that these salaries aren't often commensurate with experience or, perhaps more importantly, an elite level of play. Sometimes though, if a quarterback is around long enough, a team will forget how average he is and offer him an insane amount of money. I call this: The Stafford Effect™. Here are the highest-paid quarterbacks* in the NFL.
*Will from here on be referred to as HPQBs
---
The 15 Highest Paid Quarterbacks (average yearly salaries):
1. Matt Stafford: $27 million
2. Derek Carr: $25 million
3. Andrew Luck: $24.6 million
4. Drew Brees: $24.3 million
5. Kirk Cousins: $23.9 million
6. Joe Flacco: $22.1 million
7. Aaron Rodgers: $22 million
8. Russell Wilson: $21.9 million
9. Ben Roethlisberger: $21.9 million
10. Carson Palmer: $21 million
11. Eli Manning: $21 million
12. Philip Rivers: $20.8 million
13. Cam Newton: $20.8 million
14. Matt Ryan: $20.8 million
15. Tom Brady: $20.5 million
---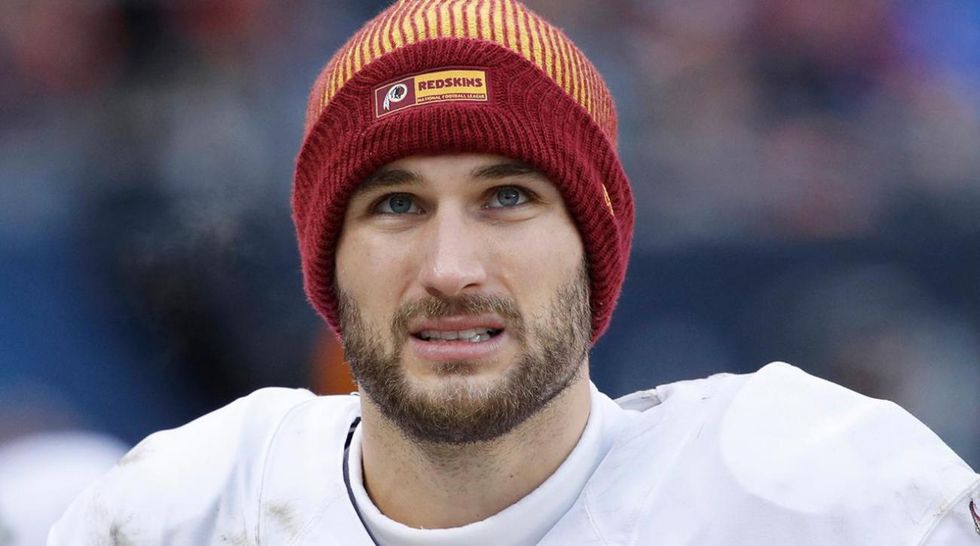 Kirk Cousins is currently the 5th highest paid Quarterback in the NFL. He has never won a playoff game.
Matt Stafford sits on top of this list after his contract renegotiation this year saw him land the most lucrative deal in the history of the NFL, but despite the title, the purpose of this article isn't to bash Stafford, but rather to examine the disparity between talent and pay. When looking at the top 15 quarterbacks in the league this year (based on total quarterback rating) one might notice something strange. Between the HPQBs and the top 15 quarterbacks in terms of QBR, only nine names overlap. It's worth noting that if Andrew Luck were playing, he would probably be in the top 15 but players in the HPQBs hold positions 12-15 in QBR. If Luck were playing, one would definitely be pushed out. It's also worth mentioning that none of the HPQBs are ranked in the top three in QBR (these are Watson, Prescott, and Wentz respectively).

On top of all this, Newton, Manning, Rivers, and Flacco are all outside the top 20. Flacco is ranked 28th in the league, making him the NFL's worst undisputed starter. Now, it's unfair to categorize these quarterbacks by one season. Many of them are veterans who've spent years in the league. With that in mind, here are the top 25 career-QBRs of active NFL quarterbacks.
---
Top 25 Active Quarterbacks by QBR*

1.Aaron Rodgers-104.1
2.Russell Wilson- 99.7
3.Tom Brady-97.5
4.Drew Brees-96.4
5.Kirk Cousins-94.9
6.Philip Rivers-94.4
7.Ben Roethlisberger-93.6
8.Matt Ryan-93.6
9.Matt Schaub-89.1
10.Andy Dalton-88.9
11.Colin Kaepernick-88.9
12.Derek Carr-88.3
13.Carson Palmer-87.9
14.Andrew Luck-87.3
15.Alex Smith-87.1
16.Matthew Stafford-87.0
17.Ryan Tannehill-86.5
18.Jay Cutler-85.5
18.Cam Newton-85.5
20.Sam Bradford-85.1
21.Joe Flacco-83.9
22.Eli Manning-83.8
23. Blake Bortles-80.2
23.Josh McCown-80.2
25.Ryan Fitzpatrick-79.8
* Players in the top 15 highest paid have been bolded.
---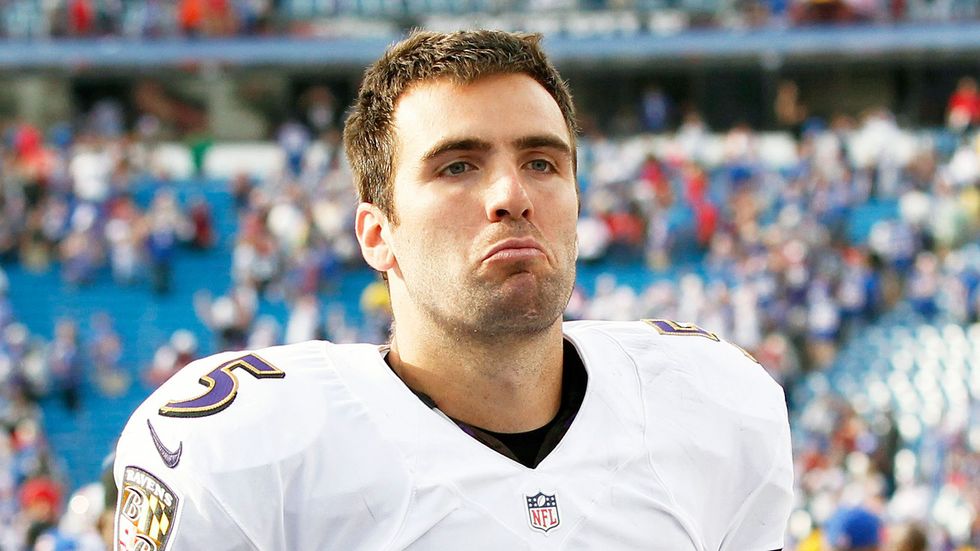 By taking a hard look at the data, we've determined that Joe Flacco is not elite.
When we do this, the number of overlaps jumps from nine to eleven. The oft-injured Carson Palmer makes the cut this time and it becomes impossible to ignore Andrew Luck's play over the last few seasons. This still leaves four men, Matt Stafford included, outside the top 15. Rather than start with the four outsiders, let's examine the players who beat them out of these spots. At 9th in career QBR is Matt Schaub. Schaub is an interesting subject, and is probably the most surprising name on this list. The one-time Texans starter now moonlights as Matt Ryan's backup but despite being unable to secure a starting role, his QBR is still higher than almost half of the HPQBs. In reality though, Schaub is well past his prime and not really a relevant candidate for HPQB-type money. Putting Schaub aside allows Stafford to slide into that 15th place spot (hooray!).

This still leaves three quarterbacks that aren't in the HPQB category in the top 15 in career QBR. Colin Kaepernick has been more or less blacklisted by the league–in a way that hideously depicts the NFL's moral ambiguousness regarding issues of race–because of his political leanings so unfortunately, he can't really be counted in this discussion. The other two, Alex Smith and Andy Dalton, have just managed to outperform their much higher-paid competitors. Jay Cutler, Sam Bradford, and Ryan Tannehill also have QBRs that trend similar to (or better than) those of the HPQBs. Analysis of QBR can be tricky though. While a wonderful metric, it doesn't really do a good job of quantifying a quarterback's intangibles, those invisible traits that make some quarterbacks winners and others irrelevant. Maybe taking a look at win/loss records will shed some more light on this issue.
---
Top 15 Highest Paid Quarterbacks' Records:
1. Matt Stafford: Regular Season Record=54-62 Postseason Record=0-3
2. Derek Carr: Regular Season Record=25-29 Postseason Record= 0-0
3. Andrew Luck: Regular Season Record=43-27 Postseason Record= 3-3
4. Drew Brees: Regular Season Record=136-103 Postseason Record=6-5
5. Kirk Cousins: Regular Season Record=22-25-1 Postseason Record=0-1
6. Joe Flacco: Regular Season Record=87-59 Postseason Record=10-5
7. Aaron Rodgers: Regular Season Record=94-47 Postseason Record=9-7
8. Russell Wilson: Regular Season Record= 61-25-1 Postseason Record=8-4
9. Ben Roethlisberger: Regular Season Record=129-62 Postseason Record=13-7
10. Carson Palmer: Regular Season Record=92-88-1 Postseason Record=1-3
11. Eli Manning: Regular Season Record=109-97 Postseason Record=8-4
12. Philip Rivers: Regular Season Record=100-84 Postseason Record=4-5
13. Cam Newton: Regular Season Record=56-43-1 Postseason Record=3-3
14. Matt Ryan: Regular Season Record=89-60 Postseason Record=3-5
15. Tom Brady: Regular Season Record=189-54 Postseason=25-9
---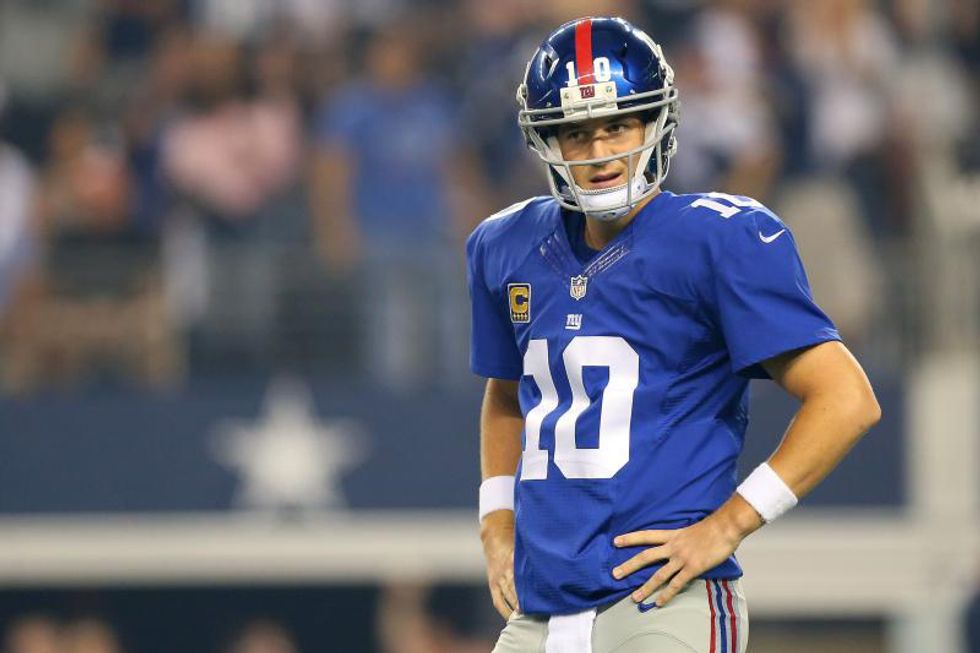 Over the course of his career, Eli averages one interception per game; that's not great.
There are some names on this list, the Super Bowl winners, who undeniably deserve to be there. Players like Brady, Roethlisberger, Brees, Wilson and Rodgers have irreversibly changed the game of football with their scoring abilities. Players like Eli Manning and Joe Flacco, well, they've also won Super Bowls. Rather than going on a tangent on Eli Manning's lack of spatial awareness or the fact that Joe Flacco's flagrant mediocrity makes him a modern day Trent Dilfer, let's just assume they belong on this list as well. When we look at the regular season records of the HPQBs, some are pretty spectacular and some are only slightly above average but the remarkable thing is that the higher up on the list one goes, the worse the records seem to get. Derek Carr, Matt Stafford, and Kirk Cousins are all in the top five. All of them have losing regular season records over their career. None of them have a single postseason win. Derek Carr gets a pass because he got injured at the end of last season right when Oakland was poised to make a playoff run. This leaves two men on this list that make absolutely no sense and have no justifiable claim to the salaries they are making. Here are some active quarterbacks with better postseason records than Matt Stafford and Kirk Cousins: T.J. Yates, Mark Sanchez, Brock Osweiler, Matt Schaub, and Jay Cutler.
For reference:

Alex Smith: Regular Season Record=85-58-1 Postseason=2-4
Andy Dalton: Regular Season Record=58-39-2 Postseason=0-4
Andy Dalton's inability to win when it counts certainly puts his value into question but he should be commended for how he finds ways to win during the regular season. In his time, he's performed better than Cousins and Stafford, despite lacking the downfield passing skills those two possess. The point is, there's a debate to be had here. Alex Smith is a completely different story. Perennially accurate and seemingly immune to turning the ball over–he hasn't thrown double digit interceptions in a season since 2010– Smith is one of the great NFL mysteries, being drafted first overall by the 49ers but never quite getting there. After leading San Francisco to a 6-2-1 start in 2012, Smith got a concussion and was replaced by Colin Kaepernick. Traded to the Chiefs in the following year, Smith never really got the contract he deserved despite being more talented than many of the HPQBs.
Via Alex Smith, a conclusion can be drawn about the NFL: barring Brady/Rodgers level talent, landing a top-level salary seems to be a matter of luck. More often than not, a franchise quarterback is just a guy who can get it done in a few key situations, when the right people are watching. Matt Stafford, Kirk Cousins, Eli Manning, Joe Flacco, Philip Rivers, and Carson Palmer have never performed miraculously over the course of an entire season, and the moments in which they have looked elite have been few and far between. These quarterbacks are proof that being an above average player on a terrible team can sometimes be more lucrative than being a legendary player on good team. Their talent lies in being in the right place at the right time. Some players become superhuman in adverse situations. Others are lights out in the postseason. But there is a third, very special and slightly parasitic type of player, who kicks it into high gear during contract-years. Instead of beating a 2-6 team by 10 points, he'll win by 25. He'll continuously run the score up on weaker teams, while narrowly losing to any and all teams over .500. His stats will reflect those of a much better player and, impressed by another 4,000+ yard season, his team will forget that they got blown-out in the playoffs and will hand him the biggest contract in the NFL history. Locking it down during a contract year is like a sixth sense and this faux changing of gears has a name. It's called: The Stafford Effect.
*Disclaimer: All facts and figures are accurate as of 11/04/17. Any changes that occurred during week nine have not been taken into account.
POPDUST Picks | Week 10:

Seattle over Arizona
Chicago over Green Bay
Carolina over Miami
New Orleans over Buffalo
N.Y. Jets over Tampa
Minnesota over Washington
Cincinnati over Tennessee
L.A. Rams over Houston
Dallas over Atlanta
N.Y. Giants over San Francisco
New England over Denver
LOCK of the Week:
Pittsburgh over Indianapolis
UPSET:
L.A. Chargers over Jacksonville
---
Matt Clibanoff is a writer and editor based in New York City who covers music, politics, sports and pop culture. His editorial work can be found in Pop Dust, The Liberty Project, and All Things Go. His fiction has been published in Forth Magazine.
Find Matt at his website and on Twitter: @mattclibanoff
---
POP⚡ DUST | Read More…
THE OPTION | Catalan Independence and What It Means for Barcelona Soccer
THE OPTION | Philadelphia Big Maybe
The Game Within The Game of Fantasy Football
---