Sports
THE OPTION | Some might say Jaromir Jagr is on the wrong side of 45, but the old man is still wheeling.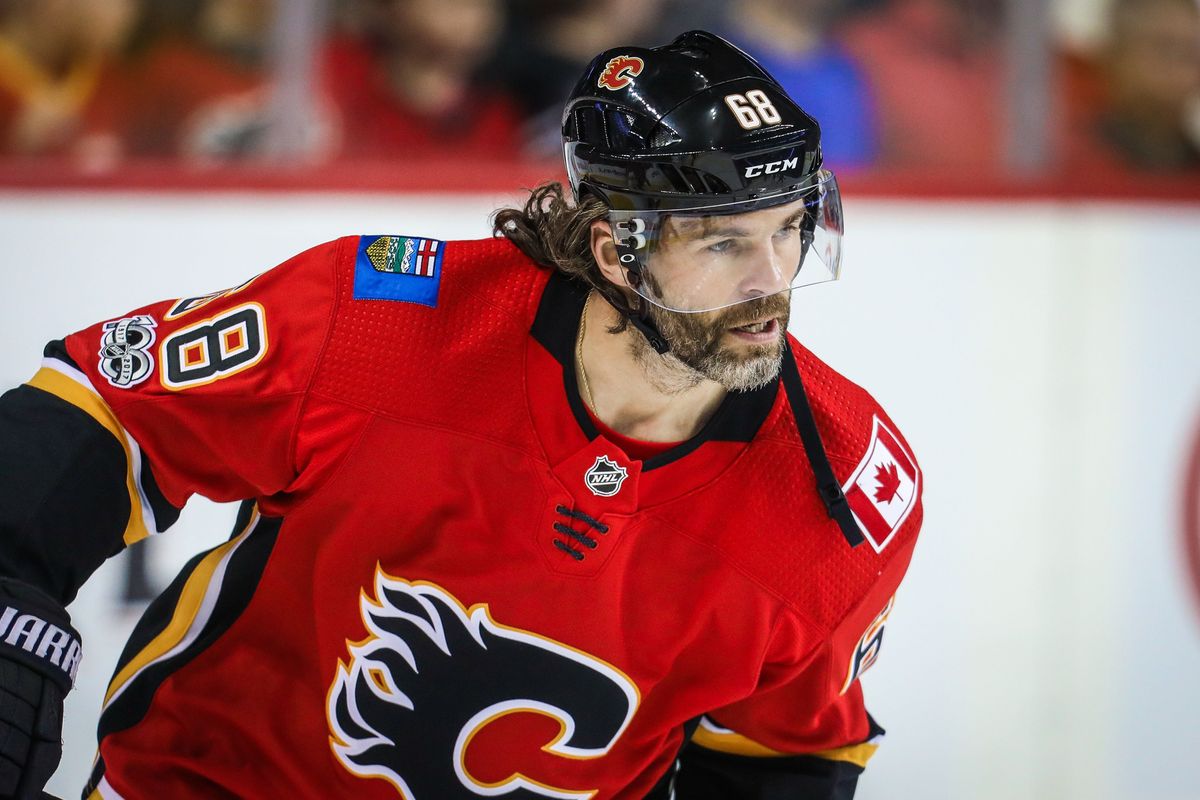 The biggest stars in the National Hockey League usually start slowing down in their early to mid-thirties, and most retire before they hit forty. The few who continue past this point, tend to spend the latter portion of their career getting shredded by much younger, faster players. It's painful to watch, but very few leave world of professional sports gracefully. Whether these players go the Chris Pronger route and become injury-plagued cash syphons or they go the Chris Chelios route and gradually degenerate into a shell of their former selves, one thing is clear: time catches up with everyone, no matter how talented.
In a little less than three months, Jaromir Jagr will be 46-years-old. This makes him the third oldest player to ever start for an NHL team. On top of this, he's almost five years older than the next oldest guy (Matt Cullen) currently playing. The thing about Jagr is, he's still good. Since his return from hiatus at age 39, Jagr hasn't posted less than 35 points (goals and assists) in a single season. He's certainly slowed down, but his movement is now more deliberate, more focused. In his time, Jagr has seen every trick and every possible goal iteration. He knows exactly where to be on every play and, more importantly, he knows how to get there without expending too much energy. Please allow for a video demonstration:
Here, we have Jagr at 20-years-old. It's the 1992 Stanley Cup and he's an absolute mad man with the puck, cutting quickly and dancing through the defense.
Nowadays, Jagr plays at a much slower pace, carefully choosing the perfect moment to strike. This is him absolutely undressing John Gibson in February of 2017. In this video, he's 45.
Jaromir Jagr has the second highest career points total in NHL history, behind only Wayne Gretzky. He's third in total goals scored, fifth in total assists, and fourth in total games played. Still, despite his legendary status, Jagr's return to the NHL has been an odyssey of sorts. Since 2011, the Czech-born superstar has bounced between six different teams, the 2017-2018 season marking his first with the Calgary Flames. This most recent signing followed a tumultuous free agency in which Jagr's patience was tested. He inked his new contract hours before the NHL season took off and there was plenty of speculation that the entirety of the NHL was going to pass on him. In the defense of the league's general managers, a five million dollar, one-year contract for a 45 year old is a ludicrous ask. That being said, Jagr still has flashes of greatness, and is a once in generation talent. Even if his playing takes a sharp dip, Jagr still has a lot to offer the younger guys he plays with. Left winger Johnny Gaudreau has attributed a lot of his recent success to Jagr's tutelage, saying that Jagr teaches him about the "little things that make you a better player day-in and day-out." Gaudreau is currently in third place in the NHL's points race.

Following the 2015-16 season, in which Jagr became the oldest player to get more than 50 points, the Czech national stated that he wants to play until he's 60, longer if his body allows him to. That's all well and good, but the old timer had a recent scare this past October when he left the game with a lower body injury. The injury turned out to be nothing serious and Jagr only missed a few games, but it's the way in which he was injured that's concerning. While skating into the offensive zone, Jagr was stick checked and lost the puck. Moments later he skated off the ice and went into the locker room. It was about as routine a hockey play as one can imagine, and Jagr still missed over a week because of it. There's a chance that this injury was nothing, as Jagr played almost every game over the past two years, but it still begs the question, is age finally catching up with him?
There's no workout plan that can reverse the effects of time. There're no drills that can fix tired and overworked muscles. Eventually, Jagr will have to retire. Playing into his sixties is almost certainly impossible, but Jagr still has a chance to pass Gordie Howe's record (52) for the oldest NHL player of all time. He's not thinking about this though and he's not done with hockey. In an interview with Sports Net, Jagr stated "the only way you get tired with hockey is when you don't work hard enough and you play the game and you kind of embarrass yourself." Plenty of players before him have stayed at it too long and have, as Jagr so elegantly put it, embarrassed themselves. Plenty of older players skate sluggishly up the ice, never quite involved in the game, full strides behind their competitors but not Jagr. Not yet. The 2017-18 season is young, but Jagr is on pace to hit somewhere near 40 points this season. He's not the quickest guy on the ice nor is he the strongest but Jagr's experience has allowed him to hang around much longer than any of his contemporaries. Sakic, Bure, Selanne, Kariya, Koivu, and plenty of other greats from Jagr's generation have long since hung up their skates. Jagr is the last man standing.
In 1999, Wayne Gretzky played for the New York Rangers. He lost his final game in overtime. Jaromir Jagr scored the game winner. For many, this contest symbolized a passing of the torch, one great being succeeded by the next man in line. Now Jagr is the old goat and he's still clinging to that torch. Whether he passes it on in storybook fashion like Gretzky or he grips it so tight that it slips through his fingers, remains to be seen. Either way, Jagr's contributions to the game of hockey can't be measured in goals scored. He's the last of his era and has constantly reinvented the game throughout his career. Whether this is his last season, or Jagr plays into 50s doesn't really matter. He's got nothing left to prove. Don't tell him that though. He still wants another cup.
---
POPDUST Picks | Week 13:

Dallas over Washington
New Orleans over Carolina
New England over Buffalo
Miami over Denver
Chicago over San Francisco
Baltimore over Detroit
Minnesota over Atlanta
Green Bay over Tampa
Tennessee over Houston
Jacksonville over Indianapolis
L.A. Rams over Arizona
Oakland over N.Y. Giants
Philadelphia over Seattle
Pittsburgh over Cincinnati
LOCK of the Week:
L.A. Chargers over Cleveland
UPSET:
N.Y. Jets over Kansas City
---
Matt Clibanoff is a writer and editor based in New York City who covers music, politics, sports and pop culture. His editorial work can be found in Inked Magazine, Pop Dust, The Liberty Project, and All Things Go. His fiction has been published in Forth Magazine.
Find Matt at his website and on Twitter: @mattclibanoff
---
POP⚡ DUST | Read More…
THE OPTION | The Stafford Effect
THE OPTION | Catalan Independence and What It Means for Barcelona Soccer
THE OPTION | Philadelphia Big Maybe
---