Trending
Swifties everywhere are celebrating the announcement of a new album while critics are over Taylor and her "reputation".
Taylor doesn't give a damn about her bad Reputation
After wiping her social media clean this past week, Swift fans took to the internet with predictions that Taylor might be up to something big. As predicted, Taylor announced recently that her sixth album will be released in November and that we'd be getting a new single Thursday night. While there didn't seem to be a buzz from the anti-Swift community until the announcement, following the announcement many have stated they "just don't care anymore." Swift's critics claim they are tired of her playing victim to forward her career. This stigma she has, started with her feud with Kanye. Everyone remembers what happened between them at the VMA's...
Things were seemingly fine for a while until Kayne released his song "Famous" where he sings about Taylor Swift in what she calls a misogynistic manor. I don't disagree, nor would any women. The problem? After Taylor threw major shade at Kayne for the song, in an interview, Kanye's wife Kim Kardashian revealed that they ran the exact lyric by Taylor who initially said to go ahead and that she thought the lyric was "provocative". She later shared the video of their conversation on social media causing a lot of fans to lose faith in Taylor Swift assuming her pro-women, girl power brand was well, a brand and a way to get publicity rather than genuine feminism.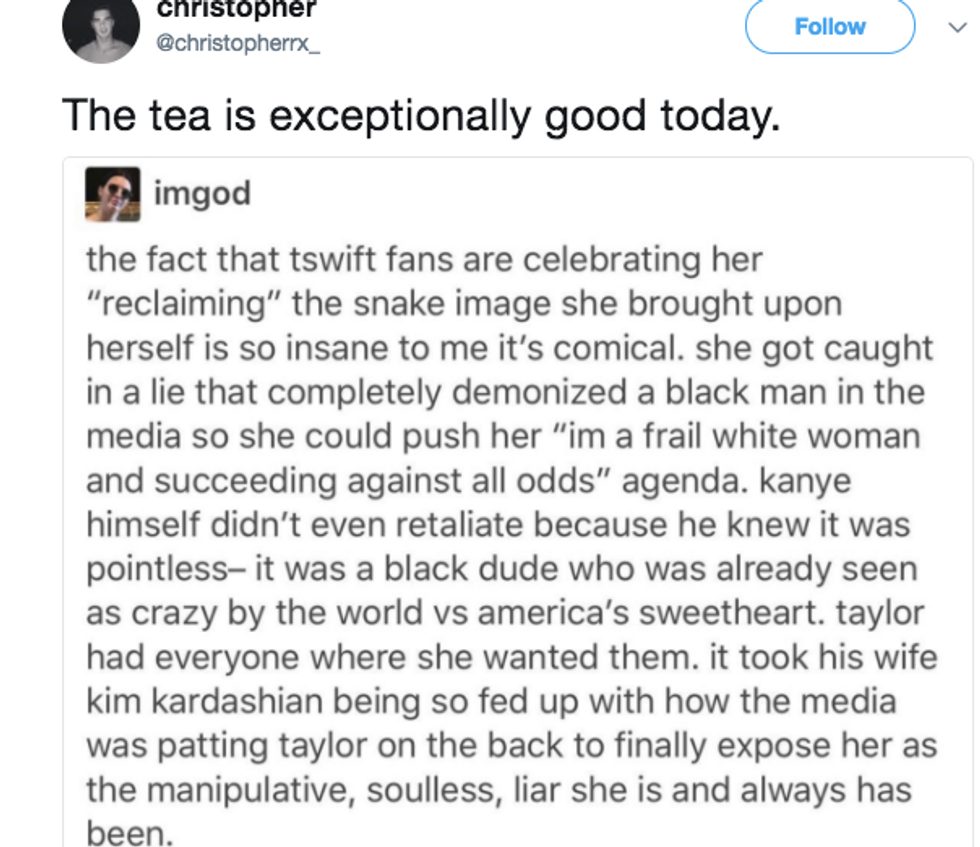 One's reaction to her new album announcement.
Most recently, Swift has won a case in which a radio host tried to sue her over her calling him out for grabbing her butt. Many fans celebrated her victory and her fighting back for the sake of women everywhere who have been victims of this kind of intrusive and unacceptable behavior and sexual abuse. I applaud her for this as well. Though she's had her moments, it's important for us to remember that celebrities and artists are still human. Have you ever done something questionable? Of course. While her position makes it way more important that she hold herself to a higher standard of self-representation, we all make mistakes, so while I keep in mind her very questionable past and do not celebrate her as feminist hero, I still value her for the great artist that she is and am SO excited to hear her new album.
Speaking of which, naysayers are scoffing at the name saying she built the Reputation for herself, while fans are virtually high-fiving her for the clever title and are ready for her to slay all of her naysayers doubts. Fans tweeted about their excitement in anticipation of the song release at midnight. Many fans have speculated what the song could be called based on the snake images that Taylor Swift shared on social media after allegedly being spammed with them after the Kanye incident last year. They believe that she is reclaiming the narrative once again. Other speculations insist that the song would be called "Timeless" because Genius, a lyrics resource online, released a new page for a song called Timeless by Taylor Swift that said the lyrics are not yet available.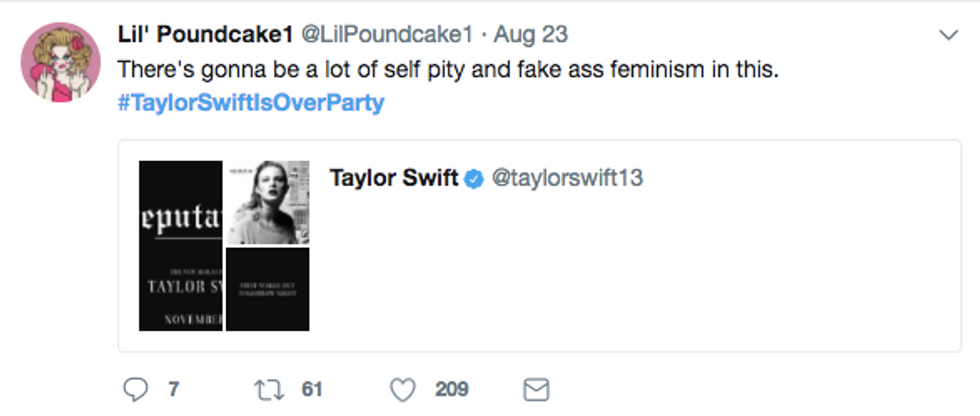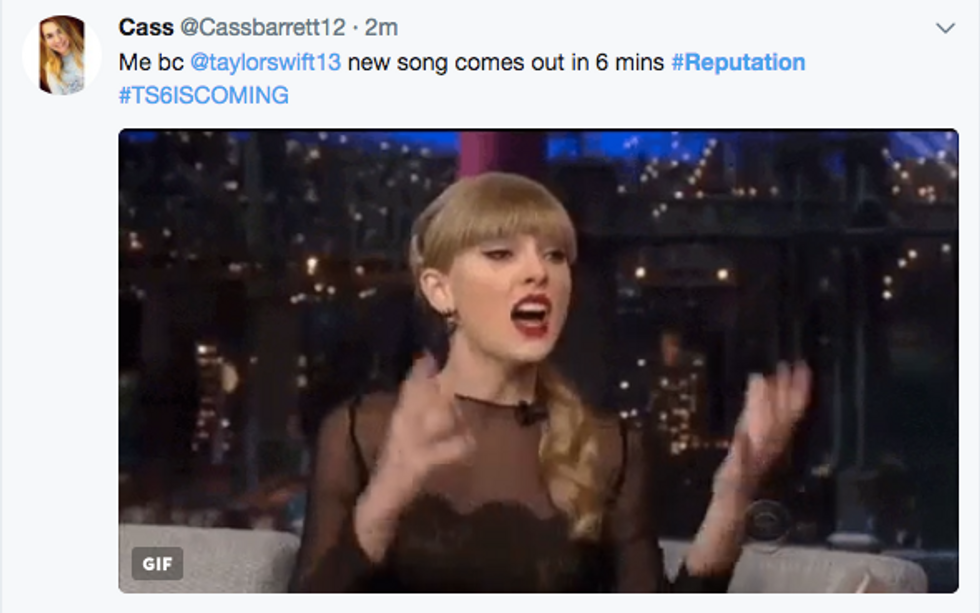 Needless to say, it was a restless night for the internet and though her critics claimed that the #Taylorswiftisoverparty lives, the buzz still exists, her single came out, and it is interesting. Personally, I have mixed feelings and so do the very vocal people of the Internet. Half seem to applaud her for this major, sassy clap-back at Kanye. Taylor makes direct references to him saying, "I don't like your tilted stage." Fans also are freaking out about her clever line, "I'm sorry Taylor can't come to the phone right now. Why? Oh. She's dead." Some fans are disappointed in the sheer pettiness of the song claiming she's better than that. Others think it sounds just like "I'm too Sexy for my Shirt" meets Lorde meets Fergie which, I don't entirely disagree with. Though optimistic regardless of Taylor's past, I must say I was underwhelmed but maybe it'll grow on me. I am however loving her new dark look.
Check out the lyrics video here:
What do you think about the single? Let me know @anie_delgado.
We want to know what you think about Reputation. Tell us in a collaborative video.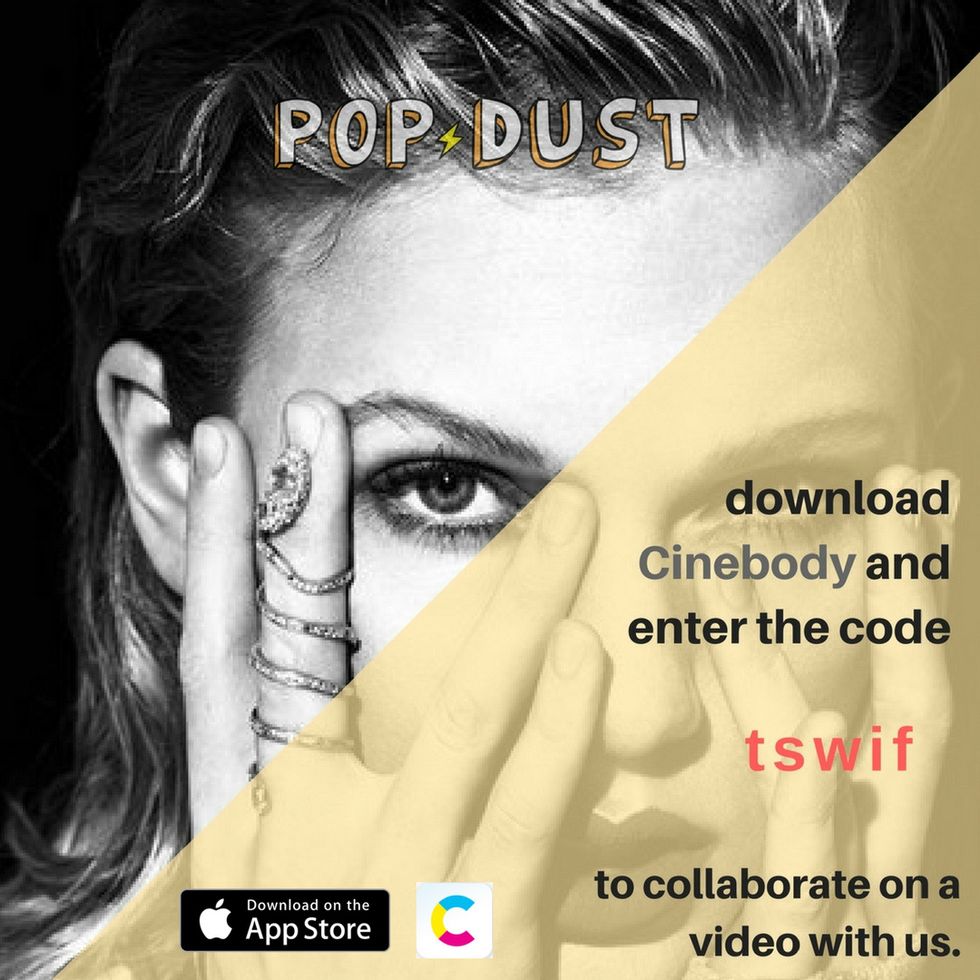 Download Cinebody here.
---
Anie Delgado is a contributor to Popdust and is an actress and musician based in NYC. Follow her on Instagram and Twitter @anie_delgado and on Facebook and check out her music on Spotify.
---
Read More...
Apple is negotiating with Universal & Warner Brothers to bring you new movie releases only weeks after they hit theaters.
What is sheetcaking? Tina Fey's SNL Appearance has become controversial.
---
From Your Site Articles
Related Articles Around the Web